The recruiting class of 2020 certainly had an unconventional first year of college football.
Although Ohio State's 14 early enrollees in that class didn't know it when they arrived in Columbus 13 months ago, their freshman year would be unlike any other in college football history. Due to the COVID-19 pandemic, the Buckeyes had just three spring practices in 2020, didn't play their first game until late October and played only eight total games, including just five in the regular season.
As a result, Ohio State's true freshmen had far fewer opportunities to play than they would in a normal season, and some had none at all. The abnormal offseason surely impacted their development as first-year Buckeyes, and with less than half of the usual number of regular-season games – including zero non-conference games – there simply weren't many chances for the Buckeyes to take their starters out early and get their young players reps. 
That means the vast majority of Ohio State's class of 2020 – which included 25 freshmen last year, now down to 24 second-year Buckeyes following Mookie Cooper's departure – remains almost entirely unproven entering its second year in Columbus.
Expect that to change in 2021, as several members of the 2020 class have a chance to play substantial roles while Ohio State is certainly looking to play a full 12-game regular season slate, ideally opening up opportunities for all of the second-year Buckeyes – who, whether you call them freshmen or sophomores, all still have four years of eligibility since the NCAA gave everyone a free year of eligibility in 2020 – to get some playing time this fall.
With that in mind, we take a look at each of the 24 returning members of Ohio State's 2020 class, what each of them did in their first season as Buckeyes and where they could stand going into year two. The 2020s are classified below in three categories based on how much they played during their abbreviated first season: Those who earned consistent roles as freshmen, those who saw occasional playing time and those who did not play at all.
All snap counts referenced were compiled by Eleven Warriors.
First-Year Contributors
WR Jaxon Smith-Njigba (163 snaps in seven games)
Smith-Njigba got his career off to a roaring start with an unbelievable one-handed touchdown catch in his first-ever game as a Buckeye, and he went on to play the most snaps of any member of the class of 2020 as a freshman, even though he was unavailable to play in the Big Ten Championship Game. As one of just five wide receivers in the core rotation at the position, Smith-Njigba saw playing time in both the slot and outside.
The rest of Smith-Njigba's first year after that touchdown catch was fairly quiet, as he caught just 10 total passes for 49 yards, but it would be a surprise if his numbers don't jump substantially in 2021. Now that he has a year of experience under his belt, he's perhaps the likeliest candidate to break out as a third star in Ohio State's receiving corps alongside Chris Olave and Garrett Wilson.
WR Julian Fleming (128 snaps in eight games)
Another popular pick to be a breakout star in the 2020 class' second year will be Fleming, who also became a regular in the receiver rotation as a true freshman. Serving as Olave's backup at outside receiver, Fleming saw playing time in all eight of Ohio State's games and joined Smith-Njigba as one of just two true freshmen to play triple-digit snaps in 2020.
Fleming only caught seven passes for 74 yards in those eight games, which could be viewed as underwhelming considering he arrived at Ohio State as the No. 3 overall prospect in his entire recruiting class. Some growing pains were to be expected, though, given the unconventional nature of the year and that Fleming came from a Wing-T high school offense in which he didn't run most of the routes he's now running at Ohio State.
That's reason to expect a big leap in production from Fleming in 2021, and he has superstar potential. If he can start to make that good on that potential this year, he'll make Ohio State's already excellent receiver corps even more deadly.
S/CB Lathan Ransom (61 snaps in eight games)
No true freshman made more noise in the back half of Ohio State's 2020 season than Ransom, who established himself as one of Ohio State's top five defensive backs by its final three (and most important three) games of the season, when he became a regular in the Buckeyes' nickel package as the slot cornerback in that lineup.
That makes Ransom a major player to watch in Ohio State's secondary entering 2021, and he should have a real chance to push for a starting job at either slot cornerback or safety – the position he was recruited to play for the Buckeyes – this offseason. In a secondary that had a lot of struggles in 2020, Ransom's play in limited action was a bright spot, and it would be a surprise if he doesn't play a significant role for Ohio State's defense one way or another in his second year.
OT/G Paris Johnson Jr. (22 snaps in seven games)
While Johnson played only 22 offensive snaps as a true freshman, he was on the field goal unit for every game except for the Michigan State game, when he was among the players unavailable following a COVID-19 outbreak. Most notably, Johnson saw playing time off the bench at left guard in both of Ohio State's College Football Playoff games (nine snaps against Clemson and six against Alabama).
Ohio State certainly would have liked to get Johnson more reps as a freshman, but even the small amount of playing time he got – at a position where freshmen usually don't play much – was telling of the trajectory he could be on. 
While his path to a starting tackle job is still blocked by Thayer Munford and Nicholas Petit-Frere, he's too talented to keep off the field much longer, and that likely explains why he finished his freshman year at guard. With Josh Myers and Wyatt Davis gone and Harry Miller likely replacing Myers at center, it seems like a good bet that Johnson will be one of the new starting guards in 2021.
LB Cody Simon (14 snaps in eight games)
Simon was quietly one of only three Ohio State freshmen who played in all eight games in 2020, as he established himself as a special teams regular on the kickoff return and punting units while also seeing playing time on the kickoff coverage and punt block units. And he's perhaps not getting talked about enough as a candidate to play a significant role in Ohio State's linebacker corps in 2021.
His only playing time on defense as a freshman came at the end of the Buckeyes' wins over Rutgers and Michigan State, but Pete Werner, Tuf Borland, Baron Browning and Justin Hilliard are all gone from last season. While Teradja Mitchell and Dallas Gant are the frontrunners to be the new starters at inside linebacker, Simon shouldn't be slept on as a possible second-year contributor and potential future star at the position.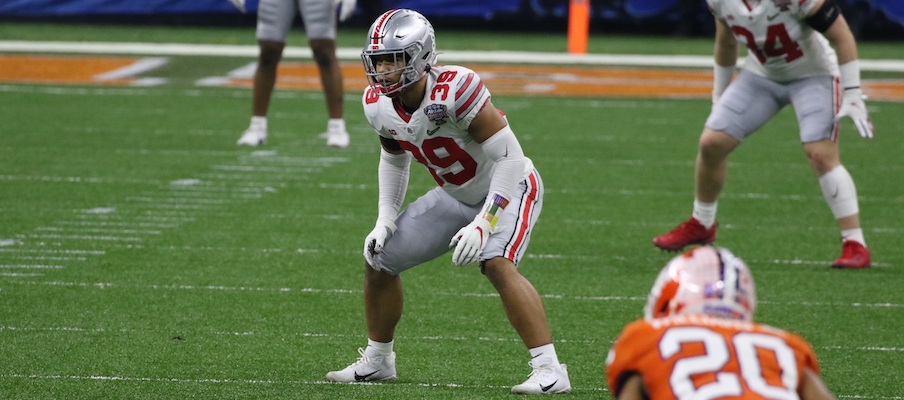 Played Occasionally as Freshmen
CB Ryan Watts (28 snaps in four games)
Thanks mostly to the 22 snaps he played in the second half of Ohio State's win over Rutgers, Watts played the fourth-most non-special teams snaps among true freshmen in 2020. Watts didn't see any playing time with the first-team defense and didn't play at all in the College Football Playoff, but he did play the second-most snaps among Ohio State's five first-year defensive backs and saw playing time on the kickoff coverage and return units. 
With at least a little game experience and a year of practices under his belt, Watts is among the top candidates to push for more playing time at cornerback in 2021. With Shaun Wade gone and Cameron Brown recovering from an Achilles injury, the depth chart behind Sevyn Banks at outside cornerback is unsettled, and Watts and Tyreke Johnson are the only other returning scholarship cornerbacks that saw any playing time outside last season.
DT Ty Hamilton (23 snaps in three games)
Hamilton made a big impression after arriving at Ohio State last summer and was hyped up as a potential early contributor, but he ended up playing only late-game snaps in three contests. Nevertheless, he's a player to keep an eye out for in the defensive tackle rotation entering 2021.
The younger brother of DaVon Hamilton, Ty Hamilton's limited snaps last season came at the nose tackle position, where he could push Antwuan Jackson and Jerron Cage for playing time following the departure of Tommy Togiai. It's also possible he could factor in at the 3-technique spot, though there's less of a path to playing time there with Haskell Garrett and Taron Vincent both back.
WR Gee Scott Jr. (14 snaps in five games)
With Smith-Njigba and Fleming taking the backup snaps behind Olave, Wilson and Jameson Williams, Scott played only sparingly in his first year as a Buckeye. Most of his snaps in his five game appearances came on special teams, specifically on the kickoff return unit, while he played offensive snaps as an outside receiver in just three games and did not catch any passes.
There's not a clear path for Scott to climb the depth chart in 2021 with all of those receivers back, but Brian Hartline likely will look to expand his receiver rotation to at least six players. The fifth-highest-ranked prospect in Ohio State's class of 2020, Scott should make a real push to prove the Buckeyes need to make room for him in the rotation this year.
RB Miyan Williams (14 snaps in four games)
It felt like Williams played more than he actually did as a true freshman. By gaining 64 yards on just 10 carries in his first season, Williams flashed an impressive skill set that showed the three-star recruit should not be an afterthought in the running back room.
Williams served as Ohio State's No. 2 running back when Master Teague was sidelined against Northwestern and Clemson, moving ahead of Marcus Crowley and Steele Chambers on the running back depth chart in the process. That's put him in a realistic position to contend for a spot in the running back rotation in his second year.
There will be a lot of competition for a spot on the running back two-deep this spring and summer, though, with the highly touted freshman duo of TreVeyon Henderson and Evan Pryor joining Teague, Williams, Crowley and Chambers in Columbus.
K Jake Seibert (Special teams in three games)
Seibert wasn't expected to kick in any games as a true freshman, but he ended up handling field goal and extra point duties in three games after Blake Haubeil missed two games with a groin injury and the national championship game due to COVID-19. Seibert made just one of two field goal attempts in those games, making from 23 and missing from 44, but converted all 16 of his extra point attempts.
That experience should prove valuable this fall, when he's expected to take over placekicking duties on a full-time basis now that Haubeil is pursuing an NFL career. Though he didn't make any long field goals or attempt any kickoffs as a freshman – it's uncertain whether he'll take over kickoffs in 2021, or just field goals and extra points – the fact that he has kicked in actual game action, including on the biggest stage in college football, should ease his transition into the starting role.
C Luke Wypler (15 snaps in three games)
Ohio State's second-team offensive line didn't see the field much in 2020, but Wypler was its center when it did, checking in for snaps against Nebraska, Rutgers and Michigan State.
That makes him a potential candidate to replace Myers as the starting center this year, though it's probable the Buckeyes will put Miller or Matthew Jones in that role, as they typically prefer their center to have more experience than Wypler does. If that's the case, Wypler will likely remain in the backup center role in 2021, when Ohio State will hope to have more opportunities to get its second-team offensive line reps.
QB C.J. Stroud (8 snaps in three games)
QB Jack Miller (10 snaps in two games)
We'll talk about these two second-year quarterbacks together, because they're both entering their second year at Ohio State in a similar position: They're set to compete for the starting job this spring, and neither of them threw a pass in limited action last season.
Both quarterbacks flashed their running ability – Stroud ran for a 48-yard touchdown on his only carry of the season, while Miller had two carries for 23 yards and a touchdown – but they're still completely unproven as passers at the collegiate level.
That certainly wasn't the plan going into 2020, but the shortened season limited the opportunities for Ohio State to take Justin Fields out of games early, which means the Buckeyes will have to rely solely on practice performance to determine whether Stroud, Miller or 2021 five-star Kyle McCord should be their new starter.
Stroud is viewed as the frontrunner, in part because it was him and not Miller who was called upon when Fields briefly left the Michigan State and Clemson games with injury, but the competition between them has only just begun. Unless McCord beats both of them as a true freshman, though, one of them could become Ohio State's most important player in 2021.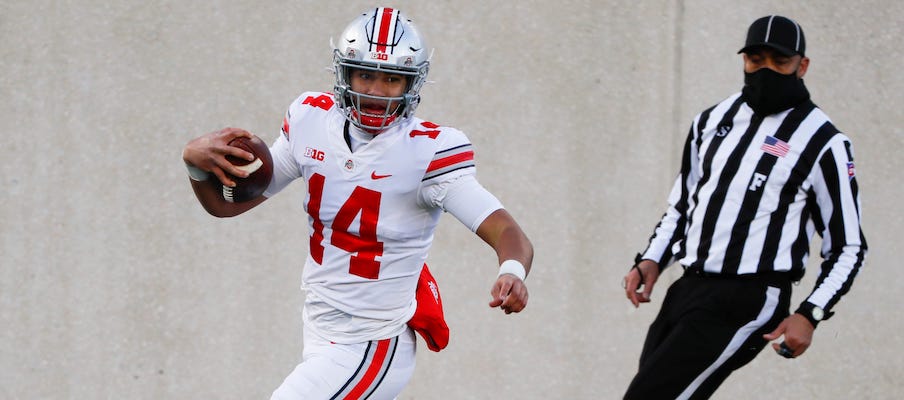 DE Darrion Henry-Young (4 snaps in two games)
Henry-Young played a couple of late-game snaps in two of Ohio State's first three games in 2020 and recorded a sack against Nebraska in his very first game as a Buckeye. After that, however, Henry-Young did not see any game action for the rest of the season.
Larry Johnson talked up Henry-Young going into last season as a young defensive end who he thought could play if needed, but he was buried on the depth chart behind Jonathon Cooper, Tyreke Smith, Zach Harrison, Tyler Friday, Javontae Jean-Baptiste, Noah Potter and Cormontae Hamilton. With all of those defensive ends except Cooper back for 2021, plus the arrival of five-star freshman Jack Sawyer, there might not be a clearer path to playing time for Henry-Young this season.
OL Josh Fryar (4 snaps in one game)
Fryar made his Ohio State debut on the final series of the Buckeyes' blowout win over Michigan State, when he played four snaps at left tackle in his only game action of his freshman year.
As Fryar is a versatile lineman who could play anywhere from tackle to center, it's still uncertain exactly what spot on the offensive line he'll end up at long-term. He's still not likely to see substantial playing time in 2021, but it's possible he could push for a spot on the two-deep, and at least playing a few snaps as a freshman indicates he's ahead of some of the other offensive linemen in his class.
LB Mitchell Melton (Special teams in one game)
Melton's only playing time of his freshman year came in the season opener against Nebraska, when he made a late-game appearance on the kickoff coverage unit. He did not play any defensive snaps in 2020.
While the turnover at linebacker should open the door for him to earn at least some playing time in 2021, he'll likely have to earn a more regular role on special teams before he sees substantial snaps on defense.
CB Cameron Martinez (Special teams in one game)
Martinez's only playing time in his first year as a Buckeye came against Indiana, when he made an appearance on the punt block unit. Like Melton, he appeared in just one game and did not see the field on defense as a freshman.
A high school quarterback who's in line to play slot cornerback at Ohio State, Martinez was expected to need some time to develop before taking on a substantial role in the Buckeyes' secondary. Like Melton, establishing himself on special teams in 2021 could be key for Martinez to set himself up for more playing time on defense going forward.
Did Not Play as Freshmen
S/LB Kourt Williams
Williams certainly appeared to be on track to play as a freshman. He joined Smith-Njigba as one of the first two members of the 2020 class to lose his black stripe and was singled out early in preseason camp by Day as "someone to keep an eye on." His first season ended before it began, however, when he tore his ACL.
How quickly Williams recovers from that injury could determine how much playing time he sees in 2021. If he can get back to full speed by fall camp and perform as well in practice as he apparently did before his injury last year, he has the potential to be a difference-maker at either safety or Sam linebacker, offering a versatile skill set that could be valuable to a defense that lost a lot at linebacker and needs to improve against the pass.
CB Lejond Cavazos
Cavazos missed his first preseason camp and the start of last season with an injury, and was not cleared to play until the Buckeyes' fourth game of the season against Indiana. With very few opportunities for backups to play for the remainder of the season, Cavazos did not end up seeing any snaps as a freshman.
That gives him some ground to make up entering his second year at Ohio State, but he'll certainly look to make a move up the depth chart at cornerback this offseason as the Buckeyes look for improved play in their secondary.
TE Joe Royer
With Luke Farrell, Jeremy Ruckert, Jake Hausmann, Mitch Rossi and Cade Stover all ahead of him on the tight end depth chart, Royer didn't see the field in year one.
Now that Farrell and Hausmann are gone, there should be a lane to playing time for Royer. He'll have to forge ahead of Stover and/or Rossi on the depth chart to see substantial playing time behind Ruckert, but at a minimum, Kevin Wilson should get Royer some late-game reps when the Buckeyes have big leads this year.
DL Jacolbe Cowan
Cowan was sidelined by injury for the entirety of his first season as a Buckeye, so it's still unclear exactly where he will fit in on Ohio State's defensive line, as he has the physical attributes to line up at either defensive end or defensive tackle.
Because he was sidelined for all of 2020, 2021 will likely be a developmental year for Cowan, but his versatility makes him a valuable asset for the future of the Buckeyes' defensive line. Larry Johnson will certainly want to get him some reps this fall, and it will be interesting to see where he lines up for those snaps.
OL Jakob James, Trey Leroux and Grant Toutant
James, Leroux and Toutant all arrived at Ohio State as offensive linemen who were expected to need at least a year of development before taking the field for the Buckeyes, and that proved to be the case, as none of them got in any games as true freshmen.
It's not likely that any of them will see a ton of playing time in year two either, but a full season could at least open the door for them to get on the field for some late-game action as they look to start climbing the offensive line depth chart.