Ryan Day doesn't try to make waves. He's not a man of bold proclamations who enjoys putting himself out there too much. Rarely has he gone out of his way to make his opinions known while serving as Ohio State's head coach.
So, whenever Day chooses to get his thoughts out there into the world, even when simply talking about a player on the team, it's worth noting. Over a year ago, he did exactly that with somebody the Buckeyes had just inked to a National Letter of Intent.
"Lathan Ransom is going to be as good a safety as we've had here in a long time," Day said 14 months ago.
Big words from the man in charge.
Fast forward to last week. After seeing Ransom go through his freshman season, he singled him out once more.
"The one guy I thought that did step up is Lathan Ransom," Day said on Wednesday. "I'm really excited about him. I thought he played really well in that Clemson game. He's got a lot of great football ahead of him. He's a young guy. He came in, I think he was 17 years old. He's got a chance to be a really good player."
One thing that's clear: Day believes Ransom will be an impact player for the Buckeyes.
One thing that's not clear: Where exactly Ransom will fit into Ohio State's plans next season.
The way Day talked about Ransom suggests the rising second-year defensive back won't be long for a role as a reserve. The way he discusses the Arizona native certainly makes it seem as though he'll factor heavily into the 2021 defense. His versatility makes him an option at several spots, though there isn't a single area where it seems overwhelmingly likely he'll end up.
Ransom seemed destined to play free safety for Ohio State when he enrolled in the program as the No. 167 overall recruit and 11th-best safety in his class, yet that's not where he made the majority of his impact as a true freshman. 
In both the Sugar Bowl against Clemson and the national championship against Alabama, he slid into the nickelback spot, playing in the slot as an extra defensive back brought onto the field often on passing downs. His 37 combined snaps in those two College Football Playoff games eclipsed the number of snaps he had played in the prior six games to open his collegiate career, speaking to his in-season growth and the confidence shown in him by defensive coordinator Kerry Coombs.
By the end of the season, he had accumulated six tackles and a pass breakup in his limited opportunities.
"He's just continued to improve every day," Coombs said a few weeks ago. "I think those are the kids that probably suffer the most from the structure of the way summer went and a shorter season and all those kinds of things, because Lathan was – he was in COVID protocols and all those kinds of things and really short-handed on some of his time and preparation. And then not having the opportunity to get those kids in games early in the year to help them develop, actually ended up – I think we all felt like he was doing a really good job in practice. But as you know, that's different than the game. So he showed up and played big when we needed him to, and he continues to improve and develop, and we're excited for his future."
Shaun Wade added: "Lathan is going to be a great player here in the future."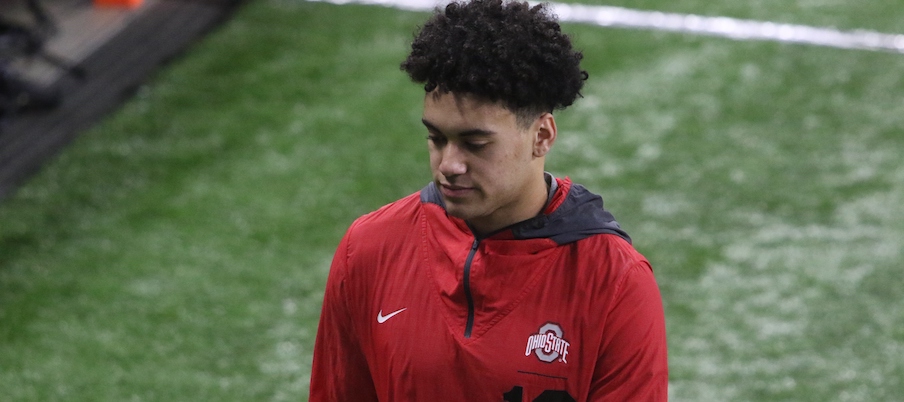 His future, in particular later this fall, could have him lining up at any number of positions. The versatility brought by the 6-foot-1, 198-pounder opens up a trio of possibilities.
Ransom could begin next season at the same spot he ended his freshman year: Nickelback. Though he was a safety out of high school, he proved to Coombs he could play the position well enough despite being a true freshman who didn't even arrive on campus until the summer in the middle of a pandemic. Now, with a full offseason ahead of him, one would imagine he'll have plenty of time to further adjust himself to the spot if Coombs and Matt Barnes think that's the best way to deploy him. Cameron Brown had that role to open the 2020 season before suffering an Achilles injury, but once healthy he could perhaps end up as an outside cornerback this fall now that Shaun Wade has left for the NFL.
Another option could be to have Ransom at slot cornerback, where Marcus Williamson was last season.
Sure, Williamson returns for a fifth season. So, he'll almost certainly factor into the Buckeyes' plans one way or another. But if the coaches see this as an optimal area at which to deploy Ransom, Williamson might be able to move to outside cornerback where Coombs has been known to rotate before. After all, slot cornerback in Ohio State's defense often acts as a second safety. That's where Ransom's ability to line up in multiple areas could make him a weapon.
Or, if the Buckeyes like Ransom most as a free safety, they could put him at the back of the defense and have Josh Proctor be a second safety playing closer to the line of scrimmage.
"Lathan, like Sevyn Banks, he's such a great athlete," Williamson said. "He's played and practiced at a lot of different spots throughout the year and he's really found a comfort level in his role now. He's just such a smart player to be so young. He asks a ton of questions. He's always trying to figure out more, how can I better myself here, how can I better myself there, and he's really just raised his value and helped us, especially during his first year in such a crazy year. 
"To do what he's done is truly remarkable."
And what Ohio State wants him to be next year is truly impactful.
The question to answer at some point this offseason is simple: Where does Ransom fit in best? Coombs and Barnes have no shortage of options.
"I already know he's going to be a great player," Wade said. "He works hard. He's always in the film. Always asking just to do extra stuff and different things like that, so the sky's the limit for Lathan, and I'm really looking forward to his future."