"The three trendiest letters in college football right now: R-P-O"

Urban Meyer was only minutes into his second stint as a retired-coach-turned-broadcaster when he became the star of Fox Sports' Big Noon Kickoff.
Despite sharing the stage with two Heisman-winners and a finalist for the award, the former Ohio State head coach quickly established himself as the focal point of the network's pregame show during its first broadcast of the 2019 season, thanks in large part to the way he clearly explained the origins and mechanics of a tactic that had outgrown novelty status.
It's all about the Run-Pass Option in college football these days.

@OSUCoachMeyer breaks the system down in detail. Trust us, you'll want to watch this. pic.twitter.com/U7LjYog4Wz

— FOX College Football (@CFBONFOX) August 31, 2019
While the takeaway for most within the sport was not the content itself, but rather the effortless delivery from a relative novice, the irony of the situation is hard to miss nearly 18 months later. Though Meyer has already found another sideline to roam in Jacksonville, he was in fact issuing a warning to his former team - whether he knew it or not.
On paper, Ohio State featured the nation's top defense in 2019, clamping down on opponents by building around elite cornerbacks and the nation's best pass-rusher. With so much talent on display, there was little reason to complicate the scheme despite the fact that it had long been abandoned by most coaches at his level due to its predictability and well-known weak points.
But for most of that first season, it didn't matter. Through the first ten games of that season, Chase Young and co. tallied 42 sacks as the Silver Bullets simply overwhelmed the completion while facing just two ranked teams (Cincinnati and Wisconsin) during that stretch. Throughout the span, no OSU opponent gained more than 285 total yards of offense, nor did any average more than 5 yards-per-play in a single game, leading many to believe the Buckeyes were impenetrable. 
As ninth-ranked Penn State came to town, however, small cracks began to emerge.
Not only were the Buckeyes facing an opponent more comparable to themselves but opposing coaches had begun to catch on to their reliance on a single-high structure. Penn State, who had fully embraced run-pass options (RPOs) upon the hiring of offensive coordinator Joe Moorhead a few years prior, saw a number of ways to attack a linebacker unit that seemed hellbent on stopping the run at all costs.
Though the Nittany Lions would ultimately lose 28-17, the continued emphasis on reading unblocked second-level defenders was something future opponents clearly noticed.
The very next week, first-year Michigan OC Josh Gattis faced his stiffest test yet as his team welcomed the Buckeyes to the Big House. For much of the first half, it appeared that Gattis and the Wolverines were up to the task, as although they trailed 28-17, they amassed 285 yards in the first half - more than any OSU opponent had gained in an entire game that season, save for Penn State the week prior.
To do so, Gattis unleashed a bevy of RPOs that attacked the OSU linebackers. If they stepped up to play the run, the QB simply kept the ball and looked to pass. From there, he often had multiple places to go with the ball as the scarlet and gray defenders scrambled to recover.
Luckily, Justin Fields and the Buckeye offense eventually pulled away and forced the Wolverines to throw deep on nearly every second-half snap, a tactic that played right into OSU's strengths. Little attention was paid to the effort as the Buckeyes cruised to a 56-27 victory.
As the Nittany Lions and Wolverines before them, the Clemson coaching staff clearly took notice of the threat RPOs posed to a defense with such a straightforward approach. The Tigers had long embraced the philosophy, especially during Trevor Lawrence's freshman season the year before.
Unlike the packaged concepts from Penn State and Michigan that attacked downfield, however, the Tigers largely combined inside runs with bubble screens and other pass concepts that stretched the field horizontally and found little success early. Once the Tigers began combining runs with vertical concepts, the dam broke.
With the Buckeyes in Cover-1 (man-free coverage), the Tigers sent both slot receivers on five-yard stick routes (inside hitches) while the offensive line blocked a QB draw play. Lawrence quickly checked the safety to ensure he dropped back into coverage - leaving just six OSU defenders to take on six Clemson blockers - and took off for a 67-yard run that still pains Buckeye fans to watch.
Much was made of Lawrence's 107 rushing yards in that game, most of which came on this one snap. But the focus was not on how OSU should handle RPOs, but rather, whether they could slow mobile quarterbacks.
After the longest offseason in history, Nebraska opened the season in Ohio Stadium and had some early success with RPOs. However, none looked to attack the Buckeyes vertically, and eventually, the home team settled in for an easy 52-17 victory. 
As the Buckeyes traveled to Happy Valley in week two, though, their (least) favorite concept was back.
OSU's focus on stopping the run once again exposed openings in the RPO game, as the PSU offense began hitting backside "glance" routes when the Buzz defender (often the outside linebacker) stepped up quickly to fill his run gap.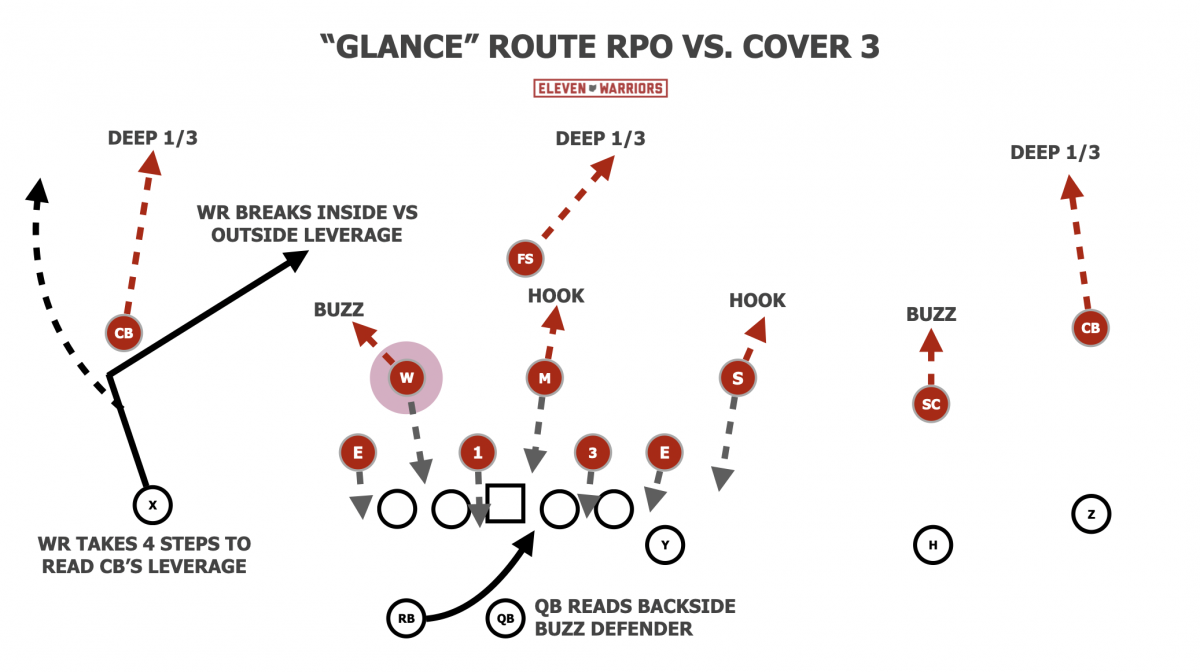 Eventually, the Buckeyes were able to adjust their pass coverage when the entire threat of a Penn State running game had evaporated late in the game and the offense was forced into dropback passing situations (sound familiar?) But before they eventually gave up on this plan of attack, the Nittany Lions had scored 25 points and tallied 281 passing yards, more than anyone outside of Michigan had put up on Ryan Day's defense.
It would be another month and a half before another opponent would attempt to recreate this plan of attack, this time coming in the Big Ten title game. Northwestern retooled its offense before the season and incorporated far more spread concepts, and it didn't take long to see the Wildcats hit the Buckeyes with a Glance RPO.
Despite all the success found with the glance route, Clemson never seemed interested in throwing it in their CFP rematch on January 1st. Rather, the Tigers went back to their comfort zone of attaching screens to run plays; a strategy that had some success but failed to attack the Buckeyes where they were weakest.
Unlike Clemson, Alabama had no intention of letting such an obvious shortcoming go un-probed. The Tide had already made glance routes a foundational aspect of their base offense and with a handful of veteran "analysts" scouting future opponents, there was no question of how they might attack Ohio State.
While images of DeVonta Smith running untouched up the seam will forever haunt Tuf Borland, the Buckeye corners will have nightmares of their own. With little time to prepare (Day later noted that his team had just one padded practice in advance of this game due to COVID protocols), Ohio State had few counters at its disposal.
With the Buckeye front-seven so focused on stopping Najee Harris and the inside run game, cornerbacks Shaun Wade and Sevyn Banks were left on an island against the nation's best receiver. Meanwhile, Alabama OC Steve Sarkisian toyed with the duo, mixing glance routes in with screens to ensure Smith would get a clean release off the line.
But even when Wade and Banks had clean shots at Smith in man-coverage, the Heisman-winner broke his glance route outside where no one could help.
On one side, it's easy to say that the Buckeyes simply ran into a more talented team with a style of play perfectly suited to expose Ohio State's weakest points. Every defensive system, coverage, and philosophy has gaps that can be exposed and took two full seasons, and a team featuring three Heisman finalists to finally break the one Day had installed upon taking the head coaching job.
But on the other hand, it was hard not to see this coming. Alabama's use of RPOs that attacked both horizontally and vertically isn't novel. Rather, the Tide's offense marks the normalization of a concept that had largely been a complementary feature outside of small schools. 
Just as Vince Young made the zone-read the foundation of Texas' national championship offense in 2005, Alabama (as well as LSU the year before) have brought the vertical RPO into the mainstream.
That's not to say that these concepts are impossible to defend, as each and every week across the college football landscape, defensive coordinators successfully rotate safeties, exchange run gaps, and mask coverages to disrupt both the quarterback and the receiver. But those simply weren't tactics we often saw from the Buckeye defense in 2020 (or the year before).
While it may not have been obvious one year ago, the game plan for OSU's opponents in 2021 is crystal clear. Now that they know it's coming, it's on Kerry Coombs and the Buckeye defense to implement ways to stop it.