Ohio State fans can thank the 2016 Clemson defense for Ryan Day.
And they can thank the 2000 Michigan defense for Kevin Wilson. The next 70 years of Buckeye football won't be as dramatically recalibrated by the 2016 Fiesta Bowl and a random conference game 20 seasons ago as the previous 70 were by a blocked punt in a snowstorm in 1950.
That would be next to impossible. But we do know the Buckeyes only had seven 1st downs that night in Glendale that weren't gifted by Clemson penalties. And zero points, for a team that regularly scored even while the offense was waiting on the sideline.
This was the type of disaster-event at Ohio State where stuff gets blown up, quickly.
Grotesque losses have shaped Buckeye football since it became a varsity sport. Had Ohio State won the Snow Bowl, Woody Hayes likely ends up wearing a different hat while growing someone else's tree. Earle Bruce was fired following a three-game losing streak; his shortcomings were filled by John Cooper's strengths - whose weaknesses, as we soon learned, were where Earle excelled.
Grotesque losses have shaped OHIO STATE football since it FIRST became a varsity sport.
Jim Tressel was brought in to bridge both gaps. Urban bridged everything and refortified it.
Ohio State's current trajectory began when the Tigers blanked the (favored!) Buckeyes five seasons ago in the finale of a two-year Tim Beck-Ed Warinner experiment to replace Tom Herman, which had been characterized by a championship defense carrying the Buckeyes' clunky offense everywhere it went.
Warinner had been retained via staff promotion following Herman's ascendance, and he successfully urged his boss to hire Beck to fill the position. Fates were welded together from the outset.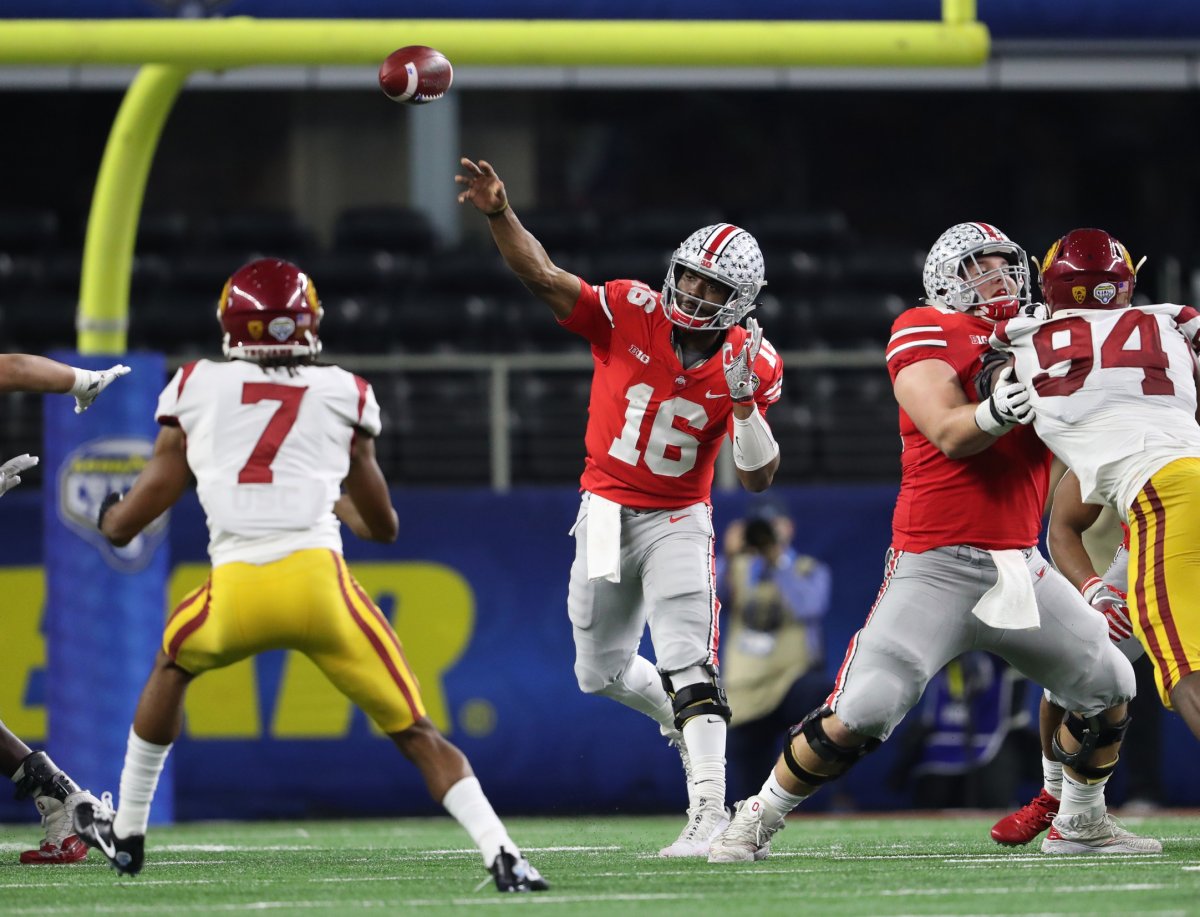 Their results were never mysterious: Cardale Jones and J.T. Barrett quickly went from Heisman candidates under Herman to streaky and awkward - but winning cures everything, and Ohio State still won a lot. A shaky offensive era guided by a package deal that had made magic in Kansas a decade earlier would come to a disastrous conclusion on the same field where the 2006 Buckeyes were buried a decade earlier.
Glendale has only been terrible to Ohio State. Even the Buckeyes beating the Fighting Irish there to open 2016 was tinged by a strong sense of yeah we should be somewhere else.
That Clemson defense would allow at least 34 points to every other ranked team it would face in 2016 - except one, which it shut out with minimum difficulty. It was clear by the middle of the 3rd quarter The Package would be exiting the program, as their boss in Columbus was notorious for not tolerating anything less than elite production from his coaching assistants, with a couple of emotionally compromised exceptions.
ThE 2016 Clemson defense allowED at least 34 points to every other ranked team it faceD in 2016 - except OHIO STATE, which it shut out with minimum difficulty.
So Meyer had two spots to fill, and this time he would not be relying on a subordinate's referral. Kevin Wilson had just resigned from Indiana due to philosophical differences with his athletic director. Seventeen seasons earlier, Wilson was running the Northwestern offense with QB Zak Kustok, who had transferred in from South Bend.
Then-Notre Dame WR coach Meyer watched the Northwestern-Michigan game on television, which the Wildcats won 54-51 while running the ball down Michigan's throat all afternoon.
It's been two decades, so let's properly frame what Wilson's offense did that day:
MICHIGAN WOLVERINES DEFENSE | FIVE-GAME STRETCH, 2000 SEASON

| B1G OPPONENT | POINTS ALLOWED | OF NOTE |
| --- | --- | --- |
| 10/7 PURDUE | 32 | Joe Tiller's basketball-on-grass spread concepts caused everyone problems |
| 10/14 INDIANA | 0 | IU scored tons of points with Antwaan Randle-El; this was a monumental shutout |
| 10/21 MICHIGAN STATE | 0 | Back-to-back shutouts for the Michigan defense, and in a rivalry game |
| 11/4 NORTHWESTERN | 54 | Michigan had two weeks to prepare for this |
| 11/11 PENN STATE | 11 | Right back to usual form |
That Northwestern-Michigan game did two things which impacted Ohio State a dozen years later:
it converted Meyer into a spread-run disciple, which has been his philosophy ever since
it led Meyer to meeting Wilson, which happened a year later when he was running Bowling Green.
Greg Studrawa, his OL coach at BG, was among the intermediaries who brokered their introduction at Meyer's request. Sixteen years later, Ohio State completed a thorough background check on Wilson, and the surviving mind to what had transformed Northwestern's offense under Randy Walker - and by extension, forged Urban's entire football philosophy - was now on the staff.
That vacant OC spot was now filled - thank you, Clemson - this was a massive upgrade.
The QB coach vacancy remained. Five years earlier, Meyer had taken Chip Kelly's endorsement of Herman for the job - Herman famously didn't believe it was Urban on the phone and thought he was being pranked. Urban first met Kelly in 2011 when he was an ESPN analyst and was blown away by how Oregon's program was run (if you ever got to see an OSU practice under Urban - or under Day pre-pandemic - there's a lot of Eugene in it).
Five years later, Meyer called Kelly again looking for the same recommendation. He was on his way out of San Francisco after a disastrous season with the 49ers that resulted in a full reset. Kelly's entire staff was looking for work. This time, he recommended his outgoing QB coach - and his former college QB - to Meyer. A master of Kelly's passing concepts and inside/outside-zone run philosophies.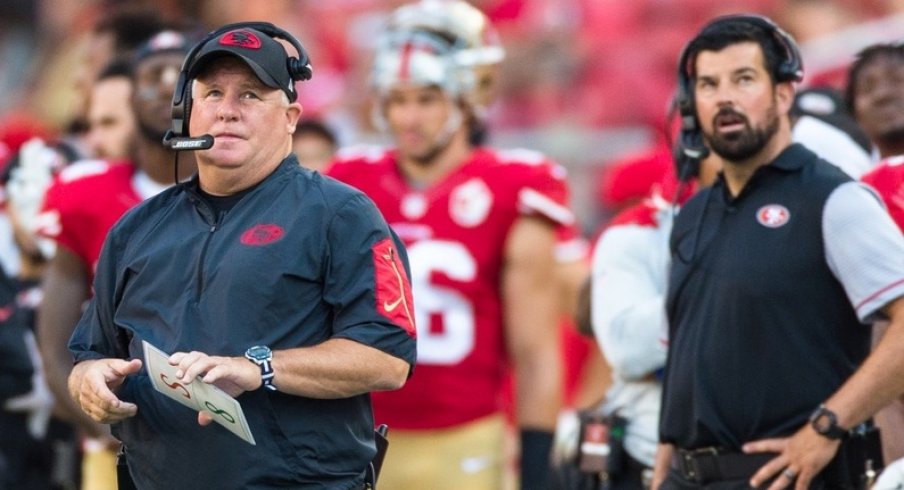 The Niners just had finished 29th in yards and 27th in points (this would be pretty good in the FBS where there are north of 120 teams, but in the NFL there are only 32). San Francisco's QB was Blaine Gabbert. Meyer wasn't going to make the hire without an endorsement, and the Niners' 2016 NFL season definitely wasn't glowing.
But he hired Day, on the strength of Kelly's recommendation. Meyer was blunt with the media:
We will become a good passing team, we will. Next year.
A year later - J.T. Barrett's final season in Columbus - Meyer realized how right he was, that he didn't have another Warinner/Beck situation to deal with, and that he would have to work to keep Day from advancing his career elsewhere.
When you find that diamond, don't let that diamond leave. You knew after one year with (Day), he was elite.
Only Baker Mayfield had more touchdowns than Barrett in Day's first season coaching him. The following season, Dwayne Haskins rewrote the record books. Then Justin Fields got to Manhattan in his first year as a starter. The program's trajectory was elevated in Glendale when that Clemson shutout butterfly flapped its wings.
Ohio State's offense, however clunky it's looked at times during this abbreviated and clunky season, is designed to move the ball at will and score as many points as possible. The Buckeyes are accumulating blue chip recruits like never before. If you can see through the pandemic fog, the future is very bright in Columbus.
This era began following one of the darkest nights in program history, and we're now one year removed from the evening where Ohio State was all set to properly thank Clemson for setting it in motion. Grotesque losses have shaped Buckeye football since it became a varsity sport. That grotesque loss shaped how Ohio State prepared for this season.
And just one year later, the Buckeyes have a second chance to show their appreciation.