"You win with people."
It's a simple enough recipe for success. Woody Hayes literally wrote a book about it. You win with people was even the at the core of the commencement speech he delivered at Ohio State in 1986, 13 years after the book was published and merely months before he passed away:
No one ever had better people than I did.  Or better football players, and we outworked our opponents.  The only way we got beaten was if we got a little fatheaded, if we didn't train well, if we had dissension on the squad, if we didn't recognize our purpose in life.  Those are the people you win with.
Let's not oversimplify it; Woody won for a number of other reasons. Innovative coaching, strategy and program philosophy for starters. Built-in institutional advantages (how many Ohio State coaches aren't in the College Football Hall of Fame?) certainly helped. High school relationships throughout the country but especially in Ohio.
You go with what's proven, and Earle Bruce applied his mentor's strategy for winning upon his return to Columbus from Iowa State in 1979 even as college football evolved from a regional to a national phenomenon. Meanwhile, the Miami Hurricanes, which had won two bowl games during Hayes' entire Ohio State tenure won two national championships during Bruce's.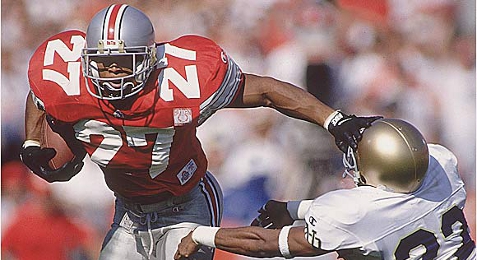 Florida State had been a girls' school just four years prior to Woody taking over at Ohio State. Earle's third and fourth seasons at the helm included big losses courtesy of the Seminoles, both in Ohio Stadium. The Buckeyes lost three games each season seven years in a row. That run resides on an unsafe plane between not bad and not good enough.
College football's greatest decade of change (post-Teddy Roosevelt saving it from extinction) was the 1980s, and as that decade progressed Ohio State was very gradually being left behind. A casual slump is far more deadly to a program than a sudden, obvious drop; you don't realize the danger you're in. It's kind of like how you humanely kill a lobster before boiling it: Very slowly and comfortably.
You cannot win enough with just people, flowery history lessons, civic pride and tradition alone. Earle was the Big Ten's winningest coach during his tenure, during which a Big Ten team finished in the top five nationally just three times: Ohio State during his first season, and Michigan twice thereafter. It wasn't just the Buckeyes; the entire conference was slipping largely on account of provincialism. 
The only program that was recruiting nationally during that time was Michigan, which owned the better part of the decade - but still wasn't good enough to be consistently great. Bo Schembechler owned his conference and very little else.
Bruce once called his appearances on WBNS "the greatest recruiting gimmick there is." The only place to catch his show during the 1980s was as it aired, on a television set, in Columbus. The best football and football players in the country were well out 10TV's broadcasting range, and no one was shipping VHS tapes out of state.
JIM TRESSEL DIDN'T MENTION RECRUITING AT HIS OHIO STATE INTRODUCTION. IT'S BECAUSE HE DIDN'T HAVE TO.
When John Cooper was hired from Arizona State at the end of the 1987 season, Ohio State was bringing in its first outsider since Francis Schmidt in 1934. He was unencumbered by tradition, tunnel vision, local high school relationships, the way we've always done things, or Woody's gigantic shadow.
Coop was introduced to Ohio on New Year's Eve, 1987. It's a press conference that is mostly remembered for him flubbing the name of the Horseshoe ("Buckeye Stadium") but what's overlooked is what he prioritized:
"The important thing now is to get our staff here and get on with recruiting," Cooper said. "We recognize that we probably are behind in recruiting, but we're going to catch up in a hurry.

"Recruiting is the name of the game. You win with talent. We will start right here with primarily Ohio players and then go wherever else we need to go. We'll get the 25 best student-athletes we can to compete in the Big Ten Conference."
Fourteen years later Jim Tressel famously talked about being "proud of the players in the classroom, in the community and most especially..." when the Buckeyes faced Michigan, a team they beat just twice under Cooper.
He said nothing of recruiting urgency. This was despite behind introduced nearly three weeks later than Cooper was with just days remaining before National Signing Day. It's because he didn't have to. Cooper, despite the Michigan epitaph, elevated Ohio State and forever changed the way it won with people.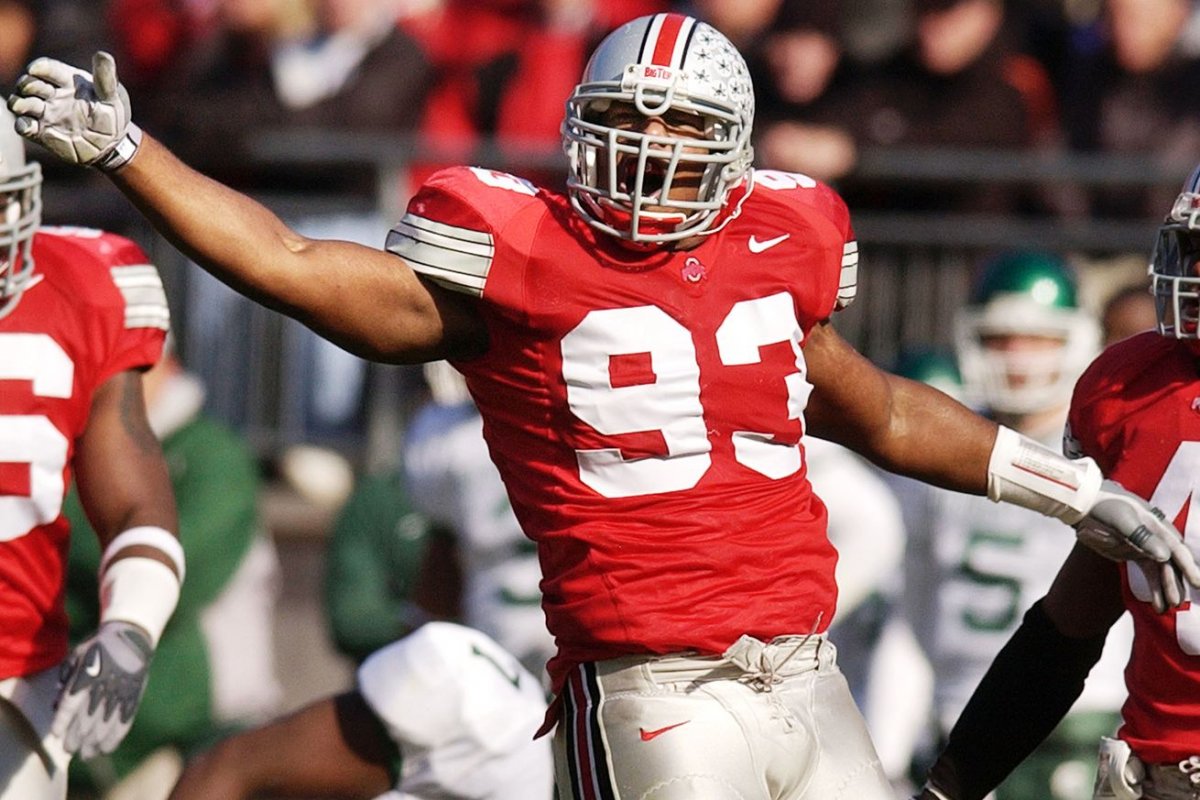 One in four players who signed with Cooper's Buckeyes ended up being NFL draft picks. The team became entrenched in the national conversation on his watch as Ohio State's outsider took the program to new heights through a recruiting strategy best-suited for the current era. He applied foreign eyes to the way Ohio State had always done things - and tragically, to the one thing it cannot change: The importance of beating Michigan.
That advantage to not fully understanding the culture was the critical flaw that led to his undoing. Coop brought a new level of talent and expectations to Columbus. Earle beat Michigan more often than he didn't. Tressel united talent, expectations and winning the game that matters most.
Urban Meyer is simply preserving and enhancing what he inherited.
Today Ohio State signed highly-coveted, nationally-ranked players from Ohio, Florida, Kentucky, Indiana, Illinois, Maryland, Michigan, New Jersey, New York, North Carolina and Virginia. Some of these players grew up dreaming of being Buckeyes. A lot of them did not.
And that's what Cooper brought to Columbus: Understanding that you win with people who want to be Buckeyes - but to win enough - you have to get the special ones that simply need to be Buckeyes.