Going into Saturday's game at Michigan State, there was reason to be fearful of a disastrous day for Ohio State's offensive line.
With Thayer Munford, Josh Myers and Nicholas Petit-Frere all unavailable, right guard Wyatt Davis was the only Ohio State offensive lineman starting in his usual spot on Saturday. Harry Miller slid over from left guard to make his first start at center, while left tackle Dawand Jones, left guard Matthew Jones and right tackle Max Wray were all making their first career starts at any offensive line position.
Initially, it looked like those concerns might be justified. Miller had a multitude of erratic snaps on the Buckeyes' first couple of possessions, and Michigan State got its share of early pressure on Justin Fields. But as the game went along, Ohio State' fill-in front five – which also featured Enokk Vimahi taking Matthew Jones' place at left guard at times – seemingly got more and more comfortable, leading the way for the Buckeyes to run for a whopping 322 yards while allowing just three sacks.
Certainly, it helped their cause on both fronts to have an athletic quarterback like Fields who can avoid sacks on passing plays and make plays himself in the running game. But Fields was pleased with the way his offensive line performed to allow him to make plays on Saturday.
"We had to change the game plan up a little bit, but I think the offensive line adjusted well to what we had in for this game, and I think those guys played a great game for it being their first game. So I'm just proud of those guys and proud of the way they stepped up," Fields said after the game. "I think Harry was a little bit antsy on the first drive, so his snaps were a little bit wild, but as the game went along he got more comfortable."
Behind that offensive line, Fields ran for a career-high 104 yards (and two touchdowns) in Saturday's game while Trey Sermon also ran for 112 yards, his most as a Buckeye so far, including a 64-yard touchdown for his first score in an Ohio State uniform.
"I'm really happy for those guys," Sermon said of the offensive line. "They work very hard, and they came here to play. They came here to make the most of their opportunities, and that's what they did today. They worked really hard to get where they are, and it showed today in the game."
Ryan Day was also happy with what he saw from the offensive line while watching the game from home.
"I thought they battled," Day said. "Was it perfect? I'm sure it wasn't perfect. But they did, they battled. And having really one guy play the same position he played the last game."
The biggest negative of the day for the offensive line came in the fourth quarter, when Davis went down with an injury and limped off the field without putting much pressure on his left leg. Davis was later seen with ice on his knee while sitting on the bench. The severity of his injury is unclear, and no update was provided on his status after the game, but it opens up the possibility that the Buckeyes could have to play with an even less experienced offensive line in their next game if Munford, Myers and Petit-Frere remain out.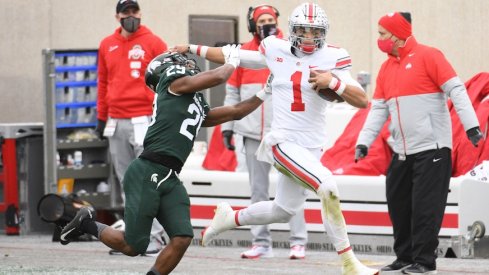 #4 Ohio State 52, MICHIGAN STATE 12
DEC. 5, 2020 • SPARTAN Stadium • EAST LANSING, MICH.
Chrisman's personal playground
In the same stadium where he had the defining game of his Ohio State career two years ago, Drue Chrisman was spectacular again on Saturday.
Chrisman was so good in his previous trip to Spartan Stadium in 2018 that I wrote an entire story about how he and Ohio State's punt team made the difference in a battle of field position that the Buckeyes won 26-6. They didn't need to rely on him quite as much in a game where both teams scored exactly twice as many points on Saturday, but he still made his presence on the game in a big way.
Ohio State's punter averaged 53.4 yards per punt on five punts in East Lansing this year, and he downed three of those punts inside the 20-yard line, including two punts inside Michigan State's 2-yard line. 
When Ohio State punted from the 36-yard line in the second quarter, Chrisman hit a perfect wedge shot to down the ball at the 1-yard line. With Michigan State backed up at its own goal line, that punt set up the interception that Haskell Garrett would make in the end zone for a touchdown three plays later.
THE PERFECT PUNT pic.twitter.com/jvJfsZBBXp

— ESPN College Football (@ESPNCFB) December 5, 2020
Chrisman then hit the longest punt of his four-year Ohio State career in the fourth quarter, when he booted a punt that traveled 74 yards before settling down at Michigan State's 2-yard line. That field-flip led to an Ohio State touchdown as well, as the Buckeyes' defense forced a 3-and-out to get the ball back for their offense at the 41-yard line, from where Fields lofted a deep-ball touchdown pass to Chris Olave.
FIELD FLIPPED. @DChrisman91 just booted one 74 yards for @OhioStateFB and #ForTheBrand. pic.twitter.com/FeVydt5YJa

— Big Ten Network (@BigTenNetwork) December 5, 2020
"I thought Drue Chrisman had two really big punts in the game," Day said. "That was really huge." 
I like this field https://t.co/vmCW9sw6hi

— Drue Chrisman (@DChrisman91) December 5, 2020
A multitude of milestones
In addition to Fields and Sermon both topping 100 rushing yards for the first time as Buckeyes and Sermon also scoring his first touchdown in scarlet and gray (well, more accurately, white on Saturday), a multitude of other Ohio State players also achieved milestones in East Lansing.
As you might expect, Garrett's pick-six was both the first interception and first touchdown the Ohio State defensive tackle has had since he was in high school – though he had made a similar play in practice just two days earlier.
"Literally on walkthroughs on Thursday, the ball got tipped up and I caught it and ran it back," Garrett said. "So just fortunately it happened during the game."
Come for the pick six in the end zone, stay for the Big Man TD Celebration at the end. @Haskell_808 | @OhioStateFB pic.twitter.com/yf7Bfz7HOa

— Big Ten Network (@BigTenNetwork) December 5, 2020
Davis also made a big-man catch for the first reception of his Ohio State career on Saturday when he caught a ball that was deflected by a Michigan State defender after Fields forced a screen pass into traffic.
Freshman quarterback C.J. Stroud, playing in just his second game as a Buckeye, also scored the first touchdown of his collegiate career on Saturday when he broke free from the Michigan State defense to run for a 48-yard score after replacing Fields in the fourth quarter.
Meet Ohio State's next QB, five-star freshman CJ Stroud, who just took a long run to the house. pic.twitter.com/QYbOkWXSAF

— Chris Hummer (@chris_hummer) December 5, 2020
Redshirt freshman defensive end Cormontae Hamilton, also playing in just the second game of his Ohio State career after making the move from tight end to defensive line this offseason, recorded his first career sack during the fourth quarter of Saturday's game.
Olave set a career-high in Saturday's game by catching 10 passes while tying his career-high with 139 yards.
And of course, no list of milestones from Saturday's game would be complete without acknowledging Larry Johnson, who is now 1-0 as a collegiate head coach after leading the Buckeyes to victory as the acting head coach for Saturday's game, his first game as a head coach at any level since he was the head coach at the famous T.C. Williams High School in Virginia in 1993.
Kacherski injured
Davis wasn't the only Ohio State player who left Saturday's game early due to injury. Walk-on linebacker Cade Kacherski, who's been a regular on the kickoff coverage unit in all five of the Buckeyes' games so far this season, was injured during a kickoff late in the first quarter and had to be helped off the field.
While no update on his health was provided after the game, it appeared to be a potentially significant injury, as he was unable to put any weight on his injured leg as he was carried off the field.