EAST LANSING, Mich. – Justin Fields stood near the goal line in the Southeast corner of Spartan Stadium and got into a knee-bent stance, ready to catch a snap. Moments later, the ball sailed over his head, air-mailed by Harry Miller. 
It was 10:55 a.m. as the star Ohio State quarterback turned around to go retrieve the errantly snapped football. The only people who noticed were the people in Fields' vicinity and whichever reporters in the press box had their eyes trained on him. But to those watching, it was one of the first reminders that Saturday's contest with Michigan State in East Lansing featured several obstacles for Fields that didn't exist the prior four games.
Instead of second-year starting center Josh Myers, he had Miller snapping the ball to him. Instead of working closely with quarterbacks coach Corey Dennis, his go-to guy was offensive quality control coach Keenan Bailey. Instead of left tackle Thayer Munford and right tackle Nicholas Petit-Frere bookending the offensive line, Dawand Jones and Max Wray were his starting offensive tackles. Instead of head coach/play-caller/personal quarterback coach/quarterback guru Ryan Day patrolling the sideline, Larry Johnson made his head coaching debut and Kevin Wilson was the sole offensive coordinator and play-caller. 
As it turns out, Fields is immune to unfavorable conditions. Immune to adversity. Or at least as immune as any quarterback could be when he's missing three offensive linemen, his position coach and the play-caller/head coach.
On Saturday, during Ohio State's 52-12 victory, Fields reminded everybody of a simple fact: As long as he is in at quarterback, just about anything is possible for the Buckeyes. 
"I thought he played really gutsy in a situation where we had to be really careful with the offensive line in what we were doing."– Ryan Day on Justin Fields
He handled consistently off-target snaps from Miller throughout the opening drive yet still managed to march the Buckeyes down the field for a 12-play, 83-yard scoring drive. Fields capped it off with a 2-yard scamper where neither his first read nor his first attempt to scramble were successful, forcing him to win a sprint to the sideline, which he did with ease to the shock of absolutely nobody watching.
"I think Harry was a little bit antsy on the first drive, so the snaps were a little bit wild," Fields said. "But as the game went along, he got more comfortable. So I tried to make some plays with my feet today. That's going to happen in games, in big games. Whatever I have to do to help this team win, that's what I'm going to do."
Over and over, he has lived up to those words. Saturday's game was just the latest example.
Two drives later, Michigan State defensive end Jack Camper had outside contain on a zone read, but Fields juked him to the inside, shook safety Xavier Henderson and raced 44 yards down the Ohio State sideline. While rolling to the right, he followed it up by lofting a pass over cornerback Angelo Grose's leaping hands that found Garrett Wilson for a 28-yard touchdown two plays later.
Seemingly everything went Fields' way. He has a knack for making the magical look effortless and the strenuous look smooth.
Yet, while once again strengthening his case as Ohio State's best quarterback ever, he saved perhaps his most spectacular for last.
A gimpy Wyatt Davis limped off of the field in the fourth quarter with the Buckeyes holding on to a 28-point lead. With now four starting offensive linemen out of the game and only Miller – a left guard filling in at center – still on the field, many in Columbus expected Ohio State to pull Fields out of the game. The Spartans had shown minimal signs of life, and protecting Fields is of course paramount for Ohio State. To many people, logically the bigger danger was Fields' health rather than the Spartans scoring four touchdowns in 11 minutes.
Ohio State, however, left him out there. 
Following the seventh Michigan State three-and-out of the day, Ohio State got the ball on the Spartans' own 41-yard line. Fields promptly made anybody worried about his status throw their hands up in a similar manner to how Mel Tucker must have. He faked the handoff, saw Chris Olave streaking down the sideline, reared back and hit him for a touchdown.
Six points in six seconds. Efficient.
This is a throw certain trophy-winners make.

We're not saying, we're just saying. @justnfields and @OhioStateFB have been dominant today: pic.twitter.com/mhbmPa5uox

— Big Ten Network (@BigTenNetwork) December 5, 2020
And just like that, with one extra play on his Heisman Trophy reel, his day ended as he presumably said, "Nah, don't worry about me," to those concerned about him staying upright.
"If you're going to be the head coach for one day, you want Justin Fields with you," acting head coach Larry Johnson said with a wide smile adorning his face. "Boy, he's a special young man."
By the time he exited, Fields had completed 17-of-24 passes for two touchdowns while rushing 13 times for 104 yards and a pair of scores. He bounced back in a big way from his three-interception performance the prior game against Indiana, which as Day mentioned, he had to "sit on" for an extra week when last weekend's game versus Illinois got canceled.
Again, because it can't possibly be emphasized enough, he did it all with a left tackle making his first career start (Dawand Jones), a right tackle who'd played one offensive snap in his entire collegiate career (Max Wray), a first-time starting left guard (Matthew Jones), a center who typically lines up at left guard (Harry Miller) and his primary position coaches isolated at their respective homes in Ohio (Ryan Day, Corey Dennis). Largely healthy wide receiver, running back and tight end depth charts helped greatly, but Fields had to deal with a makeshift offensive line, a quality control coach in Keenan Bailey acting as his position coach and a new play-caller in Wilson.
"It was crazy," Fields said. "It kind of felt like I was almost the coach for offense at times."
Prompted by a follow-up question, he added: "With coach Dennis being out, coach Day being out, I had to step up a little bit more this week. I have no problem doing that. I actually liked it, to be honest with you."
So, too, did the people watching at home – which, of course, included Day.
"You could just see today the way he attacked the game," Day said. "On that one run, chasing down the guy, cutting him off on the long run. That was just amazing. Some of those creative plays he made with his feet. Throws he made down the field. I thought he played really gutsy in a situation where we had to be really careful with the offensive line in what we were doing."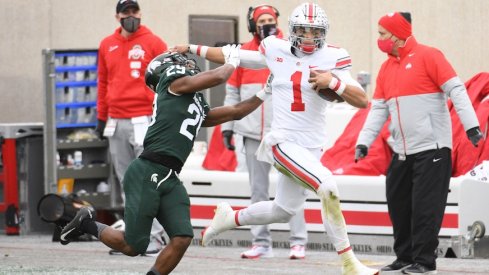 #4 Ohio State 52, MICHIGAN STATE 12
DEC. 5, 2020 • SPARTAN Stadium • EAST LANSING, MICH.
To Day, Fields' play on Saturday was a "huge step" in his development both as a quarterback and as a leader.
To the rest of the country tuned in, it was just the latest example of why you can't ever underestimate what a Fields-led Ohio State team can do.
By this point, one would have to imagine the College Football Playoff selection committee believes that to be the case, too.