When Larry Johnson realized in the third quarter that Ohio State was on track to win Saturday's game at Michigan State, a tear came to his eye.
When Ryan Day, watching from his home in Ohio, saw his players dump a bucket of Gatorade on Johnson after the Buckeyes had sealed a 52-12 victory, a tear came to his eye, too.
After Ohio State's previous game against Illinois was canceled and the Buckeyes continued to face uncertainty about whether they'd even get to play this week, they earned their most decisive win of the season in East Lansing on Saturday, even without a large group of unavailable players and four of their full-time coaches – including Day who was unable to travel with the team after testing positive for COVID-19.
Both the full-time head coach and the acting head coach for Saturday's game knew all of that made just having the opportunity to play this week's game, and ultimately winning that game, extra special. 
"I felt so great for the players," Johnson said. "How hard they worked, they deserve an opportunity to play on Saturday, and they did. And I was just happy for them. Because you could see it in their eyes all week long."
Day called Saturday's win "a great statement about who we are as a culture, as our program."
"This is all about the leaders, it's all about the coaches who all stepped up in a big way. Can't say enough about the leaders this week and watching the leadership and watching the way these guys played, I couldn't be any prouder and happier for them," Day said. "Couldn't be prouder of a coaching staff."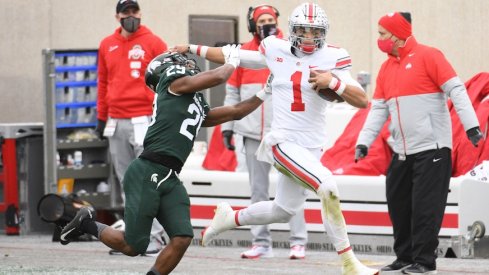 #4 Ohio State 52, MICHIGAN STATE 12
DEC. 5, 2020 • SPARTAN Stadium • EAST LANSING, MICH.
Ohio State was without some of its top leaders on both its player roster and its coaching staff on Saturday, including a pair of team captains in center Josh Myers and middle linebacker Tuf Borland and a trio of assistant coaches in co-defensive coordinator Greg Mattison, quarterbacks coach Corey Dennis and special teams coordinator Matt Barnes. But their absence only provided more motivation for everyone who was able to make the trip to East Lansing, from Johnson to quarterback Justin Fields.
"I think this week really brought us together as a team," Fields said. "I think our leadership got better this week. With Coach Day being out, he challenged the leadership on the team to improve, and I think the leaders on the team definitely stepped up and helped lead the team in practice this week. So it was tough at first, but we all just had to step up, and we all had each other. 
"The guys being out, those guys, I feel for them. I love those guys, I'd die for them. So I think the team responded well."
Even though the Buckeyes were shorthanded, the players who were there had faith in each other that they would respond to the challenge, and their faith was rewarded on Saturday.
"It's times like adversity when people really step up, and the whole team stepped up," said defensive tackle Haskell Garrett, who had an interception for a touchdown on Saturday. "The players, coaches, faculty and staff and even support staff, everybody picked it up and did a little extra this week, and it showed out on the field."
Running back Trey Sermon said the Buckeyes' coaches have been telling them all year that they had to be prepared to overcome challenges, and on a day where they had a lot to overcome, they proved that they could.
"It was rough, but our coaches, they just tell us, it's adversity and we're going to face it, so we have to be ready when our number's called, and we were," Sermon said. "We always keep our motto, just fight. So when we get the chance, just fight and just take care of business."
"I think this week really brought us together as a team."– Justin Fields
A skeptic might point out that Ohio State was favored to win Saturday's game by 24 points, and that Michigan State is 2-4 this season, having already suffered multiple blowout losses earlier this season against Iowa and Indiana. But with everything the Buckeyes had to overcome just to play on Saturday, when they became the first Big Ten team this season to play a game just one week after canceling a first game due to a COVID-19 outbreak, this blowout win shouldn't simply be minimized as just beating up on a bad opponent.
Johnson made history in the process, becoming the first Black man to ever be Ohio State's head coach for a football game and winning his first-ever game as a head coach at the collegiate level. To him, though, Saturday was all about the players and what they had to battle through.
"I wanted to make sure when I turn it back over to Coach Day, we're 5-0," Johnson said. "I did not want to go back Sunday and stand in front of that team after losing the game. So that was my focus, and going into it all week long, it was never about me, it was about the team."
Ohio State can't afford to spend too much time celebrating the win over the Spartans because it's now rivalry week for the Buckeyes, with their annual game against Michigan (pending the Wolverines being able to play next week) scheduled for next Saturday. Day will be back at the Woody Hayes Athletic Center on Monday to lead the Buckeyes through their week of preparation for The Game. But he did want the Buckeyes to appreciate what they accomplished on Saturday, because he knows all the challenges they've had to overcome all year, but especially this week.
"We take a lot of pride in being Buckeyes, and there's so much emotion into this season, and so to see the team rally together in this moment, certainly have a lot more football to play but we live to see another day," Day said. "And with these kind of challenges and the adversity that we've been through, I think it's a moment and it's something that everybody needs to enjoy tonight, and then we're on to the team up north."