Our first edition of Deep Cuts took you back to 1998's season-opening Ohio State-West Virginia matchup, and this week we're going two decades further into this program's storied history.
Welcome to the second week of the 1976 season. The Buckeyes travel Beaver Stadium for a top-10 matchup with Penn State featuring a pair of renowned head coaches.
Battling with Joe Paterno, Woody Hayes at this point was in the 25th year as Ohio State's coach, and I'm in my 26th year on this planet. So, needless to say, like some of you, I don't know the outcome or score of this showdown.
Come along with me for the ride in this legendary game. Here's a link to the game to follow along with my timestamps, if you'd like. Let's get this thing underway.
0:01:07   A grand total of 16,065 days have passed between this game kicking off and today's diary, and yet one of the three title sponsors on this Penn State broadcast is, of course, Dodge. Genesee Beer and Westinghouse also get to see their names in inexplicably ugly yellow lettering as sponsors. Cash, as one might say, ruled everything around college football and still does to this day.
0:01:36   Good news, Ohio State folks. It's not a Whiteout in Beaver Stadium. You can relax.
0:01:50   Finally, it's time for the announcers on TCS – an independent syndicator with a Penn State-heavy broadcast because, well, it's the only version of the full game on YouTube – to introduce themselves. Would you look at that: We've got a Paterno. It's George Paterno, Joe Paterno's younger brother. He's joined by Ray Scott, a play-by-play broadcaster I admittedly don't know a thing about but who – based on a quick Google search – had one hell of a run in the industry.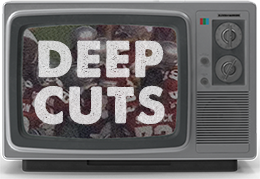 September 18, 1976
| | | | |
| --- | --- | --- | --- |
| #2 | | Ohio State | 12 |
| #7 | | Penn State | 7 |
0:02:13   George Paterno gives us a little bit of context as we wait for the kickoff: "That young Penn State defense really has their work cut out. As you said, last week they had to do a real good job against a great Stanford passing game. Now, possibly to have to do a job against the best running game in football. I think they can do it. Penn State has a quick defense, and if they can stop (fullback Pete) Johnson inside and (quarterback Ron) Gerald outside, they have a chance to win this football game. But in the same token, I think Ohio State has a great defensive football team. In (defensive tackle Eddie) Beamon, (nose tackle Aaron) Brown and (defensive tackle Nick) Buonamici, they probably have the best down three people in the country."
Let's set this thing up...
This Week 2 game's kicking off on Sept. 18, 1976, with both teams ranked among the 10 best in America. Ohio State, the nation's No. 2 team, just gave Michigan State a 49-21 butt-kicking to open the season, riding a 463-yard rushing performance as a team that Gerald (10 rushes, 104 yards), running back Jeff Logan (seven rushes, 112 yards) and Johnson (12 rushes, 99 yards) led. Three eventual first-round selections – offensive tackle Chris Ward, linebacker Tom Cousineau and defensive end Bob Brudzinski – are key pieces of Woody Hayes' Ohio State team.
Penn State's coming off a high, too, after eking by Stanford for a 15-12 win at home. It's ranked No. 7 in the country in Paterno's 11th season leading the team. Quarterback John Andress is surrounded by eventual second-round NFL draft pick running back Matt Suhey and two other backs – Steve Geise and Matt Gunman – who power the offense.
0:02:54   The first question from sideline reporter Tor Toretti – who apparently doubles as an athletic department employee in charge of recruiting – in an on-field pregame interview with Paterno: "Do you think this is probably the biggest game in Penn State football?" 
Paterno says, "I don't think I'd be willing to say that right now." To translate his coach-speak: "Ask me later once I know whether we win or lose.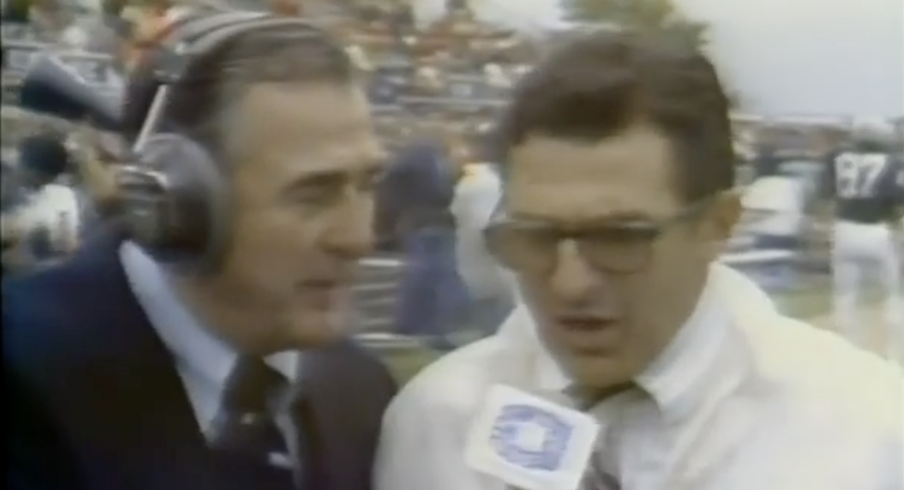 0:04:20   George Paterno's analysis here speaks to the difference between 1976 and 2020: "I think the team that can throw the ball for more than 100 yards and make five third-down plays will win the game." One-hundred passing yards and you win! Remarkable.
0:07:35    It's 1976 and a football team running out of the tunnel to take the field still gets me juiced. The game's just about to get underway...I think.
0:08:10   Holy crap, the broadcasters are doing special teams analysis before the game even kicks off. George Paterno says punter Tom Skladany playing for Ohio State despite being a Pennsylvania native is "a tragedy."
0:12:16   Referee Paul Bertha is mic'd up for the coin, which is tremendous. I love the urgency and excitement in his voice. Please bring this back, college football. 
0:14:55   Penn State receives and returns to the 21-yard line, and we're finally underway.
0:21:51   Oh, man. Disaster barely averted for the Buckeyes after a quality first defensive stop. Their punt returner had called a fair catch, and just before the ball came down from the sky, one of his supposed blockers collided into him. Thankfully for Ohio State, the ball didn't hit any of its players, bouncing down to the 14-yard line.
A few quick observations on the game's first drive as my brain processes 1976 football:
Wide receivers are in three-point stances, and the center is in a four-point stance. Uh, why? Maybe there's a reason, but if there is, I don't know of it.
The first throw of the game was a play-action, one-step drop pop pass to the tight end for eight yards. Offenses have evolved, to say the least.
Ohio State runs a five-lineman defense, and it ate up the Nittany Lion rushing attack on the first drive. Aaron Brown, in particular, caused plenty of penetration from his spot as the nose tackle. The guy utilizes a four-point stance and looks to have two taped clubs to his arms. It's spectacular.
0:23:13   Glad to know the Nittany Lion mascot hasn't changed in four decades. I'm just going to assume its the same guy inside that costume.
0:25:33   It's taken approximately five plays to figure out Ohio State's offensive game plan: Run, run, run some more, run, run again, run, run and, oh yeah, run once more. So far, so good. Jeff Logan – who the announcers mentioned is the successor to Archie Griffin, which is a particularly difficult task – opened the Buckeyes' first drive with a couple of runs to pick up a first down, and the offensive line, with big splits, is getting movement up front.
0:27:22   Well, it took nearly a half-hour of broadcasting, but we finally have Hayes on the screen...and it's a shot of the back of his head. Thank you, TCS.
The description from Scott of the coach is apt, though: "Now Gerald has a 3rd-and-5 as crusty Woody Hayes looks on."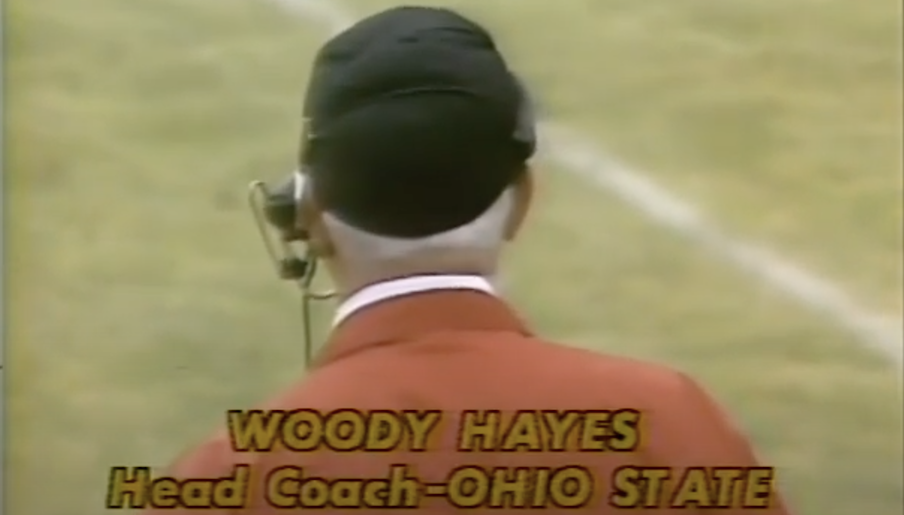 0:28:39   Just learned why Ohio State doesn't throw often! On 3rd-and-10 – which the Buckeyes got into because of a delay-of-game penalty – Gerald dropped back for approximately 0.15 seconds before taking off and scrambling for a seven-yard gain. He didn't appear comfortable in a relatively clean pocket at all. This team's going to win or lose based on its ground game.
0:29:22   Time for the main event: Tom Skladany. I cannot stress enough how many times the broadcasters have brought his name up so far. They're addicted to Ohio State's Pennsylvania-born punter. George Paterno went so far earlier in this telecast as to predict he gets taken in the first round of the NFL draft.
An impressed Scott says, "What a punt," before the ball falls out of the air. It was a fine yet returnable punt that has Penn State starting at its own 15-yard line. I can't wait to see more of Skladany simply due to this announcing duo.
0:31:55   Holy crap. A completed downfield pass, and it was a dime between two Buckeyes defenders. The Nittany Lions cross the 50-yard line on a 20-plus-yard connection. 
0:39:00   Unreal. Penn State calls a reverse(!) to Jimmy Cefalo on third down who comes just short of moving the chains. Paterno proceeds to go for it on fourth down from Ohio State's 26-yard line, goes with a run up the middle and meets both of the Buckeyes' linebackers in the air. A referee's microphone (accidentally?) turns on is over the TV broadcast heard saying, "The ball is short. But that placement is 100 percent correct." The officials bring out the chains – for whatever reason, we're measuring first downs the same way in 1976 and 2020 – and the Nittany Lions are just short. 
Turnover on downs on a drive that looked like it could end with the game's first points.
0:42:50   Gerald's first throw of the game? A 20-yard toss down the field that went in and out of a Penn State player's hand. The next play? Gerald gets sacked on third down.
Yeah, I'm starting to see why you rely so heavily on the run, Woody Hayes.
0:47:20   Ray Griffin, Archie's brother, comes up from his spot in the secondary to make a nice tackle on third down to force Penn State to punt on 4th-and-inches. Ohio State has quite the history of heralded brothers, huh?
0:49:55   The announcers have a point here. It's wild that this scoreless game has reached the second quarter and Pete Johnson hasn't touched the ball yet. Remember: He's a senior and cracked 1,000 rushing yards the year prior. 
OSU-PSU '76 Fun Facts
This was Ohio State's first-ever game in Beaver Stadium.
Woody Hayes improved to 2-0 against Joe Paterno-coached Penn State teams.
This was the sixth meeting between the Buckeyes and Nittany Lions, with Penn State holding a 4-2 series edge at the time.
This was the first time Ohio State played on Sept. 18. As of today, the Buckeyes are undefeated (6–0) on the date.
0:50:15   Gerald takes another sack. Please stop throwing, Ohio State. Please.
0:52:30   Uhhhhh, what? Skladany booted a punt to about the 50-yard line, and a second before Penn State's returner expected to catch it, an Ohio State player launched himself off of the grass and drilled the Nittany Lion for one of the more obvious illegal hits I've ever seen. Just incredibly ill-advised. 
The Buckeyes are winning in the trenches on both sides of the ball, but that's about it so far. Still a 0-0 game in the second quarter, but the Nittany Lions start with the ball on Ohio State's 35-yard line.
0:58:42   Man, this Ohio State defense is tremendous. Defensive tackle Aaron Brown – part of the Ohio State Athletics Hall of Fame Class of 2020 – continues to terrorize the inside of the line, and Griffin just came up with the play of the game thus far.
He picks off Penn State's first throw to the end zone today and, for whatever reason, takes it out and returns it to the 3-yard line. A touchdown-saving interception.
(Side note: Watch the referee come in from off the right side of the screen to go Full Nolan Ryan with a penalty flag, bouncing it off of a Penn State player's head. Why he did that so aggressively? Nobody knows. But add 15 more yards onto the return with the Nittany Lion penalty.)
1:01:02   This game picked up steam in a hurry. A quick-hitting handoff to Logan up the middle nets the Buckeyes 48 yards. Two plays ago, they had their backs up against the end zone trying to avoid allowing the first points of the day, and now they're driving well into Penn State territory.
1:01:58   Pete Johnson Carry Alert! Nobody's more pleased than these two broadcasters who haven't stopped talking about his lack of touches.
1:04:13   Unreal. Just unreal.
Only in 1976 would Ohio State call for a package that featured three running backs lined up side-by-side behind its quarterback. Only in 1976 would Ohio State use such a formation – understandably called the Full House by the announcers – and run its quarterback out of it. Only in 1976 would that actually work.
Gerald appeared to have the option to toss it to his running back but made the correct read, tucked it and fought through a tackle on his way into the end zone. The Buckeyes have the lead.
1:04:49   Oh, good. This game needed more absurdity. An errant long snap to Skladany forces the extra-point kicker to run for it. He doesn't manage to cross the plane for a two-point conversion. Shocking.
1:12:30   Unlike Ohio State, Penn State should do one thing: Pass, continue passing and never stop passing. Several Nittany Lion receivers are getting open consistently, and Andress keeps hitting them. 
1:13:40   Hey, Joe Paterno. You should have listened to me from a minute and a half ago and retroactively altered history.
Steve Geise fumbles a pitch, fails to pick it up, and Ohio State recovers. Penn State now has turned it over on both trips to the red zone. Tough.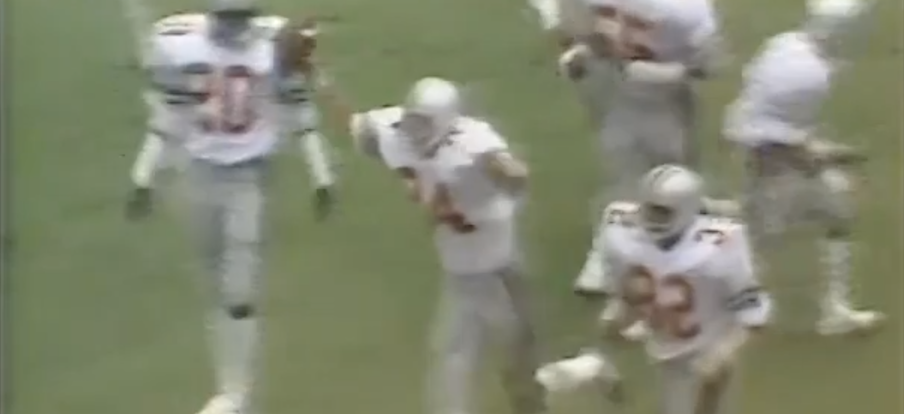 1:17:24   Because left tackle Chris Ward wears No. 79 and is, well, massive, I can't help but think of Dawand Jones every time I see him.
1:20:30   It's halftime in Beaver Stadium, and Ohio State holds onto a 6-0 lead. Those two Penn State turnovers will haunt Paterno.
1:34:34   Early in the third quarter, TCS finally shows Logan's stats on the screen, which is a good time to point out that he's been the most difficult player for Penn State to deal with thus far. The running back already has 10 rushes for 85 yards. Hayes has completely abandoned the passing game, choosing to largely ride Logan and Gerald on the ground.
1:40:48   Fourth-and-1? Hayes goes for it again, and Johnson picks up the first down. The Buckeyes are just pounding it up the middle right now, which is working.
1:43:20   There's apparently a reason why Skladany became a second-rounder due to his punting rather than his kicking. A 45-yard field-goal attempt quite literally didn't even reach the goal line, coming well short of the uprights. 
1:48:13   Per an on-screen graphic, Ohio State has 169 rushing yards and zero passing yards. Nice. Also, Penn State has more than 100 passing yards, which George Paterno said would be the threshold a team needed to reach in order to win.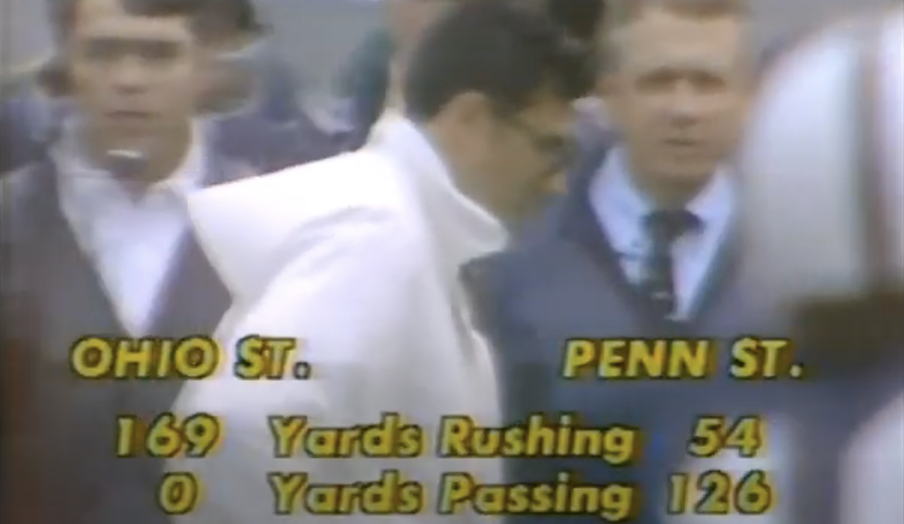 1:55:35   Nobody has scored, and neither team has committed a turnover, but Ohio State has a 24-4 edge in plays ran in the third quarter. This three-yards-and-a-cloud-of-dust offense is getting rolling.
1:55:50   Alert! Gerald has his first completion of the day. That is all.
OSU Leaders, 1976
RUSHING YARDS
1,248...Jeff Logan
PASSING YARDS
404......Jim Pacenta
RECEIVING YARDS
288......Jim Harrell
SCORING 
114.......Pete Johnson
TACKLES
184......Tom Cousineau
INTERCEPTIONS
4...........Bob Brudzinski and Tom Roche
PUNTING AVERAGE
42.4......Tom Skladany
1:57:25   This is sort of awesome. Ohio State didn't bring its marching band to Beaver Stadium in an official capacity. However, assistant band director Jon Woods had about 40 band members pay their own way and bring their instruments. So, as one of the broadcasters points out, you can hear them as the Buckeyes continue driving.
Had no idea that happened – or was even allowed.
1:58:57   That went by quickly. We're moving on to the fourth quarter with Ohio State still holding on to a 6-0 lead. The Buckeyes completely dominated the third quarter, but without yet adding to their edge on the scoreboard, they're playing with fire.
2:04:40   I'm...completely baffled. For two different reasons.
For some reason, Hayes just trotted out Skladany for a 57-yard field goal despite him kicking a 45-yarder that didn't even reach the goal line earlier this game. Not surprisingly, this Skladany kick also didn't get to the uprights, falling short in the end zone.
Inexplicably, Penn State's Neil Hutton catches the ball in the end zone and decides to return it. So instead of taking over at the 40-yard line, he falls down at the 4-yard line, giving the Nittany Lions awful field position.
Forty-three years later, I'm in awe of the decision-making here.
2:13:02   No field-goal attempt this time. Instead, Hayes decides to go for it on 4th-and-1 from Penn State's 8-yard line. The gamble pays off with Gerald flipping a pitch on a speed option to Bob Hyatt who scores the only touchdown of collegiate career. Ohio State's Full House formation adds another to its body count.
This is the insurance the Buckeyes needed. Now, they're up by two touchdowns while pitching a shutout in the fourth quarter.
2:13:46   Gerald's attempt to scramble for the two-point conversion falls short at the 3-yard line. It's a 12-0 lead for Ohio State.
2:17:05   George Paterno with an interesting comment: "Buckeye fans have no idea how close Matt Suhey came to wearing scarlet and gray instead of blue and white." Ohio State did just fine at fullback, but having the 10-year NFL veteran on its team wouldn't have hurt, either.
2:19:59   Uh, wow. Andress delivers an on-target bomb into the end zone for Tom Donovan who drops what would have been a 43-yard touchdown. Rough. The Beaver Stadium crowd isn't particularly pleased.
2:21:42   Love Paterno going for it on 4th-and-10 rather than punting it away on Ohio State's side of the field. It works, too, with Andress hitting Rich Milot who drags an ankle tackle far enough to pick up a much-needed first down. The referees legitimately might have already used the chains to measure first downs on 10 or so instances.
2:28:00   Hey, look: Penn State made it to the red zone and actually managed to score. Suhey dives across the goal line for the Nittany Lions' first points of the game. It's a one-score game. 
Perhaps my favorite part of the score was the Nittany Lion walking halfway into the end zone to celebrate. The dude really looked like he was about to take a snap.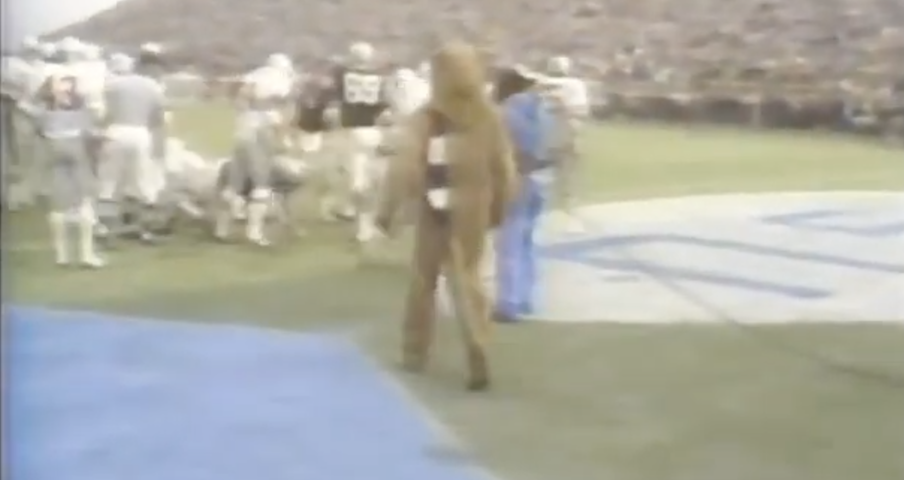 2:31:58   I want to throw out a complaint about college football broadcasts in the 1970s. Without an on-screen scoreboard, how in the world are people supposed to know how much time is left in the game? It's the fourth quarter and Ohio State just picked up a first down, so the clock is ticking, but the announcers aren't helping out with this either. OK, back to the action…
2:32:45   Thank you for listening to me. The play-by-play announcer says there's 4:25 remaining with Ohio State hanging on to the ball and a 12-7 edge.
2:34:36   Whoa. A 3rd-and-3 run up the middle by Johnson puts the Buckeyes into a 4th-and-inches situation on their own 40-yard line, but Hayes won't punt. He's going for it, knowing that if they put enough push then they should win and if they don't, the Nittany Lions will be on Ohio State's side of the field. This is one hell of a gamble.
2:35:10   It must be nice to have Johnson. Once again in the much-used Full House backfield, Gerald hands it to his fullback on a dive up the gut, and on a second effort, he converts. The guy just refused to get taken down. We're a long, long way from the announcing team wondering why he isn't getting any touches.
That was, quite honestly, a perfect call by Hayes. He knew that he'd been able to get a few yards up the middle all game even if the big-hitting plays hadn't materialized, which had worn down Penn State's defensive front, so this would be worth the risk. Johnson proved him correct.
2:35:57   Only 2:47 remains after Logan picks up five yards on first down. Odds of a Penn State comeback decrease by the play at this point.
2:36:18   What a game by Logan, who carries the ball outside for a 14-yard gain to move the chains with the clock ticking. The Nittany Lions haven't had an answer for him all night. He's up to 22 rushes for 149 yards.
2:39:20   The announcer sarcastically says, "We'd like to remind you that Ohio State will be home next week and the week after, and all they have is just simply Missouri and UCLA. Wow." Must've been nice back in the day to have back-to-back Power Five non-conference opponents.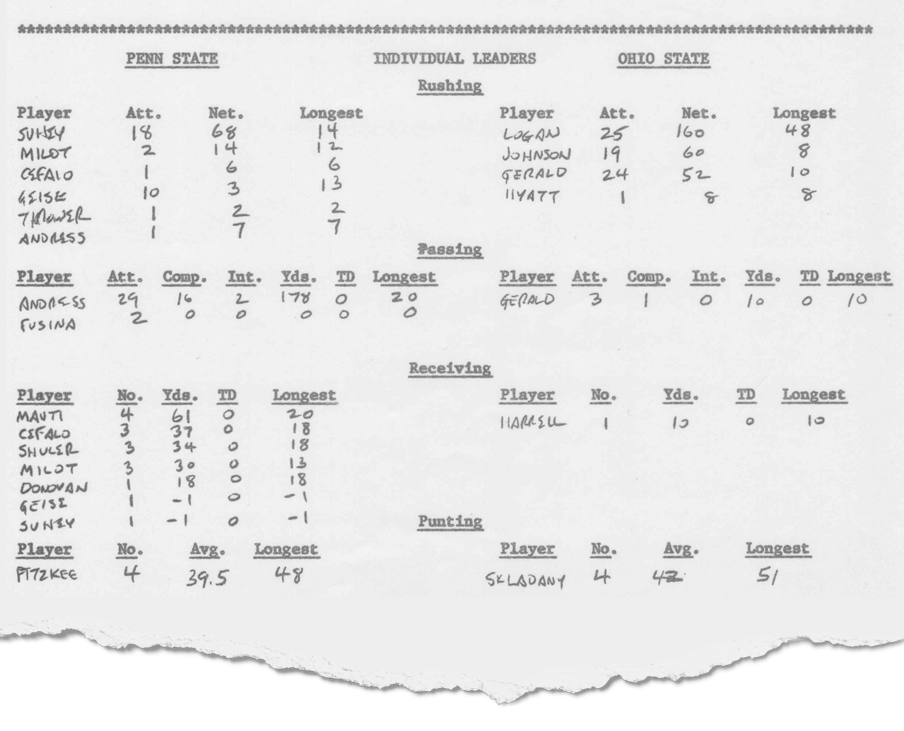 2:39:50   Finally, it's punting time for Ohio State, which has moved the ball to Penn State's 40-yard line yet now faces a 4th-and-8 situation. Paterno just exhausted all three of his timeouts on three consecutive plays to try to preserve as much time for his offense to operate as possible.
Just 1:50 left in this one.
2:41:07   Skladany nearly pins Penn State inside the 5-yard line, but it's a touchdown. So the Nittany Lions get the ball at the 20-yard line with less than two minutes left on the clock and a five-point deficit. Enough time remains for a miracle here.
2:43:38   Game. Over.
Aaron Brown, man. He's been a terror all night, and this time he forces initial pressure on Andress with a swim move, and the quarterback steps up to deliver a pass while getting walloped by Buonamici as he released a floating duck that Kelton Dansler intercepted with ease. 
Major John O'Korn-throwing-an-interception-to-Jordan-Fuller-in-2017 Energy.
2:44:26   Evidently, instead of taking a knee, quarterbacks in 1976 just fell to the ground while clutching the ball like a baby immediately after taking the snap. We've reached that point in the game.
2:48:03   The moment the clock hits zero, giving the Buckeyes a 12-7 victory, Hayes takes off for the locker room. Guess they didn't do head coach handshakes back then. Unsurprisingly, the taking off of his hat to wave it to the crowd elicited boos from the Penn State crowd. Not that he cares.
Next Up
Check back in on Sunday to catch up with a former Buckeye who played in this Week 2 matchup, and return on Monday for a Film Study from our own Kyle Jones to break down the particulars of what helped Ohio State top Penn State.