This week in Deep Cuts, we're previewing Ohio State's 1976 clash with Penn State, the Buckeyes' first-ever trip to Happy Valley.
Ohio State opened the 1976 season with a 49-21 dismantling of Michigan State, marked by Woody Hayes' refusal to attend a postgame press conference due to a feud with members of the Michigan State media1.
Hayes had no time for controversy, however, as his No. 2 Buckeyes had to reset for a blockbuster matchup with a No. 7 Penn State team that was coming off a 15-12 season-opening win over Stanford.
Ohio State had beaten Penn State, 17-9, in Columbus the previous year in the first meeting between Hayes and Joe Paterno, but historically, Penn State had the Bucks' number. Prior to that clash in 1975, the Nittany Lions were 4–0 against Ohio State, having outscored the Buckeyes 81-13.
The Bucks would try to make it two in a row, but they were heading to Happy Valley – boasting a capacity at the time of 63,000 – for the first time ever and facing a team hellbent on revenge.
What They Were Saying 
"We know Ohio State has an outstanding team," Paterno said Wednesday before the game. "They are big, they are strong and you can bet they are well-coached.
"We certainly should have the incentive for this one," Paterno continued. "We are playing in our stadium. The game is on regional television. It would seem all the external things are going for us. We must have improvement in our offensive line to move the ball against that stout Ohio State defense. Ohio State has a wealth of skilled defensive players. But it will be a great football game, I'm sure."
"Ohio State will present a different problem than Stanford," Penn State defensive end and captain Ron Crosby said. "They have a different running game. We must defend against the split backs and the veer. We will have to go east-west instead of north-south. Ohio State is awfully quick. they are certainly more physical than Stanford."
"There are a lot of rough people we have to go after in Penn State."
Ohio State defensive coordinator George Hill told The Columbus Dispatch the Buckeyes would be in for a stiff test.
"There are a lot of rough people we have to go after in Penn State," Hill said prior to the game. "They have very good offensive linemen, speedy wide receivers, and big, strong backs.
In the twilight of his career, Hayes was wise enough not to provide Paterno and his Penn State team with any bulletin board material, saying of the Nittany Lions coach, "One of the great coaches in the game. He does an awful lot of coaching. A very intelligent man. His records speak for itself. I hope I haven't said anything to offend him."
Paterno, for his part, heaped praise on Hayes. Kind of.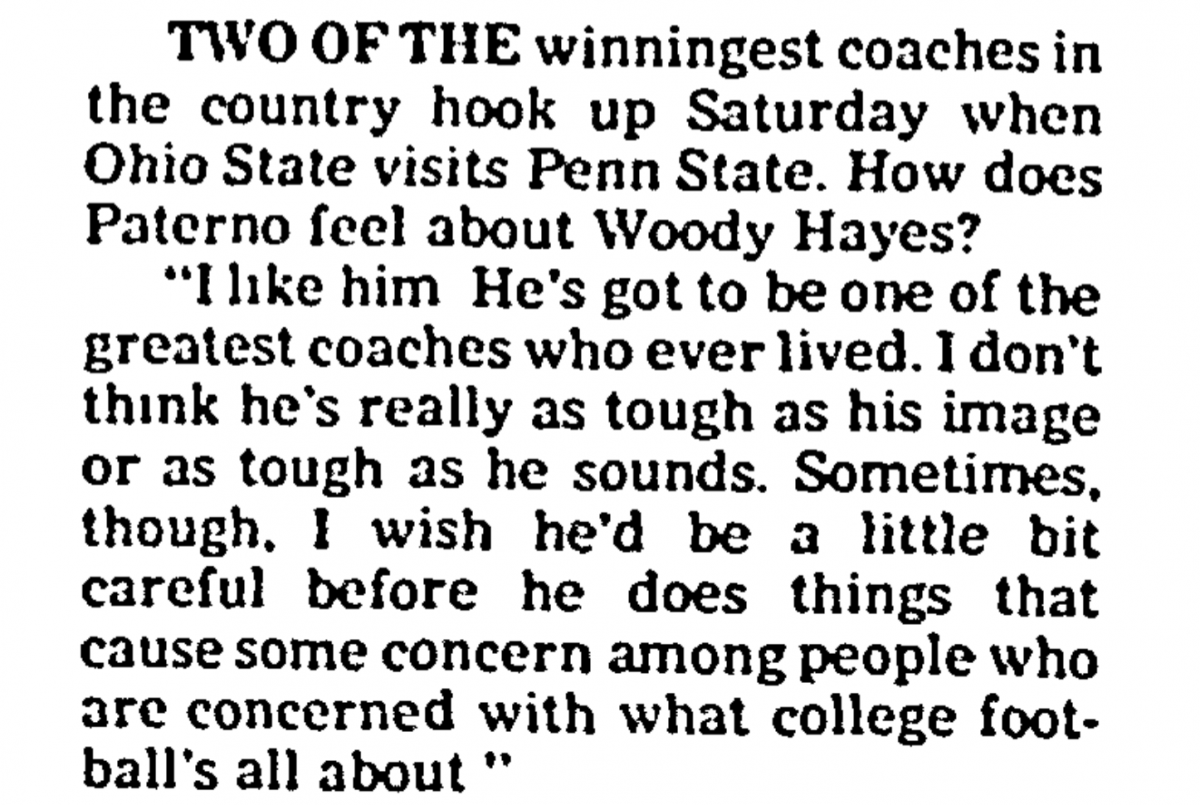 Talk about a sideways compliment. Paterno calls Hayes one of the greatest coaches who ever lived before cutting him down by questioning what Woody says and does.
Fast Facts
Ohio State entered the game 1–0 and ranked No. 2 after a 49-21 win over Michigan State
Penn State also entered the game 1–0 and ranked No. 7 after a 15-12 win over Stanford.
The game marked Ohio State's first road trip to Penn State.
Entering the game, the Nittany Lions held a 4–1 lead in the series.
Ohio State won the previous matchup in 1975 by a score of 17-9.
In the five previous matchups, Penn State outscored Ohio State by a combined score of 90 to 30.
At the time of the game, Joe Paterno was the winningest college football coach of the previous decade.
Through 1975, Ohio State was 61–21–4 (.733) against Week 2 opponents.
Ohio State and Penn State met for the first time in 1912.
1976 Ohio State Buckeyes
Coming off of an 11–1 season, and being a Rose Bowl victory away from winning the national title, Ohio State entered the 1976 season with many questions on offense. The Buckeyes needed to replace eight starting offensive players. Six of those players were selected in the NFL Draft earlier in the year.
If the absences of tight end Larry Kain, offensive lineman Scott Dannelley and receivers Brian Baschnagel and Len Willis were concerns, then trying to replace three-year starting quarterback Cornelius Green was foreboding and losing two-time Heisman winning running back Archie Griffin was not possible.
Quarterback Rod Gerald and running back Jeff Logan were tasked with the Herculian challenge of following in the footsteps of Green and Griffin. A bright spot for the offense was the return of touchdown maker Pete Johnson. The talented fullback was the only returning starter in Ohio State's depleted backfield. 
On the defensive side of the ball, the Buckeyes had seven returners from a group that limited opponents to 8.5 points per game in 1975. Key returning players on the defensive front were Bob Brudzinski, Nick Buonamici and Aaron Brown. At linebacker, Tom Cousineau and Ed Thompson were poised to punish ball carriers and the secondary was anchored by Ray Griffin and Bruce Ruhl.

Even with major talent coming back, Ohio State's defense still had to fill the holes left by departed starters linebacker Ken Kuhn, defensive back Craig Cassady, linebacker Pat Curto and first-round pick Tim Fox.
1976 Penn State Nittany Lions
Joe Paterno did not have the same level of concern with his offense that Woody Hayes was facing in Columbus. At the time of this game, Paterno was college football's winningest active coach (.839) and had a battle-ready backfield.
Senior QB John Andress was back under center and the experienced signal-caller had a stable of future NFL running backs eager to run with the ball.
Matt Suhey, Rich Milot, Mike Guman and Bob Torrey were on Penn State's roster and would all have significant carries during the season. Against, Stanford, Suhey became the first freshman to start an opening game for Paterno. When passing, Andress could find future NFL receivers Rich Mauti, Jimmy Cefalo, Tom Donovan and tight end Mickey Shuler running open as targets. 

The Nittany Lions also had NFL talent on defense. Linebackers Kurt Allerman and Greg Buttle roamed the middle of the field, while defensive tackle Ron Coder plugged the middle of the line.
Up Next
Saturday, we'll have the Deep Cuts watch diary of the '76 Buckeyes clash with Penn State in State College. Sunday, we'll catch up with a player from that game, and Monday, we'll be back with a Film Study session.
---
1 The whole Michigan State saga is an amazing story in its own right. After admitting to turning in the Spartans for recruiting violations, the student paper at Michigan State, The State News, wrote a series of articles in the summer of 1976 accusing Hayes of recruiting violations himself, which he denied. Hayes and his Buckeyes jumped out to a 35-0 lead, then the coach called three timeouts late in the first half attempting to score again and later put his starters back into the game in the fourth quarter, with his team comfortably ahead. Days later, Hayes said he didn't meet with the press after the game because he was afraid he "might grab somebody by the throat."   ^BACK