Chris Holtmann, his coaching staff and his players haven't been together since March.
Together in a ballroom waiting to play their opening game in the Big Ten tournament, they learned the conference showdown had been canceled. Later that day, the NCAA tournament was canceled, and the Buckeyes' season came to an abrupt conclusion, leaving Holtmann and others wondering what might have happened in the postseason for a team that ended the year with wins in nine of its last 12 games.
Since then, the roster went through a significant transition via multiple transfers both in and out of the program, and yet Ohio State's coaches and players have still largely been separated from each other. Only last week were the players finally allowed back to campus to take part in voluntary workouts, and the coaches still can't work with them on the court yet.
Still, it's important for Ohio State to continue developing its players at a usual rate throughout an unusual offseason. What is the No. 1 item that each of the 13 players have to work on in the offseason? Let's dig in.
CJ Walker (Redshirt Senior – Point Guard)
Needs to ... pull the team together as the undisputed leader
The 13 players on Ohio State's roster include the following:
Seven returners (CJ Walker, Kyle Young, Musa Jallow, Duane Washington, Justin Ahrens, E.J. Liddell, Ibrahima Diallo)
One returner who sat out after transferring (Justice Sueing)
Two immediately eligible transfers (Abel Porter, Seth Towns)
One transfer who will have to sit out (Jimmy Sotos)
Two incoming freshmen (Zed Key, Eugene Brown)
Three starters from last year's team – Kaleb Wesson, Andre Wesson and Luther Muhammad – are gone, along with DJ Carton. Undoubtedly, it will take time for Ohio State's team to gel together. 
"We're going to have to hit the ground running as soon as we can get back together," Holtmann said in April. "That doesn't mean we're going to overwork our guys, but it does mean I think we're going to have to hit the ground running in terms of our ability to connect as a group and figure out each others' strengths."
For everybody to come together the way Holtmann hopes, Ohio State needs strong leadership from its players, and that begins with Walker. The fifth-year point guard quickly established himself by becoming a team captain last season, and he'll be the undisputed leader this upcoming season. Both his teammates and coaches respect him, with Holtmann mentioning numerous times that he thinks Walker will eventually be a successful basketball coach.
First, though, Holtmann needs his point guard to act as a de facto coach right now by helping the team coalesce in an unconventional offseason.
Abel Porter (Redshirt Senior – Point Guard)
Needs to ... prove he can play backup point guard minutes
Ever since the middle of his redshirt sophomore season, Porter has started every game he has played. Yet because of the former walk-on's graduate transfer from Utah State to Ohio State, he's expected to come off of the bench behind Walker and Washington as a Buckeye.
Still, while serving in a different role, he should have ample opportunities to play meaningful minutes. He's one of only three Buckeyes who'll play lead guard this season.
"They were open about what their current guard situation was," Porter said in May. "They also only had two guards on their team at the time. So there was an opportunity for playing time, but they were kind of just walking me through where I could see playing time and how it would work and what they would picture me doing. It obviously fit perfectly with what I wanted."
Ohio State won't need Porter to become a star or a primary scorer. Rather, the coaches will simply want him to be a veteran facilitator who can aptly spell Walker and Washington when needed. This offseason, he'll get the first shot to show that he can fill such a role.
Jimmy Sotos (Junior – Guard)
Needs to ... stay patient
Not only did Sotos know he'd be sitting out this upcoming reason when he transferred from Bucknell, but he chose Ohio State in part because he felt as though it would be valuable.
"I'll be sitting out next year, and we both really think that that could play a huge role in my development individually and the team's benefit," Sotos said in April. "I'll have a whole year to get acclimated, kind of establish myself as a leader."
Surely, Sotos will have moments where he wishes he could be on the court. Walker felt that way at times when he sat out after transferring, and Sueing undoubtedly did last year, too. So, it'll be key to keep everything in perspective, understanding that he'll be waiting to potentially start for Ohio State as a redshirt senior guard in the 2021-22 season.
Kyle Young (Senior – Power Forward)
Needs to ... stay healthy
On the court, you sort of know what Ohio State's getting with Young as a senior. He plays with a ferocious energy that aids him as both a rebounder and defender. That won't change. Since Kaleb Wesson's gone, he'll play center more than ever before, and his offensive game could continue to expand. 
But the most important aspect for Young going forward might be whether he can actually stay on the court rather than what he does when he's there.
"The biggest thing for him is we've got to keep him healthy and able to go through the grind of a season," Holtmann said.
Young suffered a stress fracture in his leg during his sophomore season that kept him out of four games and hindered him for the remainder of the campaign. Then as a junior, he had his appendix removed on Dec. 30 before suffering a high ankle sprain less than two months later. It'll be pertinent for the Buckeyes to take as many preventative measures as they can with him, especially since they don't have much depth in the frontcourt.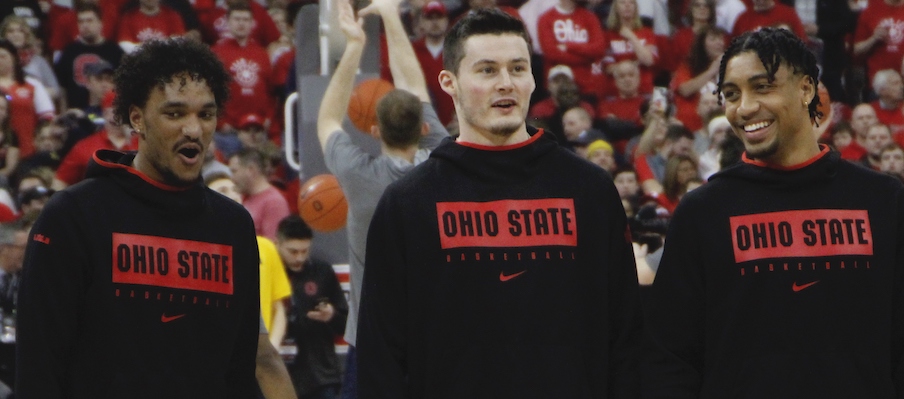 Musa Jallow (Redshirt Junior – Wing)
Needs to ... return to form as a lockdown defender
Just a couple of weeks before the 2019-20 season began, Ohio State announced Jallow would have an arthroscopic procedure on his right ankle that would hold him out of action indefinitely. Holtmann then revealed on Jan. 22 that he planned to undergo reconstructive ankle surgery and redshirt.
Provided he returns to full health, Jallow will be counted on this upcoming season to provide what he offered in his two prior years: Defense. He's arguably the most athletic player on the team, and especially since Muhammad transferred, he'll be valuable as a lockdown defender. 
It would be beneficial for the Buckeyes if Jallow turns into a more consistent shooter and cuts his turnover rate. But more than anything else, they'll need his defense in the 2020-21 season.
Justice Sueing (Redshirt Junior – Forward)
Needs to ... cement himself as the team's most effective slasher
In his first year at California, Sueing nearly led the Golden Bears in scoring by averaging 13.8 points per game, and as a sophomore he managed to do so with 14.3 points per game. One of the main reasons he was so effective as a scorer? His ability to get to the rim.
"He's hard to keep in front," Holtmann said. "He's terrific at getting to the paint. One of the things we lose with Kaleb is that guy that can draw fouls and get to the paint. Justice does that at a high level."
Recently, Ohio State hasn't really had anyone with that type of skillset. He arrives at an optimal time for the Buckeyes, as Kaleb Wesson is gone after leading the team in free-throw rate last season. 
Seth Towns (Redshirt Junior – Forward)
Needs to ... get healthy
Originally, Towns hoped to be fully healthy by June. He's still recovering from his latest knee surgery earlier this year, however.
"It's hard to say just because this is such a weird thing, process," Towns said this month. "By the season is kind of, like, no question. It's just about staying patient."
Towns became a dominant scorer in his two healthy seasons at Harvard, averaging 14.2 points and six rebounds across the 2016-17 and 2017-18 seasons. He was honored as the Ivy League Player of the Year following his sophomore season. Yet he hasn't played since then.
Ohio State will preach patience with Towns, for the coaches know how impactful he can become whenever he gets back to 100 percent health. Right now, he has no target date of a return to full health.
Duane Washington Jr. (Junior – Combo Guard)
Needs to ... become a more efficient scorer
It wasn't always pretty – remember when he got benched versus Indiana? – but Holtmann watched Washington take what he viewed as the next step offensively as a sophomore last season.
"Part of the normal kind of things that happen with your roster is guys emerge," Holtmann said. "And I think what we saw this past season was Duane emerge in a lot of ways, particularly offensively, and had some critical moments in critical ways and played really well for us and obviously played well when we played him more with the ball in his hands."
Washington averaged 11.5 points per game, the second-most behind Wesson and the most among guards on the team. Yet he did so while shooting 40.3 percent from the floor and hitting fewer than 40 percent of his shots in 12 separate games.
This season, the Buckeyes absolutely need Washington to become a more efficient scorer – and to improve his shot selection. He's been one of the most up-and-down players since arriving in Columbus in 2018, yet he now has a chance to lead Ohio State in scoring as a junior. To be the primary option – or even just to be one of the team's top scorers – he has to figure out how to be more consistent offensively.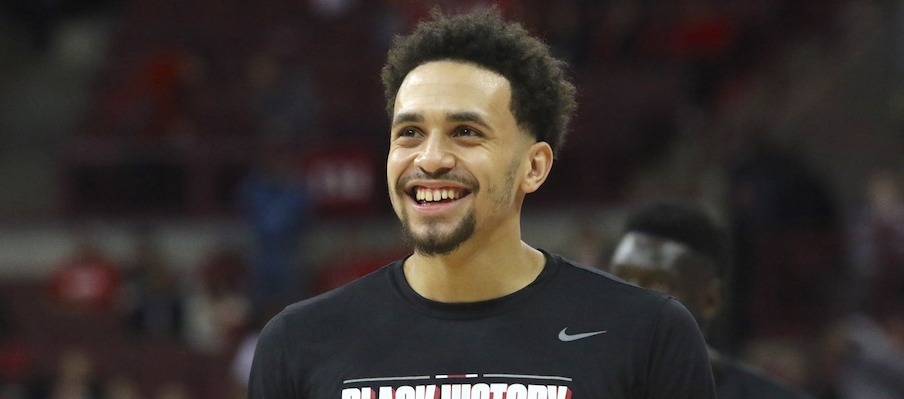 Justin Ahrens (Junior - Forward)
Needs to ... get into the best shape of his life
Unfortunately for Ahrens, what seemed like it might be a promising sophomore season was beset by an offseason back injury that prevented him from returning to 100 percent health until January. It kept him from having even a semblance of a typical summer, which left him physically behind where he hoped he would be when the season began.
Having ended the year healthy, Ahrens has a full offseason – even if it's abnormal – to optimize his body. Added strength and quickness are both important for Ahrens, whose defense has been an issue.
E.J. Liddell (Sophomore – Power Forward)
Needs to ... prepare to be a primary offensive weapon
For Ohio State to reach its 2020-21 goals, Liddell has to take the flashes he showed late in the season and transform them into what could be an All-Big Ten-caliber sophomore campaign. Is that a high bar? Sure. But as he showed during the back end of his freshman season, he has barely scratched the surface.
"A guy like E.J. Liddell has got to take a really important step for us," Holtmann said. "There's no question about that if we're going to have a good season."
With Washington, Sueing, Towns and others on the roster, it's not as if Liddell will become the immediate No. 1 scoring option. But he should be one of the most relied-upon offensive weapons.
Ibrahima Diallo (Sophomore – Center)
Needs to ... figure out how to impact games the defensive end
More so than anybody else on the roster, Diallo has a long list of areas he needs to improve. Ohio State took his commitment knowing he'd be a developmental prospect, and that showed to be the case as he played only 40 total minutes across eight games as a freshman.
Listed at 6-foot-10 and 220 pounds, Diallo has an enticing frame. But he still has to add some mass while expanding his game on both ends of the court.
To maximize his value as a sophomore, Diallo has to improve his defense. Ohio State wants to be able to rely on him and/or Key this season. For Diallo, that would come by combining his shot-blocking ability, length and nimbleness with an improved understanding of defensive positioning. He has a long way to go with his offensive game, so what he offers on defense will likely be his most immediate impact.
Zed Key (Freshman – Forward)
Needs to ... prepare his body for the physicality of the Big Ten
The difficulty of how to replace Kaleb Wesson has been asked before, and it'll be asked again. Quite simply, it's one of the most important questions the Buckeyes have to answer. Key could be part of the answer.
"While he's undersized, he has good length," Holtmann said.
At 6-foot-7 and 235 pounds, Key is notably smaller than some of the impact centers in the Big Ten. However, the Buckeyes don't have a ton of size in the post. It'll mainly be Young, Key, Diallo and possibly Liddell getting minutes at center. If they can get quality minutes out of Key as a freshman, it would go a long way to solving one of their most dire concerns. To get to the point where he can help, he has to work with strength and conditioning coach Quadrian Banks to make sure his body is ready for the Big Ten.
Eugene Brown II (Freshman – Wing)
Needs to ... quickly learn how to play Chris Holtmann's defense
It won't be particularly easy for Brown to get onto the floor to play major minutes as a true freshman. He'll be vying with Sueing, Towns, Jallow and Ahrens for minutes on the wing, and Washington is expected to get the majority of time at shooting guard.
So, what can he do to prove he deserves early playing time? Adjust to defense at the college level as quickly as possible.
Brown fits the modern 3-and-D archetype of a 6-foot-6 wing who thrives as a 3-point shooter and has the frame and length of an impact defensive player. If he can impact games as an outsider shooter and get after it on the defensive end of the court, he could earn his way onto the court sooner than later.