Fresh out of the shower, Jimmy Sotos plopped into the chair in his bedroom a little before 1 p.m. on Monday as part of what's become a ritual of sorts.
Unable to take on-campus classes at Bucknell the remainder of the semester due to COVID-19 concerns having shut the campus down, he and the rest of the student body have been relegated to doing everything online. For Sotos, a junior, that means completing his coursework at his Illinois home. At this point, students gotten used to doing their studies online. It feels normal for most, Sotos included. 
Monday, though, was a bit different. 
An hour before his afternoon three-hour media and law economics course began, Sotos publicized his plan to transfer from Bucknell to Ohio State, a decision he and his family had come to a day prior.  Immediately when he hopped onto the videoconferencing app Zoom for class, one of his buddies offered him congratulations. 
"Then the whole class started talking about it," Sotos told Eleven Warriors on Tuesday. "Then we got about 15 minutes of people just asking me, 'Why'd you leave, man? What happened?' So class got a little distracted from that. But it was cool. It was love."
As the class got underway, Sotos' phone blew up. The notifications became too much, so he put one of his older brothers in charge of his social media accounts until he could come up for air around 4 p.m.
He doesn't remember how many texts and calls he missed while staying as locked in to his class as he realistically could, but he remembers seeing more than 120 unanswered Snapchat messages when he finally checked. The rest of the night, basically, was spent responding to everybody.
"It was a big day, for sure," Sotos said. "It was definitely hectic, but I love all the support. Buckeye Nation reached out in a boatload of different ways."
What culminated with Monday's announcement began only a few days earlier when he placed his name into the transfer portal on Friday.
Having averaged 8.1 points, 3.9 assists and 3.4 rebounds per game over 100 games – including 77 starts – in the past three years for Bucknell, Sotos expected to have his fair share of options. With one year of eligibility remaining, he thought mid-majors would come calling, but he also had an idea that as a "Midwest kid" he'd have some Big Ten schools chase him. His dad, while theorizing what might be a "perfect situation" for Sotos, even mentioned the possibility of the Buckeyes getting in touch since they played against him two seasons ago. In that Dec. 15, 2018 game, he had 12 points, seven rebounds and five assists in a 73-71 loss to Ohio State.
Both Sotos and his father were right.
"Guys play hard, they play for each other and they buy in. And when you buy in, you get guys that are giving everything they've got. That's a recipe to win."– Jimmy Sotos on Ohio State
Interested in a veteran guard who'd need to sit out next season before potentially taking over point guard from CJ Walker in 2021-22, Ohio State identified Sotos as an option and contacted him the day he put his name into the transfer portal. Minnesota, Xavier, Butler, Missouri and a couple Big East schools, among others, also reached out to the 6-foot-3, 195-pound lead guard.
But Sotos hit it off with head coach Chris Holtmann and assistant coach Ryan Pedon.
"Right off the bat, they were really easy to talk to," Sotos said. "Really good guys. And then the pitch definitely was probably, I don't want to say it was what sold me, but there's an opportunity to play and contribute on a high-level team. Coach Holtmann's looking to get an experienced guard and a mature guard, and I'm hoping to bring that to the team and hopefully win some championships there. That was probably the pitch that sold me, I guess."
Most years, the month of April is normally used by transfers to check out campuses. They can take some visits to prospective universities. Sotos, along with everybody else in the portal this spring, didn't have that option. Because concerns about COVID-19 have shut down in-person recruiting until at least June 1, he had to make a decision based solely on conversations with coaches, and research online.
For Sotos, that was a bit unfortunate. He had to take what he described as a "leap of faith." But he already had a well-carved-out idea of what he wanted in a transfer destination.
"At this point in my career, I kind of know what's important to me," Sotos said. "I've got goals. I want to play professionally. I want to win championships. If I was sold on the basketball and I knew that the school was a good school, that's basically what I was looking for."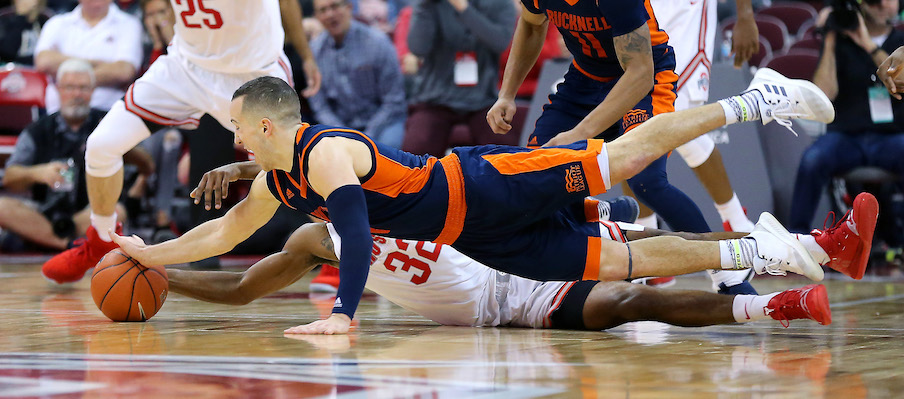 Ohio State checked each box, and Sotos exemplified what Holtmann wanted in a sit-out transfer guard. It was a match.
Off the court, Sotos was pleased with the academic offerings. And on the court, he saw a path both for individual development and team success. After sitting out next season, which he said will help establish him as a leader, he could have a chance to start at point guard on what he believes will be a talented 2021-22 team.
"If you look at their roster, they've got a solid core and then they've got young guys that we all think are going to be really good in the next coming years," Sotos said. "The way they play, they always play the right way, and I think the way I play would fit in perfectly right in that system. Guys play hard, they play for each other and they buy in. And when you buy in, you get guys that are giving everything they've got. That's a recipe to win."
How Sotos has gotten to this point in his basketball career has been a bit too much for him to process, especially since the journey hasn't reached its conclusion yet.
As a freshman in high school, he stood 5-foot-2. A growth spurt over multiple years sprouted him to 6-foot-3 by the time his junior year ended. But even by the time the summer before his senior year at Conant High School began, he didn't have a single offer. It took a standout final season on the Under Armour Association to earn a slew of opportunities.
Even then, the only power conferences schools expressing late interest in him wanted him to go the prep school route for a year. Sotos declined, choosing to attend Bucknell over Dartmouth and Princeton. There, he spent three years, leading the Patriot League in assists as a sophomore and his team in scoring as a junior.
Less than a week ago, he opted to move on from Bucknell, and just days later he became a Buckeye.
"It all happened kind of so fast that my dad, he kind of reminds me you've just got to appreciate where you're at, man," Sotos said. "The work's not done, obviously. But sometimes you've got to take a step back and appreciate the work you put in and it's starting to pay off a little bit."