For more than three weeks, Chris Holtmann had to stay locked in on Ohio State's numerous comings and goings.
The player movement beginning just one week after the NCAA tournament got canceled didn't exactly lend itself to contemplation about what had happened the previous four-and-a-half months. Holtmann had other things to worry about. Namely, next season's roster. In the modern era of college basketball, that's what mostly occupies a head coach's time in the month after a season.
For him, it began with DJ Carton's entrance into the transfer portal on March 19 and finally concluded with the addition of Utah State's Abel Porter as a graduate transfer on Saturday. Along the way, Ohio State lost two players to transfer and two to professionalization, adding three others via transfer. Only recently has Holtmann been able to step off the treadmill of roster churn movement, slow down and reflect.
More so than anything, he's been finding himself wondering what could have happened. What would have happened had Ohio State been able to play in the postseason.
That's the tough aspect of this situation. Nobody knows. On March 12, only hours before the Buckeyes were scheduled to tip off their first game of the Big Ten tournament, it got canceled. The next day, the NCAA announced there would be no March Madness in 2020.
"I just was really excited and, in some cases, curious about what we could be," Holtmann said. "We had our flaws. I'm not delusional. But I do think we had a very good way about us. I've thought about it a lot more in the last couple weeks. I really have. And even the first couple weeks, which I think was more about trying to assess where we were at and where we were moving forward. Now that I've had a chance to take a step back, I've thought a lot about what it could have been."
It's quite literally impossible to know what Ohio State would have done in the postseason. All anybody can say is what they believe they could have done.
"Who knows what could have happened after that. But I did feel good about it, yeah."– Chris Holtmann on Ohio State in the postseason
Nobody will ever be proven correct or incorrect  – including Holtmann. Yet that hasn't stopped him from thinking about how the NCAA tournament would have played out, especially given how the Buckeyes put rounded into form down the stretch. After losing six of seven games between Dec. 29 and Jan. 23 to go from being ranked top-five nationally to sitting near the bottom of the Big Ten standings, they won nine of their last 12 games and finished No. 19 in the final Associated Press top-25 poll.
Had the NCAA released a tournament bracket, Ohio State likely would have landed as a No. 5 seed, though it could have conceivably been No. 4 or No. 6. 
"Obviously felt very, very good about how we were playing and how we were finishing," he said.
Whether that would have translated to a postseason run, no one can ever know. But Holtmann has his suspicions of what Ohio State could have done.
"I think probably what gets me a little bit even sour reflecting back is now you go look at this is the first team that finished top-10 in KenPom," Holtmann said. "That's a really high number, and I keep referring to that because there is some predictive measures to that, as much as you can be in the NCAA tournament. I did feel like our defense was just good enough but our offense was really efficient. And when you have a very difficult matchup like Kaleb Wesson, with his ability inside and outside, I think that did give us a chance to really get to the second weekend."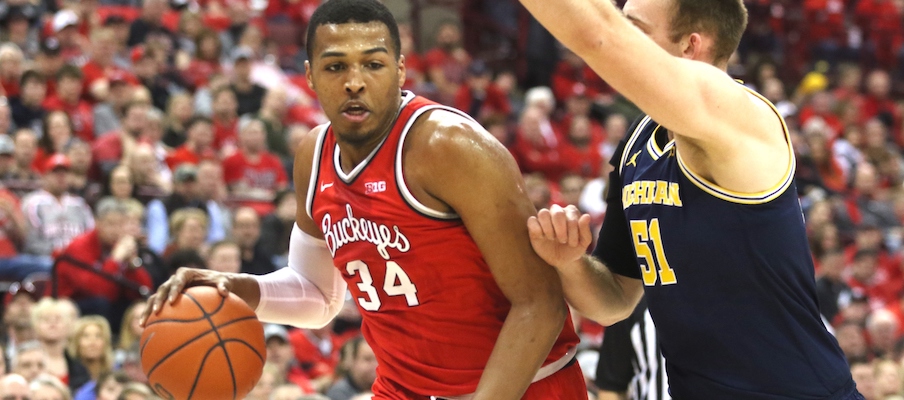 Reaching the second weekend would have marked a significant milestone both for Ohio State and the Holtmann era.
The Buckeyes, despite winning at least 20 games in six of the past seven years, hadn't made the Sweet 16 since 2013 when they beat Arizona before falling to Wichita State in the next round. This team, Holtmann thinks, could have been the first to get back there in seven years. He compared it to the 2016-17 Butler team he coached which earned a No. 4 seed, then beat Winthrop and Middle Tennessee to reach the Sweet 16 where it fell to eventual national champion North Carolina.
Holtmann came armed to the teleconference with a few numbers that backed up his optimistic curiosity. 
He referenced the nine wins in the final 12 games, mentioning that finishing that way "in the deepest league in the country says something about how we were playing." He noted this was his top-ranked Ohio State team, per KenPom. He mentioned the Buckeyes were one of six teams to finish ranked top-20 by KenPom in both adjusted offensive efficiency and adjusted defensive efficiency.
"Those numbers certainly don't guarantee you anything, but I think when you're one of six teams to be top 20 in those two numbers, it certainly says you have a real chance to advance," Holtmann said.
The Buckeyes weren't, by any means, a perfect team.
They fell apart in January, going from being viewed as a surprising national contender to the conference's basement. They also had absurd home/road splits. Per Bart Torvik, they had the nation's No. 1 adjusted overall efficiency in home games and ranked 35th in the metric for road games.
It's also true, though, that when things were going well for Ohio State, they tended to go really, really well. Just go look at the season-opening victory versus Cincinnati, 25-point wins against Villanova and North Carolina, the season sweep of Michigan, the 106-point output versus Penn State, the victory in Las Vegas against Kentucky and the late-season wins over Maryland, Purdue and Illinois. The ceiling might've been higher than some who fixated on the January struggles gave credit.
"We all know the unpredictability of the NCAA tournament, and I'm not here to make any crazy claims, but I certainly did feel confident about our ability to perform well and to give ourselves a chance to really advance in the NCAA tournament," Holtmann said. "And given the numbers, they certainly back that up."
After not making it out of the Round of 32 the past two years, Holtmann said, his players had "really talked about" reaching the second weekend of the NCAA tournament, something only one of them – CJ Walker while at Florida State – had ever experienced.
"Who knows what could have happened after that," Holtmann said. "But I did feel good about it, yeah."
All he can do now is feel good about what would have happened and stew on what didn't happen.