The losses of DJ Carton, Luther Muhammad and Alonzo Gaffney garnered most of the Ohio State basketball headlines in the first few weeks after its season prematurely ended in March.
Carton, a one-time near-five-star point guard, turned his leave of absence into a transfer to Marquette. Muhammad, a two-year starter, bounced to Arizona State. Gaffney, a top-50 overall recruit out of high school, both entered the NBA draft and the transfer portal.
None of them, though, hold the designation as the loss that'll affect the Buckeyes the most. Kaleb Wesson has that honor.
"We're going to have to look at how we do things, and we're going to be playing differently offensively and differently," Holtmann said. "There's no question."
The stark changes begin in the middle.
Wesson, after three years as Ohio State's starting center, announced his intention to enter the 2020 NBA Draft on April 1. In the near future, he's expected to sign with an agent, ending any chance of him sticking around in college for his senior season. With his college career wrapped up, it's up to Chris Holtmann will have to figure out how to move forward without the 6-foot-9, 255-pound big man who's started the past three years and led the team in both points and rebounds each of the past two seasons.
This isn't a replacement situation. 
Rather, Wesson's decision to turn pro means the Buckeyes will have to adjust their entire approach on both ends of the court to manage without him. In each of the past two seasons, Ohio State ran its offense through him and relied on him as a rim protector whose defense and rebounding as a junior sometimes went undervalued due to his lack of shot-blocking acumen. 
In 2020-21, Holtmann won't have a dominant center on his 13-man roster. Heck, he doesn't even have a true center who's expected to start. Ibrahima Diallo, a 6-foot-10, 220-pound sophomore who played 40 minutes last season, is the only "five" on the team, and he's got quite a bit more developing to do before he's in the mix to join the starting five.
"Listen, I get it, it's a major question mark for us moving forward, how we're going to answer that," Holtmann said. "He did a lot for us offensively and defensively, so that'll be obviously an offseason challenge for us moving forward."
After starting 39 games the past two seasons largely alongside Wesson at power forward, Kyle Young's the top candidate to shift over and become the starting center.
Listed at 6-foot-8 and 205 pounds, he's not exactly a prototypical center, though he'll have to spend significant time at the position next season. To Holtmann, that's not overly concerning. 
"I don't know that we'll necessarily play a traditional five," Holtmann said. "We will some with Ibrahima. But the other times, it's going to be playing what a lot of college basketball plays now."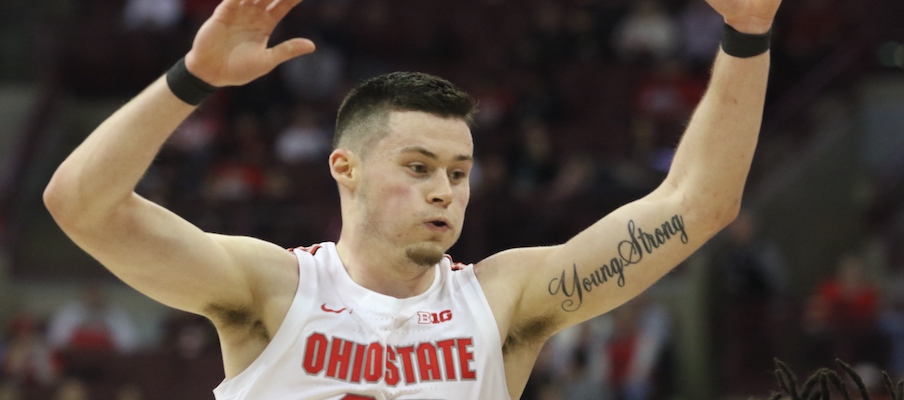 Holtmann pointed to Michigan State, which thrived with Xavier Tillman, a 6-foot-8, 245-pound big man, playing center. No one, he said, would look at Tillman and think, "He's your five."
That sentiment's even more true with Young, who's lighter and isn't yet at Tillman's level as a post defender.
Known for his endless tank of energy, hustle plays, rebounding, toughness and team-first approach, Young has thrived in his role the past two years. The difference in his senior year? Ohio State both needs him in a role that'll be more physically-demanding on him, and it'll have to keep him healthier than ever while increasing his minutes. Of course, if you put all of that together, it's a bit of a daunting ask.
Young, who played 20.5 minutes per game as a sophomore and 22.9 minutes per game as a junior, could potentially play upwards of 30 minutes per game as a senior. That would be a larger possibility, however, if he didn't have durability concerns. He missed four games in the 2018-19 season with a stress fracture in his leg and sat out six games due to appendicitis and a leg injury. 
"The biggest thing for him is we've got to keep him healthy and able to go through the grind of a season," Holtmann said.
Outside of Young, the Buckeyes will need a significant step forward from E.J. Liddell.
Since Young's likely moving over to starting center, the 6-foot-6, 236-pound sophomore is expected to get the first opportunity as the starting power forward. Liddell spent the majority of his first year as a Buckeye as a role player before breaking out late in the season with a 17-point, 11-rebound performance against Illinois, 17-point, eight-rebound game versus Iowa and 12 points in a season-ending loss to Michigan State.
Liddell could play center at times if needed, but at 6-foot-6, he'd often be at a notable size disadvantage.
Zed Key, a three-star power forward from New York, will join the Buckeyes as a 6-foot-7 freshman. However, Holtmann also described him as "undersized" while also noting his "good length." He could get immediate minutes as a true freshman backup power forward and center. Whenever they need a true center, that'll be Diallo's time to shine – provided he continues to develop the way the coaches hope.
However, more often than not next season, Ohio State will be expected to turn to a lineup without a traditional center
"That's where a lot of the game has gone," Holtmann said.
And with Wesson leaving, that's where the Buckeyes will go next season, too.