Standing somewhere between 6-foot-7 and 6-foot-8 and weighing around 230 pounds, recent Ohio State commit Zed Key doesn't quite have the size of Kaleb Wesson.
Well, that might not be completely true, given Wesson's drastic offseason weight loss. But the Wesson that topped 270 pounds each of the past two years both weighed more and had a one-or-two-inch advantage on Key. That didn't stop the Buckeyes' coaching staff from comparing the two of them.
"They have a kid there now named Kaleb Wesson that they said that I play similar to," Key told Eleven Warriors on Monday. "Very physical. Post moves. Mid range. Driving to the basket from around the key and stuff like that. They really see me and just coming in and doing the same thing basically and just taking my game to the next level."
Prior to Key's official visit two weeks ago, Ohio State spliced together video clips from both Key and Wesson. They wanted him to see the similarities in how they play.
So when Key and his family made the trip from Glen Oaks, New York, to Columbus, the coaches viewed it as finally a chance to show him how they'd use him rather than just explain to him. They'd show him something Wesson did, and then they'd show him a similar play Key made. Over and over. Then, they played clips of Wesson doing things Key doesn't yet have in his arsenal.
"They would take clips of Kaleb also of what he does more, because he's worked on his game more and he's at a high level now, just to show if I keep working my game what my game could transform into and what I could do," Key said.
As a three-star prospect and the No. 158 overall player in the class of 2020, Key doesn't quite have the recruiting cachet of Wesson, once the No. 75 overall prospect and the top-ranked Ohioan in 2018.
"This is the right move for me."– Zed Key on his commitment to Ohio State
But by chopping their film up and putting it side by side, Key got an idea of what style the coaching staff envisioned him playing.
"It had a big impact, just to see your game being compared to somebody who's eventually going to go to the NBA," Key said. "It's just a blessing. Just got to keep working hard."
That played a role in Key announcing his commitment to Ohio State on Sunday, when he joined four-star wing Eugene Brown III in the team's 2020 class.
Though he didn't make it public until that afternoon, he had made up his mind a week prior during a game – but not a basketball game. The entire day, Sept. 15, he had been considering a commitment. Did he want to pull the trigger a week after his official visit, or was it too early since he hadn't taken his other scheduled official visits? Key went back and forth before telling his parents right after they had finished their turn in "Taboo," a popular guessing game.
He remembers saying, "You know what, I want to commit." They asked, "Really?" Having thought about it for hours, he already knew what to tell them: "Yeah, I'm being for real."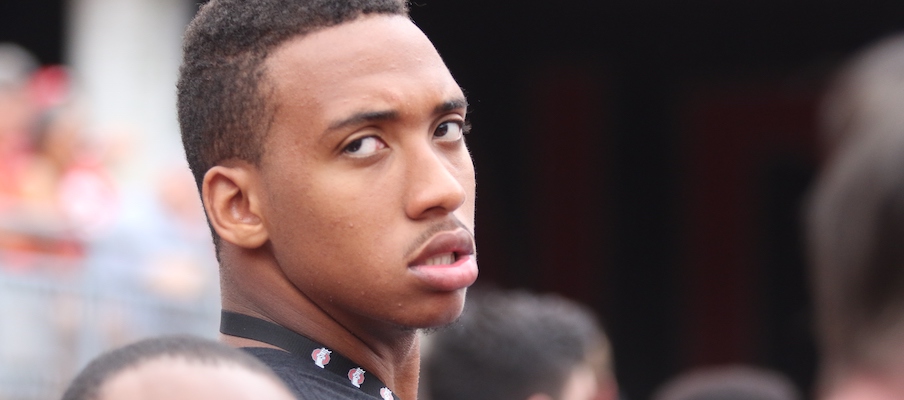 Fifteen minutes later, he dialed up assistant coach Jake Diebler to let him know he had made up his mind. Texts from Luther Muhammad and a few other players soon rolled in as they welcomed him to what he called his "new family."
"And the rest is history from there," Key said.
The commitment might be "history," as he said. But it's also just the beginning, which he understands.
Key, like most players, wants to go to the NBA. Most players who play for Big Ten schools have that goal. However, he's also realistic in his pursuit. He said he just wants to fit into his role, do his job on the floor, graduate college with a business degree and then pursue the NBA if that's an option.
So while on-court development played a role in him ending up at Ohio State, of course, he said the program's atmosphere of togetherness attracted him as much as anything else.
"I come from a very family-oriented family, if that makes sense," Key said.
On his visit, he felt that vibe. And he also connected with who will now be his future teammates.
"Just when I started to hang out with the team, just how close they are," Key said. "They really love each other. Luther and Duane (Washington Jr.), every time a song or music would come on, they would start dancing. High-energy, high-character guys. I really liked that."
NBPA Top 100 camp @NYJayhawks @LuHiBasketball @KeyPlayerNation @AllThingsHoops @RealiLuvBBall @courtcred @daves_joint @hoopshype @TlrWorldWidellc @LLCulture @NYCHoops @PrepHoops #Basketball #longisland #motivation pic.twitter.com/RLHNgsiBAR

— Zed Key (@ZedBasketball14) June 22, 2019
After hanging out with them and seeing the Wesson film, Key got an idea of how he'd fit in both on and off the court.
With Wesson possibly leaving for the NBA after the 2019-20 season, Key could potentially slide into his role in the interior. He described himself as a post player who is "very efficient around the rim" with "good footwork," physicality and a mid-range jumper. Like just about everybody who dissects his game, Key began his answer by referencing his back-to-the-basket offense. 
Comfortable finishing with both his right and left hands, he's an advanced post scorer. If he gets his first jump hook shot blocked, for example, he knows how to respond.
"So now when I do a jump hook, I use my body now to get him away from me and I use the off arm just to protect the ball so he won't be able to block it," Key said. "Or I'll hit you with a shot fake, a step-through or a reverse-pivot step-through. I have a whole bunch of counter moves to keep the defender jumping just to keep you on your toes. I do the jump hook most of the time, left then right. But mostly, I just switch up moves because I just don't want the defender to get set."
Key always aims to keep defenders guessing, but he won't keep college coaches or their fans unsure anymore.
As of Sunday, he's officially a future Buckeye. He doesn't know exactly how his career will play out or where Ohio State will take him, but he has known one thing about his decision since Sept. 15.
"This is the right move for me," Key said.