Nobody listening to Chris Holtmann speak on a teleconference with reporters last week could've used the word "concerned" to describe his thoughts on the standing of Ohio State basketball.
Rather, after seven roster moves in a three-and-a-half week period, he was downright upbeat. More than once, he said a variation of how he feels as excited about the current Buckeyes roster as he has felt in any prior offseason.
"I think that the exciting thing for us here is we have, I believe, a good blend of experienced guys in our program as well as experienced guys from a couple other programs," Holtmann said. "I think that helps you. Now, we've got to blend those guys together. We've got to blend that group together. And we're going to be much different."
So, how did Ohio State arrive at this point? Let's take a look back.
How They Got Here
March 19: DJ Carton
DJ Carton ripped off the band-aid exactly one week after the NCAA canceled March Madness. It didn't come as a surprise that the freshman point guard moved on considering he took a leave of absence on Jan. 30 and never returned to the team, but his decision to transfer was the most painful loss of the offseason. He has legitimate superstar potential, which he'll look to realize at his next destination.
Eventually, Carton ended up picking Marquette, which is a three-hour drive from his hometown of Bettendorf, Iowa, compared to the seven-hour drive to Columbus. There, he'll return to the court while also working through mental health struggles – which those within the program have continually stressed are both legitimate and complex – that led him to step away from basketball earlier this year. 
March 21: Seth Towns
A massive addition for the Buckeyes, even though his health remains a major unknown. The last time Seth Towns played, he was a sophomore at Harvard earning Ivy League Player of the Year honors to end the 2017-18 season. Since then, he's had multiple surgeries on his left knee. 
If he's healthy, the graduate transfer forward with two years of eligibility remaining could compete immediately for a starting spot. He expects to get back on the court around June or July. Towns' health remains a significant question mark, but if healthy, he's valuable, especially offensively. 
March 22: Alonzo Gaffney
An inevitable end to a disappointing season. The excitement surrounding the commitment of Alonzo Gaffney was the high point of his time as a Buckeye. A one-time five-star prospect from Cleveland whose development stalled late in his high school career, he played sparingly in 17 games as a freshman at Ohio State then was away from the team for the season's final four games for undisclosed reasons. Ultimately, he'll either transfer or go pro. Those within the program believe he'll take the professional route.
While Gaffney had – and still has – an intriguing frame paired with remarkable athleticism that made him the nation's No. 50 overall recruit, he never quite seemed like a fit in Columbus. This is the type of transfer the Buckeyes have to avoid in the future. 
April 1: Kaleb Wesson
No surprise here. Kaleb Wesson underwent a massive physical transformation last offseason, then proceeded to put together his best all-around season as a Buckeye. Though his conversion rate near the rim dipped, his 3-point percentage, rebounding and defense greatly improved. He turned himself into a legitimate NBA prospect and, a few weeks ago, entered the 2020 draft. Don't hold out hope for him staying in school for his senior season. It's not happening. 
April 5: Luther Muhammad
Of all the offseason roster moves, this came as the biggest shock to most outside of the program. Luther Muhammad had started 56-of-64 games his first two seasons as a Buckeye and looked primed to potentially start for a third year in a row. Eventually, in large part in order to have a larger offensive role with more freedom, he entered the transfer portal and ended up at Arizona State.
Had he stayed, it's not as though Muhammad would've taken a significant share of the scoring output in 2020-21 or the year after. He shot 15.8 percent of his team's shots while on the court last season, which was the second-lowest rate behind Gaffney. Next season, he would've had to battle Towns, Washington, Justice Sueing, E.J. Liddell and others for looks. Regardless of the logic behind the decision, it's always tough to see a two-year starter who's also the team's best on-ball perimeter defender walk out the door.
April 6: Jimmy Sotos
It took less than 24 hours for Ohio State to respond to Muhammad's transfer, though the addition of Bucknell's Jimmy Sotos had no connection. As a sit-one, play-one transfer, the 6-foot-3, 195-pound guard won't be eligible to play immediately next season. But when he takes the court for the 2021-22 season, Sotos will be in contention for a starting spot as a fifth-year senior in what should be an otherwise young backcourt.
A case could be made that had the Buckeyes waited until next season, they'd have been able to find a higher regarded transfer. But Sotos, with the size and playmaking ability they wanted from a potential starting point guard, will get the benefit of ingratiating himself into the system while sitting out next season. Even if the NCAA passes a rule allowing all transfers to gain immediate eligibility once, Sotos is not expected to play for Ohio State during the 2020-21 season.
April 11: Abel Porter
Even with the addition of Sotos, all the attrition left one more open scholarship. Losses of Muhammad and Carton necessitated the Buckeyes adding another guard to provide depth. The issue? Finding an immediately eligible transfer willing to come off the bench behind CJ Walker and Duane Washington Jr. In came Porter, a graduate of Utah State who started every Aggies game the past year-and-a-half.
The walk-on-turned-starting point guard wasn't a splashy addition. But the Buckeyes didn't exactly have a host of options, so they went out and landed a veteran who doesn't mind coming off the bench as long as his team wins. There are worse ways to use a scholarship.
Pos
Seniors
Juniors
Sophomores
Freshmen
C
–
–
IBRAHIMA DIALLO
–
PF
KYLE YOUNG
SETH TOWNS (RS)
 
E.J. LIDDELL
ZED KEY
SF
–
JUSTICE SUEING (RS)
JUSTIN AHRENS
MUSA JALLOW (RS)
–
–
SG
–
DUANE WASHINGTON JR.
–
 
EUGENE BROWN
PG
CJ WALKER (RS)
JIMMY SOTOS
ABEL PORTER
–
–
 
TOTALS
4
5
2
2
What We Learned
The losses of Carton, Muhammad and Gaffney, outside of quite possibly landing Towns from Harvard, stand out more than anything else, and they do so for one overarching reason. Not too long ago, they were viewed as the players who could potentially pull the Buckeyes back to national prominence. They were three of the four highest-rated prospects in Holtmann's first two full recruiting cycles.
Instead, they headed elsewhere before any of them could realize their potential.
Carton had mental health struggles he decided he had to address at Marquette. It's hard to blame the Buckeyes for his transfer. They supported him both publicly and privately, and he opted to move on.
Gaffney wanted to fast-track his pro career. His departure, whether it happened due to a misevaluation out of high school, a lack of realization that the two parties wouldn't click or something else entirely, lies at the feet of Ohio State's staff. 
Muhammad desired a larger share of the offense that he wouldn't have gotten at Ohio State. His choice surprised many outside the program, but it was also an example of what's becoming more common in modern college basketball. A player correctly realized what opportunities he wouldn't have at his current school, the coaches couldn't promise him what he wanted and he chose to move on. Still, it's on Ohio State's staff to keep a two-year starter happy – only 17 other multi-year starters have transferred away from Big Ten teams since 2006. Programs can't afford to make habits of losing two year-starters. 
Ohio State has responded well to its losses by staying active on the transfer market.
Holtmann's staff landed Michigan's Andrew Dakich three years ago, Wake Forest's Keyshawn Woods and Florida State's CJ Walker two years ago, California's Justice Sueing last offseason and Towns, Sotos and Porter in the past month. The Buckeyes have done their best to supplement their losses by adding age, experience and skill via the portal. Had they not consistently picked up quality players on the transfer market the past couple seasons, the attrition would've been quite a bit more dispiriting.
Because of the necessary transfer additions, the Buckeyes will have five transfers on next season's roster, which Holtmann says doesn't concern him. Not at all in this age of widespread player movement.
"I don't know that those numbers necessarily would be outside of my ideal," he said. "I wouldn't necessarily look at that and say that's ideal or not ideal. I think all of them we brought on for various reasons."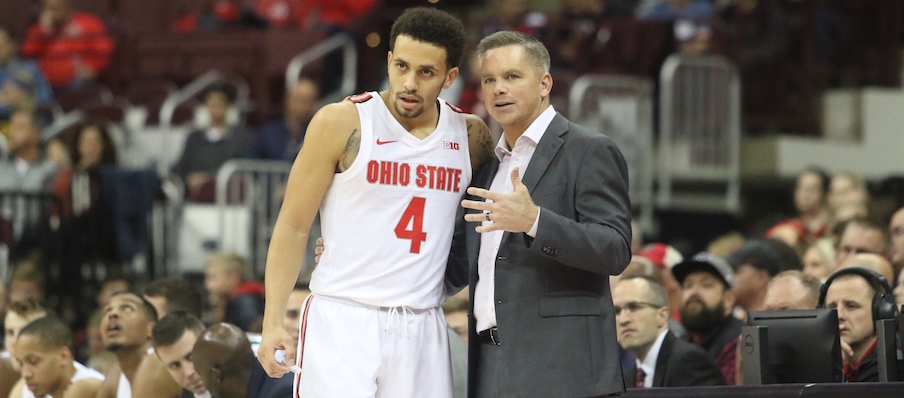 But even accounting for the transfers coming into the program, some followers of Ohio State who watched Carton, Muhammad and Gaffney leave Columbus have openly worried about the number of losses. Those three were once viewed by many as the future of the program.
As of now, though, Ohio State hasn't had an abnormal amount of transfers throughout Holtmann's three years in Columbus.
The nationwide men's basketball transfer rate of 29.1 percent – per the NCAA – is by far the highest among all college sports. Including Wisconsin's Micah Potter and TCU's Jaedon LeDee, the Buckeyes' transfer count will be up to either four or five – depending on whether or not Gaffney ends up on another college team – in the three years of the Holtmann era. Over the past three seasons combined, Big Ten teams have averaged four total transfers.
"If you look at the numbers, I would say that as you may or might not know, we're basically at the Big Ten average, and we're actually below the Power Six, Power Seven average in our three years," Holtmann said. "So I think the reality is I think there's always things we can look at and do better and evaluate, and certainly when we take a look at it, are there some things we could've looked at and said, 'Ah, I'm not sure this is best.' Sure, but at the same time I don't think you're ever going to be without some transition every year, particularly as we move forward. So you almost have to account for that."
Transfers Per Big Ten Team

| YEAR | TRANSFERS |
| --- | --- |
| 2005 | 0.9 |
| 2006 | 0.7 |
| 2007 | 0.9 |
| 2008 | 0.8 |
| 2009 | 0.5 |
| 2010 | 1.7 |
| 2011 | 0.5 |
| 2012 | 1.1 |
| 2013 | 1.3 |
| 2014 | 1.6 |
| 2015 | 1.1 |
| 2016 | 1.5 |
| 2017 | 1.4 |
| 2018 | 1.2 |
| 2019 | 1.4 |
| 2020 | 1.4 |
With either two or three transfers this offseason, the Buckeyes will be on the high end in 2020. Big Ten teams are currently averaging 1.4 transfers lost. 
Yet, this happens. Which other teams have lost at least two players to transfer in one of the past three years? A majority of Big Ten teams, including Michigan, Indiana, Maryland, Illinois, Iowa, Minnesota, Nebraska, Northwestern and Wisconsin. 
Did any of them lose a high-profile, potential star point guard, a two-year starting shooting guard and a former top-50 prospect in one offseason? No. That's why Ohio State stands out – even if the departures each happened for different reasons.
Having players move on via transfer happens, especially these days. The key is to ensure it doesn't become a trend to lose such talent and experience to the portal. As of now, this is an outlier. A one-off offseason of roster churn. Nothing yet has suggested this will be a constant with Holtmann at the helm. 
Maybe the departures came naturally due to the transfers that happen early in a hired coach's tenure, which Holtmann theorized. Maybe they highlight some mistakes made in evaluations by Holtmann and his staff. Maybe they're just a part of modern college hoops. 
Whatever the reasons, though the program hasn't had attrition that has reached dire levels over three combined years, Ohio State can't begin to let such departures in a single offseason happen regularly. Holtmann knows that.
"I don't think we'll ever have as much movement as some programs have, whether it's these guys going to the draft or this or that," Holtmann said. "We won't ever have that. I think it'll be consistently more stable than that."
Going Forward
"Get old and stay old" has been a mantra throughout Holtmann's first few seasons in Columbus. As the Buckeyes enter the fourth year of his tenure, he has made that happen, though he's done so somewhat artificially.
"In a perfect world, you get older, you get experienced together, doing that together," Holtmann said.
Evidently, he doesn't live in a perfect world.
The Buckeyes have gotten older and more experienced, but they've done so in no small part by scouring the transfer market. Ohio State's 2020-21 roster will include eight eligible upperclassmen, four of whom – Towns, Walker, Sueing and Porter – began their college careers elsewhere.
Ultimately, all that matters is that Holtmann figures out a way to win. He's done that in his first three years in Columbus, and he believes he can do so even with a roster constructed heavily out of transfers.
For evidence that transfer-heavy teams can win, Holtmann came to last week's teleconference prepared with information, correctly predicting questions about roster construction and turnover would come his way. He threw it back to 2007-10.
"Of those Final Four teams, there was one four-year transfer that started, and that was Ron Lewis," Holtmann said. "That was an Ohio State player, Ron Lewis. So if you fast forward that to the previous four years, 13 four-star transfers started on Final Four teams."
Beyond just the Final Four, 20 of the 25 teams that ended last season ranked had at least one transfer from a four-year college who played at least 10 minutes per game. 
Teams with no transfer playing 10 or more minutes: No. 9 Michigan State, No. 10 Villanova, No. 11 Duke, No. 12 Maryland, No. 21 Illinois
Teams with one transfer playing 10 or more minutes: No. 1 Kansas, No. 8 Kentucky, No. 16 Virginia, No. 19 Ohio State, No. 25 Iowa
Teams with two transfers playing 10 or more minutes: No. 2 Gonzaga, No. 4 Florida State, No. 5 Baylor, No. 13 Oregon, No. 15 Seton Hall, No. 17 Wisconsin, No. 18 BYU, No. 20 Auburn, No. 23 Butler, No. 24 West Virginia
Teams with three transfers playing 10 or more minutes: No. 3 Dayton, No. 6 San Diego State, No. 7 Creighton, No. 14 Louisville
Team with four transfers playing 10 or more minutes: No. 22 Houston
Just about everybody these days relies to some degree on transfers. 
Even the five teams that didn't have a single transfer play more than 10 minutes per game last season have them in their future plans. Duke and Maryland both landed transfers in the past month, Michigan State and Villanova had transfers sit out last season who'll be eligible next season and Illinois has been active chasing after players looking for new homes.
"I think the reality is this has been changing for a number of years," Holtmann said. "So I don't really look at it like this way is exactly how it has to be or that way is exactly how it has to be."
While the numbers back up the idea that teams can win big with transfers, it's also true that Ohio State has to figure out how to better retain high school recruits going forward so it doesn't have such pressure to respond well through the portal.
Four of the eight players who signed across the 2018 and 2019 classes – LeDee, Muhammad, Carton and Gaffney – are now gone. For a program such as Ohio State, which Holtmann wants to build with experienced veterans, that's not necessarily optimal. The way he sees it, what happened this offseason won't be a constant.
"I will say to you that I anticipate that the bulk of our roster and certainly the bulk of our rotation will be with so-to-speak your typical high school recruit," Holtmann said, "I think that's what the bulk of our roster will always look like, but I think there will be some years where you might have more incoming transfers than others."
This happened to be that kind of year. So as Ohio State looks to continue its path back to Big Ten title contention next season, it'll do so with a significantly different roster than the one that took the court in March.