Every few days for the past month, it seemed, the pendulum swung back and forth.
First, Ohio State lost DJ Carton to the transfer portal. Two days later, Harvard's Seth Towns announced he'd play his final two years with the Buckeyes. The next day, it became public that Alonzo Gaffney would pursue professional opportunities. After a quiet week-and-a-half, Kaleb Wesson entered himself into the 2020 NBA Draft. Four days later, Luther Muhammad put his name into the portal, and within less than 24 hours, the Buckeyes scooped up Bucknell's Jimmy Sotos. 
On Saturday afternoon, Chris Holtmann finally came up for air. Utah State transfer Abel Porter became the latest addition, bringing the Buckeyes back to 13 scholarships for the 2020-21 season, with no other transfers anticipated.
The Buckeyes' 2020-21 roster is finalized – or at least as finalized as a roster can get in the modern age of college hoops. As the proverbial dust surrounding the portal has settled, Holtmann likes the group he has, even when accounting for the departures.
"I feel as good about this roster leading into the offseason as I've felt in any offseason," Holtmann said on a Tuesday teleconference with reporters. "I just feel really good about the young guys, our older guys, the leadership. And there's no question we've got to figure out what we're going to do with losing some size in Kaleb (Wesson) and (Andre Wesson's) effectiveness. But I feel as good as I've felt as a head coach heading into the offseason just about the collection of guys, young and old, that we've added and that we have on our roster."
Regardless of Holtmann's thoughts, palpable concern exists among segments of the fan base that watched three players – Carton, Muhammad and Gaffney – enter the portal, even though one will likely go pro. 
"I think that the exciting thing for us here is we have, I believe, a good blend of experienced guys in our program as well as experienced guys from a couple other programs."– Chris Holtmann on next year's Ohio State team
Carton, dating back to when he signed as a high-end four-star point guard, was viewed as a likely eventual pro who could have an extended future in the NBA. Muhammad had already started his first two seasons as a Buckeye and was a possible four-year starter. Gaffney, a Cleveland native, developed into a top-50 overall prospect in high school.
And now they're gone, joining Micah Potter and Jaedon LeDee as transfers during the Holtmann era.
"I think Alonzo's headed toward professionalization," Holtmann said. "But in terms of DJ and Luther, I don't really want to get into specifics, but I wish them well."
It's impossible to think losing Carton, Muhammad and Gaffney this offseason was ever the plan. 
But in the mind of Holtmann, what has happened isn't particularly abnormal. To him, the transfers of Carton and Muhammad, along with the professionalization of Wesson and Gaffney, are a sign of the times rather than an indictment on what's being built.
"If you look at the numbers, I would say that as you may or might not know, we're basically at the Big Ten average, and we're actually below the Power Six, Power Seven average in our three years," Holtmann said. "So I think the reality is I think there's always things we can look at and do better and evaluate, and certainly when we take a look at it, are there some things we could've looked at and said, 'Ah, I'm not sure this is best.' Sure, but at the same time I don't think you're ever going to be without some transition every year, particularly as we move forward. So you almost have to account for that."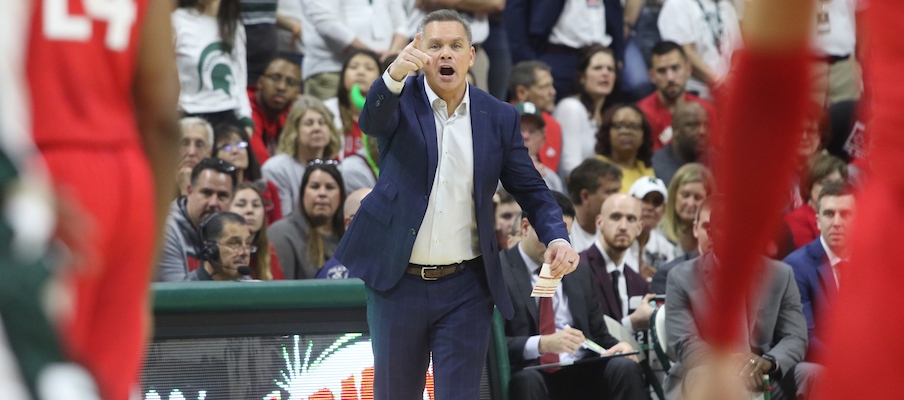 The likelihood of transfers, he believes, is even higher in the years after a coach takes over a program.
Holtmann, entering his fourth year as Ohio State's head coach, has now had two of four players transfer in both the 2018 and 2019 classes. He's bringing in two recruits – four-star shooting guard Eugene Brown III and three-star power forward Zed Key – next season.
"If you were to look at any number of programs, even as the most recent couple teams that have won the national championship when you look over, there's some normal roster shuffling that takes place," Holtmann said. "We're always trying to figure out ways we can do better. I think moving forward, my guess is that those numbers won't be quite at that level. But again, there's some normal shuffling that takes place in your first three to four years."
Because of the losses, Ohio State has heavily relied on incoming transfers to fill out its roster.
CJ Walker (Florida State), Justice Sueing (California), Towns (Harvard) and Porter (Utah State) will populate next year's rotation, and Sotos (Bucknell) could be in line to start a year later. Combining them with the returners and pair of freshmen who'll be joining the Buckeyes, Holtmann said there's been a "very positive vibe and feel" among players, even with the mass roster turnover and the fact that everybody quickly left campus due to the coronavirus.
"I think that the exciting thing for us here is we have, I believe, a good blend of experienced guys in our program as well as experienced guys from a couple other programs," Holtmann said. "I think that helps you. Now, we've got to blend those guys together. We've got to blend that group together. And we're going to be much different. We lost, percentage-wise, our two best perimeter shooters in both Wessons, and they were certainly two of our better defenders, and they provided great length for us. We are going to look different and be a little bit different, but I think what you hope as a coach is the guys in your returning program develop and take that next step."
That next step will come with Sueing, Towns, Sotos and Porter, and it'll come without the Wessons, Carton, Muhammad and Gaffney.
If Holtmann's correct, it'll be just fine for the Buckeyes.