Presley Porter, over the past few weeks, has felt just about every emotion she can muster.
Excitement. Nervousness. Nostalgia. Fear. Joy. Anxiousness. All of them have come her way, sometimes at once.
Along with her husband Abel, who's the most recent addition to Ohio State's basketball team, she wants to get to Columbus as quickly as possible. But right now, they're stuck in Utah living at Abel's parents' house for the foreseeable future. Much like the rest of the world, their plans have been put on hold. In any other year, they'd have almost everything set up for a move to the Midwest at some point soon.
Because of the coronavirus pandemic, they haven't even been able to lock down an apartment lease yet. Abel Porter, a 23-year-old graduate transfer guard from Utah State, doesn't know when that'll change.
"I wish I could actually get out there and get started on stuff, honestly," Porter told Eleven Warriors.
But, hey, what's one more obstacle thrown his way during an unlikely trek to the Big Ten?
In the meantime, Porter's doing what he can to try to stay in shape. Since he has a buddy who works as a trainer, he's in luck. He can practice at a private half-court with another friend or two allowed in at a time. No, it's not optimal. But in a jolted world filled with people trying to figure out how to make do with suboptimal means, it suffices.
The ambiguity surrounding when he and Presley will be able to get settled as a budding family is a more pressing issue. Not only did they get married one year ago, she's pregnant with an Aug. 1 due date. As they inch closer to becoming parents, they remain without any answers about where they'll be in a couple of months. 
Nothing has ever come particularly easy for Porter.
High school hoops
Growing up, Porter did it all. Basketball, football, soccer, baseball. As he said, playing sports "was life." As time passed, soccer and baseball became distant memories with basketball and football taking precedence, and by the time he was a freshman at Utah's Davis High School, he had chosen to focus on basketball over everything else.
The next year, under head coach Jay Welk, he became a starter in the backcourt of Davis' varsity hoops team.
"Abel, he's got some real intangibles," Welk told Eleven Warriors.
Now standing 6-foot-3 and weighing 200 pounds, Porter has never been known for his speed or athleticism. He doesn't have otherworldly hops. Rather, what Welk described as a team-first, even-keeled, cerebral nature as a pass-first point guard has always stood out. 
"He knows the game. He understands the game," Welk said. "He knows how to play it right. Especially at that position where you really have to make your teammates better, he does a really, really good job of that. He'll make the other Ohio State players better. It's not about him."
That basketball mind helped Porter become a rare three-year starter at Davis, earning first-team all-state honors as both a junior and senior. He was named the Utah Region 1 MVP after averaging 14.7 points, 5.5 rebounds and 4.7 assists per game as a senior. That didn't translate into college interest, though.
ESPN, the only major recruiting site to acknowledge him, rated him as a one-star prospect. He had plenty of interest from junior-college programs, Welk said. Any of them would've taken him. But only one Division I program – Hawaii – extended a scholarship offer to Porter.
He turned it down.
"I was about to be on my mission for two years," Porter said. "I didn't feel like that was the right spot for me."
At the time, it qualified as a bold move.
"In my own thinking, to be honest with you, I'm thinking you've got a guaranteed scholarship at Hawaii and you're not taking it?" Welk said. "It's a D-I scholarship and he didn't take it, which surprised me a little bit to be honest with you because you never know."
Welk felt that way for good reason. When Porter graduated from Davis in 2014, he had no set plans for the future of his basketball career at all. He just knew he'd be off to Russia soon enough.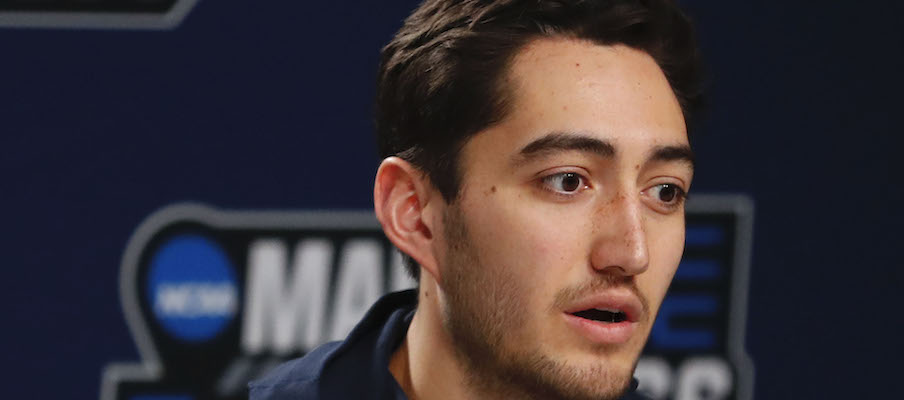 A mission in Russia
Porter chuckled at the notion that his on-court ability might not take a drastic hit while spending extended time in another continent. Heck, as he quickly learned, he couldn't even possibly stay in shape.
"I wasn't even close to being able to stay where I wanted to be with my basketball skill," Porter said. "I don't think I touched a basketball for two years."
Right away after graduating from high school, Porter moved to Samara, Russia, for two years as a missionary for The Church of Jesus Christ of Latter-day Saints. As a fresh-out-of-high school teenager, it was a lot to get used to initially.
Days, as Porter put it, were "super structured."
Every day for two years he'd wake up each morning at 6:30 a.m., when he'd have a chance to do whatever workouts he could manage. Studies began at 8 a.m. and lasted three hours. During that time, he'd delve into his scripture, studying whatever he was doing that day while also dedicating an hour to learning Russian as best he could. At 11 a.m., he ate lunch, and by noon he was out the door.
"My mission was a little unique in the fact that we didn't knock doors like people see in the U.S., where they go door-to-door, because it's all apartment buildings and kind of hard to knock there," Porter said. "We'd honestly just walk around in the streets and just stop people and talk to them and start conversations and try and teach them more about the reason that we were there."
He did that until 5 p.m. when he headed inside to eat dinner. An hour later, he'd head back outside to do it again until 9:30 p.m.
Rinse. Repeat. For two years.
A sense of repetition helped somewhat. But spending every day outside in Russia wasn't always pleasant. For eight months a year, he said, the ground was iced over. Where he lived, the temperature sat around negative-25 degrees for one month each year. His eyelashes would freeze together, causing his eyes to literally freeze shut.
"You're in situations that you've never been in and you'll never be in in your entire life again, but you just kind of have to suck it up and go do it," Porter said.
The grit, perseverance, maturity, independence and toughness he learned in Russia help him to this day in basketball, he believes. Those qualities just didn't benefit him on the court initially.
"To be honest, I got back and I was out of shape and I sucked at basketball," Porter said.
The walk-on
Without any post-mission scholarship offers at Division I schools he wanted to attend, Porter set his sights on Utah State. 
The coaching staff had recruited him off and on throughout high school. It was an in-state program with both a healthy basketball tradition and a rabid, packed student section. One of his best friends, Sam Merrill, also was heading to Utah State. His older sister had played soccer for the Aggies.
"It was kind of just a good fit, and I felt like a good spot for me," he said.
No, Utah State didn't have a scholarship to offer. But at that point, even Porter would admit that he might not have immediately deserved one.
With about six months remaining in his Samara mission, he began to think about what it'd be like when he could get back on the basketball court. Around that time, he realized that if he didn't somehow find a way to start working out more, he'd get embarrassed. The regimented schedule, though, proved too much to overcome. 
One of his first workouts at Utah State pitted him up against senior guard Shane Rector, the starting point guard. The way Porters recalls it, whenever he had the ball, Rector would swipe and take it away from him.
"I remember finishing that workout after he had just dominated me the whole entire time and thinking, like, there's no way I can do this," Porter said. "I am screwed. I am not cut out for this. I might as well just quit now because if that's how it's going to always be, if he's not even the best of the best, then there's no way I can do this."
Much like he did in Russia, Porter tried not to focus on the difficulties. Rather, along with Merrill – who was also adjusting to college basketball after taking a mission to Nicaragua –he did his best to work through the struggles. They took extra shots after practice and went on the treadmills by themselves after workouts, trying to close the physical gap between themselves and the rest of the team.
After a month, whatever thoughts of hopelessness he once had went away – though that didn't lead to early playing time for the preferred walk-on. 
Porter played in only three games as a freshman, totaling 13 minutes, before it was cut short due to a foot injury. As a redshirt freshman during the 2017-18 season, he saw an uptick in playing time, appearing in 23 games and starting three while averaging 7.4 minutes per game. 
"There was a lot of opportunities probably in there to just say, 'Hey, you know what, I'm done,'" Welk said. "And a lot of people have. But not him. He just works away. He can handle adversity. He doesn't wilt when that comes. He fights through it. I think that can be contagious with people sometimes, with teams."
With Utah State scuffling to a 17-17 record, head coach Tim Duryea was fired and replaced by Craig Smith, who rewarded Porter's persistence.
A scholarship starter
It took Smith only a few months into his first season as Utah State's head coach to award Porter a scholarship. He did so on Jan. 24, 2019, and two days later Porter rewarded him by hitting a game-winning 3-pointer with 1.6 seconds remaining to top New Mexico, 68-66.
Over the past year-and-a-half, Porter says, he's often fielded the question of why he was given a scholarship that day. Some wonder whether there was a singular moment that led to it. 
"I try and tell people that I didn't change anything," Porter said. "I didn't change my workout routine. I didn't change my work ethic. I just kept going, if that makes sense. It was just a grind. I didn't change how I prepared for games. I prepared for games the exact same way when I played zero minutes as I did when I played 30 minutes. It's always been trying to be consistent with my approach to things that I think have really benefited me in the long run."
Breaking it down, with such a clear delineation between what happened before and after he earned a scholarship, his career can be separated into two parts.
Over his first two-and-a-half years at Utah State, Porter played somewhat sparingly, starting only a handful of games. Once he got a scholarship, he started every single game he played over the next year-and-a-half.
A facilitating point guard, Porter averaged 5.5 points and 2.8 assists in 21.9 minutes per game as a redshirt sophomore, then 5.6 points and 3.2 assists in 25.6 minutes per game as a redshirt junior. He started on Mountain West championship teams both years.
"Abel is Mr. Dependable, Mr. Reliable," Smith said, per the Deseret News. "He just does everything you ask, and he's certainly been a big part of what we've done here."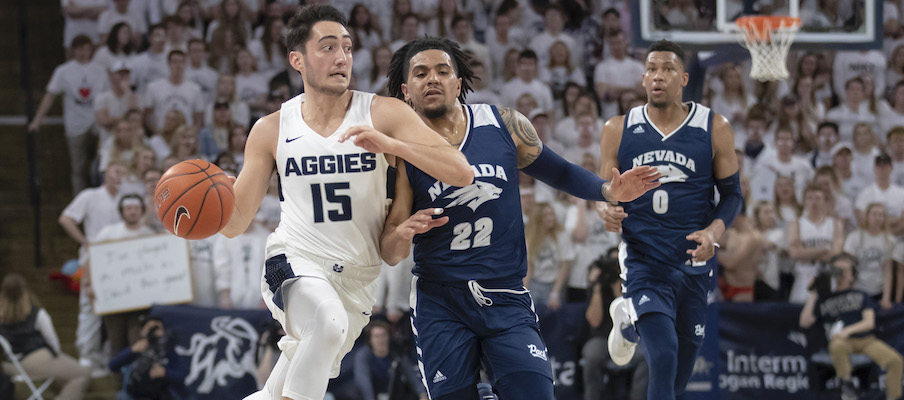 Time to move on
A "natural ending." That's what Porter called it as he revisited the conversation he had with Smith ahead of last season.
Both he and Presley, whom he married last May, would end the year by graduating. Everyone else in his freshman class, including Merrill, would be gone. To Porter, it made sense to move on, so he told Smith the 2019-20 season would be his last at Utah State, allowing Smith to recruit with the knowledge that the former walk-on guard would be elsewhere next year.
"Everything kind of came to a T at the end where it was like, 'OK, maybe I'll just look into more options,'" Porter said.
In the back of his mind, he considered whether it was time to move on from basketball entirely. That wasn't his "ultimate goal," though, so he put his name into the transfer portal on March 13.
Like anybody whose name goes into the portal, Porter heard from dozens of schools. By the time Ohio State assistant coach Ryan Pedon contacted Porter in the final couple days of March, he had zeroed in on five or six schools, including Stanford and Santa Clara. But it took just one conversation with Pedon to put the Buckeyes squarely into the mix. Pedon told Porter he could see him "impacting winning at a high level." 
For someone whose chance at March Madness was just taken away due to the COVID-19 pandemic, going to a team with postseason aspirations mattered a great deal.
"A big part was I wanted to really get back to the NCAA tournament," Porter said. "There's only so many schools that can really offer a chance at that, right? Ohio State's absolutely near the top when it comes to that. I loved the pitch that they had and the winning culture and the winning history that Ohio State basketball has."
As a Buckeye, the coaches told him, he might not start – which he doesn't mind – but will serve as a key backup since CJ Walker and Duane Washington Jr. are the only two other pure guards on the 2020-21 roster. That "fit perfectly" with what Porter wanted, he said.
He was sold on the on-court product, his potential role and the academics. But he had another consideration that most transfers don't have to worry about: His pregnant wife.
Becoming a Buckeye
Presley spoke with an Ohio State coach once during her husband's recruitment. She doesn't recall at all what they talked about, though. Why? Because at the time she didn't think the Buckeyes would even be a realistic option.
All of the other schools whose coaches Porter regularly spoke to are located on the West Coast, where both imagined they'd stay. That would keep them closer to family and wouldn't require quite such a life upheaval.
But Ohio State persisted, giving them much to consider. Luckily for the Buckeyes, both Abel and Presley had been to Columbus for Utah State's first-round NCAA tournament game in 2019. Since the Aggies lost their opener and Porter's parents had purchased tickets for the entire weekend, they had plenty of time to check out the city.
Porter remembers riding scooters around Columbus. Presley, who said they're both food fanatics, said they checked out both North Market and Lindey's in the German Village. Could Porter have ever imagined that he'd be back to live there?
"Never," he said with a laugh. "Especially for this reason."
Eventually, they both agreed that Ohio State was the best choice, and he committed on April 11.
Without last year's trip, Presley said, they likely wouldn't have felt comfortable enough with Columbus to make the move. As a married couple with a baby on the way, they viewed this as a long-term decision rather than just a choice about where Porter will play his final season of college basketball.
"That's kind of how it goes when you're starting a family, honestly," Porter said. "We had a lot of great cities and places, and we thought Columbus could be an awesome place to grow and to be for a while."
A year ago, they couldn't have ever imagined they'd return. Now they just want to be allowed to get back to Columbus, their new home, as soon as possible.