Out of all the side effects that could come from spring practices being cut short and less time to prepare for the potential 2020 football season due to COVID-19, one position group that could be especially affected is the offensive line, where building chemistry during the offseason can be crucial to a unit's success during the season.
Nonetheless, there are still numerous reasons for Ohio State to be as confident as ever about its offensive line going into this fall.
That certainly all starts with the return of three starters from last season – right guard Wyatt Davis, center Josh Myers and left tackle Thayer Munford – who can all be considered among the best offensive linemen in the country at their respective positions. All three of them are now in their fourth year at Ohio State, with Munford starting for a third year and Myers and Davis now second-year starters, and they'll lead the offensive line with their experience and ability.
Unlike last year when Munford was the only returning starter, the majority of the starting offensive line has already started at least one full season at Ohio State, and they believe they went into this spring much further ahead than they were last year – when they ended up becoming a Joe Moore Award finalist as one of the four best offensive lines in the country.
"With all three of us having that gameday experience, and truly grinding out a long season and just knowing everything from how your body's going to feel by Week 12 and that whole nine and just kind of how your body takes a beating during the season, understanding that and obviously playing at a high level during that time, I feel like kind of gives us an edge coming back this year," Davis said during a teleconference this week. "Having all three of us, we'll be able to push whoever fills in those spots and really fill them in and push them when the times get rough during the season."
Ohio State will have two new starting offensive linemen at left guard and right tackle, and their inexperience could be somewhat exacerbated by the stunted offseason. But the Buckeyes have expressed nothing but confidence that replacements will step up at both spots.
Even after just three spring practices, Ohio State's veteran offensive linemen and coaches have seen enough to believe they have multiple strong candidates to start at both positions.
At left guard, either true sophomore Harry Miller or redshirt sophomore Matthew Jones is expected to step in between Munford and Myers. At right tackle, redshirt sophomore Nicholas Petit-Frere – who started one game last season at left tackle – is the frontrunner to start but true sophomore Dawand Jones and true freshman Paris Johnson Jr. are both in the mix, as well.
Davis was impressed by what he saw from all of them between January and March, giving him confidence that the Buckeyes' offensive line could be even better in 2020, even without Jonah Jackson and Branden Bowen and with months away from campus.
"You saw a lot of young guys like Matt Jones, Harry Miller, Nick Petit, Dawand, starting to take that next step through the workouts … pretty much all the early enrollees (Johnson, Luke Wypler and Trey Leroux) have just been awesome up to this point, and I just feel like as a unit, we were taking such huge strides," Davis said. "Getting to a place that was better, in my opinion, from the start of last year's spring ball.
"I do truly believe that we can be better than we were last year, just because that culture that was instilled with last year's offensive line – which was playing nasty, physical and just trying to dominate – you could see it in young guys. Guys like Matt Jones, you saw it in the workouts, he completely changed his whole mentality. I just loved seeing the fact that he's so willing to put the work in. And Harry Miller, he's been doing the same thing from the moment that he's gotten to Ohio State. And also seeing young guys like Paris Johnson. This guy, he's already kind of stepping up as a leader for the young guys."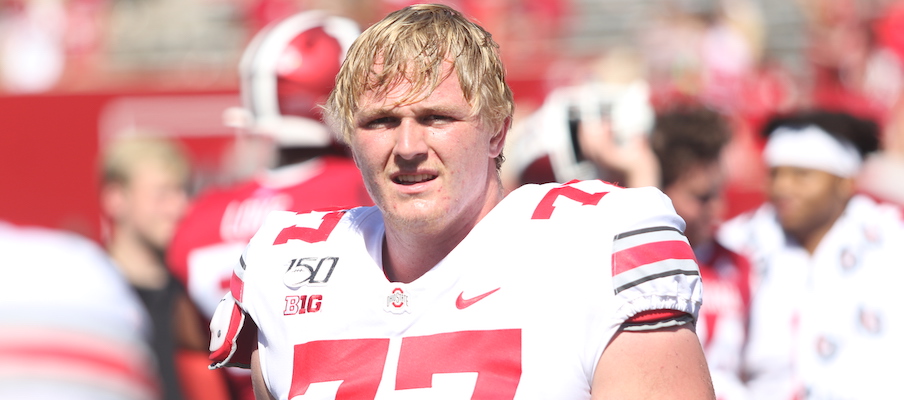 Ohio State offensive line coach Greg Studrawa still expects to have three-man competitions at both open spots whenever practices are able to resume, with fifth-year senior Gavin Cupp also in the mix at left guard.
Cupp was sidelined for the Buckeyes' lone week of spring practices after missing the end of last season with a foot injury, but Studrawa was excited by what he saw in just one week from Miller and Jones, with Miller moving over to left guard after backing up Myers at center last season.
"Harry did a great job in the spring in a short time. He had three practices at it and looked really, really good," Studrawa said. "Matt Jones opened my eyes a little bit. I think he's got a certain maturity level now that it might be time for him to play and start to contribute. And then Gavin Cupp, he had the little foot thing he dealt with, so we didn't get to see him, but I'm anxious now that he's had this time off to heal, we've got three guys that are gonna be able to compete for that job."
At right tackle, Studrawa has also been impressed by the development he's seen from Petit-Frere and the potential he's seen from Jones and Johnson.
"The first three days of spring practice were unbelievable to see those guys go out there and compete," Studrawa said. "It's gonna take someone who wants to go out there and grab that position by the you-know-what and say that they want it.
"What I saw out of Dawand and Paris, two young guys, in three days was pretty impressive. I couldn't believe how far Dawand has come and how advanced and mature Paris is for a freshman," Studrawa added. "I think this is Nick's time. I think he's finally got his weight up to where it needs to be. He's finally got his strength up to where it needs to be. And I think he's finally learned, inside and out, what we're doing on the offense. So I think it's his time to shine. I was excited with what he did in those three days."
If Ohio State had a full spring, those competitions likely would have been narrowed down if not decided by now. Under normal circumstances, the Buckeyes would have ideally liked to have its starting five determined by early in preseason camp so that they could focus on building cohesion and preparing for the first games of the year.
Instead, the competitions have only just begun, with no guarantees for when they will be able to resume, if the season will start on time and how many practices the Buckeyes will get before their first game. 
"I do truly believe that we can be better than we were last year, just because that culture that was instilled with last year's offensive line – which was playing nasty, physical and just trying to dominate – you could see it in young guys."– Wyatt Davis on Ohio State's offensive line
Given that, Myers doesn't know yet who will lining up alongside him at left guard, nor does Davis know who will be next to him at right tackle. But based on what they saw in the first couple months of the offseason before the pandemic brought everything to a halt, they feel good about playing next to any of the potential candidates.
"I think as an offensive line unit, we were taking a huge step this spring. Even just through the first week, through the first three practices, our young guys were taking huge steps and you could tell, I could tell big-time, that we had some guys that were gonna get way better this spring," Myers said. "There isn't a clear-cut answer as to who's gonna start right now, and I think the competition of that was driving all of them so hard, striving for that spot. And they were getting better, and it was fun to watch.
"As for who will start, I don't think any of us really know right now. Time will tell, but I have all the confidence in the world in any of those guys getting in the game and playing," Myers added. "The culture that we instilled last season and the expectation – it became the expectation, not the exception – anything short of us all grading out as champions and dominating was considered a failure, and I think the young guys took note of that and are running with it and are trying to hold themselves to that level of expectation."