If Ohio State plays football this fall, there will likely be new conditions in place due to the COVID-19 pandemic.
Players could be asked to quarantine themselves when they return to campus. They could have their temperatures checked every day when they arrive at the Woody Hayes Athletic Center. There might not be any fans in the stands. They could return to campus before other students, and it's feasible they could even be asked to sign waivers confirming they're willing to accept the increased risk of contracting COVID-19 by playing football.
Ohio State center Josh Myers said he's willing to accept all of those conditions if it means he can suit up for the Buckeyes this season.
"I would do anything really to play this season," Myers said during a teleconference on Thursday, the first time Ohio State players spoke to the media since spring practices were shut down. "I don't know what I would do without football to be honest with you. But with that would come sacrifices, and personally I'm also willing to make those sacrifices."
Ohio State right guard Wyatt Davis, who joined Myers on Thursday's conference call, agreed with his fellow offensive lineman that he'll do whatever is required to play football this fall. He acknowledged that it won't be the same if they're playing in an empty Ohio Stadium, but he'll take that over the alternative of having no season altogether.
"Would it suck not having fans there? Yes. But that would affect me not playing the season? No," Davis said. "Just because I just love the game of football. I miss being in that competitive type of atmosphere. So fans or no fans, I would want to play."
The possibility of having no season at all is one that Myers shudders just thinking about.
"It's a nightmare, to be honest with you," Myers said. "That's time that we can never get back. I was so excited for this season, and I'm still hoping and praying that it happens, and I'm trusting that it will. It's a critical time for development still and just getting that much more experience and elevating our games to even higher levels, as high as we can possibly make them. So even the thought of not playing this season is terrifying and an absolute worst-case scenario."
Davis views this season as "a very big year" for him and the entire team, especially given the way last season ended with a loss to Clemson in the College Football Playoff semifinals, which makes the Buckeyes even hungrier to get back on the field and have a season this fall.
"Coming off of that bittersweet season this past year, and how hard that we all worked during the offseason leading up to this pandemic, we would hate to see it – I'm not gonna say it would be a waste, but we would just hate to not be able to use that for this season," Davis said. "And I know that our coaches would be very upset as well."
"Even the thought of not playing this season is terrifying and an absolute worst-case scenario."– Ohio State center Josh Myers
Davis and Myers said Ohio State's coaches have already talked to the team about possible modifications that could be made when players are finally able to return to campus, including the possibility of players initially working out in groups of 10 or fewer. Davis said they have been told their temperatures could be checked every time they walk into the Woody Hayes Athletic Center, while they'll also be asked to wear masks around the facility.
Both of them are comfortable with returning to the facility whenever they get the green light, though, because they are confident Ohio State's coaches, strength and conditioning staff and medical staff will have a sound plan for protecting their players' health.
"I think I could speak for pretty much everybody on our team when I say that we trust our coaches, we trust our medical staff and we know that they're going to try and do right by us and keep us safe while also getting the work in that we need to get in," Myers said.
While Myers and Davis understand the risks that could come with returning to campus and practicing together again, there are distinct advantages that would come with being back in Columbus and having access to team facilities. Davis, for example, has had a difficult time finding open fields where he can work out without being asked to leave in his home state of California. And while Myers is home with his family in Miamisburg, Ohio right now, he'd be somewhat less concerned about contracting COVID-19 if he was quarantining by himself in Columbus rather than being around his relatives.
"If I get it, that's obviously not good, and I don't want to get it, but I would be significantly more worried at that point that I would give it to my parents or to someone in my family and God forbid, something terrible happens to them," Myers said. "And that's, to be honest with you, the thing that scares me by far the most about the virus. So being back in Columbus, obviously I would not be with my family and it would be unfortunate that I wouldn't get to see them, but at least I would be sure that I couldn't give it to them if I did get it."
Assuming there is a season this fall, the other concern both Myers and Davis have right now is whether they'll be ready to perform at their best after an incomplete offseason. Even though they're returning starters who were already among the best interior offensive linemen in the country last year, they were looking forward to a full spring practice season to continue to work on their craft, and as of now, it's entirely uncertain how much time the Buckeyes would have back together on campus before the season would begin.
"Not having spring ball was, at least for me, I feel like it was a very big deal. Just because spring ball's that time where you can truly focus on your craft and start fixing those things that you weren't doing correctly during the season leading into fall camp," Davis said. "So just that worry of just having even a good season with all that's going on right now, being ready to play. Those are all very real things, but at the end of the day, you can only worry so much and you kind of just gotta do what you gotta do to put yourself in the position to be ready if that time comes."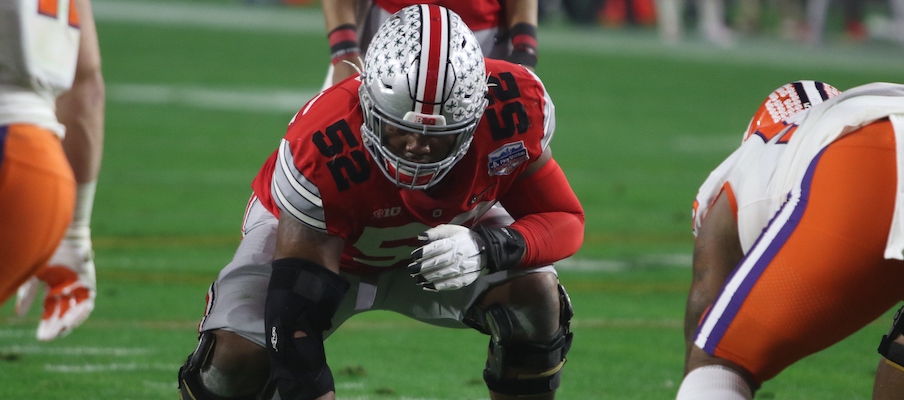 For their position group specifically, though, it does help that Myers, Davis and left tackle Thayer Munford are all returning starters, which should help the offensive line get up to speed quickly and be ready for the start of the 2020 season even with less practice time than usual.
"I think with the situation at hand, it definitely makes it a lot easier," Myers said. "We had to replace four guys last year, and this time was critical for us to mold together. So I think given the coronavirus and us not being together, I think the fact that we do have veterans – three of us – helps a lot, and I think that'll show when we do finally get back into the swing of things."