In its first 10 games of the season, Ohio State did everything it needed to do to set itself up for a chance to compete for a Big Ten championship and a spot in the College Football Playoff.
The Buckeyes won all of their first 10 games of the year by at least 24 points, establishing themselves as one of the best teams in the country and avoiding the annual trap-game losses that had plagued them the last few years. They've done everything they've needed to do in the first two-and-a-half months of the regular season to position themselves as a frontrunner for both the conference and national titles.
From here, however, the stakes get higher and the competition gets tougher.
Tune-up games against clearly overmatched opponents like Miami (Ohio), Northwestern, Maryland and Rutgers are over. Ohio State will play only ranked teams for the remainder of the season, and that starts on Saturday, when the No. 2 Buckeyes plays host to No. 8 Penn State in a de facto Big Ten East title game at Ohio Stadium.
Ohio State can win the division outright and clinch its berth in the Big Ten Championship Game with a victory over Penn State on Saturday. That said, the Nittany Lions have a shot at playing spoiler to the Buckeyes' goals. If Penn State upsets Ohio State on Saturday, the Nittany Lions would take control of the Big Ten East, needing only a victory over Rutgers to win the division themselves – which would lock the Buckeyes out of the Big Ten Championship and potentially knock them out of the College Football Playoff, as well.
That's not what's supposed to happen on Saturday – Ohio State is favored to win by three scores – but Ryan Day doesn't want his team to go into this week's game thinking it has any inherent advantage. 
Recent history is reason enough for the Buckeyes to be on high alert for a game with Penn State; Ohio State was favored by just about the same margin when it lost to Penn State in 2016, and has needed a pair of multi-touchdown fourth-quarter comebacks to defeat Penn State in 2017 and 2018. And while the Buckeyes have blown out everyone they've played this year and have the on-paper advantage on both sides of the ball once again this week, Penn State is better than any team they've played so far.
"We all know we've been in some games that we've had more talent than some of the other teams we've played. This is a team that talent equates," Day said this week. "So when that happens it goes back to discipline, it goes back to fundamentals, it goes back to toughness, all of those things that come into play when your talent no longer matters.
"We got to do a good job putting a good game plan together," Day added. "The team that's more prepared will win the game."
Penn State Breakdown
The Nittany Lions won their first eight games of the season, including a pair of back-to-back wins over top-20-ranked teams (Iowa and Michigan), before suffering their first loss of the year two Saturdays ago against Minnesota. Penn State bounced back with a 34-27 win over Indiana last weekend, though it took an 18-play touchdown drive in the fourth quarter for the Nittany Lions to salt away the game.
Before its loss to the Golden Gophers, Penn State was ranked fourth in the initial College Football Playoff rankings. The Nittany Lions have lost a bit of their shine since then, but they're still 9-1 and in the running for both a Big Ten title and a playoff berth – if they can beat Ohio State on Saturday.
Penn State hasn't blown its competition away the same way Ohio State has – none of its wins against teams that currently have winning records came by more than seven points – but the Nittany Lions have found a way to win almost every week, and they have the respect of Day and the Buckeyes.
"It starts with James Franklin, he's an excellent head coach," Day said. "Both sides of the ball, they're well-coached, good players. They're talented all over the field ... in all three areas, they challenge you."
Offensively, the Nittany Lions are led by first-year starting quarterback Sean Clifford, who has completed 59.6 percent of his passing attempts (168-of-282) for 2,450 yards and 22 touchdowns with only six interceptions and also rushed for 374 yards and five touchdowns.
Clifford has a strong arm and a bevy of playmakers around him that make Penn State's offense, particularly in the passing game, one of the most dangerous Ohio State has faced all season. KJ Hamler, who scored a 93-yard touchdown against the Buckeyes last year, is a speedy weapon out of the slot who has caught 46 passes for 791 yards and eight touchdowns this season. Pat Freiermuth, who is 6-foot-5 and 256 pounds and has caught 34 passes for 424 yards and seven touchdowns this year, is one of the best tight ends in the country. Day also considers Jahan Dotson, who has 22 catches for 412 yards and three touchdowns, to be "as good a wide receiver as there is in the Big Ten."
"I think their quarterback's a good player. He's smart, he's physical, he's tough, he can run the ball; he can keep plays alive with his feet and throw the ball down the field, he's got a strong arm," said Ohio State co-defensive coordinator and secondary coach Jeff Hafley. "Their wideouts, this is probably the best group that we've played this year. (Hamler) is dynamic, he's fast, he's quick, he can change direction, but then the other guys are good, too. They have a lot of speed, and then it might be the best tight end we've seen all year."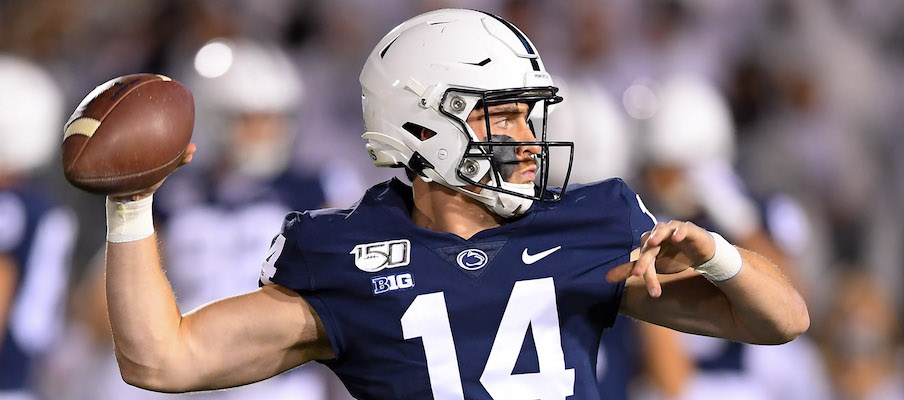 The Nittany Lions also have a deep stable of running backs with big-play ability, led by Journey Brown (86 carries for 521 yards and six touchdowns), Noah Cain (68 carries for 350 yards and six touchdowns) and Devyn Ford (48 carries for 289 yards and two touchdowns).
Altogether, the Nittany Lions are ranked 15th in points scored per game (36.8) and 51st in yards gained per game (426.6) and are tied for 14th with 17 offensive plays of 40-plus yards this season.
Defensively, the Nittany Lions have been dominant against the run, holding their opponents to just 2.19 yards per carry, the best mark in the entire Football Bowl Subdivision. They've held all of their opponents under 3.5 yards per carry, and are fourth in the nation with only 75.9 rushing yards allowed per game.
The star of Penn State's defense is sophomore linebacker Micah Parsons, the No. 5 overall prospect in the recruiting class of 2018, who was also recruited by the Buckeyes before he chose to stay in his home state. At 6-foot-3 and 245 pounds and a tremendous athlete for his size, Parsons can make plays all over the field for the Nittany Lions, and leads the team with 75 total tackles this year.
Penn State's biggest weakness, particularly in its last two games, has been defending the pass. The Nittany Lions allowed Tanner Morgan to complete 18 of 20 passes for 339 yards and three touchdowns against them, and gave up 371 passing yards and a touchdown on 31-of-41 passing to Indiana's Peyton Ramsey last week. For the season, they rank just 85th nationally with 240.3 passing yards per game allowed.
Franklin acknowledged this week that the Nittany Lions must shore up their mistakes in that phase of the game as they prepare to play Justin Fields and the Buckeyes this week.
"There's been some times where we've blown coverages. The reality is that happens with everybody. We've been unfortunate the times we've blown coverage, we've gotten burned, we've gotten caught for it," Franklin said. "We have to eliminate those things as coaches, as players. You got to give those guys credit for being able to take advantage of it."
On paper, there isn't any one area in which Penn State appears to have a significant advantage over Ohio State, and calling it a "talent-equated game" as Day said this week might not be giving Ohio State enough credit. But the Nittany Lions are one of the best and most talented teams that Ohio State has faced this year in all phases of the game, and certainly have the potential to test the Buckeyes in a way they haven't been tested yet this year.
Ohio State Breakdown
Ten games into the regular season, Ohio State still holds a clear-cut claim to being the most dominant team in college football this year. The Buckeyes have been consistently excellent on both sides of the ball, scoring more points per game (51.5) and allowing less points per game (9.8) than any other team in the country.
2019 Statistical Comparison
 
OFFENSE
51.5
1st
POINTS FOR
36.8
15th
287.4
4th
RUSHING OFFENSE
173.1
53rd
254.3
45th
PASSING OFFENSE
253.5
46th
541.7
4th
TOTAL OFFENSE
426.6
50th
.585
1st
3rd DOWNS
.425
45th
.895
32nd
RED ZONE
.900
28th
DEFENSE
9.8
1st
POINTS ALLOWED
13.5
7th
90.4
6th
RUSH DEFENSE
75.9
4th
126.0
1st
PASS DEFENSE
240.3
84th
90.5
2nd
PASS EFFICIENCY DEFENSE
120.7
30th
216.4
1st
TOTAL DEFENSE
316.2
17th
.268
3rd
3rd DOWNS
.329
25th
.611
2nd
RED ZONE
.864
92nd
SPECIAL TEAMS
8.7
49th
PUNT RETURN
5.7
97th
21.8
48th
KICKOFF RETURN
19.1
89th
40.1
33rd
NET PUNTING
39.7
39th
MISCELLANEOUS
+1.3
2nd
TURNOVER MARGIN
+0.6
21st
5.8
45th
PENALTIES
4.7
13th
15
EDGE
3
That's why the Buckeyes' most recent game against Rutgers, in which they failed to cover the betting line for the first time their season opener against Florida Atlantic, could be viewed as mildly underwhelming. Yet the Buckeyes were never at any risk of losing whatsoever and still won by 35 points, 56-21. They won in convincing fashion for the 10th game in a row and, most importantly, came out of the game healthy for a much tougher test this week.
Day wasn't concerned about perceived disappointment after the Rutgers game, saying then that he thought the Buckeyes "played really well" overall. He acknowledged this week, though, that they have to be sharper and cannot afford to make sloppy mistakes against an opponent of Penn State's caliber.
"You just have to make sure you understand how important every play is in a game like this," Day said. "In maybe some of those other games it's like, well, if you didn't get it that series, we'll get the ball back here pretty quick, we'll be okay. That's not the case in something like this. We mentioned it just coming off of the game on Saturday. You turn the ball over like we did (referencing Garrett Wilson's muffed punt in the first half against Rutgers) and they score a touchdown, that could be the difference in the game.
"So we just have to be mature enough to understand how important every series, every play is, and that it might just be one play that changes the game. And I can't really say that maybe we've been in a game where that's been the case this year."
Ohio State will get a major reinforcement back on defense this week with the return of star defensive end Chase Young, who was suspended for the past two games due to an NCAA violation. The Buckeyes didn't need him to blow out Maryland or Rutgers, but he'll play a huge role in Ohio State's efforts to slow down the Nittany Lions offense.
Penn State knows as well as anyone how much impact Young can make on a game, as he had perhaps the biggest game of his sophomore season in Happy Valley last year. In Ohio State's 27-26 win over Penn State, Young recorded six total tackles with three tackles for loss, including the game-sealing run stop on 4th-and-5, and two sacks.
"Chase is going to make plays. That's going to happen. We need to limit the impact that he has in the game," Franklin said. "There's no doubt on every play, we need to know where he's at and account for him. There's no doubt about it."
Four other key veterans – wide receiver Austin Mack, defensive end Jonathon Cooper, linebacker Baron Browning and cornerback Damon Arnette – are also set to return this week after missing time with injuries, meaning the Buckeyes could be as healthy as they've been all year at the point in the season where they need to be most.
Ohio State has had a tendency in past years to underperform the week before playing Michigan – last year was certainly an example of that, when the Buckeyes needed overtime to earn a 52-51 win over Maryland before earning a 62-39 win over the Wolverines one week later – but playing a team like Penn State, with how tough the Nittany Lions' past three games against Ohio State have been, should be enough to ensure the Buckeyes aren't looking ahead this week.
They know from past experience that if they don't get out to a strong start on Saturday, they could put themselves in a hole that they have to fight back from once again.
"I feel like in the last couple years (against Penn State), we felt like we had good stuff, we just weren't executing great," Day said. "There was just some of those things that went on in that game, and we just felt like we had the right stuff, we just had to hang in there. So we talked to our guys about that, even this week, we got to come out to a fast start."
"We got to do a good job putting a good game plan together. The team that's more prepared will win the game."– Ryan Day on Saturday's game against Penn State
While preparing for The Game is always a priority at Ohio State, this week's game is arguably more important for the Buckeyes, at least in terms of their conference championship and College Football Playoff hopes, as Michigan can't win the Big Ten East even if it beats Ohio State. So there's no reason for the Buckeyes to be looking ahead this week. 
And while they have tried to stay focused on the task at hand and one game at a time all season, they have been well aware of the tough end-of-season stretch that awaited them at the end of November. Penn State and Michigan were always expected to be two of the best teams in the Big Ten this year, so Ohio State knew from the beginning of the season that it would need to be ready to peak at the right time, and Day believes his team is ready for the challenge.
"Once the schedule came out, we knew this was coming, so we've been prepared," Day said. "We don't worry about what's coming tomorrow, we just worry about this game right here, but we also know it's like single elimination, and we got to bring it every week."
Game Forecast
Saturday afternoon in Columbus is expected to be cold and rainy, which means the Buckeyes will need to be prepared to battle the elements, but Day expressed Thursday that he didn't expect the weather to have much impact on Ohio State's game plan. The Buckeyes already played in one cold and wet game against Wisconsin and won that game 38-7, so they'll take the same approach to the weather that they did against the Badgers and hope to achieve similar results.
"Both teams have to deal with it, so we'll deal with it just like we did in the Wisconsin game," Day said. "Whatever it is, it is, and we'll handle it."
For the Buckeyes to defeat Penn State in the same convincing fashion with which they defeated Wisconsin and everyone else they've played this year, they'll need to play their best football of the season on Saturday. For the Nittany Lions, Saturday's game looms as their Super Bowl – if they don't beat Ohio State, they won't play for a Big Ten title or a national championship, and this is a much bigger game than their next game against Rutgers.
Given the way the last few games between the Buckeyes and Nittany Lions have gone, there's reason to believe Saturday's game will be a tightly contested, four-quarter battle. Both teams will certainly enter the game with the understanding that this is a matchup in which momentum can flip quickly, so it will be crucial for Ohio State – which hasn't had a game come down to the wire all year – to be ready to play four quarters and maintain its intensity for a full 60 minutes.
Ohio State's Last Five Games Against Penn State

| YEAR | LOCATION | RESULT |
| --- | --- | --- |
| 2018 | University Park | Ohio State 27, Penn State 26 |
| 2017 | Columbus | Ohio State 39, Penn State 38 |
| 2016 | University Park | Penn State 24, Ohio State 21 |
| 2015 | Columbus | Ohio State 38, Penn State 10  |
| 2014 | University Park | Ohio State 31, Penn State 24 |
All of that said, there's also reason to believe this year's game might not be as close as the last few games between the Buckeyes and Nittany Lions. Even though Ohio State was one of the best teams in college football in those seasons, too, this year's Buckeyes have been on a different level, and it's uncertain whether Penn State is good enough on either side of the ball to consistently slow down their offense or score on their defense.
Ohio State will also have the advantage of a home crowd on its side for the final game of the year in Ohio Stadium, and Day believes Buckeyes fans have the ability to make a real impact on how Saturday's game plays out.
"Every time Penn State has the ball, we need them to be as loud as they possibly can," Day said. "Doesn't matter whether it's third down, doesn't matter what it is; every play they're trying to communicate. They're trying to tell the line what the play is, they're going to try to tell the receivers what the play is, change plays and that gives them an advantage. But if our crowd's loud, it makes it very hard for them to communicate that."
It's easy to predict that this will be the closest game of the season to date for Ohio State, but because the Buckeyes have won every game they've played by more than three touchdowns, that's not saying much.
Penn State is capable of making big plays and will fight as hard as any opponent Ohio State has played all season, so expect the Buckeyes to face more resistance in this game than they have in their previous games this year. If Ohio State plays at its best, though, the Buckeyes are capable of winning this game by multiple scores and making yet another statement about how far they've come this year.
---
ELEVEN WARRIORS STAFF PREDICTION: Ohio State 41, Penn State 21