Before each week's Ohio State game, Eleven Warriors catches up with a media member who covers the opposing team to get his or her perspective on the Buckeyes' upcoming opponent.
In advance of Ohio State's biggest game of the season to date against Penn State, we're joined by Ben Jones, who covers the Nittany Lions for StateCollege.com, to get his insight on the Buckeyes' eighth-ranked opponent ahead of their trip to Columbus.
Penn State enters this week's game with a 9-1 record this season and a chance to seize control of the Big Ten East and remain in the hunt for a College Football Playoff if it can upset Ohio State on Saturday.
How have the Nittany Lions gotten to this point, why has their pass defense struggled and who are their players to watch? How much are they still thinking about their last two losses to Ohio State, and do they have a real chance to win on Saturday?
Across The Field gives us Jones' answers to those questions and more.
Q: Most of the national projections entering this season had Ohio State and Michigan as the Big Ten East's top two teams, yet Penn State enters this week's game playing for a division title once again. How would you say Penn State's performance this season has measured up to the expectations of the Nittany Lions and their fans?
Jones: On the one hand, I think when you looked at Penn State's schedule and see games against Michigan, at Michigan State and at Iowa all in a row, it was pretty fair to think there was a loss to be found in that stretch. Add in the fact Penn State was going with Sean Clifford at quarterback instead of Tommy Stevens and working in new faces on both sides of the ball, it wasn't that anyone expected Penn State to be "bad" but there were landmines to be found along the way.
Instead, Penn State's defense has been good enough, Clifford has – for the most part – not made many bad throws and those two things have come together to give you what Penn State has become today: Better than mostly everyone in the Big Ten, but probably not a playoff team and probably not better than Ohio State. I think James Franklin's relative success over the past few years has elevated expectations a bit, but I think anyone who was really looking at it saw Penn State as an 8-9 win team overall. In reality, that might not turn out to be off by much (although a game against Rutgers almost certainly means 10 wins), but at the end of the day, there are worse things than 11-2, 10-3.
Q: What have been the Nittany Lions' biggest keys to success in their 9-1 start?
Jones: Penn State really doesn't commit tons of penalties, which I think is always a big help, and the combo of KJ Hamler and Pat Freiermuth has given Clifford two reliable targets to work with when he's under pressure. In turn, Penn State's offense hasn't always looked like it did in 2016 or 2017, but it is capable of putting up points. Up until the Minnesota game, Clifford also hadn't done many things to hurt the team, and I think any time you have a quarterback that is avoiding the mental mistakes, you've got a chance.
On defense, this group has lived up the hype against your run-of-the-mill Big Ten team but has shown its weaknesses against better teams. End of the day, whatever you think of Penn State's season or how good Penn State is or isn't, it's a roster with a lot of speed and a lot of talent, and college football is really about both of those things at the elite level.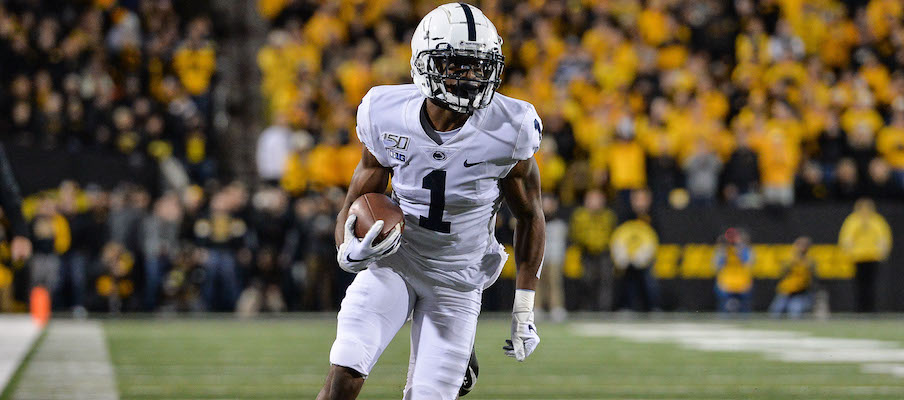 Q: Penn State's pass defense has allowed more than 300 yards in each of its last two games. What has led to the Nittany Lions' struggles in defending the pass, and is that the biggest area of concern entering this week's game?
Jones: That has to be Penn State's biggest area of concern. It's not that you want to deal with J.K. Dobbins getting 40 carries and ramming it down your throat all day if you're Penn State, but it would at least put Penn State's strength in the forefront of the game defensively.
Why exactly teams have been able to pass so well is a bit of an ongoing mystery. Minnesota was happy to get rid of the ball quickly and Indiana was just throwing it well. To a certain extent, Penn State really caught two quarterbacks on really accurate days even with good coverage at times.
Penn State was a top-20 team in pass defense last season with a lot of the same players, which only adds to the confusion a bit. Penn State has to do a better job getting to the quarterback, but flushing Justin Fields from the pocket isn't exactly a good thing either. The only silver lining Penn State can take from the past two weeks is that it has given up a lot of yards but has generally been able to minimize the points off of them. In the end you don't stop a guy like Fields, you just want to mitigate the damage.
Q: Who are some potentially under-the-radar Penn State players that Ohio State and its fans need to be aware of on Saturday?
Jones: If KJ Hamler is out, and that seems entirely possible, then Jahan Dotson seems like the next best bet for a guy to get a lot more targets. The weird thing about Penn State's offense is that it has really leaned on only a handful of players. Freiermuth and Hamler have over 40% of Penn State's receptions and that has left guys like former five-star Justin Shorter out of the mix.
I would expect a lot of Noah Cain as well, he was really emerging as Penn State's marquee running back before twisting his knee/ankle and missing the past two weeks. Since Penn State already rolls a four-back rotation, the theory was that he simply didn't play against Indiana to get healthy for Ohio State. Franklin noted that Cain was 90% for the Minnesota game, although he didn't take a snap then.
Journey Brown has had back-to-back 100-yard rushing games, so I don't know if he can still be under-the-radar, but you would have to be really watching Penn State to know all four backs Penn State has played this year.
On the defensive side of the ball, Shaka Toney isn't an unknown but he sometimes gets overlooked at defensive end despite being a pretty consistent force. Everyone knows Micah Parsons.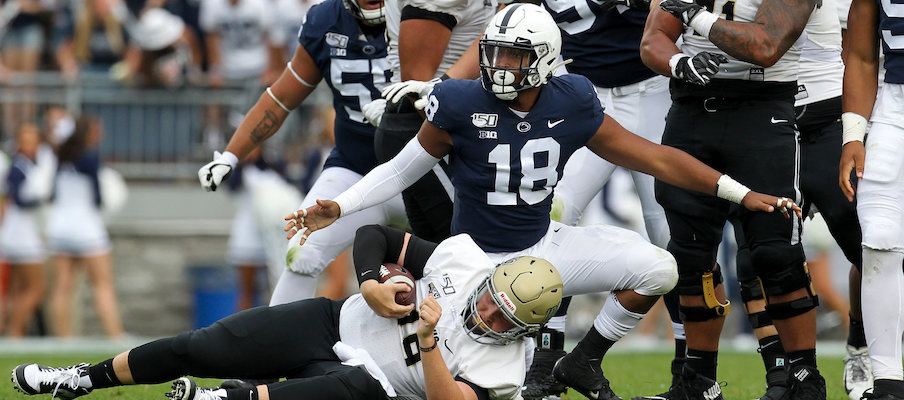 Q: Penn State has led by multiple scores in the fourth quarter of each of its last two games against Ohio State before the Buckeyes stole wins away with late comebacks. How much are the Nittany Lions thinking about those games and being reminded about those games in their preparation for this week's game?
Jones: For a program that rarely dwells on its losses, there have been a surprising number of players who have mentioned this in the preseason. Nothing says confidence like August in a football town, but I don't think there is any doubt those losses are as defining as some of Penn State's big wins.
Ohio State deserved to win both games because it made enough plays too, but Penn State squandered a really legitimate chance to have a three-game winning streak against Ohio State, which would be among the more impressive things in the sport right now. Instead, they've got one wild upset and two close losses. I think when you have setbacks like that you can talk about putting it in the past all you want, but I think anyone who tells you those games don't matter at all now would be lying to you.
Q: What do you think Penn State needs to do to have a chance to win Saturday's game, and how do you see it playing out?
Jones: For my money, Ohio State is the best team in America, and if it's actually LSU then it isn't by much. I think Penn State has the talent to make this game as close as the previous ones have been, but it can't make mistakes and it can't give up big play after big play.
The question to me is how Penn State's offense looks in the middle of the second quarter. This group has a tendency to hit a wall for 10 minutes, and if you do that you will lose to Ohio State. If Clifford can avoid the interceptions he had against Minnesota and Penn State's defense is at least holding Ohio State's offense somewhat in check, then Penn State has a chance. It's not that I don't think Penn State has a shot, I just think Ohio State is that good.
Hamler also has to be healthy, otherwise you're asking a lot of guys to take on a bigger load in the biggest spot of the year. I don't think Penn State will drastically change what it is, but I wouldn't be entirely shocked if the game plan sounds a bit like "Here are our four running backs" and then just trying to minimize the number of possessions in the game. Stopping Chase Young also would probably help. But people say that every week and then don't.