In its final home game of the season at Ohio Stadium on Saturday, Ohio State will host a top-10 team with just one loss this year and a de-facto Big Ten East title on the line.
Penn State will bring a 9-1 record to Columbus this weekend, and with it perhaps the best chance of any team yet of playing spoiler to Ohio State's currently undefeated season. The Nittany Lions were ranked ninth in last week's College Football Playoff rankings, and if they can pull off a road upset over the Buckeyes on Saturday at noon, they would only need to finish their regular season with a win over Rutgers – who has lost every Big Ten game it's played this season, including a 56-21 loss to Ohio State this past weekend – to win the division and clinch a berth in the Big Ten Championship Game.
This week's matchup was expected to be a high-stakes game all along, and that's nothing new. Penn State won the Big Ten East title after a surprising 24-21 win over Ohio State in 2016. Ohio State won the division in 2017 and 2018, but not before the Buckeyes put together fourth-quarter comebacks to defeat Penn State by just one point in each of those seasons.
Ohio State is favored by three scores to win this year's game, but the recent history between the two teams and the postseason possibilities that will be on the line once again should be enough to ensure that the Nittany Lions aren't an opponent the Buckeyes will take lightly.
We take a look at what could make Penn State the toughest test of the season to date for the 10-0 Buckeyes, where the Nittany Lions could be vulnerable and more you should know about James Franklin's squad.
Dominant Run Defense, Suspect Pass Defense
Penn State's rushing defense has allowed just 2.19 yards per carry this season, less than any other team in the Football Bowl Subdivision. The Nittany Lions have held all 10 of their opponents to less than 3.5 yards per carry, and have only allowed more than 100 rushing yards in games where their opponents have run the ball more than 40 times.
The Nittany Lions' passing defense, however, has been shaky – especially in their past two games. After holding each of their first eight opponents to 21 points or less, the Nittany Lions gave up their 31 points in their loss to Minnesota and 27 points on Saturday against Indiana, and the success they allowed their opponents to have through the air was the biggest reason why.
Minnesota quarterback Tanner Morgan completed 18 of 20 passing attempts for 339 yards and three touchdowns against the Nittany Lions, while Indiana quarterback Peyton Ramsey completed 31 of 41 passing attempts for 371 yards and a touchdown this past weekend in Happy Valley.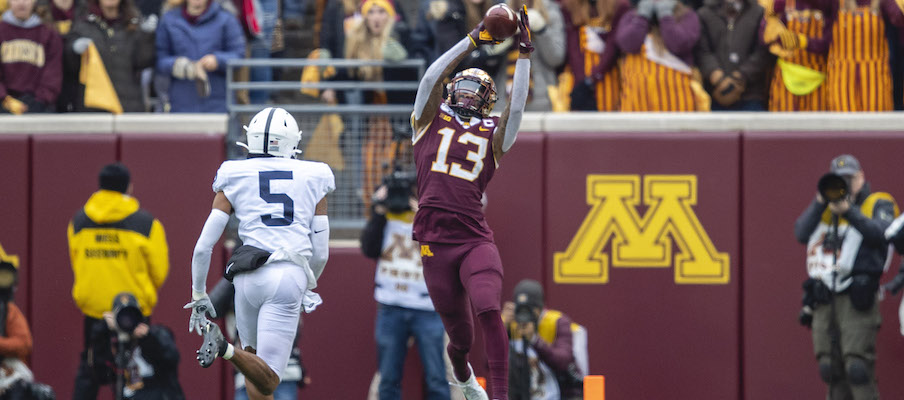 While Penn State ranks first nationally in yards allowed per carry and fourth in rushing yards allowed per game (75.9), the Nittany Lions rank 37th in yards allowed per pass attempt (6.9) and 84th in passing yards allowed per game (240.3). They've allowed 33 passing plays of 20 yards or more this season, compared to just five such plays on the ground.
That means Ohio State quarterback Justin Fields, fresh off the first 300-yard passing game of his career, could be in line for another big day through the air on Saturday – and if the Nittany Lions are able to bottle up J.K. Dobbins the way they have most running backs this season, the Buckeyes might need to rely on Fields' ability to make plays with his arm.
Home-Run Hitters on Offense
Penn State's offense has shown no shortage of big-play ability this season with 17 plays of 40-plus yards, second-most among Big Ten offenses and ranked among the top 20 nationally. With a strong-armed quarterback in Sean Clifford, a speedy slot receiver in K.J. Hamler, one of the nation's best tight ends in Pat Freiermuth and a talented stable of running backs led by Journey Brown and Noah Cain, the Nittany Lions have perhaps the most explosive stable of offensive weapons that Ohio State has faced all year.
The Nittany Lions can be described as home-run hitters rather than consistent contact hitters on offense, though, because even with the big plays they've been able to produce, Penn State's overall offensive numbers haven't been spectacular.
Penn State ranks 15th nationally with 36.8 points per game, more than any team Ohio State has played this season, but the Nittany Lions rank just 41st in yards per play (6.21) and 50th in yards per game (426.6). They've only topped 400 yards of offense in one of their last five games.
The Nittany Lions have had solid offensive balance this year, passing and rushing for at least 100 yards each in every game but one, but they haven't stood out as regularly excellent in either phase.
Clifford will be arguably the best quarterback Ohio State has faced this year, and Hamler is one of the most dangerous wide receivers in the entire country, as Ohio State fans will remember from his big game against the Buckeyes last year, which included a 93-yard catch-and-run touchdown.
Hamler left Saturday's game against Indiana with an undisclosed injury, however, leaving his status in question for this week's game, though Franklin said Saturday that the Nittany Lions are "pretty hopeful" Hamler will be able to play against the Buckeyes. Cain, the Nittany Lions' No. 2 running back, has not played in either of their last two games due to injury, though he posted in an Instagram story on Sunday night that he is "locked in and ready" to play this week.
If those players are healthy, Penn State could be the best offense that Ohio State faces all regular season, but the Nittany Lions will need to be on top of their game against a Buckeye defense that still has not allowed any opponent to gain 300 yards this season.
Former Ohio State Targets Among Penn State's Stars
Given their standings as two of the Big Ten's premier programs, Ohio State and Penn State regularly compete for some of the Midwest's top prospects on the recruiting trail, so it's no surprise that some of the Nittany Lions' best players are players who were also pursued by the Buckeyes out of high school.
Most prominent among them is Micah Parsons, who was heavily pursued by Ohio State as a five-star recruit out of Harrisburg, Pennsylvania, but ultimately chose to play for his home-state school. Playing linebacker after initially being recruited as a defensive end, Parsons has emerged as the Nittany Lions' best defensive player in his sophomore season. He leads Penn State with 75 total tackles this season, including eight tackles for loss, and he has also recorded three pass breakups and a forced fumble.
Other key players for the Nittany Lions who Ohio State also made a run at as recruits include Cain, fellow running back Devyn Ford – who also sees regular playing time in the Nittany Lions' backfield – and starting left tackle Rasheed Walker on offense. Defensive players who were also recruited by the Buckeyes include defensive end Jayson Oweh, one of the Nittany Lions' top pass-rushers, and starting strong safety Lamont Wade.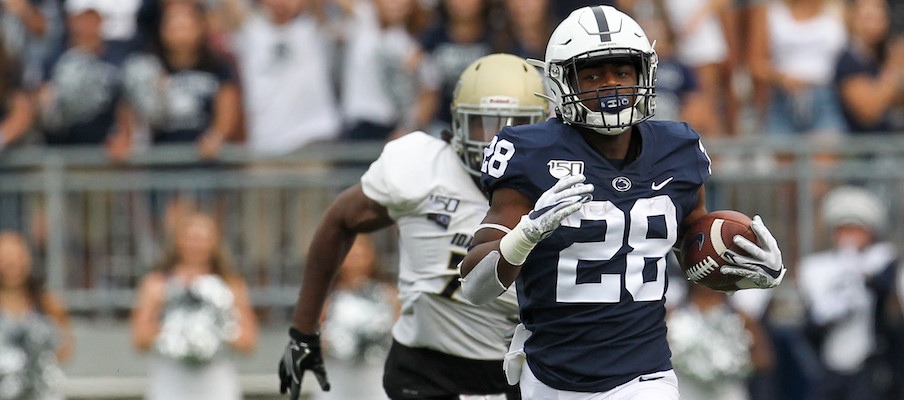 Clifford is a Cincinnati native, but he wasn't heavily recruited by Ohio State. In total, the Nittany Lions have five Ohio natives on their roster, including starting defensive tackle Antonio Shelton, who grew up in Columbus but also was not offered by the Buckeyes.
Of course, the balance goes both ways, and there are also plenty of players on Ohio State's roster who Penn State coveted as recruits. Most notably, Fields was once committed to Penn State before ultimately choosing to go to Georgia out of high school, then transfer to Ohio State this past offseason.
Five One-Score Games Against Teams with Winning Records
In its first five games of this season, Penn State stacked up right alongside Ohio State as one of the most dominant teams in college football, but the Nittany Lions were mostly beating up on bad competition. They had a 79-7 win over Idaho, a 45-13 win over Buffalo, a 59-0 win over Maryland and a 35-7 win over Purdue, but none of those teams currently have records better than .500.
The Nittany Lions only beat Pittsburgh 17-10 in the third game of the season, and they've had a lot more games like that in October and November. Their five games against teams that currently have winning records this season – Pitt, Iowa (17-12), Michigan (28-21), Minnesota (26-31) and Indiana (34-27) – have all been one-score games. Their only other win by more than seven points came in a 28-7 victory over Michigan State, which is now 4-6 on the season.
A 9-1 record is impressive by any measure, and the Nittany Lions have beaten some quality opponents, but they haven't dominated any average-or-better competition, and Ohio State will be the best team they've played all year.
Three Fourth-Quarter Thrillers in the Past Three Years
We wrap up this edition of Five Things to Know by taking another look back at the last three games between the Buckeyes and the Nittany Lions, because they're all certainly worth revisiting.
Ohio State was favored by three scores against Penn State in 2016, too – the Buckeyes were 6-0 going into that October game in State College, while the Nittany Lions were just 4-2 – but the home team stunned the scarlet and gray by scoring 17 unanswered points in the fourth quarter, including a 60-yard blocked field goal return for the game-winning score, to prevail by three.
Penn State went on to win the remainder of its regular-season games, with only one conference-game loss, and earned the East division berth in the Big Ten Championship Game as a result.
In a 2017 game that was always expected to be competitive, Penn State led for the first 58 minutes of the game – and by as many as 18 points – after Saquon Barkley returned Ohio State's opening kickoff for a touchdown. But after the Nittany Lions took a 35-20 lead into the fourth quarter, J.T. Barrett put together the best quarter of his Ohio State career – completing all 13 of his fourth-quarter passes – to lead the Buckeyes on three consecutive touchdown drives en route to a 39-38 win that will be remembered for many years to come as one of the all-time great games at Ohio Stadium.
Last year's game in Happy Valley was defined by yet another fourth-quarter comeback, as Penn State took a 26-14 lead with just eight minutes to play but Dwayne Haskins responded by leading two touchdown drives of his own to propel the Buckeyes to a 27-26 victory.
All of that is to say that while the Buckeyes certainly look capable of defeating Penn State in more convincing fashion this year, nothing can be taken for granted against the Nittany Lions. And if Saturday's game goes anything like the last three games against Penn State have gone, Ohio State's starters will need to be prepared to battle for a win in the fourth quarter, which they truly haven't had to do yet this season.