Rashod Berry positioned himself at the edge of the southeast tunnel at Ohio Stadium two weekends ago, about to run out onto the field. Beside him, as the rest of his Ohio State teammates gathered behind him, stood the usual suspects. Thayer Munford, Robert Landers, Jashon Cornell, Baron Browning. 
But with the game against Maryland less than an hour from kicking off, the Buckeyes were missing somebody who had become a mainstay on the front line as they took the field prior to games. They didn't have Chase Young, their 6-foot-5, 265-pound defensive end who has had the frame of an NFL pass rusher since stepping onto campus as an 18-year-old freshman.
"Can't wait for him to come back," Malik Harrison said after Ohio State's win against Rutgers on Saturday. "He brings a big presence. A couple other teams, they're scared of him."
Is that the case?
"Probably," J.K. Dobbins said this weekend. "He's a big human being."
Young has missed the past two games due to an out-of-nowhere suspension stemming from an NCAA violation. Because the junior defensive end had accepted a loan last year from somebody he described as a "family friend," he had to miss the past two games. 
"I think they'll be fired up to have him back. I know Chase is fired up to get back. Not that our defense needs any more motivation for this week, but it'll be great to have him back."– Ryan Day
Typically, losing somebody who leads the nation with 13.5 sacks and has become widely known as the nation's most impactful college football player would be detrimental to a defense. But to beat Rutgers and Maryland by a combined 94 points, Ohio State didn't need him on the field. Heck, if it really wanted a challenge, it might have had a chance to win both games by only using its backups at every position. 
Young's return will put him back on the defensive line on Saturday for a top-10 matchup with ninth-ranked Penn State. The Buckeyes opened as 19-point favorites, signaling the game has a chance to be more lopsided than some have though. Yet it'll almost certainly be tighter that the blowouts that happened in the past two weeks while Young remained in Columbus. 
"He's the best player in the nation," Chris Olave said on Saturday. "He's a leader of our team, and we can't wait to get him back tomorrow."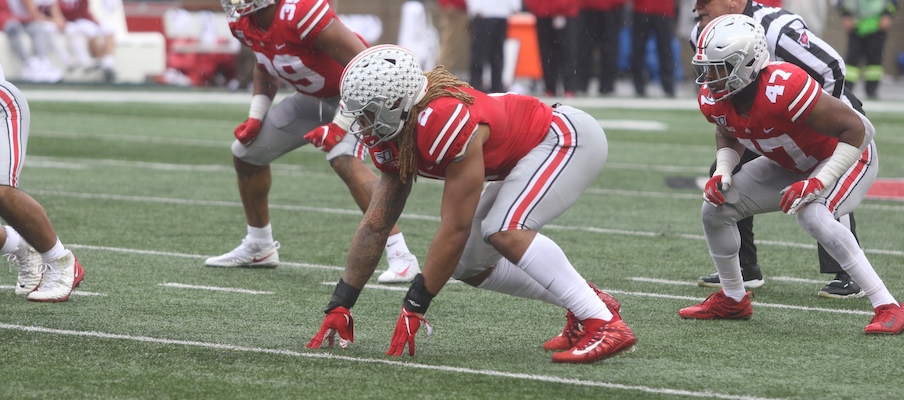 Few, if any, defensive players can impact opponents as much as Young. 
In eight games this season, he has 29 tackles, including 15.5 tackles for loss and 13.5 sacks, and five forced fumbles. In every single game he has played as a junior, Young has tallied at least 1/2 of a sack, leading to his teammates and coaches touting his ability both as a pass rusher and as somebody who forces offenses to overcompensate for him, allowing others to make plays. 
Wisconsin saw Young at his best when the defensive end picked up four sacks against the Badgers in his final game before his suspension. That game led to him being thrust into the Heisman Trophy conversation, turning him into a legitimate candidate.
The numbers back up a defense thriving with Young at the helm. Ohio State is nationally ranked No. 1 in points per game allowed, No. 1 in yards per game and yards per play allowed, No. 1 in passing yards allowed per game, No. 1 in most punts forced per game, No. 1 in opponent red-zone scoring percentage, No. 1 in fewest plays of 10 or more yards allowed, No. 2 in most sacks per game, No. 2 in first downs allowed per game and No. 3 in opponent third-down conversion rate. 
Without Young, the Buckeyes turned to a quartet of underclassmen – Tyler Friday, Zach Harrison, Tyreke Smith and Javontae Jean-Baptiste – who combined for three sacks versus Maryland and none against Rutgers. Getting Young back will allow Ohio State to lessen the loan on the younger defensive ends.
"Of course, we get Chase back next week, so I think that'll be a big help," Justin Fields said. "Really, just the big thing is keep forcing those turnovers and just scoring on every drive."
Young might not be the only player to return to action against the Nittany Lions.
Damon Arnette went through warmups but neither started nor played at all in the win over Rutgers. After the game, Day said the starting cornerback is "good." It seems likely that Arnette will be back on the field on Saturday. Austin Mack hasn't played the past three games but warmed up prior to the game against the Terrapins. Jonathon Cooper has been sidelined the past three games, too, and it's unknown whether he'll back back by Saturday. Baron Browning didn't make the trip to Piscataway, New Jersey, last weekend and was only on the field for one play the week prior. His status isn't known.
Consider Shaun Wade among those optimistic in all of them returning, though.
"Chase is a big factor," Wade said on Saturday. "Baron is a big factor. Coop is a big factor. Austin Mack is a big factor on offense. So having them back is going to be a blessing."
With Ohio State playing as well as any team in the country, it doesn't need a large-scale rejuvenation. Regardless, it'll get one on Saturday in the form of the best college football player in the country – and, possibly, a couple others.
"I think they'll be fired up to have him back," Ryan Day said. "I know Chase is fired up to get back. Not that our defense needs any more motivation for this week, but it'll be great to have him back."