Before each week's Ohio State game, Eleven Warriors catches up with a media member who covers the opposing team to get his or her perspective on the Buckeyes' upcoming opponent.
As Ohio State prepares for what should be its biggest test of the season yet at Nebraska on Saturday (7:30 p.m., ABC), we're joined by Erin Sorensen, the deputy editor of Hail Varsity, for her insight on the Cornhuskers' 3-1 start to the season, their top players and biggest areas of concern and their chances of upsetting the Buckeyes.
Has the Cornhuskers' unspectacular start to the year lowered expectations at all in Lincoln, what does the spotlight of ESPN's College GameDay mean to Nebraska and what needs to happen for the Cornhuskers to have a shot to win? 
Sorensen shares her answers to those questions and more in our Nebraska edition of Across The Field. 
Q: Nebraska entered the season as a popular pick to win the Big Ten West, but the national hype surrounding the Cornhuskers has dimmed since their loss to Colorado. How would you evaluate Nebraska's start to the season through four games, and have the expectations changed at all in Lincoln?
Sorensen: I would personally evaluate Nebraska's start of the season as "to be expected." There was a lot of hype for this second year with Scott Frost, in large because of what he did between Year 1 and Year 2 at Central Florida. There was always going to be more growing pains at Nebraska (and plenty are still ahead), so it really needed to be focused on making improvements overall as a team. Does that mean going 12-0? Of course not, but I think fans just want to see the team on an upward trajectory.
"This team could easily be 4-0 right now, could easily be 2-2," Frost said following Nebraska's 42-38 win over Illinois.
And he's right. The margin of error is small for Nebraska right now, and the expectations need to follow that.
So, have the expectations changed? It probably depends on who you ask. There are always the far ends of the spectrum of any fan base, but I think the majority of the fan base understands the work ahead and are simply looking for a season that gets Nebraska back on track. That means a bowl game and maybe the opportunity to compete for a Big Ten title (but certainly the West).
Q: In addition to its loss to Colorado, Nebraska had some trouble getting past Illinois last weekend. What have been the biggest issues for the Cornhuskers so far that they need to improve upon?
Sorensen: Turnovers. Illinois scored 21 points off of the Huskers' four turnovers last Saturday. Nebraska now has 13 fumbles on the season which is basically the "Not great, Bob" GIF.
Another thing is kicking, but that's sort of an entirely separate story. The Huskers' scholarship kicker is injured, his backup was also injured at some point and now there is a walk-on safety that previously kicked at Air Force, Nebraska's starting punter and a new walk-on from the club soccer team all handling kicking duties. So, again, "Not great, Bob."

Q: Adrian Martinez draws most of the spotlight for Nebraska. Who are some of the other players that Ohio State and its fans need to be aware of on Saturday?
Sorensen: On offense? Wide receiver Wan'Dale Robinson and running back Maurice Washington. Those two each have just an entirely different level of play that makes them difficult to keep up with. Running back Dedrick Mills is also a bulldozer and seems to have found his groove.
On defense? The defensive line. Darrion Daniels has become a force alongside Carlos and Khalil Davis. Of the linebackers, Will Honas, JoJo Domann and Mohamed Barry are all pretty special. Barry hasn't completely played to his level of play we know he can yet, but he's a captain for a reason.
Q: Saturday will be the first time Lincoln hosts College GameDay since 2007. How big do you think that is for Nebraska's rise back to national prominence, and what do you think Nebraska will want people to see about the university this weekend beyond just the game on the football field?
Sorensen: To start, I'm just going to copy-paste this quote from Frost:
"This is special," he said on Monday. "Regardless of how this game goes we are going to do the best we can. I hope we can win. Regardless of how this game goes this is a special time for Nebraska. There are some big things coming this week. GameDay hasn't been here in 10 or 12 years. This is a good opportunity to highlight our program, the direction the program is going, the improvement we have made, the path that we are on. It's going to be great to get national attention here in Lincoln. 
"If we weren't improving and getting better and going in a really good direction that was obvious to a lot of people, we wouldn't have those guys on ESPN coming to town. This is special. Our guys need to be able to operate and flourish amidst whatever distraction brings along with it."

So, what he said. But in reality, if Nebraska can play a good game, this has a ton of potential to get the Huskers back in the spotlight in a very positive way. 
As for what I think Nebraska wants people to see, I would say anything but cornfields. I think the Huskers will want people (but basically recruits) to see Lincoln as a place they could call home. Nebraska was still in the Big 12 the last time GameDay rolled through town. The Huskers are now in the Big Ten and have upgraded the stadium (with more facility upgrades to come?). Lincoln also has The Railyard now and Pinnacle Bank Arena (which is hosting a pretty big basketball deal on Friday night with Rick Ross). There's a lot to show off and this is going to let Nebraska do that and more.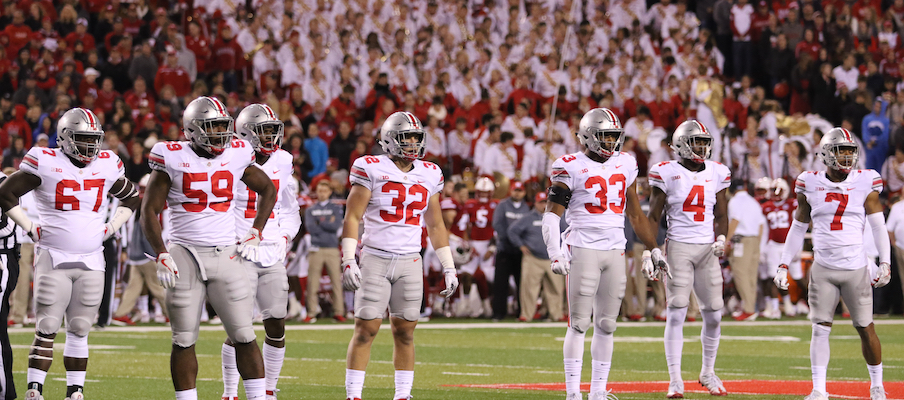 Q: For those who are making the trip to Lincoln this weekend, any restaurants or other attractions you recommend visiting while in town?
Sorensen: Yes! In fact, I just posted a story on this. You can check out the list to get any weekend in Lincoln started right here.
Q: Ohio State is more than a two-touchdown favorite to win Saturday's game. What do you think Nebraska needs to do to have a chance to pull off the upset, and how do you see the game playing out?
Sorensen: Play a nearly perfect game. That means no turnovers, excellent execution from the offense, keeping the defense off the field enough not to get worn out ... Yeah. It's a tall task.
Nebraska had nothing to lose in 2018. There's a reason the Huskers played Ohio State so close. What would have happened if they hadn't? Nothing, right? It was a season where expectations were thrown out the window and whatever was going to happen, happened. 
Things are different one year later. Ohio State is better. Nebraska is too, but there are a lot of question marks yet to be answered. The spread is what it is for a reason. I can't remember the exact number, but I believe a two-touchdown favorite often wins 88% or so of the time. So, the chips are stacked against Nebraska. They know that. I know that. Most people know that. All that can be asked is that the Huskers play a close game and not get blown out in primetime.
I'm not confident enough yet to call for a Nebraska upset. But I could see the Huskers making this one interesting, especially at night at home. There are no moral victories (and Nebraska definitely does not have any interest in them, so I'm speaking for myself and not the program), but showing improvement on national television in front of a lot of top recruiting targets? That's not a bad way for Saturday to go.