Ohio State is set to face its most prominent opponent of the season to date in its fifth game of the year on Saturday.
For the second time this season, Ohio State hits the road to play a conference opponent this week, and this time it's for a primetime showdown. Nebraska, who was widely projected as a frontrunner to win the Big Ten West entering the season, will host the Buckeyes in Lincoln for a 7:30 p.m. game that will be the first game under the lights for Ohio State this year.

NEBRASKA CORNHUSKERS
3-1 (1-0 BIG TEN)
ROSTER / SCHEDULE
---
7:30 P.M. – SATURDAY, SEPT. 28
MEMORIAL STADIUM
LINCOLN, NEBRASKA
---
ABC
WatchESPN
The Cornhuskers' start to the season hasn't lived up to the preseason hype, as they suffered a 34-31 overtime loss in their second game of the year against Colorado and never led until the fourth quarter before escaping from Illinois with a 42-38 win in their first Big Ten game of the season on Saturday.
Still, Nebraska should present a step up in competition from Ohio State's first four opponents of the season, with the best quarterback and most dangerous offense the Buckeyes have faced so far.
We take a closer look at some of the Cornhuskers' strengths and weaknesses and more about Ohio State's next opponent in Five Things to Know.
Martinez leads the way
One of the Big Ten's best quarterbacks and certainly the top signal-caller that Ohio State will face in September, Adrian Martinez is the biggest reason why Nebraska entered the season as a popular pick to be a breakout team, and he's performed well so far in his sophomore season. 
Through the Cornhuskers' first four games of the year, Martinez has completed 67 of 109 passing attempts (61.5 percent) for 1,052 yards – most among all Big Ten quarterbacks so far this season – and seven touchdowns with only two interceptions, while he has also rushed for 234 yards and three touchdowns.
He had a strong showing against a weaker Ohio State defense at Ohio Stadium last year, when he threw for 266 yards and a touchdown and ran for 72 yards and another two touchdowns against the Buckeyes, and he's coming off his best game of the season to date. Against Illinois on Saturday, Martinez completed 22 of 34 passing attempts for 327 yards and three touchdowns and also ran for 118 yards.
Ryan Day recruited Martinez before the Buckeyes ultimately chose Matthew Baldwin to be their quarterback for the recruiting class of 2018, so Ohio State should certainly be well aware of the threat he could present to its defense with his ability as both a passer and a runner.
Plenty of offensive playmakers
It isn't just Martinez that Ohio State's defense will need to be well-prepared for this week, because he has plenty of playmakers around him.
At running back, the Cornhuskers have a two-headed monster. Maurice Washington, who also drew some interest from Ohio State as a recruit out of high school, is an explosive, shifty back who is a weapon as both a runner and receiver. Dedrick Mills, a transfer from Georgia Tech, brings a different element to the Nebraska offense as a powerful 5-foot-11, 220-pound back.
Washington has rushed for 268 yards and a touchdown on just 35 carries and added eight catches for 149 yards and two touchdowns this season, while Mills has rushed for 246 yards and five touchdowns on 46 carries. 
JD Spielman, a one-time Ohio State lacrosse commit who had 200 receiving yards in the Buckeyes' last trip to Lincoln in 2017, currently ranks second in the Big Ten with 383 receiving yards on just 18 catches. He also had a 76-yard punt return touchdown in the Cornhuskers' season opener against South Alabama.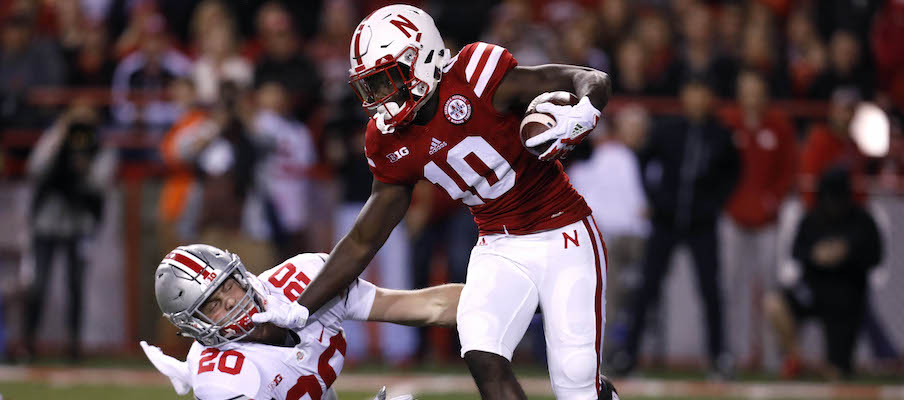 Another emerging playmaker on Nebraska's offense is true freshman Wan'Dale Robinson, who has drawn some comparisons to last year's Buckeye killer – Purdue wide receiver Rondale Moore – that go beyond their rhyming first names. Robinson, who was also recruited by Ohio State out of high school, is a speedy and shifty hybrid receiver/back who is coming off a breakout game against Illinois in which he rushed for 89 yards and a touchdown and caught eight passes for 79 yards and another two touchdowns.
Those weapons have combined to make Nebraska's offense one of the Big Ten's most explosive. The Cornhuskers lead the conference in offensive plays of 10-plus yards (71), 20-plus yards (31) and 40-plus yards (10) so far this season, and rank in the top 30 nationally in both total yards per game (490) and points per game (38). 
Nebraska has yet to face a defense that ranks better than 65th in points allowed per game (Illinois) or 73rd in yards allowed per game (Northern Illinois), while Ohio State's defense ranks in the top three nationally in both categories. The same can be said for Ohio State's defense, though, which has yet to face an offense that ranks better than 48th nationally in scoring offense or 59th in total offense (both Indiana).
Defense improving but still vulnerable
Nebraska's biggest weakness in its 4-8 season in 2018 was its defense, and the Cornhuskers still haven't been great on that side of the ball this year. They gave up 34 points on 464 yards in their loss to Colorado, and gave up 38 points on Saturday to an Illinois team that had scored just 31 against Connecticut and Eastern Michigan.
That said, the Cornhuskers have limited their opponents to just 4.77 yards per play this season – more than a yard less than last season (5.81) – and have 10 defensive takeaways this year, tied for the most among all Big Ten teams. Nebraska's run defense struggled against Illinois, allowing 221 yards and four touchdowns on 38 carries, but held each of the Cornhuskers' first three opponents to less than 100 yards and 2.5 yards per carry – feats the Blackshirts accomplished just twice in the entire 2018 season.
Nebraska's up-tempo offense can lead to substantial playing time for its defense, which can allow teams to accumulate yards, but the Cornhuskers have still managed to hold three of their first four opponents to 350 yards or less.
Like its offense, though, Nebraska's defense has yet to face comparable competition to Ohio State. The Cornhuskers have not faced an offense that ranks better than 38th in points per game or 56th in yards per game (both Colorado), while Ohio State ranks in the top 15 nationally in both categories.
Turnovers, penalties and kicking woes
One of the biggest reasons why Nebraska has underachieved through its first four games of the season is because it has been among the nation's leaders in self-inflicted wounds.
The Cornhuskers have lost 11 turnovers this season, tied for the second-most among all Football Bowl Subdivision teams, including an FBS-high nine fumbles – no other FBS teams has more than four fumbles through the first four weeks of the season.
Penalties have also been an issue for the Cornhuskers, especially this past weekend against Illinois, when they were hit with 11 penalties for 119 yards. Their season totals of 27 penalties for 263 yards are also above the national average.
The Cornhuskers' most glaring issue so far this season, however, has been their inability to consistently convert kicks. Without Barret Pickering, who suffered a preseason leg injury, Nebraska's replacement kickers have combined to make just two of seven field goal attempts and have also missed two field goals.
Lane McCallum, who is listed as a safety on Nebraska's roster, served as the Cornhuskers' placekicker against Illinois and missed a 27-yard field goal attempt while he also had an extra point attempt blocked.
A lack of wins against the Buckeyes
Ohio State's Last Five Games Against Nebraska

| Year | Location | Result |
| --- | --- | --- |
| 2018 | Columbus | Ohio State 36, Nebraska 31 |
| 2017 | Lincoln | Ohio State 56, Nebraska 14 |
| 2016 | Columbus | Ohio State 62, Nebraska 3 |
| 2012 | Columbus | Ohio State 63, Nebraska 38 |
| 2011 | Lincoln | Nebraska 34, Ohio State 27 |
In its first season as a Big Ten school in 2011, Nebraska earned a 34-27 over Ohio State in the game that spawned the infamous Joe Bauserman passing chart. Since then, the Buckeyes have each won of their last four meetings with the Cornhuskers.
Nebraska gave Ohio State a real challenge last year before the Buckeyes won 36-31, but the three previous games were all blowouts in favor of the scarlet and gray: 56-14 in 2017, 62-3 in 2016 and 63-38 in 2012.
Ohio State also hosted Nebraska for a pair of games in 1955 and 1956 and won both of those games, giving the Buckeyes a 6-1 all-time advantage in the series.
Scott Frost, who is in his second season as Nebraska's head coach, is 0-2 against the Buckeyes; he was Oregon's offensive coordinator for the Ducks' 42-20 loss to Ohio State in the 2015 College Football Playoff National Championship Game.