Officially, there is no preseason All-Big Ten team.
While most of college football's other conferences conduct a media poll at or before their media days to put together a preseason all-conference team, the Big Ten instead releases a 10-player watch list that carries minimal significance and is generally ignored.
That's not to say that a preseason all-conference team is particularly meaningful, either, as it ultimately becomes irrelevant once the actual season begins. It is, however, a good source of debate – and a forecast we can ultimately look back upon and critique later – as we count down the final weeks until the beginning of the season.
(For the record, only 13 of my 25 preseason All-Big Ten picks last season ended up actually being first-team All-Big Ten selections).
As such, I've decided to compile my own preseason All-Big Ten team once again, based on who I believe the best players at each position will be in 2018. While preferred consideration was given to players who have already received postseason All-Big Ten honors, the selections are intended to predict the top performers this upcoming season regardless of what they have done in the past.
Quarterback: Trace McSorley, Penn State
If Ohio State's Dwayne Haskins or Michigan's Shea Patterson ultimately ends up being the Big Ten's best quarterback this season, it won't come as much of a surprise. Patterson was the top-ranked quarterback in the recruiting class of 2016, and demonstrated some of that ability in two seasons at Ole Miss before becoming a Wolverine, while Haskins also has huge upside and will look to follow in the footsteps of three-time Big Ten Quarterback of the Year J.T. Barrett.
Michigan State's Brian Lewerke is another dark-horse candidate to be the Big Ten's top quarterback this season as he looks build up a breakout 2017 season.
The clear frontrunner to be this year's Big Ten Quarterback of the Year, however, is Penn State's Trace McSorley, who earned second-team All-Big Ten honors behind Barrett in each of the past two seasons. McSorley has been the conference's leading passer for each of the last two seasons, all the while also showing playmaking ability with his feet, and with Saquon Barkley no longer by his side, he will have the opportunity to truly carry the Nittany Lions and potentially make even more plays this year.
Running Back: Jonathan Taylor, Wisconsin
Running Back: J.K. Dobbins, Ohio State
Ohio State has two running backs who are legitimately talented enough to be first-team All-Big Ten players this season, in J.K. Dobbins and Mike Weber, but Wisconsin's Jonathan Taylor is the clear-cut first choice for this list after rushing for 1,977 yards – the most in the conference and the third-most in the entire Football Bowl Subdivision – and earning Big Ten Freshman of the Year honors last season.
Dobbins, meanwhile, is coming off a spectacular true freshman season of his own in which he supplanted Weber on the Buckeyes' depth chart and rushed for 1,403 yards – the second-most in the conference last year.
Dobbins earned second-team All-Big Ten honors last season, with Taylor and now-former Penn State running back Saquon Barkley taking the first-team honors, but it would be a surprise to see anyone but Taylor and Dobbins be the conference's first-team running backs this season.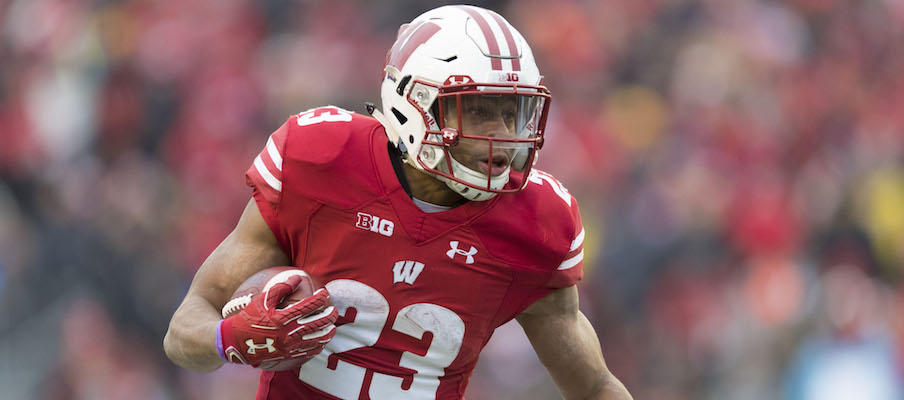 Wide Receiver: Stanley Morgan Jr., Nebraska
Wide Receiver: Donovan Peoples-Jones, Michigan
Projecting that Donovan Peoples-Jones would be a first-team All-Big Ten wide receiver last season proved to be premature, as the five-star recruit went through some growing pains in his first season in Ann Arbor, catching only 22 passes for 277 yards. Peoples-Jones nonetheless demonstrated glimpses of star potential, though, and with Patterson now throwing the ball, the talented Wolverines pass-catcher really could emerge as the Big Ten's best wideout this year.
A less bold, more clear-cut choice for All-Big Ten honors, though, is Stanley Morgan Jr., who led all returning Big Ten wide receivers with 986 yards and 10 touchdowns on 61 receptions last season. It's uncertain how Nebraska's quarterback play will be this year, but it would still be a surprise if Morgan isn't among the conference's most productive pass-catchers once again.
Tight End: Noah Fant, Iowa
As Ohio State got a glimpse of in Iowa City last season, when he caught two of his conference-leading 11 receiving touchdowns for 2017, Noah Fant is an athletic playmaker at the tight end position who can create serious mismatches in the passing game.
Although he earned third-team All-Big Ten honors last year, the 6-foot-5, 241-pound tight end still might only be scratching the surface of his potential, and with Penn State's Mike Gesicki and Wisconsin's Troy Fumagalli having now taken their talents to the NFL, Fant stands out as the conference's most likely star at the position.
Offensive Tackle: Ryan Bates, Penn State
Offensive Tackle: David Edwards, Wisconsin
Named as a first-team All-American by the American Football Coaches Association last season, Wisconsin right tackle David Edwards can be considered the best offensive tackle in the Big Ten. The blind-side pass protector for left-handed Badgers quarterback Alex Hornibrook, Edwards is one of the leaders of a star-studded Wisconsin offensive line.
Wisconsin's Michael Deiter, a first-team All-Big Ten offensive tackle last season, would be the other choice for this preseason All-Big Ten team – except that he's expected to move inside to left guard. That opens the door for another right tackle, Ohio State's Isaiah Prince, to potentially seize first-team All-Big Ten honors. Penn State's Ryan Bates, though, gets the nod here as the most likely candidate to be the conference's best left tackle.
Offensive Guard: Michael Jordan, Ohio State
Offensive Guard: Beau Benzschawel, Wisconsin
Deiter's move inside means there could be three first-team All-Big Ten offensive linemen from last season – Deiter, Wisconsin teammate Beau Benzchawel and Ohio State's Michael Jordan – vying for just two first-team All-Big Ten spots this season.
While Deiter is likely to excel in his move inside after being one of the Big Ten's best left tackles last season, Jordan might only be scratching the surface of how great he can be, while Benzchawel earned first-team All-American honors last season from Sports Illustrated. All three should be among the best guards in the entire country this year, but the incumbent first-team guards from last year will be tough to unseat.
Center: Tyler Biadasz, Wisconsin
While Pat Elflein and Billy Price each took first-team All-Big Ten honors as first-year centers for Ohio State over the past two seasons, Brady Taylor doesn't have the starting experience at other positions that they did – making it more likely that the Big Ten's top center this year will come from another school.
Once again, the top candidate appears to be a Badger in Tyler Biadasz, who earned Freshman All-American and third-team All-Big Ten honors last season and should be even better now that he has a season of experience under his belt.
Defensive Line: Nick Bosa, Ohio State
Defensive Line: Rashan Gary, Michigan
Defensive Line: Dre'Mont Jones, Ohio State
Defensive Line: Chase Winovich, Michigan
Ohio State and Michigan swept the first-team All-Big Ten defensive line last season, and it appears likely they will do so again in 2018 – even though both teams are replacing one of their first-teamers (Tyquan Lewis for Ohio State, Maurice Hurst for Michigan State) from last season.
Nick Bosa, last year's Big Ten Defensive Lineman of the Year and arguably the best defensive end in the entire country, stands out as the conference's best defensive lineman after earning first-team All-American honors last year. He'll have competition for that throne, though, from Rashan Gary, the No. 1 overall recruit in the class of 2016 who also earned first-team all-conference recognition from Big Ten coaches last season.
Fellow Michigan defensive end Chase Winovich, meanwhile, earned first-team All-Big Ten honors from the media last season after leading the conference in tackles for loss (18.5) and total tackles by a defensive lineman (79). Ohio State defensive tackle Dre'Mont Jones earned third-team All-Big Ten honors last season, but he's one of the most talented defensive tackles in the country and should be in line for bigger numbers this season as he moves into a three-down role on the Buckeyes' defensive front.
Ohio State could also have a breakout All-Big Ten candidate in defensive end Chase Young, while Michigan also has a potential breakout star at defensive tackle in Aubrey Solomon. Bosa, Gary and Winovich enter the season as clear first-team All-Big Ten frontrunners, though, and if Jones makes the leap this season he is expected to, he should be a first-team all-conference player, too.
Linebacker: T.J. Edwards, Wisconsin
Linebacker: Devin Bush, Michigan
Linebacker: Khaleke Hudson, Michigan
Wisconsin's T.J. Edwards was not only a first-team All-Big Ten selection last season but a first-team All-American, and enters 2018 as a fourth-year starter who has been as consistently productive as any linebacker in the conference over the last three seasons, recording more than 80 total tackles in each year.
Michigan's Devin Bush was also a first-team All-Big Ten selection last year, emerging as one of the nation's best middle linebackers in his first season as a starter, recording 102 total tackles, 9.5 tackles for loss, and nine passes defensed.
It's a legitimate question, though, whether Bush is even the best linebacker on his team, as Khaleke Hudson also showed tremendous playmaking ability in 2017, recording 82 total tackles, 18 tackles for loss, eight sacks, two forced fumbles, two interceptions and nine pass breakups.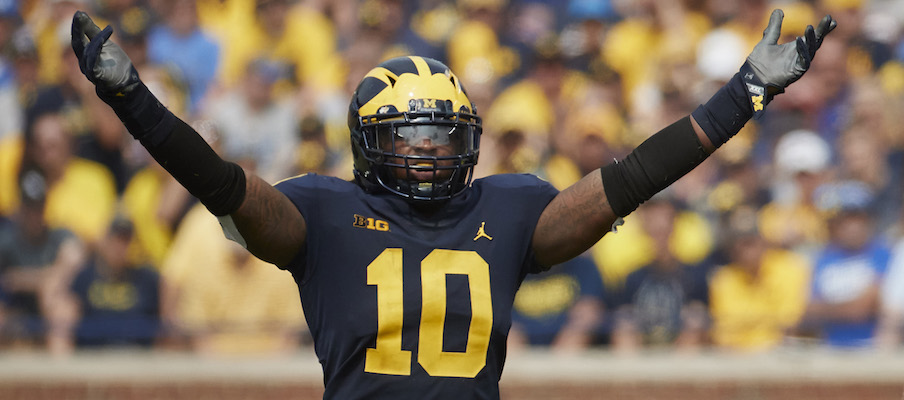 Defensive Back: D'Cota Dixon, Wisconsin
Defensive Back: Jordan Fuller, Ohio State
Defensive Back: Lavert Hill, Michigan
Defensive Back: Josiah Scott, Michigan State
Ohio State's Jordan Fuller was only a third-team All-Big Ten selection last season, but he's demonstrated the potential to be one of the best safeties in the country this season, with Buckeyes defensive coordinator Greg Schiano already predicting that Fuller will be an All-American. With a year of experience under his belt, Fuller could emerge as the best defensive back in the conference.
Wisconsin's D'Cota Dixon, meanwhile, already was a first-team All-Big Ten selection last year, establishing himself as the conference's top strong safety who excels in both run support and pass coverage. Should the first-team All-Big Ten defensive backs end up being two safeties and two cornerbacks – which was the case last year even though the specific positions are not designated – Dixon, Fuller and Michigan State's David Dowell are the preseason favorites at safety.
The top cornerback in the conference, meanwhile, appears likely to be Michigan's Lavert Hill, a rising junior who earned second-team All-Big Ten honors after emerging as the Wolverines' top cover man last season. There are several other cornerbacks who look like strong candidates to potentially emerge as first-team all-conference players this year – including Ohio State's Kendall Sheffield and Penn State's Amari Oruwariye – but the top candidate might be Michigan State's Josiah Scott, who earned third-team All-Big Ten honors last season as a true freshman.
Kicker: Rafael Gaglianone, Wisconsin
Rafael Gaglianone was the Big Ten's second-best kicker last season, making 16 out of 18 field goals for the Badgers – good for the fourth-best field goal percentage in the country (88.9) – with a long of 52 yards.
The 5-foot-11, 236-pound fifth-year senior is perhaps best known for his atypical kicker physique and his celebration dances, but he also enters 2018 as the conference's most reliable field goal specialist.
Punter: Drue Chrisman, Ohio State
Drue Chrisman went into the 2017 season with big shoes to fill in replacing Cameron Johnston, but he filled them very nicely as a redshirt freshman last year, averaging 44.2 yards per punt – best among all returning Big Ten punters – with 15 punts of 50-plus yards and landing 25 of his 51 punts inside the opponent's 20-yard line.
Chrisman might be best known outside of Ohio State for his viral videos flipping bottles, but he's proven to be a reliable field-position weapon for the Buckeyes.
Return Specialist: Demario McCall, Ohio State
Even though he's barely played in his first two years on campus, Demario McCall's name carries plenty of hype for the flashes of playmaking ability he has shown in limited action. If he can live up to that hype in what should be his biggest role as a Buckeye yet this season, he could emerge as one of the best return specialists in the country.
While it's still unclear whether the Buckeyes will find a way to get McCall consistently on the field on offense, Urban Meyer has already said that he expects McCall to be the team's kickoff and punt returner this season – even though they have returning players in Parris Campbell and K.J. Hill who could also fill those roles – which speaks to the upside McCall has shown to use his speed and agility to make big plays. There aren't many players in the Big Ten who have both returned kicks and punts consistently, but McCall has the tools to be an electric difference-maker in both capacities.