When the Big Ten releases the list of players attending its annual Media Days each year, the players who aren't on the list are often as noteworthy as the players who are selected to represent their selective schools.
A total of 42 players – three from each Big Ten school – will make the trip to Chicago for interviews with the media next Monday and Tuesday (June 23 and 24), but that list won't include some of the conference's biggest stars. Ohio State defensive end Nick Bosa, Michigan defensive end Rashan Gary and Wisconsin running back Jonathan Taylor are just a few of the big names who won't be at the event.
That said, there will still be no shortage of talented players – including a trio of deserving representatives from each of those players' schools – who will be worth paying attention at Big Ten Media Days and bear watching this upcoming season.
We take a look below at some of the best players who will be at the Big Ten's annual preseason kickoff event next Monday and Tuesday in the Windy City.
Honorable Mentions

Ohio State's Isaiah Prince doesn't quite make the top 10, but he might be the conference's best right tackle this season. Going into his third season starting at that position, Prince demonstrated considerable improvement as a pass blocker in 2017 from 2016 while he is also strong in the run game. Fellow offensive tackles Tariq Cole (Rutgers) and Derwin Gray (Maryland), who play both on the left side, are under-the-radar players who could also be among the conference's best.
Iowa quarterback Nathan Stanley looked like a star in the making against Ohio State last season, while Northwestern's Clayton Thorson has been regarded as a potential early-round pick in a quarterback-weak 2019 NFL draft, but both players need to be more consistent to establish themselves among the conference's best.
Michigan State running back LJ Scott and Minnesota running back Rodney Smith have each been key players on their respective team's offenses for the past three seasons, so both of them are among the conference's names to know heading into their senior seasons. Michigan's Karan Higdon is among the conference's top running backs as well, coming off a 994-yard, 11-touchdown season in 2017.
Defensive players attending Big Ten Media Days that are quietly among the conference's best at their positions include Minnesota linebacker Thomas Barber, Purdue linebacker Markus Bailey, Northwestern linebacker Nate Hall and cornerback Montre Hartage, Rutgers cornerback Blessuan Austin and Michigan safety Tyree Kinnel.
10. Parris Campbell, WR, Ohio State

If you're a regular watcher of Ohio State football, which you probably are since you're reading Eleven Warriors, you already know that Parris Campbell has the tools to be one of the most dynamic offensive players in the Big Ten – and for that matter, the entire country.
As a receiver, rusher and kickoff returner last season, Campbell averaged 17.7 yards per touch. He's a threat to make a big play any time the ball is in his hands, possessing elite speed to run away from defenders in the open field and a strong build that makes him tough to tackle.
You also probably know that Campbell still hasn't necessarily played up to his potential as a Buckeye, as he has been inconsistent as a downfield receiver. While Campbell is a big weapon for the Buckeyes on short passes, he hasn't yet turned his speed into making regular catches on longer throws, which could become a bigger part of Ohio State's offense this year with Dwayne Haskins at quarterback.
Nonetheless, Campbell is in line to be one of the Buckeyes' top offensive players this year, as the H-back offers the versatility to make plays in both the passing and running game. If he can make more plays as a downfield pass-catcher, he could emerge as one of the most dangerous offensive players in the country.
9. Amani Oruwariye, CB, Penn State

Even though he didn't start any games last season, Amani Oruwariye showed plenty of ability to make plays on the ball for Penn State last season, recording four interceptions and eight pass deflections.
Now, Oruwariye is set to move into a starting role for the Nittany Lions for his senior season, and much like Ohio State's Denzel Ward last year, he could go from being his team's third cornerback to being one of the best cornerbacks in the entire Big Ten, if not all of college football.
After second-team All-Big Ten honors last season despite coming off the bench, Oruwariye moves into a starring role this season for a Penn State defense that is replacing all four of its starting defensive backs from last season.
8. Stanley Morgan Jr., WR, Nebraska

A second-team All-Big Ten selection last season, Stanley Morgan Jr. had 986 receiving yards and 10 receiving touchdowns – both most among all returning Big Ten wide receivers – on 61 catches in 2017, giving him a case for being the conference's best wideout heading into 2018.
The 6-foot-1, 195-pound receiver has the speed and quickness to both beat defensive backs deep and be elusive in the open field, and he's demonstrated an ability to make spectacular catches. His ability to put up big numbers again will depend in part on the play of Nebraska's inexperienced quarterbacks, but he's as big a weapon as any pass-catcher in the conference.
7. D'Cota Dixon, S, Wisconsin

In his second season as a starting safety for Wisconsin in 2017, D'Cota Dixon established himself as one of the Big Ten's best defensive backs, earning first-team all-conference honors for a season in which he recorded 55 total tackles, one interception, one forced fumble and three pass breakups.
At 5-foot-10 and 204 pounds, Dixon is an archetypal strong safety, excelling in run support but also providing solid play in pass coverage. He's a leader for the Badgers' defense, and as evidenced by his first-team coaches' All-Big Ten selection last season, the senior is one of the most respected defensive backs in the conference.
6. Brian Lewerke, QB, Michigan State

While Michigan State returns 19 of its 22 starters from last season, the Spartans' hopes of contending for a Big Ten East title might ultimately lie in the play of Brian Lewerke, who projects to be among the conference's best quarterbacks in 2018 after a breakout season in 2017.
In his first full season as a starter, Lewerke had his ups and downs but demonstrated high upside as a passer, throwing for 400-plus yards in back-to-back games against Northwestern and Penn State and finishing the season with 20 passing touchdowns to just seven interceptions. Lewerke also demonstrated playmaking ability as a runner, gaining 559 yards and scoring five touchdowns on 124 total carries.
Lewerke had his share of struggles last season, too – including against Ohio State, when he threw for just 131 yards with zero touchdowns and two interceptions and ran for just two yards – but if he can more consistently play up to the best of his ability, he'll give the Spartans a chance to contend for a division crown.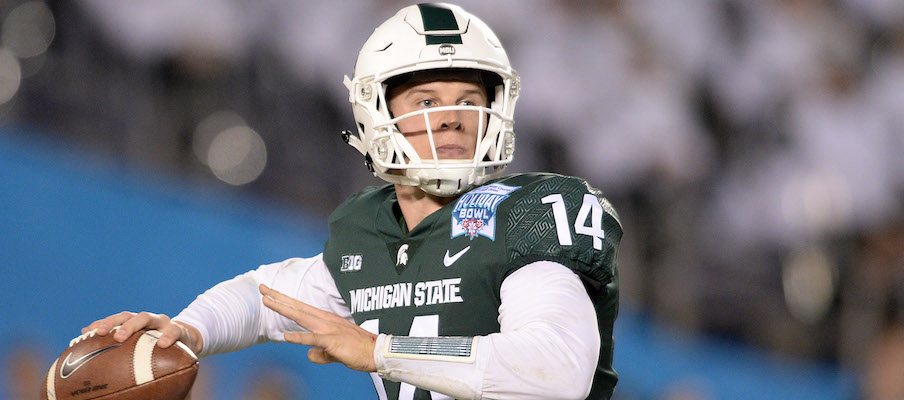 5. Michael Deiter, LG, Wisconsin

After earning first-team All-Big Ten honors last season at left tackle, Michael Deiter is set to move inside this season to left guard, a position where he projects to play in the NFL and could potentially be one of the best interior offensive line prospects in the 2019 NFL draft class.
Like many great Wisconsin offensive linemen before him, Deiter is a tough, physical blocker who excels in the ground game. Even though he might lack the top-notch athleticism to be an NFL left tackle, the 6-foot-6, 328-pound lineman from Curtice, Ohio was one of the best pass blockers in the Big Ten last season and should excel in his return to the interior line, where he previously started at both left guard and center in 2015 and 2016 before his one-season move outside to left tackle in 2017.
4. Chase Winovich, DE, Michigan

While he tends to be overshadowed by fellow Michigan defensive end Rashan Gary, Chase Winovich is one of the conference's best defensive linemen in his own right.
A first-team All-Big Ten selection last year, Winovich led the entire conference with 18.5 tackles for loss last season, recorded 79 total tackles (the most among all defensive linemen in the conference) and tied for Michigan's team lead with eight sacks.
The 6-foot-3, 253-pound defensive end is both a strong run defender and one of the Big Ten's best pass-rushers, and one of many star players who give the Wolverines the potential to have one of the best defenses in the entire country in 2018.
3. Dre'Mont Jones, DT, Ohio State

Dre'Mont Jones has already been a star defensive tackle for Ohio State for the past two seasons, but if you ask any of Jones' coaches or teammates, they'll tell you that we still haven't seen what Jones is truly capable of.
A converted defensive end with excellent athleticism for his size at 6-foot-3 and 286 pounds, Jones has also shown himself to be a disruptive interior penetrator against the run, earning third-team All-Big Ten honors last season. Jones' opportunities to make plays as an interior pass-rusher, however, were limited over the past two years by Ohio State's "Rushmen" package, which took Jones off the field in favor of the Buckeyes playing a quartet of defensive ends.
That's expected to change in 2018, however, as Jones is set to become part of the Rushmen package and be a three-down field for the Buckeyes as a result. Combine that with his continued improvement, as Ohio State coach Urban Meyer said Jones "had the best spring of anybody" on the entire team this year, and the fourth-year junior appears poised to emerge as one of the best defensive tackles not only in the Big Ten, but in the entire country.
2. T.J. Edwards, LB, Wisconsin

No player attending this year's Big Ten Media Days earned more individual accolades in 2017 than T.J. Edwards.
In his junior season, the Wisconsin linebacker earned first-team All-American honors from several voting bodies – including the Associated Press – and was a Butkus Award finalist as one of college football's best linebackers, in addition to earning first-team All-Big Ten honors.
Edwards goes into his senior season as a fourth-year starter at inside linebacker, having recorded more than 80 total tackles in each of his first three seasons for the Badgers. The 6-foot-1, 244-pound linebacker has made plays all over the field for Wisconsin, also recorded seven interceptions and 13 pass breakups in addition to 254 career tackles, which include 26 tackles for loss.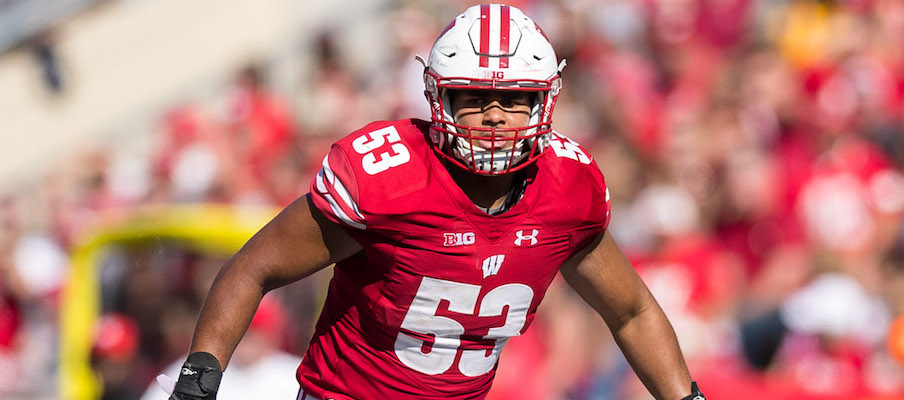 1. Trace McSorley, QB, Penn State

Among all the players who will be in Chicago representing the Big Ten next week, Trace McSorley is both the biggest name and the player who is most likely to have a decisive impact on how the conference shakes out in 2018.
The runner-up to J.T. Barrett for All-Big Ten quarterback honors for each of the last two seasons, McSorley has been the conference's leading passer in each of those years, throwing for 3,614 yards and 29 touchdowns in 2016 and 3,570 yards and 28 touchdowns in 2017.
An athletic scrambler with a demonstrated ability to elude defensive linemen, extend plays and make big throws on the run, McSorley can also make plays himself with his feet, running for 365 yards and seven touchdowns in 2016 and 491 yards and 11 touchdowns in 2017.
With Saquon Barkley now playing for the NFL's New York Giants, McSorley will be expected to make even more plays with both his arm and his feet, and if he can do so, he's a candidate to be Big Ten Player of the Year and potentially even make a run at the Heisman Trophy.
If Penn State makes a run at a Big Ten title once again in 2018, McSorley will almost certainly be a big reason why.