Although Ohio State is only two practices into its spring football season, there have already been some key revelations that have shed clarity on how the Buckeyes' depth chart could stack up this year.
Ohio State head coach Urban Meyer has already indicated that Isaiah Prince is moving to left tackle and Thayer Munford is in line to take his place at right tackle. Defensive line coach Larry Johnson has confirmed that he expects Jashon Cornell to be in his defensive end rotation. Meyer also revealed that offensive linemen Michael Jordan and Branden Bowen, wide receiver K.J. Hill, linebacker Dante Booker and cornerback Jeffrey Okudah are all sidelined by injuries this spring, affecting their respective abilities to compete for starting spots this spring (though Jordan's spot on the depth chart, and likely Hill's, should be safe).
As such, it's time for us to update my projection for Ohio State's 2018 two-deep – even though there's still 13 spring practices, and a long way to go until the season begins – taking a look at what's changed since my previous projection in February.
This depth chart projection is meant to predict what the coaches' actual depth chart will look like in terms of who will start and see the most playing time, and as such, will likely include less "or" designations than the depth chart Ohio State publishes this fall. Players who are expected to rotate equally in terms of playing time, however, are listed as 1A and 1B.
Quarterback
1. Dwayne Haskins
2. Tate Martell
Nothing has changed here yet. Haskins and Joe Burrow appear set to compete for the starting quarterback job all spring; Martell will also have a shot to compete for the job, but the two more experienced quarterbacks appear to be the frontrunners as of now.
Meyer, however, also acknowledged last week that Burrow and his family have had conversations with him about his future. So while Haskins and Burrow are likely to be the top quarterbacks on the depth chart if both are on the roster, Burrow could opt to leave as a graduate transfer – opening the backup quarterback spot for Martell – if Haskins wins the starting job, which still appears to be the most likely outcome as of now.
Running Back
1. J.K. Dobbins
2. Mike Weber
Dobbins and Weber will likely be listed as co-starters on the depth chart again this year, and Meyer said last week that he expects a fierce competition between the two backs for the starting job. Still, it's hard to envision Dobbins not being the actual starter after he started every game for the Buckeyes last year as a true freshman.
Dobbins is already well on his way to being one of college football's elite running backs, and should only get better this year after a record-setting freshman campaign. Weber will get his share of touches, especially if Ohio State's offense becomes less predicated on quarterback runs, but it will surprise if Dobbins isn't the Buckeyes' lead back.
Wide Receiver (X)
1A. Austin Mack
1B. Binjimen Victor
Wide Receiver (Z)
1A. Terry McLaurin
1B. Johnnie Dixon
Slot Receiver/H-Back
1A. Parris Campbell
1B. K.J. Hill
Although wide receivers coach Zach Smith said last week that Ohio State's other wide receivers will have a shot to beat out the Buckeyes' six returning co-starters, the Buckeyes' most likely receiver rotation still remains one that looks the same as the receiver rotation they used last year. Smith is still likely to rotate two players evenly at each receiver position, and none of last year's top six receivers seem to be in line for a demotion.
Jaylen Harris has the talent to push for a spot in the X receiver rotation this year, C.J. Saunders has played well enough to warrant more playing time at slot receiver and Demario McCall has high playmaking upside at H-back, but they'll have to clearly outperform their more experienced counterparts in order to take their spots on the two-deep.
Tight End
1. Rashod Berry
2. Jeremy Ruckert
As the only returning tight end who played regularly last season – and a big, athletic freak with the potential to create serious mismatches – Berry is the clear frontrunner for the starting job.
Behind him, redshirt sophomores Luke Farrell and Jake Hausmann are both candidates to potentially seize the second spot on the tight end depth chart this spring. As of yet, it's unclear whether either of them has made a strong push for that job. If neither of them locks that spot up this spring, however, incoming freshman Jeremy Ruckert has the talent to earn an immediate spot on the depth chart this summer.
Left Tackle
1. Isaiah Prince
2. Joshua Alabi
As aforementioned, Meyer said last week that Prince – who started the past two seasons at right tackle – has "earned that right to at least get that first shot" at starting at left tackle. Assuming he is able to lock that position down, it's presumable that Alabi – who backed up Jamarco Jones at left tackle last year – will remain in line as the next man up at the position, though five-star recruit Nicholas Petit-Frere will push for an immediate spot on the two-deep when he arrives this summer.
Left Guard
1. Michael Jordan
2. Malcolm Pridgeon
The depth chart at this position doesn't appear likely to change from last year. With Jordan sidelined for spring practices due to a shoulder injury, Pridgeon opened spring as the first-team left guard, but Jordan – entering his third year as a starter – will safely retain his spot in the lineup once he is healthy.
Center
1. Brady Taylor
2. Josh Myers
Outside of the quarterback competition, this position battle looks as though as it could be the most interesting competition to follow this spring – and Meyer said it's actually causing him more stress than the quarterback battle.
The Buckeyes have started a fifth-year senior at center for each of the past two seasons, so there's reason to believe they would lean toward doing so again with Taylor, who took the first-team reps at center in Ohio State's opening practice. That said, Meyer has stopped well short of naming Taylor as a starter. Myers, who somewhat surprisingly opened practice as the second-team center, is a highly touted redshirt freshman who offers the potential to be dominant. Taylor gets the nod as the projected starter right now because of his relative experience, but Myers could be a real threat to seize the job away.
Right Guard
1. Demetrius Knox
2. Branden Bowen
Knox and Bowen should be set for a tight battle in fall camp, but while Bowen won this battle last year in fall camp, he currently remains sidelined after breaking his leg in the sixth game of last season. Knox, meanwhile, performed well in Bowen's place down the stretch of last season – when Ohio State's offensive line really hit its stride – and continues to get first-team reps this spring in Bowen's absence.
That will likely put Knox in front of the race for this starting job even when Bowen returns. It's also possible Bowen could move back to tackle, where he was a backup before moving to right guard last season, with Wyatt Davis being a candidate to back up Knox. For now, though, Bowen remains on the depth chart at right guard, because he should get a chance to earn his starting job back.
Right Tackle
1. Thayer Munford
2. Max Wray
Munford, a true sophomore who has drawn praise from Ohio State's coaches since he arrived on campus last summer, is already penciled in as the starting right tackle for 2018 and appears likely to be the Buckeyes' top dog at the position for the next two or three years to come.
Wray, who is already on campus as an early enrollee, could parlay his opportunity to participate in the Buckeyes' strength and conditioning program this winter and then practice this spring into the backup right tackle spot. While Petit-Frere is the more highly touted recruit, his future is likely at left tackle, and he will also likely need time to bulk up before he is ready to play.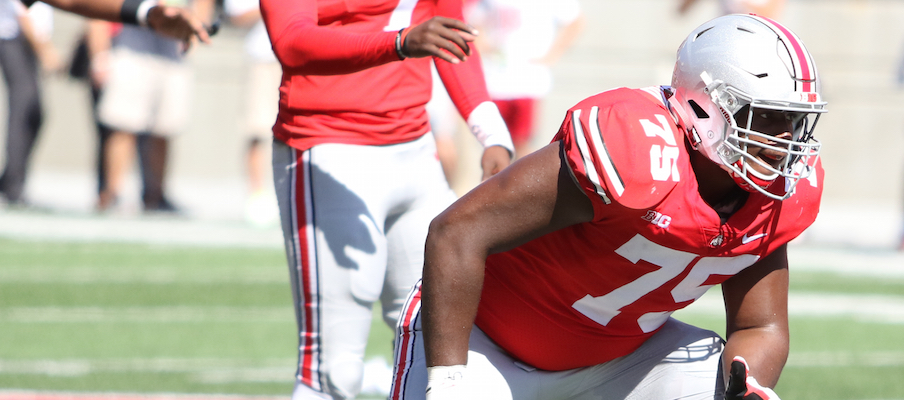 Defensive End
1. Nick Bosa
2. Jashon Cornell
Defensive End
1A. Chase Young
1B. Jonathon Cooper
Cornell's move outside from defensive tackle to defensive end should make him the fourth man in Ohio State's four-man defensive end rotation. Bosa, as the only returning defensive end from last year's four-man rotation, should still play a majority of snaps, while Young and Cooper should split snaps evenly opposite Bosa regardless of who starts. Cornell, though, should still see a significant amount of snaps, as the Buckeyes will want to keep Bosa fresh.
True freshmen Tyreke Smith and Tyler Friday could also push for playing time at the position, but the veterans will likely keep them out of the primary rotation for this season.
Defensive Tackle (3-Tech)
1. Dre'Mont Jones
2. Haskell Garrett
Defensive Tackle (Nose)
1. Robert Landers
2. Davon Hamilton
Cornell's move outside opens up spots on the defensive tackle two-deep for both Garrett and Hamilton, who saw playing time as third-team defensive tackles last season and appear positioned to be Jones and Landers' top backups this season.
True freshmen Taron Vincent, Tommy Togiai and Antwuan Jackson, redshirt freshman Jerron Cage and redshirt sophomore Malik Barrow (who is still working his way back after tearing his ACL last season) could all push for playing time by fall camp, but the more experienced defensive tackles stand ahead of them on the depth chart for now.
Strongside Linebacker
1. Malik Harrison
2. Pete Werner
While a report that Dante Booker was leaving Ohio State was firmly denied by Meyer last week, Booker is out this spring after undergoing two shoulder surgeries, leaving his role for his redshirt senior season in question. That makes Harrison the clear frontrunner to start at strongside linebacker this season, while it could also open up a spot on the two-deep for Werner, who has been consistently praised by Meyer after contributing on special teams last year as a true freshman.
Weakside Linebacker
1. Baron Browning
2. Keandre Jones
While Jones began spring as the first-team weakside linebacker, the fact that Browning began spring as the second-team weakside linebacker – after working at middle linebacker last season – suggests that he will have a chance to compete for the starting spot at that position. And Browning, a true sophomore who came to Ohio State as a five-star recruit, could prove too talented to keep off the field this season.
Middle Linebacker
1. Tuf Borland
2. Justin Hilliard
Borland is expected to be the starting middle linebacker again this year after starting nine games for the Buckeyes last season. Browning's move outside opens up the backup middle linebacker spot for Hilliard – a former five-star recruit in his own right – who finally made an impact for the Buckeyes on special teams last season after his first two years at Ohio State were derailed by injuries.
Cornerback
1. Kendall Sheffield
2. Shaun Wade
Cornerback
1. Damon Arnette
2. Jeffrey Okudah
Okudah was expected to compete for a starting cornerback spot this spring, but is sidelined for the entire spring with a shoulder injury. Given his relative inexperience going into his true sophomore year, that makes it likely that Sheffield and Arnette will hold down the Buckeyes' starting cornerback spots going into this fall.
It remains likely that Okudah will see regular playing time in the cornerback rotation as the third cornerback, and fellow 2017 five-star recruit Shaun Wade could also push for playing time with a strong spring, though it is not certain yet whether new cornerbacks coach Taver Johnson will opt to rotate players at his position as regularly as former cornerbacks coach Kerry Coombs did.
Safety (Boundary)
1. Jordan Fuller
2. Brendon White
Safety (Field)
1. Isaiah Pryor
2. Josh Proctor
While Fuller is locked in as one of Ohio State's starting safeties, Meyer described the field safety position as "a concern" following the first spring practice, suggesting that numerous players could have an opportunity to compete for that spot.
Pryor, the only other safety on the roster who played more than 22 defensive snaps last season, would appear to be the frontrunner to start alongside Fuller. Fellow true sophomore White and redshirt sophomore Jahsen Wint, who lined up as the second-team safeties in the opening practice, would appear to be his top competition this spring. Proctor, though, has the talent to earn a spot on the two-deep as a true freshman – like Pryor did last year – when he arrives this summer.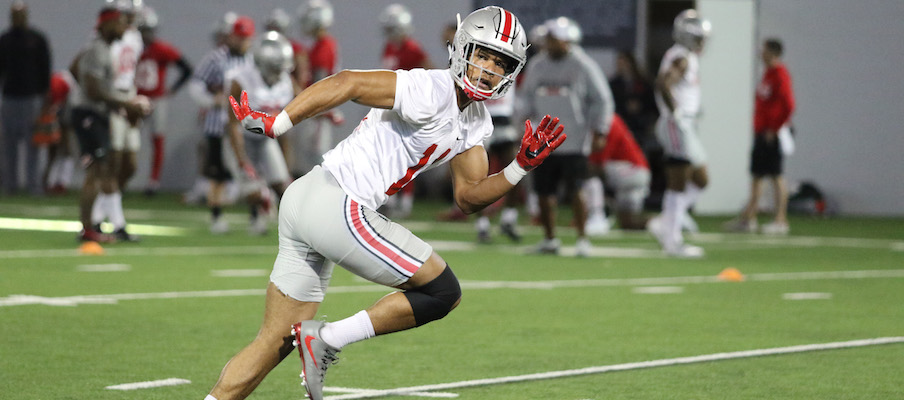 Kicker
1. Sean Nuernberger
2. Blake Haubeil
No changes are expected here as Sean Nuernberger, a fifth-year senior, enters his final season with the Buckeyes.
Punter
1. Drue Chrisman
2. Jake Metzer
Although Nuernberger was listed as Chrisman's backup last year, Metzer is likely to take that spot on the punter depth chart after sitting out last season as a transfer (walk-on) from Penn State.
Kickoffs
1. Blake Haubeil
2. Sean Nuernberger
Haubeil was replaced by Nuernberger in two games last season after struggling with his kickoffs early in the year, but solidified his standing as the Buckeyes' top kickoff specialist – and should maintain that spot for this season – by performing well down the stretch.
Long Snapper
1. Liam McCullough
2. Bradley Robinson
With McCullough entering his third season as the Buckeyes' starting long snapper, walk-ons Robinson and Phillip Thomas will compete for the second spot on the depth chart.
Holder
1. Drue Chrisman
2. C.J. Saunders
Chrisman was Ohio State's starting holder last season, while Saunders was his backup, and they will presumably retain those roles this season.
Kickoff Returner
1. Demario McCall
2. Jaelen Gill
Punt Returner
1. Demario McCall
2. K.J. Hill
Meyer said last week that he wants McCall to be both the kickoff and punt returner for the Buckeyes, challenging him to approach that role the same way a starter would at any other position.
Hill, who handled punt return duties for the Buckeyes last year, is probably still the top candidate to be McCall's backup at that spot, as he could be brought on as a more sure-handed option if McCall has any trouble consistently catching punts. Saunders could also be a candidate for that role. The secondary kickoff returner spot, though, could be an opportunity for the Buckeyes to get Gill – who is probably too talented to redshirt – on the field as a true freshman.
Projected Depth Chart

Offense

Defense

LT

 

59

ISAIAH PRINCE

6-7

310

SR

 

DE

 

97

NICK BOSA

6-4

263

JR

 
 

58

JOSHUA ALABI

6-5

305

JR

 
 
 

9

JASHON CORNELL

6-3

274

JR

LG

 

73

MICHAEL JORDAN

6-7

310

JR

 

DT

 
86

DRE'MONT JONES

6-3

290

JR

 
 

66

MALCOLM PRIDGEON

6-7

310

SR

 
 
 

92

HASKELL GARRETT

6-2

293

SO

C

 

79

BRADY TAYLOR

6-5

302

SR

 

DT

 

67

ROBERT LANDERS

6-1

283

JR
 
 

71

JOSH MYERS

6-5

308

FR

 
 
 

53

DAVON HAMILTON

6-4

310

JR

RG

 
78

DEMETRIUS KNOX

6-4

312

SR
 

DE

 
2

CHASE YOUNG

6-5

265

SO

 
 

76

BRANDEN BOWEN

6-7

312

JR

 

OR

 

18

JONATHON COOPER

6-4

257

JR

RT

 

75

THAYER MUNFORD

6-6

319

SO

 

SLB

 

39

MALIK HARRISON

6-3

240

JR

 
 

74

MAX WRAY

6-7

305

FR

 
 
 

20

PETE WERNER

6-3

235

SO

TE

 

38

RASHOD BERRY

6-4

255

JR

 

MLB

 

32

TUF BORLAND

6-1

229

SO

 
 
 

JEREMY RUCKERT

6-6

238

FR

 
 
 

47

JUSTIN HILLIARD

6-1

230

JR

QB
 
7
DWAYNE HASKINS
6-3
218
SO
 

WLB

 

5

BARON BROWNING

6-3

238

SO

 
 

18

TATE MARTELL

5-11

207

FR

 
 
 

16

KEANDRE JONES

6-2

228

JR

RB
 
2
J.K. DOBBINS
5-10
212
SO
 
CB
 
8
KENDALL SHEFFIELD
6-0
193
JR
 
 

25

MIKE WEBER

5-10

212

JR

 
 
 

24

SHAUN WADE

6-1

192

FR

H-B

 

21

PARRIS CAMPBELL

6-1

208

SR

 
SAF
 
4
JORDAN FULLER
6-2
204
JR

OR

 

14

K.J. HILL

6-0

198

JR

 
 
 

25

BRENDON WHITE

6-2

210

SO

WR
 
11
AUSTIN MACK
6-2
215
JR
 
SAF
 
14
ISAIAH PRYOR
6-2
197
SO

OR

 
9
BINJIMEN VICTOR
6-4
200
JR
 
 
 
 

JOSH PROCTOR

6-2

190

FR

WR

 
83
TERRY MCLAURIN
6-1
204

SR

 

CB

 

46

DAMON ARNETTE

6-0

195

JR

OR

 

1

JOHNNIE DIXON

5-11

198

SR

 
 
 

1

JEFFREY OKUDAH

6-1

199

SO

Special Teams

K

 

96

SEAN NUERNBERGER

6-1

228

SR

 

H

 

91

DRUE CHRISMAN

6-3

215

SO

 
 

95

BLAKE HAUBEIL

6-4

225

SO

 
 
 

80

C.J. SAUNDERS

5-11

185

JR

P

 

91

DRUE CHRISMAN

6-3

215

SO

 

KR

 

30

DEMARIO MCCALL

5-9

193

SO

 
 

19

JAKE METZER

6-2

220

SO

 
 
 
 

JAELEN GILL

6-1

182

FR

KO

 

95

BLAKE HAUBEIL

6-4

225

SO
 

PR

 

30

DEMARIO MCCALL

5-9

193

SO
 
 

96

SEAN NUERNBERGER

6-1

228

SR

 
 
 

14

K.J. HILL

6-0

198

JR

LS

 

49

LIAM MCCULLOUGH

6-2

228

JR

 
 
 
 
 
 
 
 
 
 

42

BRADLEY ROBINSON

6-1

220

SO