When Ohio State's three returning defensive ends from last season all arrived for media interviews at the same time after their second practice of the spring on Thursday, most of the reporters in attendance flocked to surround Nick Bosa and Chase Young.
Only a handful of reporters, meanwhile, went to talk to Jonathon Cooper.
That's a reflection on the hype that has surrounded Bosa and Young entering this spring. Bosa was already one of college football's best defensive linemen last season, and he'll look to be even more dominant in 2018, which is expected to be his final season at Ohio State. Young, meanwhile, is already being hyped as a potential No. 1 overall NFL draft pick in 2020 – even though that's two years away, and he has yet to play a substantial role for the Buckeyes – after showing glimpses of greatness in limited action last season.
As a result of that hype, Cooper's potential to be a star for Ohio State's defensive line tends to get overlooked.
It shouldn't be.
Cooper was Ohio State's second-highest-rated recruit (and the No. 33-ranked recruit overall) in the class of 2016, behind only Bosa. He, too, showed playmaking ability in limited duty last season, recording 15 total tackles and three tackles for loss (two sacks) in only 172 snaps. And if you ask his coaches and teammates – including Young and Bosa – they'll tell you they expect big things from the junior defensive end this year.
"He's on me and Nick's level," Young said. "Coop goes hard every play. His motor speaks for itself."
Ohio State head coach Urban Meyer said after the Buckeyes' first spring practice on Tuesday that Cooper "looks fantastic," while defensive line coach Larry Johnson said Thursday that he is "really pleased with where (Cooper)'s at right now."
"I think Jonathon Cooper brings a lot to the play," Johnson said. "He's got a chance to make an impact at the defensive end position."
Despite coming in as a highly touted recruit out of Columbus-area Gahanna Lincoln High School, Cooper's path to significant playing time was blocked for the past two seasons by veteran defensive ends Jalyn Holmes, Sam Hubbard and Tyquan Lewis, leaving just one spot available in the four-man defensive end rotation, which went to Bosa.
Now that Holmes, Hubbard and Lewis are on their way to the NFL, though, Cooper – who describes himself as "a very fast edge rusher" and "a very powerful dude that goes hard and gives relentless effort" – should be in line for much more playing time.
Cooper began spring practice lining up with the first-team defense, opposite Bosa, with Young taking second-team reps. But even if Young ultimately surpasses Cooper on the depth chart, Cooper should be on the field for substantial snaps either way, given Johnson's commitment to rotating his defensive ends throughout a game to keep them all fresh.
It's also expected that Bosa, Young and Cooper will all be on the field together this season when the Buckeyes deploy their "Rushmen" package in third-down and other expected passing situations.
The biggest thing that kept Cooper off the field for his first two seasons in Columbus was simply the talent in front of him, but Cooper also believes he is more prepared to play a significant role for the Buckeyes than he has been in previous years, having gained 20 pounds this offseason.
"Putting on the weight definitely helps me at defensive end, and just being stronger. Even gaining all that weight, I don't feel like I lost any of my speed," said Cooper, who is listed at 6-foot-4 and 257 pounds. "And just learning more techniques under Coach Johnson just helps me out a lot."
Cooper says he has worked as hard as ever before going into this spring, knowing that it his opportunity to step up and seize a bigger role. Johnson has recognized the effort Cooper has put in.
"He's had a really great winter, great job in the weight room – gotten stronger, gotten bigger – and this is his moment right now," Johnson said of Cooper. "It really is. And he's doing everything he can to make sure he grabs it."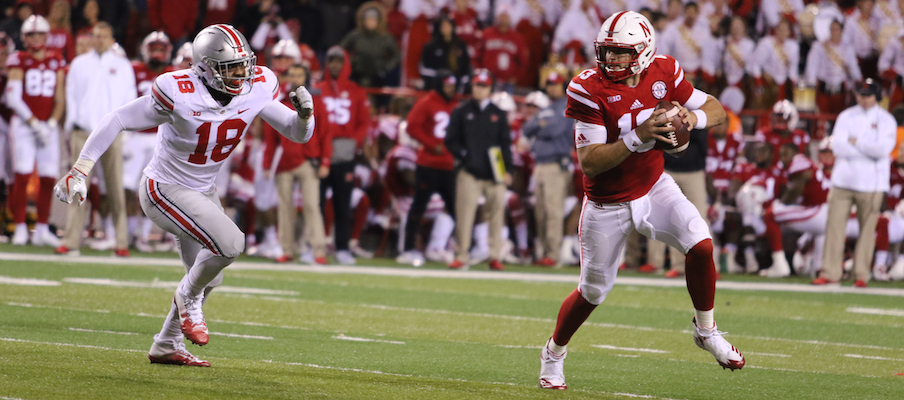 While Bosa and Young might continue to draw most of the headlines, the emergence of Cooper is just as important for Ohio State to continue to have one of the best defensive end rotations in the country. The Buckeyes' excellence at defensive end over the past two years was tied into their ability to rotate two sets of co-starters at the position and keep everyone fresh, and it's Cooper who gives the Buckeyes the potential to do that once again in 2018.
Cooper doesn't mind being overshadowed right now, though, because he believes his play – in tandem with the play of his defensive linemates – will do the talking this fall.
"I wish nothing but the best for those guys. I know that Chase has a lot of hype around him, Nick Bosa has a lot of hype around him. I like to think that I have a lot of hype around me, too, but I mean, it's OK," Cooper said. "It's going to come. I don't pay too much attention to it or worry about it. I just know that we all are going to work together to make the Rushmen even better."