Ohio State's roster for the 2018 football season isn't set yet, and spring practice is still a month away, but both are close enough that we can take a first look at how the Buckeyes' depth chart could stack up this year.
The Buckeyes will have to replace 13 players from their 2017 two-deep, including their starting quarterback (J.T. Barrett), two starting offensive linemen (Jamarco Jones and Billy Price), their starting tight end (Marcus Baugh), three of their four co-starters at defensive end (Jalyn Holmes, Sam Hubbard and Tyquan Lewis), a starting defensive tackle (Tracy Sprinkle), two starting linebackers (Jerome Baker and Chris Worley), a starting cornerback (Denzel Ward) and a starting safety (Damon Webb).
Ohio State doesn't have to replace as many players as it appeared it might have to, however, as all but three of their draft-eligible underclassmen – including defensive tackle Dre'Mont Jones, running back Mike Weber and wide receivers Parris Campbell, Johnnie Dixon, K.J. Hill and Terry McLaurin – decided to remain with the Buckeyes for another year.
That still leaves plenty of questions about who will start and see regular playing time at many other positions, though, with the Buckeyes having plenty of highly recruited players looking to earn bigger roles this upcoming season.
Once the Buckeyes hit the practice field next month and coaches have an opportunity to evaluate how their young players have improved, it could start to become clearer which players are in line to climb the depth chart and play more in 2018.
There's still a few remaining recruits who could choose the Buckeyes between now and National Signing Day, which could ultimately add more players to the fold to compete for spots on the depth chart, while it's also expected that Ohio State will lose some more plays to transfers over the next seven months.
It's never too early to look ahead, though, so here's one writer's best guess at how Ohio State's two-deep will ultimately shake out this fall.
Note: While Ohio State's published depth chart is likely to include more "or" designations than accounted for here, this chart projection is meant to predict what the coaches' actual depth chart will look like in terms of who will start and see the most playing time. Players who are expected to rotate equally in terms of playing time, however, are listed as 1A and 1B.
Quarterback
1. Dwayne Haskins
2. Tate Martell
Given Urban Meyer's affinity for running quarterbacks, and that Martell has the potential to be the most dynamic dual-threat he's had in Columbus, there's a real chance the redshirt freshman could seize the job. With that being said, Haskins did everything he needed to do last season to position himself as the frontrunner to start this season, and the strong-armed redshirt sophomore should have every opportunity to win the job this spring.
Joe Burrow, who was neck-and-neck with Haskins in last year's backup quarterback competition before breaking a bone in his throwing hand, should get a real shot to compete for the starting job. But with Haskins' downfield throwing ability and Martell's athleticism – which could potentially open the door for a two-quarterback system in which Haskins starts and Martell plays situationally – Burrow could be the odd man out. Even if Burrow finishes the spring as the No. 2 quarterback on the depth chart, it's expected that he will transfer if he doesn't win the starting job this spring.
Running Back
1. J.K. Dobbins
2. Mike Weber
Dobbins and Weber will likely be listed as co-starters on the running back depth chart like they were last year, but also like last year, Dobbins should be in line to start every game and be the Buckeyes' lead back as long as he stays healthy. While there should be a healthy share of snaps and carries for both backs to go around – especially if Haskins starts at quarterback – Dobbins is one of the most talented running backs in college football and should be on the field more often than not.
Ohio State's 2018 roster will be loaded with talented running backs – also including Antonio Williams, Demario McCall and incoming freshmen Jaelen Gill, Brian Snead and Master Teague III – but the returns of Dobbins and Weber likely won't leave much playing time available for anyone else at the position this season.
Slot Receiver/H-Back
1A. Parris Campbell
1B. K.J. Hill
Wide Receiver (X)
1A. Austin Mack
1B. Binjimen Victor
Wide Receiver (Z)
1A. Terry McLaurin
1B. Johnnie Dixon
With all of Ohio State's top six wide receivers from last season back on the roster for 2018, there aren't likely to be any major changes to the depth chart at this position. The Buckeyes could choose to switch up which receivers line up with who – for most of last season, Campbell, Mack and McLaurin took the field first while Hill, Victor and Dixon all played together – but it's likely that all six will continue to see relatively equal playing time at their respective positions, regardless of which players technically start.
The Buckeyes have plenty of other wide receivers who could be worthy of playing time – walk-on C.J. Saunders was promising in limited duty this past season, while sophomore Jaylen Harris and incoming freshmen Kamryn Babb, Cameron Brown, Chris Olave and L'Christian "Blue" Smith should also push to get on the field – but it would be a surprise if any of the Buckeyes' returning top six lost their spots in the rotation, and a rotation any larger than that could be difficult to manage.
Tight End
1. Rashod Berry
2. Jeremy Ruckert
Unless the Buckeyes move him back to defensive end to address their lack of depth at that position, Berry is the favorite to start at tight end in 2018, as the only tight end other than Baugh who played regularly in 2017.
Former four-star recruits Luke Farrell and Jake Hausmann could be candidates for expanded roles in 2018 as redshirt sophomores. Ruckert, however, could prove too talented to keep off the field, even as a true freshman who won't arrive on campus until summer. After all, Meyer has said that Ruckert "might be the best tight end prospect" he has ever recruited.
Left Tackle
1. Branden Bowen
2. Joshua Alabi
After moving Bowen to right guard in order to put its best five offensive linemen on the field to start the 2017 season, Ohio State could move Bowen back to offensive tackle in order to accomplish the same task in 2018. While the Buckeyes no longer need Bowen to start at right guard, where Demetrius Knox was impressive during the second half of last season after Bowen went down with a season-ending injury, they are in need of a new starting left tackle, and Bowen could be the best option.
Bowen saw a few snaps at left tackle last season, when Jamarco Jones briefly checked out of games with injuries, even after making the move to right guard, and was considered to be the Buckeyes' third option at tackle last season before he broke his fibula. The Buckeyes could move Isaiah Prince to left tackle if they believe Thayer Munford is ready to start at right tackle, while Alabi will also have a shot to compete for the starting job. But Bowen's starting experience and history practicing at the position could ultimately make him the best candidate, just as he was when the Buckeyes had an open competition for a vacant starting spot on their offensive line last year.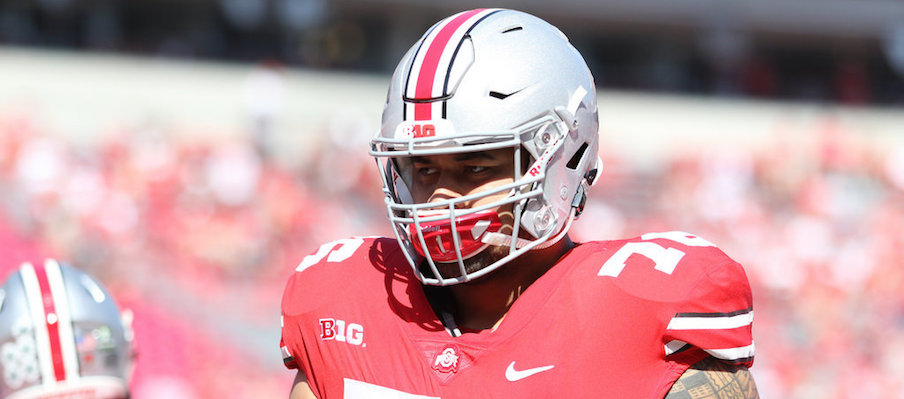 Left Guard
1. Michael Jordan
2. Wyatt Davis
Jordan returns for his third season as Ohio State's starting left guard, so the only question at this position is who will be his primary backup. Davis, a five-star recruit from the class of 2017, should be a top candidate to make the two-deep at either left or right guard after redshirting last season.
Center
1. Brady Taylor
2. Matthew Burrell
Unlike the past two years, when Ohio State moved experienced guards to start at center for their senior seasons, the Buckeyes are expected to have a first-year starter at the position in 2018. Taylor, a fifth-year senior who has had to wait his turn behind Pat Elflein and Billy Price the past two years, should finally get his chance to seize the starting job this spring. He could face real competition, though, from Burrell, who is expected to move to center this spring after being passed over for a starting guard spot.
Right Guard
1. Demetrius Knox
2. Malcolm Pridgeon
Ohio State's offensive line really hit its stride this past season after Knox took over as the Buckeyes' starting right guard, making him the frontrunner to start at that position in 2018 regardless of where Bowen ultimately plays this season. Pridgeon, who saw playing time at both left and right guard in 2017, should be able to hold down a spot on the two-deep for 2018, but will have to fend off a challenge from Josh Myers, another highly touted recruit from the class of 2017 who redshirted last season.
Right Tackle
1. Isaiah Prince
2. Thayer Munford
After playing substantially better in 2017 than he did in 2016, Prince is a sure bet to start at offensive tackle, with the only question being whether he will remain at right tackle for a third consecutive season or move to the left side. Keeping him at the position where he has grown comfortable might be the best move, but as aforementioned, that decision could depend in part on whether the Buckeyes believe Munford – who backed up Prince at right tackle as a true freshman last year – is already one of their top five offensive linemen this year.
DEFENSIVE END
1. Nick Bosa
2. Tyreke Smith
DEFENSIVE END
1A. Chase Young
1B. Jonathon Cooper
While Bosa, Young and Cooper are all likely to rotate with one another at defensive end this season, and Young and Cooper will likely be designated as co-starters as a result, Bosa should see the majority of snaps among the trio. Bosa's designation as a solo starter should not only be because he is the only returner among Ohio State's four co-starting defensive ends from last year, but also because he is one of the best defensive ends in all of college football. Bosa, Young and Cooper should all see the field simultaneously in the Buckeyes' nickel pass-rushing package.
Because Bosa, Young and Cooper are the only returning scholarship defensive ends on the roster, Ohio State could shorten its regular defensive end rotation from four players to three this year. That could ultimately mean the Buckeyes moving a player from another position for defensive end depth, but it also leaves the door wide open for Smith (or Tyler Friday) to potentially earn a spot on the two-deep as an incoming freshman.
DEFENSIVE TACKLE (3-TECH)
1. Dre'Mont Jones
2. Jashon Cornell
Jones and Cornell could both be candidates to see some playing time at defensive end this year, but unless either of them makes a full-time position switch, they should remain in their roles as the top two 3-technique defensive tackles on the depth chart. Jones is expected to become a three-down player for the Buckeyes this year, moving into the Rushmen package alongside Bosa, Young and Cooper in the nickel defense, but that could increase the opportunities for Cornell to rotate into the base defense to keep Jones fresh.
Defensive line coach Larry Johnson maintains a deep rotation into the defensive tackle position, so Davon Hamilton and incoming freshman Taron Vincent should be candidates for playing time at this spot too, but Jones' decision to stay in school for another year will make it tough for either of them to crack the two-deep this year.
DEFENSIVE TACKLE (NOSE)
1. Robert Landers
2. Haskell Garrett
After rotating at the nose tackle position with Michael Hill and Tracy Sprinkle for the past two years, Landers should move into the starting lineup this year. He should still continue to rotate regularly at the position, though, because the Buckeyes are loaded with defensive tackle talent.
Rising sophomore Haskell Garrett, junior college transfer Antwuan Jackson Jr. and incoming freshman Tommy Togiai could all be among the candidates to earn spots on the two-deep. Redshirt sophomore Malik Barrow could be, too, depending on how quickly he recovers from the torn ACL he suffered last September. Garrett gets the nod in this projection because he already saw playing time in the rotation last year, but it's likely that at least two of those players will be worked in the rotation to some extent.
STRONGSIDE LINEBACKER
1. Malik Harrison
2. Dante Booker
Booker began last season as Ohio State's starting strongside linebacker but did not play a snap in the Buckeyes' final five games – even after he was cleared to play – after missing time due to injury. Harrison, meanwhile, became a fixture in the Buckeyes' nickel defense and performed well in his lone opportunity to start at strongside linebacker against Michigan State.
It's possible that both could start, as Harrison could also be a candidate to take over at weakside linebacker, but Harrison should be in line for a starting role either way while Booker's standing entering this spring appears uncertain.
MIDDLE LINEBACKER
1. Tuf Borland
2. Justin Hilliard
As the only returning starter from the linebacker lineup that Ohio State finished last season, Borland enters the spring as the frontrunner to start at middle linebacker. While Borland will likely still be taken off the field in nickel packages, and Baron Browning could make a real push for the starting middle linebacker spot, Borland's strong play from that position against the run should be enough for keep his spot in the base defense.
Browning should see the field in one capacity or another, but if that means moving to another linebacker position, that could open the door for Hilliard – after overcoming injuries to become a strong performer on special teams this past season – to move up to the second row of the defensive depth chart.
WEAKSIDE LINEBACKER
1. Baron Browning
2. Keandre Jones
While Browning practiced primarily at middle linebacker as a true freshman last season, Borland's emergence at that position could mean a move to weakside linebacker for Browning, a five-star recruit from the class of 2017 who could be too talented to keep out of the starting lineup this year.
Jones, who was Jerome Baker's primary backup at weakside linebacker last year, should enter the spring as the frontrunner to start at that position and could certainly end up seizing the job for himself. Ultimately, though, the Buckeyes will look to put together a lineup that enables them to put whoever emerges as their three best linebackers on the field simultaneously, regardless of which specific positions they might ultimately line up at.
CORNERBACK
1. Kendall Sheffield
2. Shaun Wade
CORNERBACK
1A. Jeffrey Okudah
1B. Damon Arnette
With Denzel Ward's decision to sit out the Cotton Bowl, Sheffield played nearly every defensive snap of the Buckeyes' final game of the season, while Arnette and Okudah rotated opposite him at the other cornerback spot in the base defense. That could be a sign of things to come in 2018.
While the way Ohio State rotates its cornerbacks could certainly change following the departure of Kerry Coombs, it's still likely that Sheffield, Okudah and Arnette will all be regulars in the cornerback rotation this season, with Arnette moving inside to slot cornerback in the nickel defense. Sheffield and Okudah could move ahead of Arnette in the pecking order, though, now that they have a full season at Ohio State under their belts after coming on strong down the stretch last season. Wade, a five-star recruit in the class of 2017 who redshirted last season due to injury, could also make a real push for a spot in the cornerback rotation this year.
SAFETY
1. Jordan Fuller
2. Brendon White
SAFETY
1. Isaiah Pryor
2. Josh Proctor
The presumable frontrunner to replace Damon Webb in the starting lineup alongside Fuller is Pryor, the only other returning safety on the roster who saw regular playing time last season. While nearly all of his defensive playing time as a true freshman came in blowout situations, he was a staple on special teams and on the Buckeyes' two-deep all year.
With no other safeties on the roster who played more than 22 snaps last year, the door is wide open for an incoming freshman – with Proctor being the most likely candidate – to earn a spot on this year's two-deep like Pryor did last year. The top candidate to be a primary backup among returning safeties should be White, who moved back and forth between safety and wide receiver in his freshman season but is expected to stay on defense in 2018.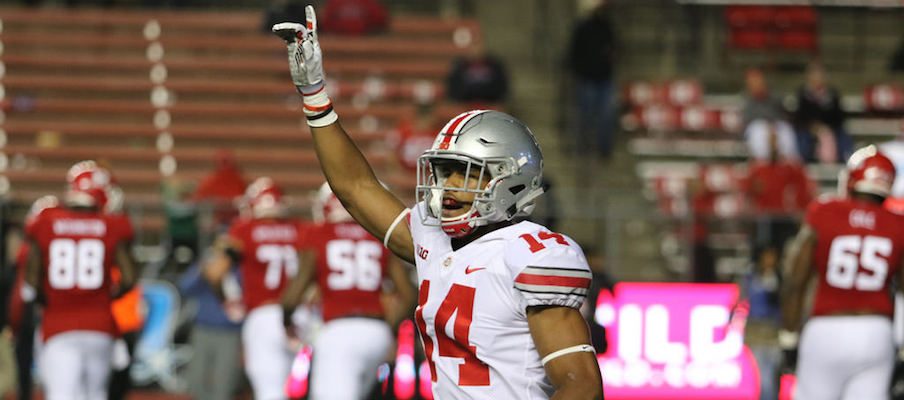 KICKER
1. Sean Nuernberger
2. Blake Haubeil
After making 17 of his 21 field goal attempts last season, Nuernberger should have a solid hold on his role as the starting placekicker entering his fifth-year senior season.
PUNTER
1. Drue Chrisman
2. Jake Metzer
While Nuernberger – who has never punted in a collegiate game – was listed as Chrisman's backup at punter last season, Metzer is likely to take his spot on the depth chart this year after transferring in from Penn State as a walk-on last year.
KICKOFFS
1. Blake Haubeil
2. Sean Nuernberger
After being replaced by Nuernberger at multiple points during the season following some early-season struggles to correctly execute Ohio State's kickoffs, Haubeil came on strong down the stretch of his freshman year, which should solidify his role as the Buckeyes' kickoff specialist for 2018.
LONG SNAPPER
1. Liam McCullough
2. Bradley Robinson
It's possible that McCullough, the only scholarship long snapper on the roster, could be backed up his brother, Roen, who is set to arrive at Ohio State this summer as a preferred walk-on. But considering that the younger McCullough is likely a candidate to redshirt in 2018, the door to the backup spot on the depth chart should be open to Robinson, a transfer from Michigan State.
HOLDER
1. Drue Chrisman
2. C.J. Saunders
Saunders was listed as Chrisman's backup at holder on Ohio State's depth chart last season, and there's probably no reason for that to change this season.
KICKOFF RETURNER
1. Demario McCall
2. Jaelen Gill
While Parris Campbell was effective in his one-and-a-half seasons returning kickoffs, the Buckeyes took him off kickoff returns after injuries knocked him out of multiple games last season, so they might not be inclined to put him back in that role. The Buckeyes should also, however, be looking for a different kickoff returner than Mike Weber, who was ineffective after replacing Campbell in that role for the second half of last season.
As it works out, kickoff returns could be a perfect opportunity to get both McCall and Gill on the field and in a position to make plays. While the redshirt sophomore and incoming freshman are both too talented to not be involved this season, the returning talent at running back and H-back will make it tough for them to crack the rotation offensively. Both of them, however, have the dynamic speed and lateral movement skills to be big-play threats in the return game.
PUNT RETURNER
1. K.J. Hill
2. Demario McCall
Because surehandedness is the priority in the punt return game, it's likely that Ohio State will stick with Hill in that role, even though he didn't make many noteworthy plays in the return game this past season. McCall was listed as his backup on the depth chart last season, though – even though he went on to take a medical redshirt – so he could potentially be a candidate to take over that role, too, if he shows dynamic playmaking ability and proves he can be consistently reliable in catching punts.
Projected Depth Chart

Offense

Defense

LT

 

76

BRANDEN BOWEN

6-7

312

JR

 

DE

 

97

NICK BOSA

6-4

270

JR

 
 

58

JOSHUA ALABI

6-5

300

JR

 
 
 
 

TYREKE SMITH

6-3

260

FR

LG

 

73

MICHAEL JORDAN

6-7

310

JR

 

DT

 
86

DRE'MONT JONES

6-3

295

JR

 
 

52

WYATT DAVIS

6-4

310

SO

 
 
 

9

JASHON CORNELL

6-3

280

JR

C

 

79

BRADY TAYLOR

6-5

300

SR

 

DT

 

67

ROBERT LANDERS

6-1

283

JR
 
 

69

MATTHEW BURRELL

6-3

300

JR

 
 
 

92

HASKELL GARRETT

6-2

286

SO

RG

 
78

DEMETRIUS KNOX

6-4

308

SR
 

DE

 
2

CHASE YOUNG

6-5

240

SO

 
 

66

MALCOLM PRIDGEON

6-7

315

SR

 

OR

 

18

JONATHON COOPER

6-3

248

JR

RT

 

59

ISAIAH PRINCE

6-7

310

SR

 

SLB

 

39

MALIK HARRISON

6-3

235

JR

 
 

75

THAYER MUNFORD

6-6

325

SO

 
 
 

33

DANTE BOOKER

6-3

240

SR

TE

 

13

RASHOD BERRY

6-4

260

JR

 

MLB

 

32

TUF BORLAND

6-1

229

SO

 
 
 

JEREMY RUCKERT

6-6

238

FR

 
 
 

47

JUSTIN HILLIARD

6-1

230

JR

QB
 
7
DWAYNE HASKINS
6-3
214
SO
 

WLB

 

5

BARON BROWNING

6-4

230

SO

 
 

18

TATE MARTELL

5-11

205

FR

 
 
 

16

KEANDRE JONES

6-2

225

JR

RB
 
2
J.K. DOBBINS
5-10
208
SO
 
CB
 
8
KENDALL SHEFFIELD
6-0
183
JR
 
 

25

MIKE WEBER

5-10

214

JR

 
 
 

24

SHAUN WADE

6-1

185

FR

H-B

 

21

PARRIS CAMPBELL

6-1

208

SR

 
SAF
 
4
JORDAN FULLER
6-2
207
JR

OR

 

14

K.J. HILL

6-0

198

JR

 
 
 

25

BRENDON WHITE

6-2

210

SO

WR
 
11
AUSTIN MACK
6-2
215
JR
 
SAF
 
14
ISAIAH PRYOR
6-2
195
SO

OR

 
9
BINJIMEN VICTOR
6-4
195
JR
 
 
 
 

JOSH PROCTOR

6-2

190

FR

WR

 
83
TERRY MCLAURIN
6-1
204

SR

 

CB

 

29

JEFFREY OKUDAH

6-1

193

SO

OR

 

1

JOHNNIE DIXON

5-11

195

SR

 

OR

 

3

DAMON ARNETTE

6-0

195

JR

Special Teams

K

 

96

SEAN NUERNBERGER

6-1

225

SR

 

H

 

91

DRUE CHRISMAN

6-3

212

SO

 
 

95

BLAKE HAUBEIL

6-3

200

SO

 
 
 

80

C.J. SAUNDERS

5-11

176

JR

P

 

91

DRUE CHRISMAN

6-3

212

SO

 

KR

 

30

DEMARIO MCCALL

5-9

195

SO

 
 

19

JAKE METZER

6-3

220

SO

 
 
 
 

JAELEN GILL

6-1

182

FR

KO

 

95

BLAKE HAUBEIL

6-3

200

SO
 

PR

 

14

K.J. HILL

6-0

198

JR

 
 

96

SEAN NUERNBERGER

6-1

225

SR

 
 
 

30

DEMARIO MCCALL

5-9

195

SO

LS

 

49

LIAM MCCULLOUGH

6-2

228

JR

 
 
 
 
 
 
 
 
 
 

42

BRADLEY ROBINSON

6-2

228

SO