Considering that he was the Buckeyes' leading tackler and their only regular three-down linebacker this past season, Jerome Baker will be missed by the Ohio State defense in 2018.
Baker's departure from Ohio State became official on Monday, when he announced he is declaring for the 2018 NFL draft.
The good news for the Buckeyes is that they have plenty of talented young linebackers who will be looking to seize the opportunity for a spot in the starting lineup and/or more playing time.
Combined with the departure of Chris Worley, who exhausted his eligibility, Ohio State now has two open starting spots at the linebacker position.
The top candidate to seize one of those spots is Malik Harrison, who played alongside Baker on the nickel defense this year and started against Michigan State at strongside linebacker (with Worley at Baker's usual position of weakside linebacker) when Baker missed that game due to injury. While the strongside linebacker position might be the more natural fit for Harrison – depending on whether Dante Booker re-emerges in the starting lineup after missing time due to injury late this past season – Harrison looks like the top candidate to emerge as a three-down linebacker next year.
There's been some speculation that Harrison could bulk up and play defensive end, considering the Buckeyes' lack of depth at that position, but he might be too valuable at linebacker to move out of that group.
Unless Harrison moves to weakside linebacker, the first player with a shot to replace Baker at that spot might be Keandre Jones, considering that Jones was listed as Baker's backup on the Buckeyes' depth chart this year. Jones only played 70 defensive snaps this past season, because Baker rarely came off the field, but the rising junior and former four-star recruit drew praise from Ohio State linebackers coach Bill Davis before the 2017 season.
"Keandre is a lot like Baker," Davis said in August. "Very fast, very twitched up. Put his foot in the ground and go. He's playing right behind Bake and trying to push him as hard as he can, so we feel real comfortable with Keandre right now."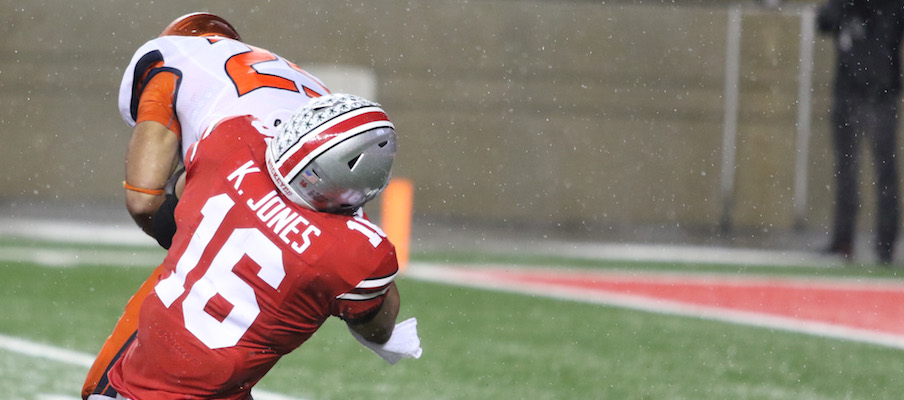 The linebacker who could prove too talented to keep off the field, however, is 2017 five-star recruit Baron Browning. While Browning practiced and played as a middle linebacker in his freshman year, getting on the field for 95 defensive snaps, he could be blocked from a spot in the starting lineup at that position by Tuf Borland. But while Browning is built like a middle linebacker at 6-foot-4 and 230 pounds, he has more than enough athleticism to move outside to weakside linebacker, where he could end up emerging as the top candidate to replace Baker in the lineup.
Asked which young players had stood out to him in the weeks leading up to last month's Cotton Bowl, Worley said he was particularly impressed by the way Browning had developed over the course of his freshman year.
"Baron Browning, he's been up-and-down this year as far as practice and things like that, he definitely shows spurts of what he can be but he's not consistent," Worley said on Dec. 27. "This bowl camp, he's been unreal and he's started to put it all together, and his future's going to be really bright."
Another rising sophomore who drew praise throughout his freshman year and could be a candidate to earn playing time in next season's linebacker rotation is Pete Werner. While he wasn't as highly touted a recruit as Browning and played only 37 defensive snaps this past season, he'll certainly have the opportunity to compete for an increased role after impressing coaches on special teams in his first year as a Buckeye.
Justin Hilliard, who was as highly touted as any recruit when he arrived in Columbus in 2015, could also be a candidate to move up the depth chart and earn a spot in the rotation. While his career at Ohio State has been set back by injuries, he played regularly on special teams in 2017 and has enough athleticism to play any linebacker spot.
Ohio State also has three incoming freshman linebackers in Dallas Gant, Teradja Mitchell and K'Vaughan Pope. While it would be a surprise if any of them saw regular playing time on defense right off the bat, as all will be expected to prove themselves on special teams first, they are talented enough to push for playing time – with Gant potentially having the upper hand as one of nine early enrollees – if the linebackers in front of them struggle.
Davis, whose first season as Ohio State's linebackers coach drew criticism, will have his work cut out for him as he replaces his top two linebackers from this past season. That's no excuse if the linebackers struggle, however, because he has plenty of talent to work with.