COLUMBUS – Ohio State linebackers coach Bill Davis doesn't expect to have a depth problem this season.
Behind starters Jerome Baker, Chris Worley and Dante Booker, the Buckeyes have only one other scholarship linebacker – Malik Harrison – who has played enough at Ohio State to earn a varsity letter.
Davis is confident, though, that he will have plenty of other linebackers ready to play if called upon.
"We've got a lot of solid backups," Davis said Thursday. "We believe we're three-deep at every position."
In addition to Harrison, the Buckeyes have five other scholarship linebackers who are also candidates to see playing time this year: Justin Hilliard, Keandre Jones, Tuf Borland, Baron Browning and Pete Werner.
Davis feels good about what he has seen from all of them so far in fall camp.
"I think the group is moving in a direction together and we get better every day," Davis said. "There are six guys that you really can count on and there's nine that you say you can go start with."
"We've got a lot of solid backups. We believe we're three-deep at every position."– Bill Davis
Buckeyes head coach Urban Meyer said in his most recent press conference that Harrison, who had 13 tackles in 11 games last season as a true freshman, will be the first linebacker off the bench this year.
Harrison hasn't yet been able to practice at full speed in fall camp as he continues to recover from offseason shoulder surgery, so Davis hasn't been able to cross-train Harrison between multiple linebacker positions the way he would like to. Nonetheless, Davis is excited about what Harrison could bring to the Buckeyes defense this season.
"He is a 6-3, 240-pound athlete that moves," Davis said. "He understands how to play defense, he's a good tackler, he's got range, he understands coverage and I just think it's a matter of getting him in there and getting his shoulder right so he can get real live reps and get better."
Jones, who had four tackles in five games last season as a true freshman, is also expected to occupy a spot on the second line of the depth chart as the backup weakside linebacker. Both Davis and Baker, the starting weakside linebacker, say they have been impressed with Jones.
"Keandre is a lot like Baker," Davis said. "Very fast, very twitched up. Put his foot in the ground and go. He's playing right behind Bake and trying to push him as hard as he can, so we feel real comfortable with Keandre right now."
Hilliard, Borland and Browning are all battling to be the Buckeyes' backup middle linebacker.
Davis said Hilliard, a redshirt sophomore, and Borland, a redshirt freshman, have also been cross-training at weakside linebacker.
"They're doing a great job, knowing an inside and an outside 'backer position, and they're getting a lot of reps out there," Davis said. "They're getting better every day."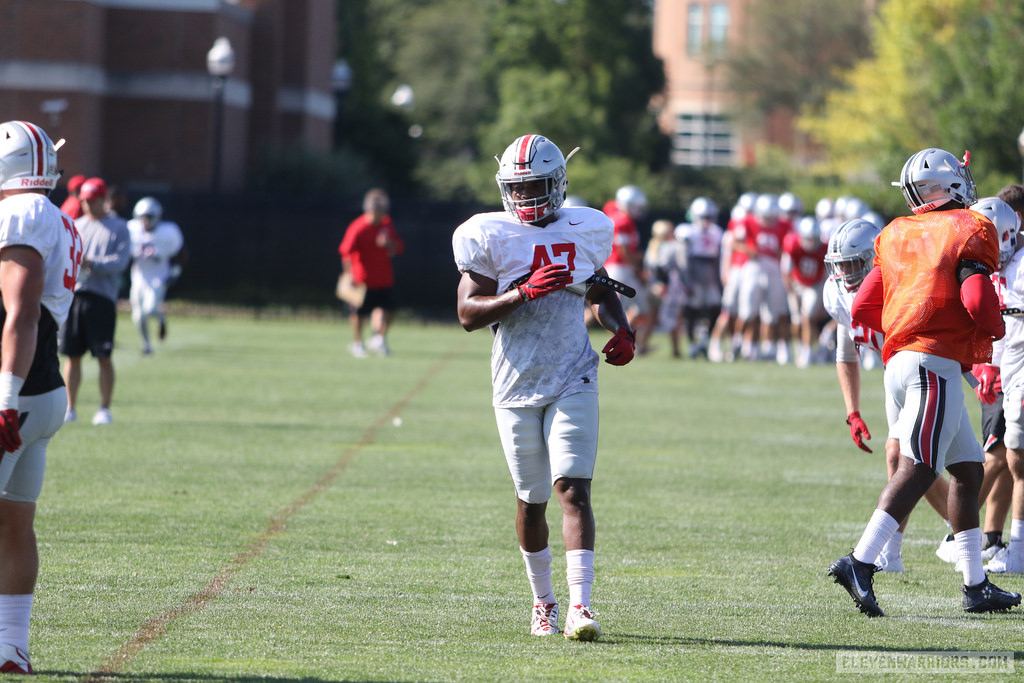 Asked which young linebackers have stood out to him, Baker said he has been particularly impressed by Borland.
"That guy, he's a monster," Baker said of Borland. "He will hit anybody. You go in his gap, you're going to feel it."
Browning and Werner have also impressed Davis, though the true freshmen might be less likely to play this season than their more experienced counterparts. Browning, like Harrison, has been limited in fall camp while recovering from offseason shoulder surgery. Werner has gone through the growing pains one would expect from a true freshman, but Davis is pleased with the progress he has made.
"He wasn't here in the spring, so he's got to make more of his mistakes, but that's the best way to learn," Davis said of Werner. "He's a smart kid. And when he sees it and screws it up, he thinks about it and then it doesn't happen again. Pete will be fine by the time he gets all his reps in."
Meyer said he expects Werner to play this season, at least on special teams, during an appearance on BTN Live last Saturday.
The only scholarship linebacker who isn't currently competing for a spot on the depth chart is redshirt sophomore Nick Conner, who has battled knee injuries since his freshman year and remains sidelined.
With Baker, Worley and Booker all entrenched in starting spots, it's uncertain how much playing time will actually be available for the backups. Of course, it only takes one injury for a backup to be thrust in the lineup, as Baker learned last year when Booker went down with a season-ending injury in the season opener. Davis says Baker has shared that message with the younger linebackers to encourage them to be ready if and when their time comes.
"He's talked to a lot of them, and he said, 'Look guys, this time last year, I was in a backup mindset, and all of a sudden I became the starter, and all of a sudden I got real nervous, and every day I had a knot in my gut and I didn't do enough to prepare,'" Davis said of Baker. "He really had a strong message for all the guys, and I think they saw it. 'What happened to Jerome may happen to me. I'm going to be more ready he was.'"
Ohio State also might rotate its backup linebackers into the lineup more frequently than it has in past years. While the Buckeyes didn't rotate linebackers regularly with Luke Fickell as linebackers coach, Davis said he will look for ways to get more linebackers on the field.
"Every time you can do a rotation, you want to," Davis said. "It helps the guys when they're out there on the field play better. Nobody gets overtired, overworked. We've got packages, we've got all kind of ways to get good athletes on the field."