COLUMBUS – Last year was supposed to be Dante Booker's breakout year.
The four-star recruit from Akron entered 2016 as a starter on Ohio State's defense after beating out Jerome Baker for the weakside linebacker job. Booker's season came to an end after just 12 plays, however, when he tore his MCL in the Buckeyes' season opener against Bowling Green.
That opened the door for Baker to become a star on the Buckeyes' defense and a potential future first-round NFL draft pick. Had Booker been healthy, however, it's possible he could have done the same.
In line to be the Buckeyes' starting strongside linebacker in 2017, Booker is getting another chance to do just that.
"It was definitely frustrating," Booker said of last season. "You earn a starting spot, all the work you put in. But injuries happen. It's a sacrifice you've got to make when you're playing football. I feel like there's another chance at it, another swing at it. I'm looking forward to it."
Ohio State linebackers coach Bill Davis likes what he's seen from Booker in fall camp.
"I think Dante is taking strides every day," Davis said. "We're really excited about him. He's got the explosiveness, the twitch, the speed, the power, all that stuff."
While Booker has been impressive on the practice field, he still needs to prove he can make plays in the games that count, having been robbed of that opportunity last year.
"There's potential, and then there's getting it done," Davis said.
Davis loves what he's seen from Booker, though, in regards to his work ethic.
"He is so driven," Davis said. "He wants it so bad. Wants it as bad as anyone I've been around.
"If anybody knows how quickly it can be taken away due to circumstances out of your control, it's Dante. So every day, he comes to work. He doesn't complain. He just works. Because he knows. He knows he got all the way to this point last year and it was taken away."
Booker already showed that work ethic last year, Davis said, but Booker says he is even more motivated for this season after being forced to the sidelines last season.
"I feel like it kind of created an even greater fire inside me that I've always had, but it's burning even brighter now," said Booker, who is now a redshirt junior. "I feel like I'm more passionate because I've got not as many swings as I had before left."
"If anybody knows how quickly it can be taken away due to circumstances out of your control, it's Dante. So every day, he comes to work. He doesn't complain. He just works."– Bill Davis
Booker expects to bring speed and athleticism to Ohio State's defense, and he expects to be a difference-maker.
"If I need to come down and make a big play, a big hit, I feel like I'm positive I can do that," Booker said.
Listed at 6-foot-3 and 240 pounds, Booker is bigger than Baker (6-1, 225). Booker acknowledges he's not quite as fast as Baker, but he doesn't think he's far off.
"He's got me by like hundredths of seconds," Booker said, in reference to 40-yard dash times.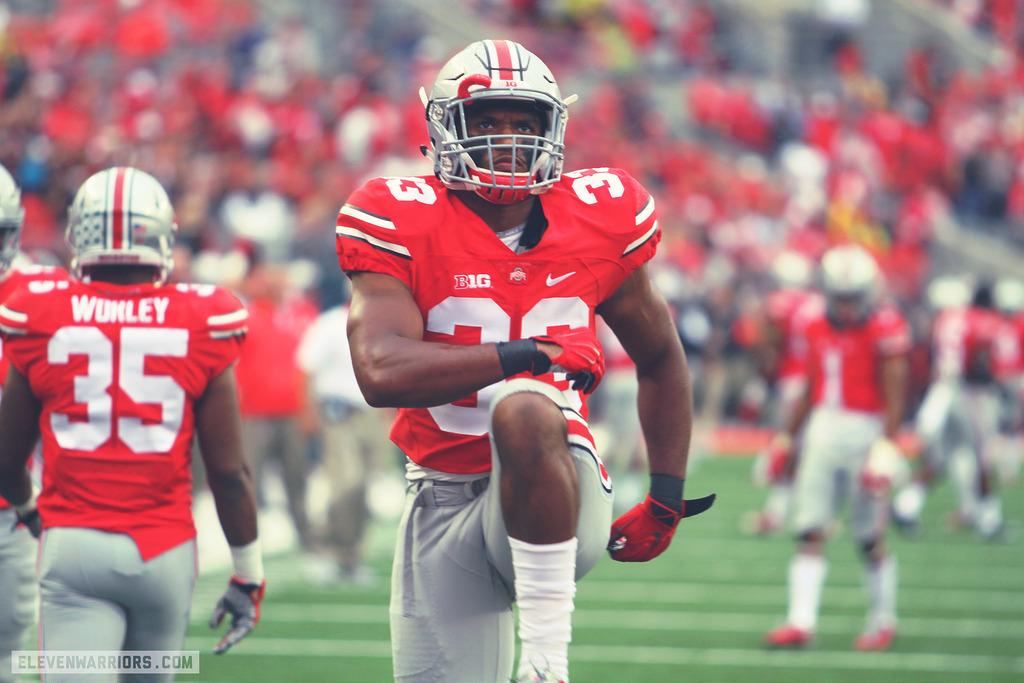 Booker's combination of size and explosive athleticism makes him a valuable asset for a defense to have. Davis says he and defensive coordinator Greg Schiano plan to take advantage of that.
"He's out in space, so if you want to roll over and put a receiver on him, he can run, good enough to cover," Davis said. "Or if you want to try to block him with a receiver, it's a long day for the perimeter run game, because Dante's such a big guy."
Booker, who has two remaining years of eligibility at Ohio State after receiving a medical redshirt last year, believes he has the ability to follow in the footsteps of former OSU defensive backs Malik Hooker and Marshon Lattimore, who emerged as first-round NFL draft picks after just one year of starting on the Buckeyes defense.
Booker says his focus for the upcoming season, however, is just to do his job.
"If I do my job … I'm confident (my teammates) are going to do their job, so we'll just make each other better," Booker said.