As Ohio State prepares for the early signing period later this month, one of the biggest challenges the Buckeyes face is not knowing exactly what their roster needs for next season will be.
While Ohio State's class of 2018 recruits will have the opportunity to sign their National Letters of Intent between Dec. 20 and Dec. 22, the Buckeyes aren't likely to know who all of their players leaving for the NFL draft will be until after Dec. 29, when the Buckeyes play their final game of the season against USC in the Cotton Bowl.
As is usually the case for Ohio State, which produces as much NFL talent as any program in the country, the Buckeyes have plenty of juniors and draft-eligible sophomores who are potential candidates to leave Ohio State with remaining eligibility and declare for the 2018 NFL draft.
We already know that Ohio State will be losing the 19 players who were honored on Senior Day, including 13 scholarship players: quarterback J.T. Barrett, tight end Marcus Baugh, left tackle Jamarco Jones, center Billy Price, defensive ends Jalyn Holmes and Tyquan Lewis, defensive tackles Tracy Sprinkle and Michael Hill, linebacker Chris Worley, safeties Damon Webb and Erick Smith and special teams regulars Elijaah Goins and Zach Turnure.
It's likely that Ohio State will lose at least three or four more key players, with numerous others facing tough decisions, who make the leap to play professionally.
While there have not yet been any Buckeyes who have publicly declared their intentions to either move on to the NFL or stay in Columbus for another year, we can look at which regular contributors are draft-eligible, how they have played this season and what other factors might play into their decision to get an idea of which players the Buckeyes might have to replace – and recruit accordingly to replace – next season.
It's also likely that Ohio State will lose some less regular contributors who transfer elsewhere after the season in search of increased playing time. For the purposes of this article, however, we will focus only on those players who have played enough to have serious NFL decisions to make.
Likely Departures
While the following players still have one remaining season of eligibility at Ohio State, it would be a surprise to see them back with the Buckeyes in 2018.
Sam Hubbard, DE
Hubbard has contended that he has yet to make a decision on whether he will enter the NFL draft, but it's hard to believe he will stay in Columbus after deciding to participate in Senior Tackle earlier this month. Hubbard is on track to graduate later this month, and is projected as a possible first-round pick in the upcoming draft. Realistically, Hubbard could have left Ohio State after last season, as a third-year sophomore, and been an early-round draft pick. After three productive seasons as a Buckeye, he doesn't need another season of college football to justify his draft stock.
Denzel Ward, CB
Following a season in which he has consistently shut down his competition and made plays on the ball, Ward has positioned himself to be Ohio State's fifth first-round cornerback in five years. Assuming he declares for the draft, Ward could be the first cornerback drafted and projects as a top-20 pick. Expect him to go get paid.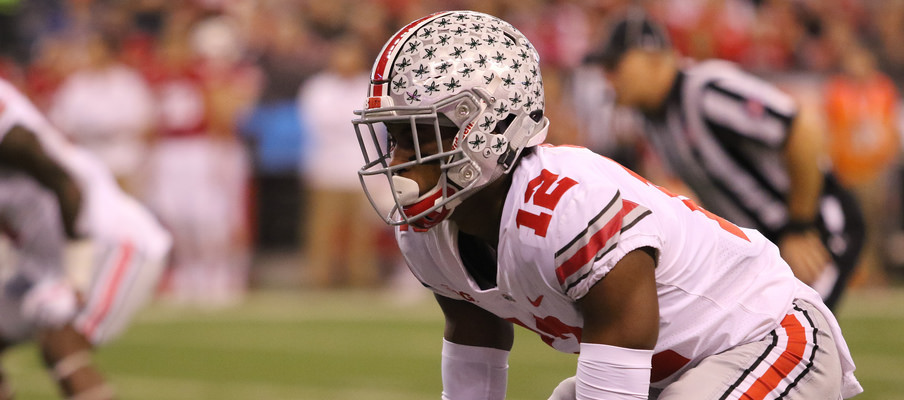 Probable Departures
The following players could have reason to return to Ohio State for one more year, but it still won't come as any surprise if they decide to make the jump to the league after the Cotton Bowl.
Dre'Mont Jones, DT
Jones has only played two seasons, leaving him two years of remaining eligibility at Ohio State, but the third-year sophomore has already made enough of an impression to likely be a first- or second-round pick if he declares for the upcoming draft. Another year in Columbus could potentially enable Jones to solidify himself as a high draft pick and earn his degree, but his stock already appears to be high enough that he can go pro now and not regret it.
Jerome Baker, LB
Baker has been critical of his own play in multiple media sessions this year, saying last month that he would give himself a "D" in coverage, so he could see an opportunity to return to Ohio State for his senior year and improve his draft stock with better play. With that being said, Baker might be ready to take his game to the next level nonetheless, and his athleticism and playmaking upside still makes him a likely top-100 pick despite a disappointing junior season.
DON'T BE SHOCKED
While the following players don't stand out as obvious candidates to leave for the NFL after this season, each of them are in position to at least consider making the jump to the next level, so it shouldn't come as a shock if any of them do.
Mike Weber, RB
At this point, Weber likely sees the writing on the wall: if he stays at Ohio State, he is likely to be stuck playing second fiddle to J.K. Dobbins. He didn't have much opportunity to improve his draft stock this year, in part because of Dobbins and in part because of a hamstring injury that limited him earlier in the season, but he still made enough big plays to show off a combination of speed and size that give him solid NFL potential as a likely middle-round pick.
Parris Campbell, WR
Already asked on multiple occasions this season whether he plans to return to Columbus next season or leave for the NFL, Campbell's responses have been noncommittal. Campbell could certainly benefit from another year of development as a wide receiver, but his top-notch speed and ability to make plays with the ball in his hands still makes it likely that a team would take a chance on him in the middle rounds of the draft.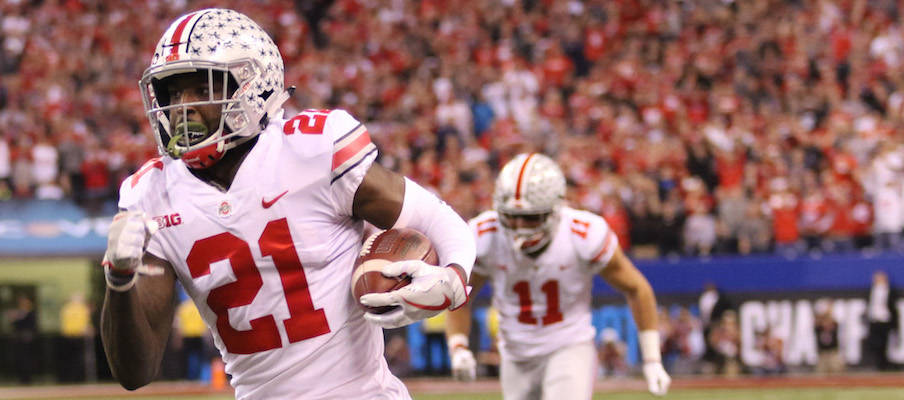 Kendall Sheffield, CB
Since his arrival as a highly touted junior college transfer in January, there has been some thought that Sheffield – a redshirt sophomore from an eligibility standpoint – could be a one-and-done player in Columbus. His play in his first season as a Buckeye has been uneven, so he could certainly benefit from at least one more year of college football, but the question could be whether he already had visions of going pro after this season. His physical skill set makes him an intriguing future prospect, but NFL scouts would undoubtedly like to see more from him.
Damon Arnette, CB
Arnette, who has rotated with Sheffield at the second cornerback spot this season, could be in a similar position to Sheffield from a draft decision standpoint. Like Sheffield, Arnette has the physical skill set to intrigue NFL scouts with his potential; also like Sheffield, Arnette is a redshirt sophomore whose play has been inconsistent at times. Another year or two at Ohio State would likely do Arnette's draft stock good, but he has a draft decision to consider nonetheless.
K.J. Hill, WR
Hill is another third-year sophomore who would probably benefit from a draft stock standpoint from playing at least one more season at Ohio State, but could consider making the jump to the NFL nonetheless. While he hasn't shown the same big-play ability that Campbell has, and likely wouldn't be selected before the later rounds of the draft, he has been the Buckeyes' most consistent pass-catcher this year.
Terry McLaurin, WR
McLaurin doesn't stand out as a top NFL prospect, but he said Friday that he has been exploring his options and gotten advice from former Buckeye receivers Jalin Marshall and Noah Brown – who both left Ohio State as redshirt sophomores – in regards to making a decision between returning for his fifth year of eligibility or declaring for the draft. McLaurin is on track to graduate from Ohio State later this month, and could decide it is time to move on even though he is unlikely to be selected before the late rounds of the draft.
Isaiah Prince, RT
At this time a year ago, the question wasn't whether Prince would one day play in the NFL, but whether he would develop into a competent pass protector for the Buckeyes. Prince's play has been exponentially better this season, however, which could make the junior right tackle a dark-horse candidate to declare for the NFL draft. He could certainly bolster his draft stock, though, by returning in 2018 and continuing to play well as the senior leader of Ohio State's offensive line.
OTHER CANDIDATES
The following players are eligible to declare for the draft and could garner NFL consideration, but it would come as a surprise if any of them decided to go pro after this season.
Johnnie Dixon, WR
Should fellow fourth-year junior wide receivers Campbell and McLaurin decide to declare for the NFL draft, Dixon could be tempted to follow their leads. But while he has shown big-play potential this season, scoring eight touchdowns on just 18 catches, he likely needs another healthy and productive year at Ohio State to legitimize himself as an NFL prospect.
Dante Booker, LB
If Booker was to declare for this year's NFL draft, he would probably go undrafted after underwhelming performance in Ohio State's first nine games of the year. After not playing in any of the Buckeyes' last four games, however, Booker could decide to take his chances on the next level instead of battling for playing time in his fifth year of eligibility.
Demetrius Knox, RG
Since taking over as Ohio State's starting right guard halfway through the regular season, Knox has been impressive, proving to be a more capable replacement for the injured Branden Bowen while finally starting up to play up to his potential as a fourth-year junior. That potential gives him a shot to play in the NFL if he can continue to make positive strides, but it would be a surprise if he didn't come back to play out his fifth year of eligibility next season.
Rashod Berry, TE
An imposing physical specimen at 6-foot-4 and 260 pounds, Berry's size and athleticism gives him real NFL potential, but he remains very raw as a tight end after switching back to that position after playing defensive end in 2016. If the third-year sophomore can seize Ohio State's starting tight end job and start to play up to his potential in 2018, leaving for the league could be a real conversation after next season.
Robert Landers, DT
Landers has demonstrated the skill set to potentially earn a role in an NFL defensive tackle rotation in the future, but it would be a surprise if the third-year sophomore left for the league after this season, considering that he has yet to start a game for the Buckeyes, appears to be enjoying his time at Ohio State and could significantly improve his draft stock if he earns more playing time over the next season or two.