Over the course of his tenure as Ohio State's head coach, Urban Meyer has contended that he does not like to redshirt players.
That claim hasn't always been backed up by the number of freshmen who have actually played each year, but it has been this year.
As we have tracked all year in our Snap Counts series and as you can see in the table below, fourteen true freshmen have seen the field for the Buckeyes this season, which leaves only six members of Ohio State's recruiting class of 2017 (not including walk-ons) in line for a redshirt.
Snaps Played By Ohio State Freshmen This Season (Not Including Special Teams)

| POS | PLAYER | TOTAL |
| --- | --- | --- |
| RB | J.K. DOBBINS | 543 |
| DE | CHASE YOUNG | 188 |
| CB | JEFFREY OKUDAH | 156 |
| OT | THAYER MUNFORD | 148 |
| S | ISAIAH PRYOR | 114 |
| LB | BARON BROWNING | 95 |
| CB | MARCUS WILLIAMSON | 77 |
| DT | HASKELL GARRETT | 61 |
| WR | JAYLEN HARRIS | 43 |
| LB | PETE WERNER | 37 |
| WR | TREVON GRIMES | 32 |
| CB | AMIR RIEP | 28 |
| WR | BRENDON WHITE | 22 |
| K | BLAKE HAUBEIL | ST |
| DT | JERRON CAGE | DNP |
| G | WYATT DAVIS | DNP |
| WR | ELLIJAH GARDINER | DNP |
| QB | TATE MARTELL | DNP |
| G | JOSH MYERS | DNP |
| CB | SHAUN WADE | DNP |
With only the bowl game remaining in Ohio State's season, those six players are certainly in line to take redshirts this year. Additionally, a few other Buckeyes could be eligible for medical hardship waivers. All in all, however, it will be a small group of Buckeyes (not including walk-ons) carrying over redshirt seasons from this year to next year.
REDSHIRTING FRESHMEN
Tate Martell, QB
With J.T. Barrett, Dwayne Haskins and Joe Burrow all ahead of him on the depth chart, there was no reason for Martell to see the field this year – though he did travel to every game just in case. With Barrett set to play his final game as a Buckeye in the Cotton Bowl, Martell will have a chance to compete with Haskins and Burrow for the starting quarterback job in 2018.
Shaun Wade, CB
Wade likely would have played as a freshman if not for a torn muscle in his abdomen, which he suffered during spring practices and never healed enough for him to play, ultimately forcing him to undergo season-ending surgery in November. Should he be fully healthy by this upcoming spring, Wade is talented enough to immediately contend for playing time at the cornerback position and on special teams as a redshirt freshman next season.
Wyatt Davis, G
With Michael Jordan, Branden Bowen, Demetrius Knox, Matthew Burrell and Malcolm Pridgeon all ahead of him on the guard depth chart, there was no need for the man also known as "Wavy Dub" to see the field for the Buckeyes this year. All five of those players could be back next season, so Davis could still be hard-pressed to earn playing time in 2018, but he has the potential to be a future star.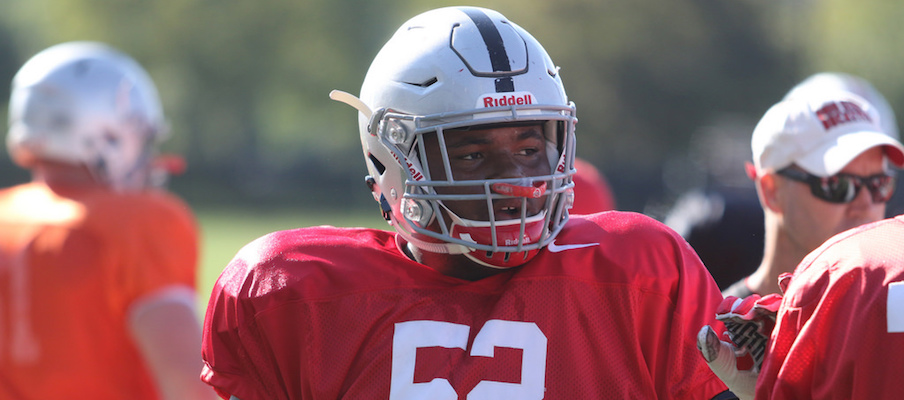 Josh Myers, G
Like Davis, Myers was buried behind veterans on the depth chart at guard, leaving no reason for the Buckeyes to put him on the field this year. Also like Davis, Myers was a highly regarded recruit with star potential, but he'll have to climb his way up the depth chart to earn regular playing time, and that likely won't happen for a couple years.
Jerron Cage, DT
While fellow true freshman Haskell Garrett did see occasional playing time over the course of the regular season as part of a deep defensive tackle rotation, the Buckeyes decided not to expand that rotation enough to include Cage. But with Tracy Sprinkle and Michael Hill gone after this season and Dre'Mont Jones also a candidate to leave early for the NFL, Cage should be able to earn a place in that rotation next year.
Ellijah Gardiner, WR
The lowest-rated position player recruit in Ohio State's 2017 class, Gardiner did not see the field this season even though fellow true freshmen Trevon Grimes, Jaylen Harris and Brendon White each saw a small amount of snaps at wide receiver. Whether the window to playing time opens for Gardiner next season could depend on whether any of Ohio State's current top six receivers, with four of them being eligible for the NFL draft, decide to make the jump to the next level.
POSSIBLE MEDICAL REDSHIRTS
Demario McCall, RB/WR
After McCall played only sparingly in four of Ohio State's first six games, Meyer said prior to the Buckeyes' seventh game that McCall was still not full speed after offseason hernia surgery and that Ohio State was considering pursuing a medical redshirt. McCall hasn't played since – playing in a fifth game would have made him ineligible for a medical redshirt – so it appears the Buckeyes will be seeking a hardship waiver for McCall, even though he has been healthy enough to warm up before every game and even travel with the team each week.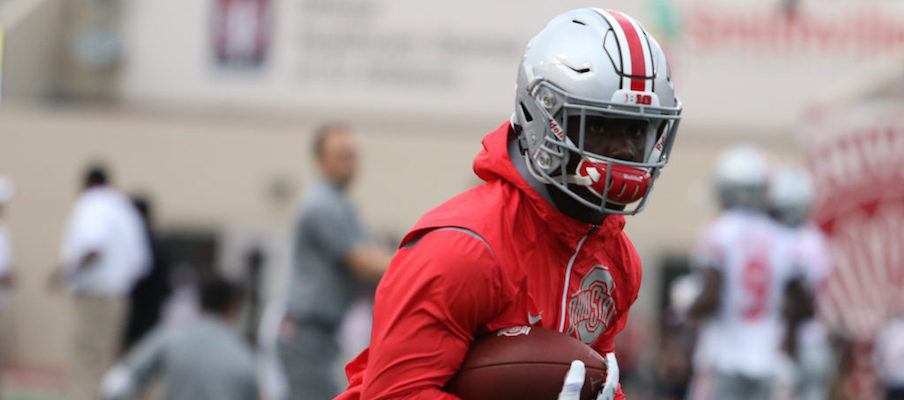 Jaylen Harris, WR
Without revealing any other specific names, Meyer has indicated that there were multiple players who the staff was evaluating as potential medical redshirt candidates. The most likely candidates among the other Buckeyes who played this season would appear to be Harris. While Harris played in three games this season, burning his regular redshirt, all three of those games were in the first half of the year, and he has not played since after being "dinged up," in the words of Meyer, with an undisclosed injury.
Malik Barrow, DT
While Barrow already took a redshirt year last season, he could potentially be a candidate for a sixth year of eligibility – should he and the Buckeyes want to pursue one – after tearing his ACL in just his second game appearance this season. Barrow previously tore his ACL during his senior year of high school, which led to his redshirt last year, which could satisfy the requirement for two years of medical hardship in order to earn a sixth year of eligibility. Without a medical redshirt, Barrow would have three remaining seasons of eligibility.
A.J. Alexander, TE
Like Barrow, Alexander could seek a sixth year of eligibility after previously redshirting but tearing his ACL this season. Also like Barrow, Alexander previously tore his ACL during his senior year of high school, and redshirted his first year on campus as a result, though he did play a full season last year. Alexander, who would have two remaining seasons of eligibility without a medical redshirt, did not play a single snap this year after suffering his most recent injury in spring practice.
Nick Conner, ILB
Conner, who missed the entire season due to a knee injury and has battled knee injuries throughout his Ohio State career, would likely be eligible for a sixth year of eligibility if he applied for one. At this point, however, it appears as though his recurring knee issues might prevent him from returning to the field for the Buckeyes, even though he still has at least two remaining seasons of eligibility.
DID NOT PLAY, BUT ALREADY REDSHIRTED
Kierre Hawkins, TE
Of Ohio State's three redshirt freshman tight ends, Luke Farrell was the only one who saw significant playing time (though even he played mostly in blowouts) this year. Jake Hausmann played only nine snaps, while Hawkins never saw the field at all. Unless Hausmann or Hawkins had an unreported injury, however, it would appear they were simply too buried on the depth chart to see the field, even though they each burned a year of eligibility.
Gavin Cupp, OL
Kevin Feder, OT
Jack Wohlabaugh, C
Ohio State has only played its first- and second-team offensive lines in games this year, opting to get its top backups as many reps as possible in blowout situations, leaving Cupp, Feder and Wohlabaugh – along with Davis and Myers – in a position where they did not see the field despite already redshirting, being on scholarship and using a year of eligibility.