Sam Hubbard might be in his final season playing for Ohio State, but that's not what the Buckeyes defensive end is thinking about right now.
While the redshirt junior defensive end from Cincinnati participated in last week's Senior Tackle, a tradition usually reserved for outgoing Ohio State players, Hubbard said Tuesday that it remains "totally up in the air" whether he will declare for the 2018 NFL draft or return to Ohio State for his final year of eligibility.
Hubbard, who is in his fourth year with the program and is set to graduate from Ohio State in December with a degree in finance, isn't denying that he could ultimately choose to move on to the NFL after this season. For now, though, Hubbard wants to focus on the same thing the rest of the Buckeyes are focusing on: Playing Wisconsin in Saturday's Big Ten Championship Game.
"(Senior Tackle) was just an opportunity I didn't want to pass up," Hubbard said. "I'm not sure what I'm going to do next year. Just focusing on winning the Big Ten championship, but it's just an opportunity I didn't want to pass up if I do make that decision."
Hubbard said he was afforded the opportunity to participate in Senior Tackle because of his impending graduation. He said he ultimately decided to take advantage of the opportunity because it was an opportunity to have a special moment with fellow members of his 2014 recruiting class, including safeties Damon Webb and Erick Smith, left tackle Jamarco Jones and fellow defensive end Jalyn Holmes.
"All the guys that I came in with were doing it, so it was just something I wanted to share with them," Hubbard said.
Ohio State coach Urban Meyer said he doesn't want to set a precedent of players with remaining eligibility participating in Senior Tackle, but felt that Hubbard deserved the opportunity as a three-year key player and more importantly, an impending graduate.
"We talked about it, and he wanted to go through Senior Tackle," Meyer said. "And that's his call."
"I'm not sure what I'm going to do next year. Just focusing on winning the Big Ten championship, but it's just an opportunity I didn't want to pass up if I do make that decision."– Sam Hubbard on participating in Senior Tackle
Meyer has not said whether or not he expects Hubbard to be back next season, leaving it up to Hubbard to speak for himself in that regard, but he did laugh when a reporter asked him whether the door would be open for Hubbard to return should he choose to do so.
"Our door?" Meyer remarked with exasperation, after which he mouthed the words, "Wide open."
Hubbard, a second-team All-Big Ten selection who leads all Ohio State defensive linemen with 36 total tackles this season, certainly has incentive to go to the NFL dangling in front of him. Ranked as the No. 24 overall prospect in the 2018 draft class by Bleacher Report's Matt Miller, Hubbard is widely projected to be a first-round draft pick – which, as the finance major certainly knows, means the opportunity to become a multi-millionaire.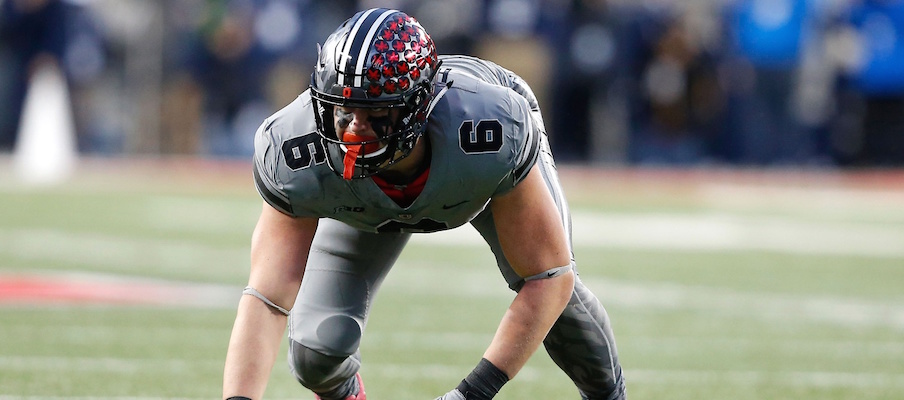 Realistically, Hubbard could have left for the NFL after last season – as a third-year sophomore – and been an early-round draft pick then, so he might not have much to gain from a draft stock standpoint if he returns for a fifth year.
Hubbard could still decide that the opportunity to play one more year with the Buckeyes and begin graduate school is worth putting the opportunity to play professionally on hold for one more year.
Ultimately, though, Hubbard says that's a decision he'll make later, after the season is complete, because he still has some major goals he wants to accomplish at Ohio State first.
Although he is in his fourth year in the program, Hubbard has never before played in a Big Ten Championship Game, as he was redshirting when the Buckeyes earned their 59-0 win over Wisconsin in 2014. He'll still have the opportunity to play in a bowl game – and potentially the College Football Playoff, depending on how things shake out – but before then, he has to take his last set of final exams as an undergraduate student. Exams are never easy, and neither is beating an undefeated Wisconsin that is ranked fourth in the CFP rankings, so Hubbard is keeping his focus on taking care of business in what might be his final weeks at Ohio State.
"I just want to win a Big Ten championship," Hubbard said. "That's the only thing on my mind. Getting my degree in two weeks, I got a lot of exams after we win this game. I got a lot on my plate. So I'll worry about (the NFL decision) later."