Ohio State has three new full-time assistant coaches for the 2017 season.
That's more than the Buckeyes have had entering any season since 2012, Urban Meyer's first season as Ohio State's head coach.
No addition to Ohio State's coaching staff since Meyer has gotten more offseason attention than this offseason's addition of Kevin Wilson, who replaced Ed Warinner as offensive coordinator and tight ends coach. Wilson is expected to reinvigorate an offense that has failed to live up to expectations since the departure of former offensive coordinator Tom Herman after the 2014 season.
Ohio State's other two new coaches also have the potential to make a big impact on the Buckeyes this season. Ryan Day, who replaced Tim Beck as co-offensive coordinator and quarterbacks coach, and Bill Davis, who replaced Luke Fickell as linebackers coach, both bring NFL experience to Columbus.
As part of our 2017 Season Preview here at Eleven Warriors, we take a closer look at each of those three coaches and how they could make the Buckeyes better this season.
KEVIN WILSON, OFFENSIVE COORDINATOR / TIGHT ENDS COACH

While Ed Warinner proved himself to be one of college football's best offensive line coaches during his first three years at Ohio State, he proved to be a poor fit for the offensive coordinator role he was promoted to before the 2015 season. The need to make a change became unavoidable when Ohio State scored zero points and gained only 215 yards in its season-ending Fiesta Bowl loss to Clemson.
That's why Meyer didn't just replace Warinner, but replaced him with the most established offensive coordinator he's ever hired.
Wilson's Last Five Jobs


| Years | TEAM | Position |
| --- | --- | --- |
| 2011-2016 | INDIANA | HEAD COACH |
| 2006-2010 | OKLAHOMA | OFFENSIVE COORDINATOR/TIGHT ENDS COACH |
| 2002-2005 | OKLAHOMA | CO-OFFENSIVE COORDINATOR/OFFENSIVE LINE COACH |
| 1999-2001 | NORTHWESTERN | OFFENSIVE COORDINATOR/QUARTERBACKS COACH |
| 1992-1998 | MIAMI (OH) | OFFENSIVE COORDINATOR/QB (1998), OL (1992-97) COACH |
Before his six-year tenure as the head coach at Indiana, where his Hoosiers offenses consistently ranked among the better units in the Big Ten, Kevin Wilson was regarded as one of college football's best offensive coordinators. He has had success at every stop in his career as an offensive coordinator, particularly from 2006-2010 at Oklahoma, where his Sooners offenses ranked among the best in the country.
Given his experience, Wilson is expected to have as much free reign over the offense as any of Meyer's offensive coordinators have ever had. As a result, Ohio State's 2017 offense should have a much different look and feel than the slower-paced, often vanilla offenses of the past two years.
Wilson's Ohio State offense is expected to play at a faster tempo, which has been a staple of his offenses for the past decade. The Buckeyes are also expected to take more deep shots in the downfield passing game, though they have emphasized that the horizontal passing game will be important too.
Expectations are sky-high for Wilson to be the difference that turns Ohio State from a team that scored zero points in a College Football Playoff game last year to a team that can win the national championship this year. Those are tough expectations for anyone to live up to. Considering Wilson's track record, though, it's reasonable to believe he will quickly make Ohio State's offense faster and more dynamic, which in turn should make it better.
As both the offensive coordinator and tight ends coach, Wilson is also expected to make the tight ends more integral players in the passing game than they have been in Meyer's first five seasons at Ohio State. He showed his ability to do that with a tight end at Oklahoma in 2008, when Jermaine Gresham caught 66 passes for 950 yards and 14 touchdowns for the Sooners' No. 1-ranked offense. The Buckeyes need him to be a developer of talent at the position this year, as Marcus Baugh is the only tight end playing this season who has caught any passes in his Ohio State career.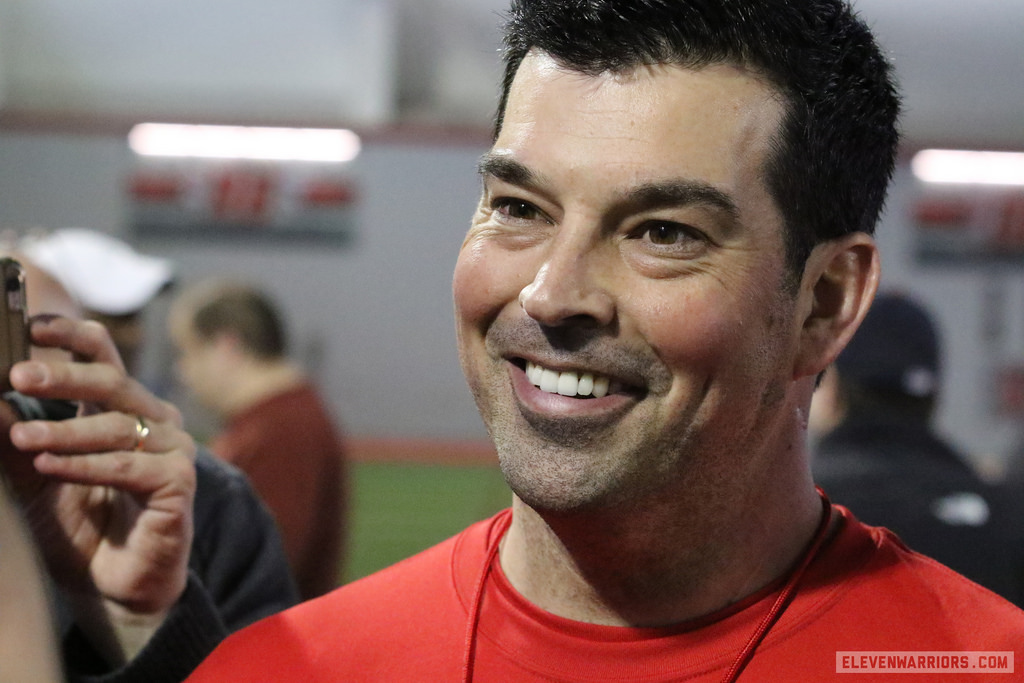 RYAN DAY, CO-OFFENSIVE COORDINATOR / QUARTERBACKS COACH

With Tom Herman as his quarterbacks coach in 2014, J.T. Barrett emerged as one of the best quarterbacks in college football, even though he was only a redshirt freshman. With Tim Beck as his quarterbacks coach for the past two seasons, Barrett failed to play up to that same level.
With Ryan Day as his quarterbacks coach in 2017, the hope is that Barrett will return to – or potentially exceed – his 2014 form.
Day's Last Five Jobs


| YEARS | TEAM | POSITION |
| --- | --- | --- |
| 2016 | SAN FRANCISCO 49ERS | QUARTERBACKS COACH |
| 2015 | PHILADELPHIA EAGLES | QUARTERBACKS COACH |
| 2013-14 | BOSTON COLLEGE | OFFENSIVE COORDINATOR/QUARTERBACKS COACH |
| 2012 | TEMPLE | OFFENSIVE COORDINATOR/WIDE RECEIVERS COACH |
| 2007-11 | BOSTON COLLEGE | WIDE RECEIVERS COACH |
Having been the San Francisco 49ers' quarterbacks coach last season and the Philadelphia Eagles' quarterbacks coach in 2015, Day has experience working with pro-level passers at the sport's highest level. That experience could be exactly what Ohio State needs after last season, when the Buckeyes' biggest weakness was their lack of an effective downfield passing offense.
Day's track record in his young career as a quarterbacks coach isn't overly impressive. His quarterbacks with the 49ers and Eagles were among the NFL's least effective in his respective seasons with those teams, and his quarterbacks at Boston College weren't great passers either.
That said, he was a talent disadvantage to his competitors with all three of those teams. He's never had the opportunity to work with a quarterback like Barrett who has already proven he can be among the elite quarterbacks at his level of the sport. Only 38 years old, Day has moved up the coaching ranks quickly and is considered to be a rising star, much like Herman was when he arrived in Columbus in 2012.
Day's primary task for this season is to help Barrett improve as a downfield passer and make the plays he needs to make for Ohio State's offense to play up to its potential. As James Grega wrote for another installment of our 2017 Season Preview, Day is instilling a more aggressive mindset in Barrett as a downfield passer.
Ohio State also needs Day to prepare backups Joe Burrow, Dwayne Haskins and Tate Martell to play if needed this season while developing them to compete for the starting job in 2018. Burrow is among the players who says he has already improved from working with Day.
"He's gotten all of us a lot better as quarterbacks," Burrow said.
Offensive coordinating duties won't be split between Wilson and Day the way they were between Warinner and Beck, but Day will have some influence over how the offense operates as a whole. Having worked for Chip Kelly for the past two seasons, Day should able to help Wilson implement the up-tempo offense.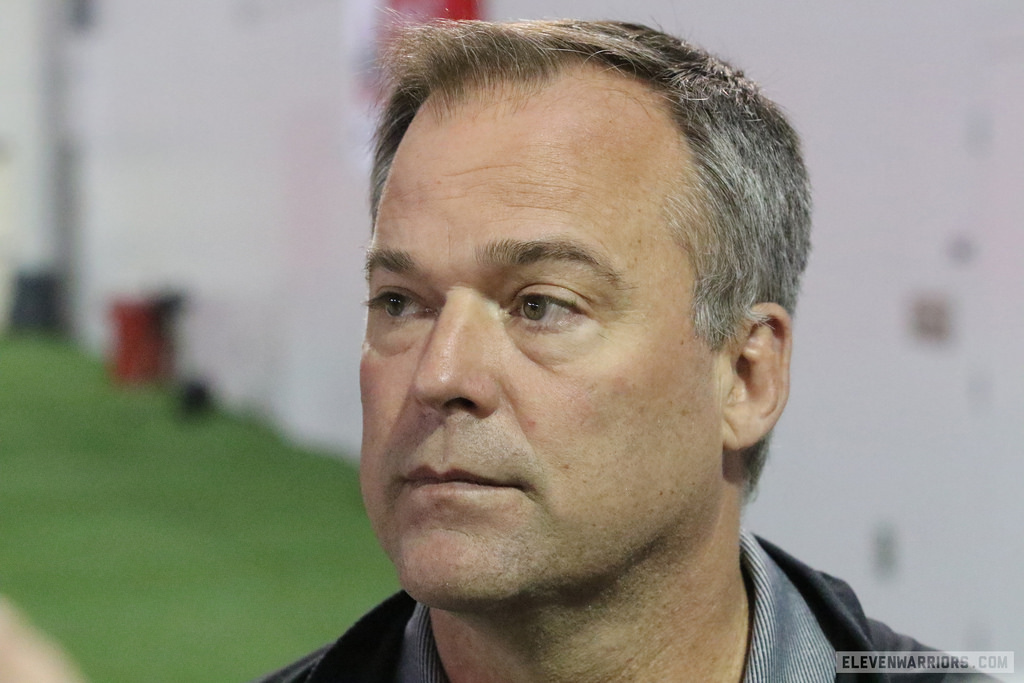 BILL DAVIS, LINEBACKERS COACH

While Ohio State had a clear need for upgrades at offensive coordinator and quarterbacks coach, and replaced Warinner and Beck for that reason, the Buckeyes already had a good linebackers coach. Luke Fickell could still be Ohio State's linebackers coach and co-defensive coordinator had he not received the head coaching job at Cincinnati. That's not to say, though, that Bill Davis won't make a big impact of his own on Ohio State's coaching staff this season.
Davis' Last Five Jobs


| YEARS | TEAM | POSITION |
| --- | --- | --- |
| 2013-15 | PHILADELPHIA EAGLES | DEFENSIVE COORDINATOR |
| 2011-12 | CLEVELAND BROWNS | LINEBACKERS COACH |
| 2009-10 | ARIZONA CARDINALS | DEFENSIVE COORDINATOR |
| 2007-08 | ARIZONA CARDINALS | LINEBACKERS COACH |
| 2005-06 | SAN FRANCISCO 49ERS | DEFENSIVE COORDINATOR |
Davis brings a wealth of NFL experience to the Buckeyes, having spent 24 years coaching in the league, including seven seasons as a defensive coordinator and 13 seasons coaching linebackers. He also spent last season working with the Ohio State football coaching staff as a defensive analyst, giving him a familiarity with the coaches he is working alongside and the linebackers he inherited in his new role.
Fickell developed no shortage of great linebackers – from James Laurinaitis and A.J. Hawk to Ryan Shazier and Darron Lee – in his 12 total seasons coaching the position at OSU. Davis' experience coaching that position in the NFL, however, could help the Buckeyes' returning linebackers develop their games even more.
Jerome Baker, who emerged as a star on Ohio State's defense in Fickell's final season, says Davis has helped him tremendously with his technique while raising the expectations of the entire linebackers room. Chris Worley, a fifth-year senior linebacker who developed from a three-star recruit to a starter under Fickell's tutelage, says Davis has shown the linebackers how to take their games to the next level.
"When you come here, you know how to go high school hard, then you get here and they teach you how to go college hard and then they teach you how to go NFL hard," Worley said. "But he's taking the next level of like teaching us how to take NFL notes in meeting rooms and things like that."
Unlike the other new assistant coaches, Davis' title does not include any coordinating responsibilities. That said, Greg Schiano would be smart to take advantage of Davis' experience as an NFL defensive coordinator to help him prepare his defensive gameplan each week.
Ohio State doesn't necessarily need Davis to be a better linebackers coach than Fickell, but there's no reason to believe he'll be a downgrade. He should help the Buckeyes continue their tradition of having some of college football's best linebackers and developing linebackers who go on to have NFL success.
---
With the additions of Wilson, Day and Davis to his coaching staff, Meyer arguably has the most qualified coaching staff to his entire career.
Day, Davis and Schiano give Ohio State three assistant coaches with experience coaching in the NFL. Wilson, Schiano, running backs coach Tony Alford, offensive line coach Greg Studrawa and defensive line coach Larry Johnson give Ohio State five assistant coaches with 20 or more years of experience coaching in college football. Wide receivers coach Zach Smith and co-defensive coordinator/cornerbacks coach Kerry Coombs have each been on Meyer's staff since the start of his tenure.
If Ohio State contends for another championship this season, its staff of assistant coaches will be a big reason why.