Before last season's Fiesta Bowl, Urban Meyer had only lost two bowl games in his career as a head coach.
In each of the seasons following his two previous bowl game losses, Meyer led his teams to national championships.
Can Meyer and the Ohio State football team repeat history in 2017?
Entering the 2017 season, Ohio State is among the projected favorites to win this year's national title. The Buckeyes are ranked No. 2, only behind Alabama, with five first-place votes in the preseason Coaches Poll. Ohio State also has the second-best Vegas odds to win the championship (13/2), also only behind Alabama, according to Vegas Insider.
Those expectations are counting on the Buckeyes being significantly better than they were at the end of last season, which concluded with a 31-0 loss to Clemson – Ohio State's first shutout loss in any game since 1993 – in the College Football Playoff semifinals.
Ohio State bounced back nicely after the last time it lost to Clemson. After suffering a 40-35 loss to the Tigers in the Orange Bowl to conclude the 2013 season, Meyer won his first national title at Ohio State in 2014 as the Buckeyes won the first-ever College Football Playoff.
Meyer's only prior bowl game loss came at the end of the 2007 season, one season after winning his first national championship at Florida, when his Gators lost to Michigan in the Capital One Bowl. That Florida team went just 9-4. The very next season, however, Florida won its second national championship in three years.
Is there a reason why Meyer's teams have had their most successful seasons after suffering a loss the year before?
While Meyer wanted to win all of those bowl games – and certainly didn't want to get shut out in the most recent one – coaches often say that they and their teams grow more from a loss than they do from a win.
That certainly seemed to be true for the 2008 Florida Gators and the 2014 Ohio State Buckeyes, and could very well be true for the 2017 Ohio State Buckeyes.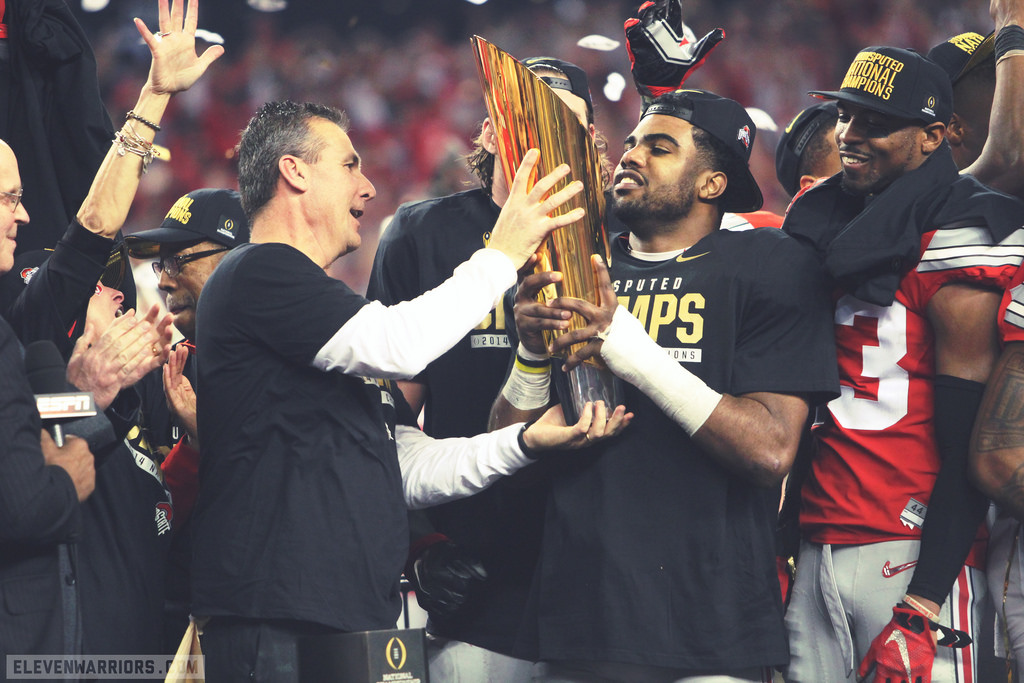 Meyer says there isn't anything standard he has done to make his teams better after each of his bowl game losses, but he does acknowledge that he is more likely to make changes to his team after a loss.
"If you fail and something's not going well, you change it," Meyer said at Big Ten Media Days. "If things are going well, you don't change and try to make it to better."
Giving up 40 points in the 2013 Orange Bowl made it clear that the 2014 Buckeyes would need to improve on defense – specifically, their passing defense – so Meyer made some changes on that side of the ball, most notably by bringing in Chris Ash as co-defensive coordinator and safeties coach and Larry Johnson as defensive line coach.
That might not have been the biggest reason why the Buckeyes became a championship team in 2014 – the emergences of Ezekiel Elliott at running back and of J.T. Barrett and Cardale Jones at quarterback were huge factors – but Ohio State did improve considerably in passing defense, allowing only 201.1 passing yards per game and 17 passing touchdowns in 2014 after allowing 268 passing yards per game and 31 passing touchdowns in 2013.
Scoring zero points in last year's Fiesta Bowl made it clear that this year's Buckeyes need to improve on offense – specifically, their passing offense – so Meyer made some changes on that side of the ball, most notably by hiring Kevin Wilson as offensive coordinator and tight ends coach and Ryan Day as co-offensive coordinator and quarterbacks coach.
If the Buckeyes can notably improve in that phase of the game this year, they have the potential to go from bowl game losers to champions again.
The fact that two of Meyer's three national championships have come after his first two bowl game losses might just be happenstance, at least to some extent. After all, the 2008 Florida Gators and 2014 Ohio State Buckeyes were both teams that more clearly improved during their national championship seasons than in the offseasons before them. Ohio State lost its second game of the 2014 season to unranked Virginia Tech at home, but evolved into a championship team as the season progressed. The 2008 Gators suffered a September loss to Ole Miss, prompting Tim Tebow's famous "Promise" speech, but emerged as a dominant team the rest of the season.
What history does tell us, though, is that the embarrassing end to last season is no reason to count out Ohio State this season. It just might be a reason to have more confidence that Ohio State will contend for a championship this season.
Beyond any changes it might have led Meyer and his staff to make, there's something else a bowl game loss does. Because it comes at the end of the season, it tends to stick with the returning players, and marinate as motivation, over the next eight months. And that, as much as anything else, might be how Meyer's previous bowl game losses helped propel his subsequent teams to national championships, and how it could potentially push the 2017 Buckeyes toward a championship of their own.
"I just want to win a national championship," linebacker Jerome Baker said last week. "I think that Clemson loss, it hurt me to the core ... and that's my main goal, just to get back there."