Will Ohio State's offense play at a faster pace this year?
That's been one of the most repeated questions as the Buckeyes begin fall camp and prepare for the 2017 season.
With Ed Warinner and Tim Beck as coordinators in 2015 and 2016, Ohio State's offense lacked tempo. The Buckeyes ultimately became too sluggish and predictable, culminating in their loss to Clemson in the Fiesta Bowl, where Ohio State managed only 215 yards of offense and was shut out for the first time since 1993.
Ohio State's offense needs to be more explosive in 2017, and one way to do that could be to move at a faster pace that keeps defenses on their heels and wears them out.
If history and what the Buckeyes said this week are any indication, new offensive coordinator Kevin Wilson should bring tempo back to the Ohio State offense.
Wilson came to Ohio State this offseason after six years as the head coach at Indiana, where his teams regularly ranked among the Big Ten's best (top five every year from 2012 to 2016) in total offense.
Zach Osterman of The Indianapolis Star, who covered the Hoosiers throughout Wilson's tenure as head coach, said those offenses played with no shortage of tempo.
"One of the maybe early criticisms of his offense was at times it moved too fast," Osterman said. "There have been years where, with his best offenses, it would just be breakneck pace. So he is very, very high speed when he wants to be."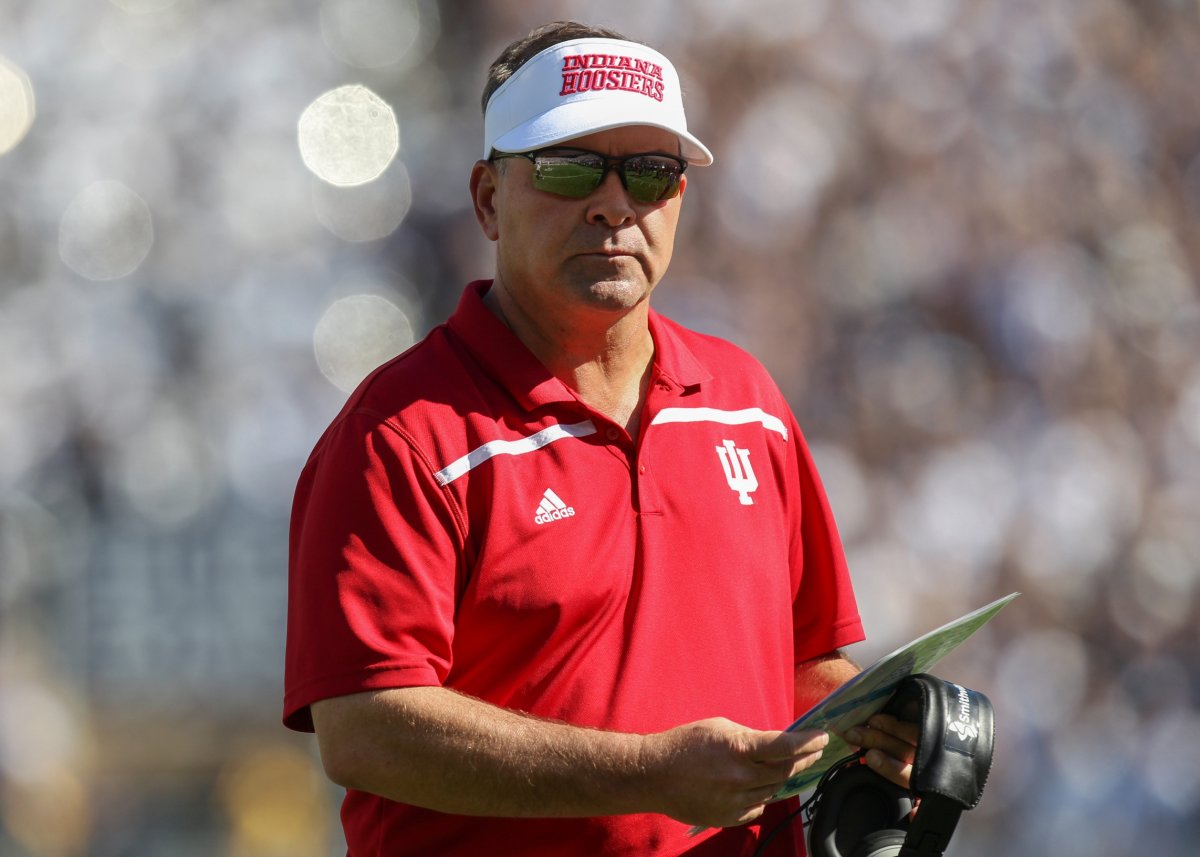 While Wilson wasn't the offensive coordinator at Indiana, the Hoosiers' offensive scheme was considered to be his. Wilson took a hands-on approach to coaching that side of the ball in both practice and games, Osterman said.
Before he arrived at Indiana in 2011, Wilson was the offensive coordinator at Oklahoma, where his units regularly ranked among the best offenses in college football. Wilson's best Oklahoma offense came in 2008, when the Sooners led the Football Bowl Subdivision with 51.1 points per game and ranked third nationally with 547.9 yards per game. Not coincidentally, that was the same year Wilson implemented the up-tempo, no-huddle offense, according to Berry Tramel of The Oklahoman.
"Defenses had little clue how to stop it," Tramel said. "Wilson's ability to install such an up-tempo offense and have it thrive immediately was impressive."
Wilson has continued to use that no-huddle, up-tempo offense ever since.
"I don't really remember a time a Kevin Wilson offense ever huddled not out of a timeout," Osterman said of Wilson's years at Indiana. "I'm sure it happened once or twice, but it would be rare."
As Bob Stoops' offensive coordinator at Oklahoma, Wilson had "virtual carte blanche" over the Sooners offense, Tramel said. As the head coach at Indiana, Wilson was able to call the shots as he desired. Wilson's offense could change at Ohio State depending on how much influence Urban Meyer retains on that side of the ball. Ohio State's head coach indicated Monday, however, that Wilson will have as much autonomy over the offense as any of Meyer's assistants have ever had.
"He's the first established offensive coordinator I've hired, so that comes with it," Meyer said. "He's good for what we were lacking, and that's back to the tempo that Tom (Herman, former Ohio State offensive coordinator) was so good at."
That doesn't mean Wilson will push the gas pedal to the floor all the time. Meeting with the media for the first time this season on Thursday, Wilson referenced an adage attributed to legendary UCLA basketball coach John Wooden – "be quick, but don't hurry" – to describe the controlled aggression he wants his offense to play with.
"It's not like you're frantic," Wilson said. "It's no different than playing up-tempo basketball. You still got to execute, you can't throw it away. So what you're trying to do is get in a rhythm and you're trying to maybe get the defense on their heels, you're trying to get those guys maybe not doing as much, but you still have to execute.
"You don't want to rush, but you want to go fast. So it's learning how just to play within yourself at a reasonable tempo."
How fast the Buckeyes move on each snap will depend in part on play calls and situations within games. It could also depend on which players are on the field and how well each of those players grasp Wilson's up-tempo offense over the course of fall camp. Wilson says he does not target any specific number of seconds between plays.
"The more complicated the scheme, the more complicated the language, the more you make a player think, then the slower you have to get," Wilson said. "Some plays take time, other plays fast. Even a fast-break basketball team doesn't fast-break all the time. And there's going to be some certain times in some certain games where you got to slow it down because of the dynamics of where you're at in the half or where you're at in the game. I like to kind of go as fast as we can, but we got to be smart."
"You don't want to rush, but you want to go fast. So it's learning how just to play within yourself at a reasonable tempo."– Kevin Wilson
Osterman said he believes Wilson's offenses at Indiana moved at a more consistently fast pace when he had more experienced offensive players. Osterman said the Hoosiers' offense slowed down to some extent last year because his offensive personnel was not as strong as it had been in some previous years, while Indiana's defense was better than it had been in previous years. Wilson is looking for inexperienced players to step up for offensive depth, while Ohio State's defense is expected to be among the best in the country, so both of those factors could have an effect on how fast the Buckeyes move.
All of that said, Ohio State fans should get the return to tempo they've been craving with Wilson leading the offense.
Ohio State's offensive players, including quarterback J.T. Barrett, are happy about that too.
"I think at times we got away from that (playing with tempo), and that's part of who we are," Barrett said. "That's what Coach Wilson and (co-offensive coordinator Ryan) Day, with the programs they've been at and organizations they've been a part of, they're going to enhance that and make sure that stays consistent."
Buckeyes center Billy Price also expects the faster-paced offense to make a big difference.
"I think the tempo with which we play is a lot faster, which puts the defense in a very challenging position because you can't rotate guys in as fast, you can't make adjustments and different alignments depending on our formations," Price said.
As the two players who will be directly responsible for how quickly the ball gets snapped, Barrett and Price have their sights set on executing Wilson's up-tempo vision.
"The key would be when the referee moves behind me and gets behind me, it's time to snap the ball," Barrett said. "I think that's kind of what we want."