COLUMBUS – There's no quarterback controversy in Columbus this year.
While some Ohio State supporters are anxious to see Joe Burrow and Dwayne Haskins play after an underwhelming season for J.T. Barrett last year, Ohio State isn't even considering the possibility of benching their fifth-year senior starter.
For Burrow and Haskins, that means they're competing to be Barrett's backup. But that doesn't mean they aren't preparing like they could have the opportunity to play.
"Whether I'm going in with the ones, the twos or the young guys, it's just like I'm going in there and I'm thinking I'm the guy," Haskins said Monday. "It's just having that mentality that one day I will be the guy, but I'm just going to keep playing that way in practice."
More than halfway through fall camp, Ohio State hasn't given any indication whether Burrow or Haskins leads the race to be the No. 2 quarterback. True freshman Tate Martell is also competing for playing time, but Ohio State coach Urban Meyer says the true competition for the backup spot right now is between Burrow, a redshirt sophomore, and Haskins, a redshirt freshman.
Both Burrow and Haskins believe they are pushing each other to be better this offseason, but they aren't solely focused on competing with one another. Instead, they are focusing on preparing themselves – and their fellow quarterbacks – to be ready to play if they are called upon.
"It's not even competing with Joe," Haskins said. "It's just like, the starting quarterback, what is that like here at Ohio State? And right now it's J.T., so what we're doing is competing with J.T. every day. You go to Ohio State, you think about Troy Smith and everybody else that played quarterback here, it's like 'What's the standard?' and that's what we try to compete with every day."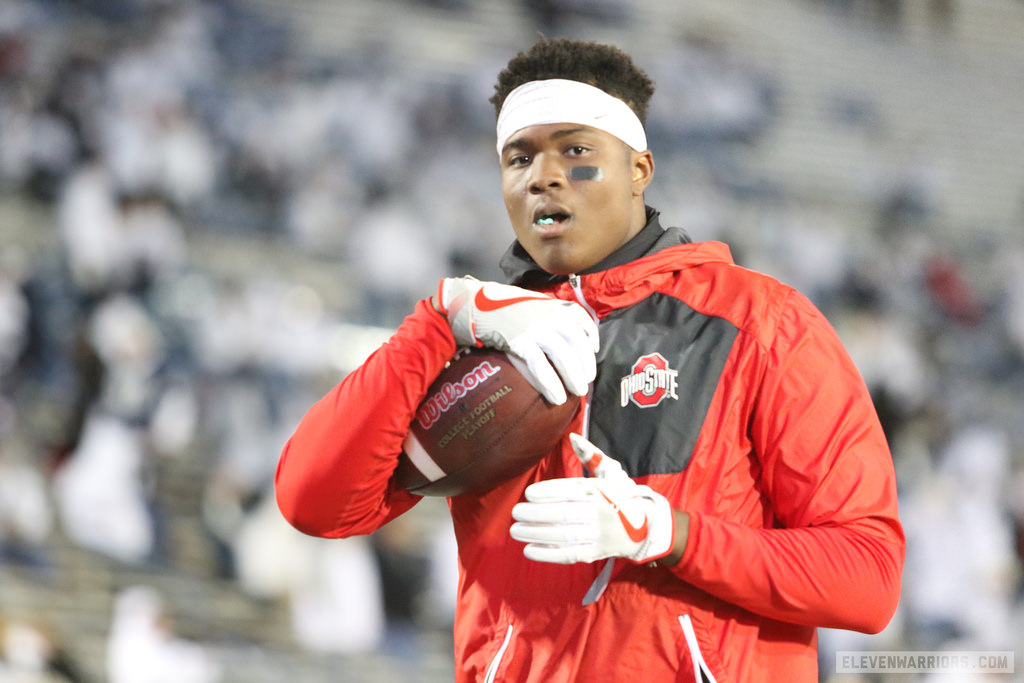 Burrow says that no matter which quarterback is on the field in practice, the other quarterbacks try to learn from him and/or help him if they can.
"What happens is the quarterback will go in, and we'll all stand behind him," Burrow said. "If they make a mistake, we'll try to help them. We'll see what they see, talk about it, see the defense, talk about the play – all that kind of stuff."
That's not to say, though, that the quarterbacks aren't trying to prove they belong on the field. Burrow said the quarterbacks are "competing their butts off" while trying to make each other better. Haskins echoed those thoughts.
"All three of us are competing really hard, and if one of us goes in we're gonna root for each other," Haskins said. "But the ultimate goal is to be the starter one day, so that's what we're all competing to be."
The No. 2 quarterback this season will likely be the leader in the clubhouse to start next season, so that's certainly an incentive in this year's competition. Both Burrow and Haskins, though, say they are trying to focus on the upcoming season.
"I try not to worry about it too much," Burrow said in regards to the 2018 quarterback competition. "I just try to play my best in practice every day, learn more in the meetings than I have before and try to get better."
"All three of us are competing really hard, and if one of us goes in we're gonna root for each other. But the ultimate goal is to be the starter one day, so that's what we're all competing to be."– Dwayne Haskins
While it's uncertain whether Burrow or Haskins will play any meaningful snaps in 2017, they're smart not to look past that possibility. After all, they only have to look back to 2014 to see the example of Cardale Jones, who went into fall camp as Ohio State's third-string quarterback but ended up leading the Buckeyes to a national championship after Braxton Miller and Barrett both went down with season-ending injuries.
Meyer invoked that example during his press conference on Monday, and Haskins says the coaches have frequently reminded the quarterbacks about that example.
"They always preach about 2014 and just how everybody was ready to play whether it was Braxton or J.T. or Cardale," Haskins said.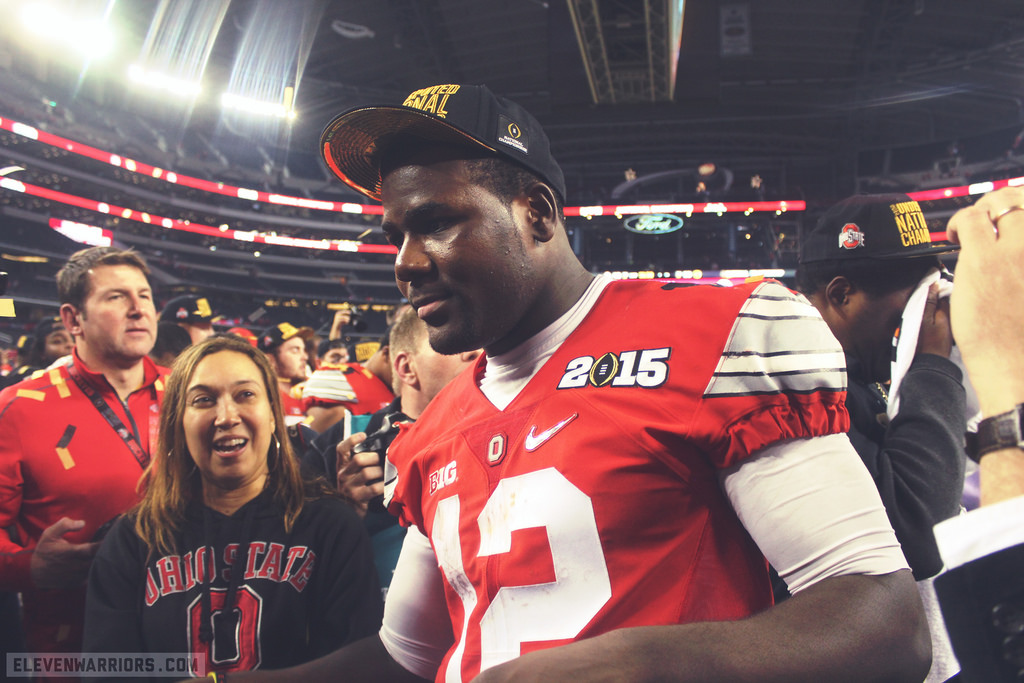 Because of that fact that they could be called into action at any time, quarterbacks coach Ryan Day says there is no difference between how he evaluates a potential No. 2 quarterback versus how he evaluates a starter.
"You're evaluating, and you want to find the best guy to go on the field whenever that opportunity presents itself," Day said. "So yeah, you're using the same criteria."
Day says he has been impressed with what both quarterbacks have done this offseason. He describes Burrow as "a really smart, tough football player."
"He's a coach's son, really smart in the classroom," Day said of Burrow. "Good skill set, and has a good control of the field when he is out there ... He is a guy that can manage the offense and run the offense that's got a strong arm."
Day said Haskins is "very talented throwing the football."
"He gets the ball out of his hand very quickly," Day said of Haskins. "Extremely accurate. And he's coming along in the classroom as well. Doing a nice job learning the offense and picking it up."
Barrett has also been impressed with both potential No. 2 quarterbacks. He says Burrow is a really good decision-maker.
"I think since (Joe) has been here the longest, he is getting there with me as far as the understanding of our offense and different things, not just what we do as quarterback and receivers in the passing game, but also in the run game, understanding what our O-line's doing, whether it be right tackle, guard, things like that," Barrett said. "And just managing plays ... that's part of being a quarterback is understanding there's going to be bad plays, but how can you manage that and not turn the ball over and do what you can."
Barrett says Haskins is more of a risk-taker, but is impressed with the younger quarterback's arm talent.
"He has kind of a mentality almost like Cardale," Barrett said. "His arm can take him places, but then also too, it can get him in some tight spots as well. But when he is set up to throw the ball and he is in rhythm, he can rip it."
All of that said, Day says he isn't ready to decide on a No. 2 quarterback because of everything that could still happen as fall camp continues to play out.
"Every day, you never know what's going to happen," Day said. "Someone could roll an ankle tomorrow. Anything can happen. So we're just right now focused on one day at a time, getting better."
As such, all of Ohio State's quarterbacks will continue competing and continue preparing as though they are going to play.
"We have to be ready when our number is called and whenever the time comes," Burrow said.