"I hope they play well and Ohio State still wins."
It's the boilerplate statement you'll get from virtually every self-identifying Buckeye fan who attended college elsewhere whenever the alma mater shows up on the schedule against Ohio State. Bowling Green grad? I hope the Falcons play well and Ohio State still wins. Toledo grad? I hope the Rockets play well and Ohio State still wins. Miami grad? They're going to get annihilated but hey at least it's almost hockey season. Well, it's almost boilerplate.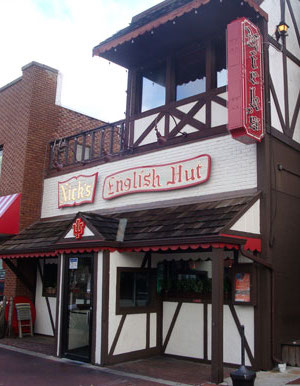 My undergrad years were split between Columbus and Bloomington. The credits seamlessly transferred between the schools, the education I got from both universities — and the experience of living in two vastly different towns — was invaluable and many of the friends I made on both campuses are still friends today and should remain that way indefinitely.
IU was great. I only attended two full football games while I was on campus, which were the two when Ohio State came to town (my attendance at tailgates right outside the stadium was much higher). I had student season football tickets every year, which was required by the athletic department in order to be eligible for the basketball ticket lottery. If you won that, you gained entry into four (4) games where you would sit high up in the Assembly Hall rafters for two, sort of lower but still high up for one and on the floor for one. This is how basketball schools operate.
Attending two Big Ten universities almost simultaneously can be jarring, especially when you're at Indiana for the semesters and then home for the summer quarter at Ohio State. I once had history and criminal justice classes with Butler By'not'e, Cedric Saunders, Calbert Cheaney and Alan Henderson within the same month. I sat in both student sections as a student of both schools during the same calendar year. I owned clothing from both universities and have been a member of both alumni associations. I was a far less polarizing Lawrence Funderburk, basically.
Life experiences and academics aside, the biggest impact attending IU had was that it converted me into an Ohio State football fatalist. Everything I missed about home was elevated, enhanced and channeled through the football team. To this day, whenever the Buckeyes play Indiana and people ask me who I'm rooting for, I've got a comforting and familiar boilerplate answer.
I hope the Hoosiers play well and Ohio State still wins. Let's get Situational.
---
THE GLITCH
Ohio State's curious clock management at the end of the NIU game — when it was snapping the ball with over 20 seconds left on the play clock rather than simply mercy-killing the most blah win of the Urban Meyer era into oblivion — brought back some…fond memories? 
The most recent opponent to keep things tight with the Buckeyes late in the game was the Alabama Crimson Tide. They had first down on their own 15-yard line with about 200 seconds between them and an invitation to the national championship game and Tom Herman dialed up what eventually became a t-shirt shirt thousands of you have purchased.
Cardale Jones was supposed to send Evan Spencer in motion, where he would release on the snap and look for a defender to block at the second level. Jones didn't allow more time to drip off the play clock, nor did he send Spencer in motion noticeably enough. The ball was snapped with 15 unnecessarily conserved seconds remaining. 
Spencer suddenly found himself flat-footed and to Nick Vannett's left, instead of right. He was forced to improvise:
"Cardale was waiting for a while and I kept looking at him like, 'Dude, why are you taking so long? I was supposed to go motion in and he checked the play and I just didn't see it. So I went in there and I was kind of in a panic mode, so I tried to get in there as fast as possible and then I noticed Zeke hadn't hit the hole yet."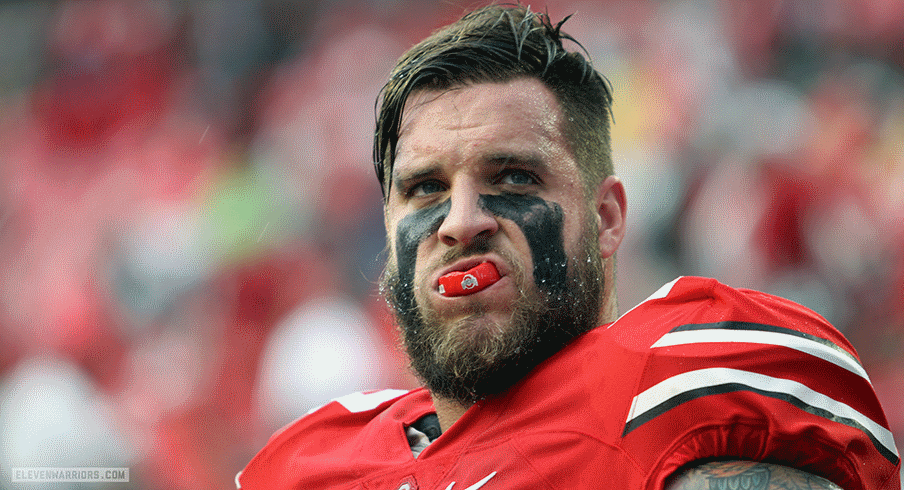 Everyone has slept through their alarm clock and it's an awful feeling when you wake up. Spencer had just done so on national television. Thing is, he was the only one who knew what he had done.
"I saw the guy I was supposed to hit, so I went in there and tried to clean him up to the best of my ability. Then I felt two dudes hit me and all of a sudden the crowd's going wild and I looked up and (Zeke) was gone."
Had Spencer gone in motion as he was supposed to, his blocking angle against Shaun Dion Hamilton would have been of the in-your-face variety, locking him up or sending him backward.
But because he was in a panic mode, sailing in from the outside, Spencer's hit on Hamilton blindsided him from the right and his flying body cut teammate Trey DePriest's legs out from under him. This promptly converted Hamilton into the most celebrated projectile of Ohio State's season since Joey Bosa callously threw running back Akeel Lynch into his own quarterback to end the Penn State game.
With Alabama's Will and Mike linebackers both erased by one accidentally out-of-position wide receiver, the former Missouri state champion in the 100m, 200m, 110m hurdles and 300m hurdles turned a poorly-executed, prematurely-snapped, clock-killing football play into an 85-yard track meet he would never lose. Game over. 
Ohio State's CURIOUS LATE-GAME clock management IS NOT A NEW PROBLEM.
…or so we thought, because Alabama got the ensuing kickoff and scored in six plays and 86 seconds — in part because Ohio State's secondary forgot how to play Prevent. The Buckeyes got the ball back and burned just 26 seconds off the clock, going negative-10 yards in three plays before punting. Curious clock management? It's not new.
Alabama and Northern Illinois are the only two teams to recently force Ohio State to burn clock and in both cases it was, frankly, a fiasco. The Buckeyes hadn't been in this kind of situation since the 2013 Wisconsin game, when disastrous clock management indirectly led to Christian Bryant losing the rest of his season. They won all three games in spite of it. Losing Bryant effectively turned the defense into the liability it became.
This will happen again and looking at the schedule it will probably occur later than sooner. If the Buckeyes snap the ball with a couple of seconds remaining instead of dozens it will be the simple fix Ohio State's clock-killing offense needs. If they don't, here's hoping someone is out of position enough to make another accidental season-defining play.
---
The Classic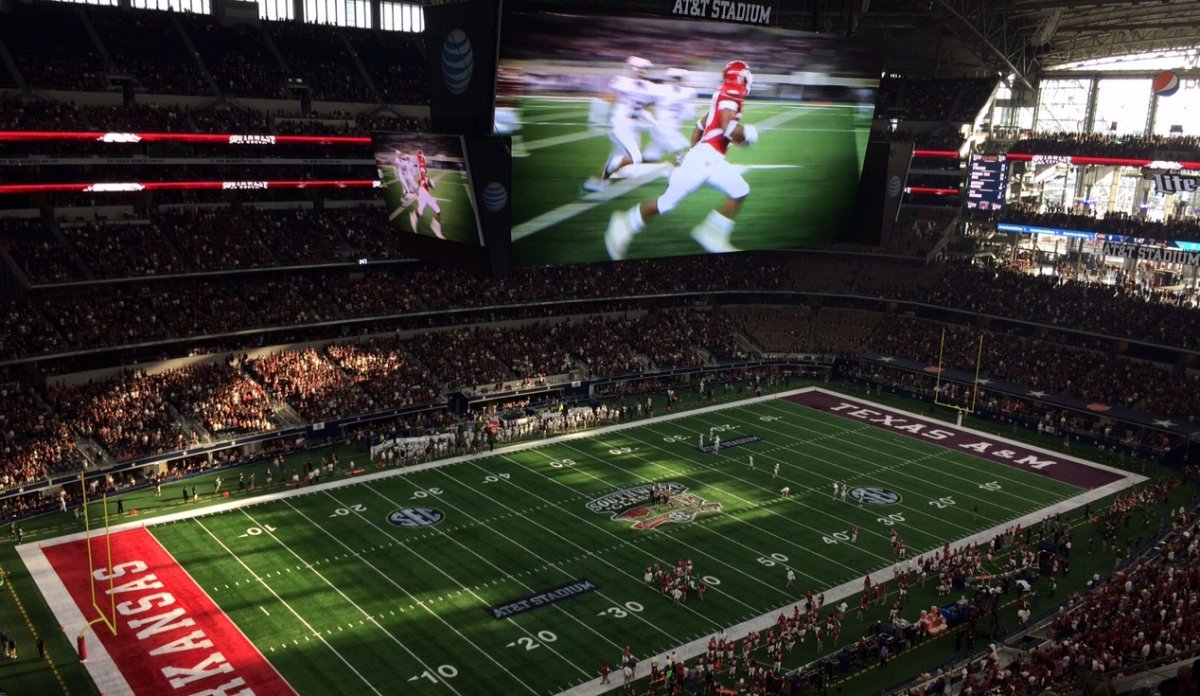 Neutral site regular season college football games jettison several integral components of what makes the Saturday experience undeniably superior to what's consumed on Sundays. You lose the campus setting, most of the students and all of the ambiance. 
Saturday I was in Arlington for the Arkansas-Texas A&M game played at Jerryworld, the same $1.2B building where Ohio State recently went 0-6 recovering fumbles and still beat Oregon by a comfortable 22 points. The Southwest Classic, as it's been #branded, has been held there annually since 2009 and, with a two-year exception following A&M's defection to the SEC, will continue to be played there for the rest of the decade.
Jerryworld is about three hours from College Station, just under six from Fayetteville, and wildly convenient for Aggie and Razorback alums who live in the Metroplex but aren't interested in getting back to where it all began.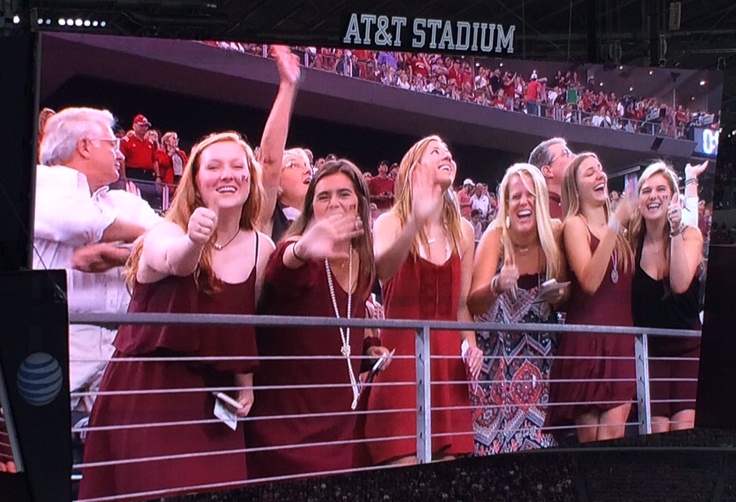 There are no campus charms like Hog Haus or Dixie Chicken at Jerryworld; just the Comprehensively Sterile Granite and Glass Strip Mall Experience NFL billionaires finance largely through your tax dollars. Bless your heart, Arlington. And you too, billionaires.
That's not to say this particular neutral site game was a corporatized dud, because it still had thousands of Razorback and Aggie enthusiasts invading the surveyed, perfectly paved and zoned tailgating areas surrounding the stadium. This is a rivalry between legacy SWC titans with over a century of tradition, regardless of the setting. It should be excellent anywhere.
The Southwest Classic game day begins with the uniform: men were wearing denim and clean button-down shirts in various shades of red checkers, with either a pig or a TAMU logo patch. Women were wearing jumpers or little dresses; either black or in those reds. When reddish teams play each other it always gets confusing, so on Saturday in Arlington the cowboy boots on the women was your best clue as to which side of the stadium they would be entering. 
There were no Bama bangs or neckties to be seen. College Station and Fayetteville zealots arrived at Jerryworld and diffused their hospitality on each other through kickoff. Cell signals were unencumbered by 100,000+ people simultaneously using their phones. These palaces are comfortable, equipped and aren't without opulent perks. Basically the opposite of your old dorm room.
AT&T Stadium does not have a single bad seat in it, even among the higher altitude sections, largely because the HD jumbotron that hovers above the field is bigger and nicer than anything you'll ever have in your house. The only downside to that screen is Arkansas was playing that day, and occasionally the stadium camera zoomed in on its loquacious and diaphoretic head coach.
That's a lot of Bert. Maximum Bert.
The Aggies prevailed in overtime and everyone streamed out of the stadium into the dark, vast nothingness of Arlington, which was fine. Bielema had just lost his third straight game after complaining about Ohio State's schedule, which made the #karma that evening especially rich. Experiencing it in College Station or Fayetteville would have made it even richer.
---
The Bourbon
There is a bourbon for every situation. Sometimes the spirits and the events overlap, which means that where bourbon is concerned there can be more than one worthy choice.
Kirk Herbstreit's broadcasting career began as a sideline reporter. Numerous other sports anchors and play-by-play professionals also started out between the benches with the hope of parlaying that experience into meatier broadcasting roles; others are content to make the sideline their permanent media home.
There's only one sideline reporter working today with solid fallback career - in case the whole reporting thing doesn't work out - and he is perfectly content to stay on the field. He is also worthy of having a cocktail named in his honor, in part because he's literally named after one.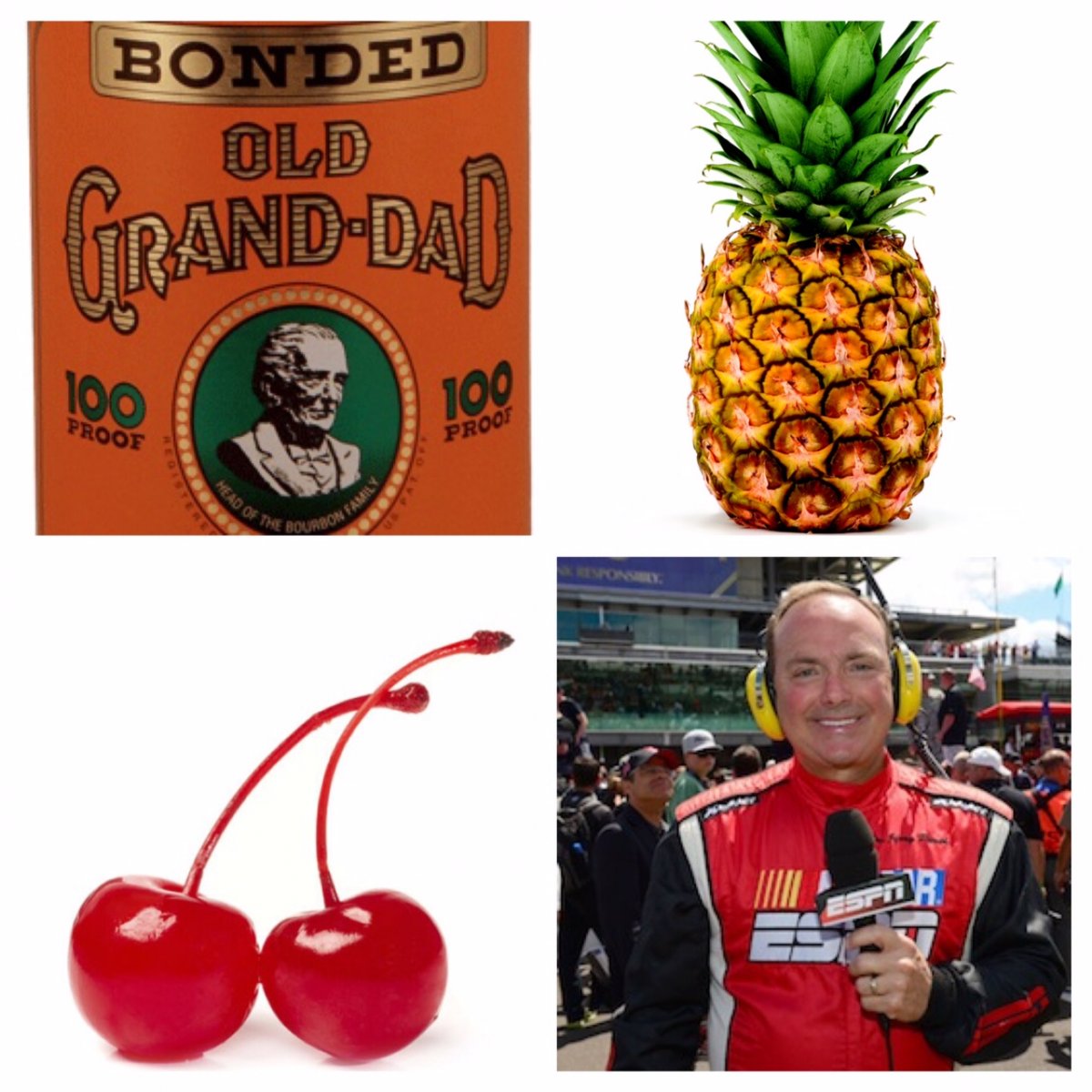 Actual physician Dr. Jerry Punch will once again be working the sidelines in Bloomington this Saturday. His resumé includes - aside from a doctorate in medicine - having played quarterback for Lou Holtz (and Bo Rein) as well as several decades roaming the sidelines for both college football games and the pits at NASCAR races.
Dr. Punch is also gifted outside the fields of medicine and media: He was critically-acclaimed on the big screen when he nailed the role of a NASCAR reporter named "Dr. Jerry Punch" in Days of Thunder co-starring Tom Cruise; a character role he literally spent 37 years studying to perfect. 
He seems like a sweet, thoughtful man. Today we will honor him with a sweet, thoughtful bourbon-based libation.
Take a whole pineapple, cut off the top, core it and remove the fruit exactly like this. Immediately put the chunks in the freezer. The hollowed-out pineapple husk you're left with is your mug. You'll have some juice puddles on the surface wherever you disemboweled this thing and you definitely want to keep that. Pour it back into the husk.
Now you need maraschino cherries, which you shouldn't buy because those usually suck. Buy regular cherries and maraschino them yourself quickly and easily, the same way you would with a Scarlet Sour for the Rutgers game. Go ahead and throw those in the freezer next to the pineapple chunks. We're making punch here, which shares an optimal serving temperature with revenge.
"I'm more afraid of beinG nothin' than I am of beinG hurt."– Tom Cruise as Cole Trickle in the Dr. Jerry Punch movie "Days of Thunder"
Dr. Punch is in his sixties and as informative as ever, which means we'll need Old Grand-Dad - the storyteller of bourbons that you can find in any liquor store on the knee-high shelf. Who exactly was Old Grand-Dad you ask? He was a guy named Basil Hayden. Yes, him. 
I don't have a formal education in food chemistry or mixology but I know from experience that Grand-Dad bonds very well with fresh fruit juice and is priced to justify cocktailing it. You might say Basil has a very Punchable face.
The Dr. Jerry Punch

| Ingredient | quantity |
| --- | --- |
| Old Granddad | 4 shots |
| Pineapple | One whole |
| Cherries | Handful |
| Lemon | One squeeze |
| Time | < 30 minutes |
Pour yourself a neat Granddad and enjoy that first while you chat with the friends of your choosing. Your storytelling will be better because of it, as Grand-Dad is thoughtfully engineered to elevate your oratory-fu. As you lie about your SAT scores and past sexual conquests, those pineapple chunks and cherries are turning into the tastiest ice cubes your freezer has ever made.
Once it's Punch time, pour Grand-Dad into your juicy pineapple husk. Complement it with frozen pineapple chunks and fresh maraschino cherries, and if you didn't talk long enough for them to freeze - add some crushed ice. As they thaw they'll take on the Grand-Dad. 
Squeeze a lemon into the top and drink it. Enjoy your Dr. Jerry Punch.
---
The Playoff
Despite being the cheesiest, narco-fueled decade in American history the 1980s are still somehow adored by nearly every one of our citizens.
In music the death of disco ushered in dance, new wave and Euro pop. Adult contemporary continued its death grip on the middle aged and glam rock bands appeared in hordes where only Kiss had previously existed.
We had electronic music, rock music, foreign music, a saxophone solo that was required by international law to appear in the middle of every single song that ever graced the radio - and big-ass hair. And there was one band that captured it all: INXS.
INXS was what happened if you played every 1980s song at the same time. It could be the reason why the War on Drugs was started in the first place. Thanks guys.
Go Bucks. If you make it to Nick's this weekend, my brick is located to the left of the front door and my beer bucket is...probably not hanging behind the upstairs bar anymore. Alas. Time and change, friends. Time and change.