There's no easy way to put this: everybody in the Big Ten hates Ohio State, and they pretty much always have.
Years ago, everyone united in hatred of Bret Bielema, a loudmouthed git whose Wisconsin teams were never quite good enough to justify his boorishness. He's gone now, driven off by a cocktail of greed and ego, and the Buckeyes are public enemy No. 1 once again.
It shouldn't be a surprise that Ohio State is so despised. The last 15 years have bred privilege, and every team has a reason to hate the Buckeyes.
The unpopular teams in the Big Ten hate the Buckeyes because of their media exposure. Urban Meyer has been on ESPN – two years in a row – to use its "car wash" platform as free publicity for the Buckeyes. Inane as questions about LeBron James and Tim Tebow may be, Minnesota or Maryland would do just about anything for that kind of national attention.
Michigan State hates Ohio State because the Buckeyes are the media's preseason favorite to win the Big Ten. The Spartans beat every Big Ten opponent by double digits and strangled Stanford in the Rose Bowl; they return most of their offense and some defensive stars. In most years they'd be the prohibitive preseason favorites. Not this year.
Penn State hates Ohio State because familiarity breeds contempt, and the James Franklin hire is a copy of the Urban Meyer hire. Both came from the SEC; both are high-energy, cutthroat recruiters; both left their last school with bad blood. The difference is that OSU hired Meyer first, and the PSU inferiority complex can't handle that.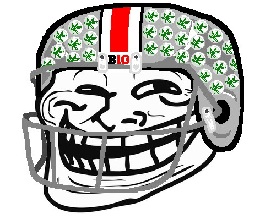 Iowa hates Ohio State because they get better bang for the buck from Meyer than they do with Kirk Ferentz, who is being paid $4 million a year to go 7-6. Indiana, Purdue and Illinois hate Ohio State because they'd kill to reach Iowa's level.
The poorest schools (Rutgers) hate Ohio State because they have the most revenue, and the richest schools (Northwestern) hate Ohio State because they would never be so ostentatious as to put a waterfall in the locker room. Never mind that Rutgers' $60 million annual budget is enough to compete on, or that Northwestern has a quarter-billion dollar building project. Ohio State's locker room waterfall might as well be a secret volcano lair.
Nebraska hates Ohio State because our fans aren't as civilized as theirs, which they will point out in their polite, passive aggressive way. And Michigan hates Ohio State for the best reason of all: 110 years of beautiful tradition.
The entire Big Ten hates Ohio State because the Buckeyes challenge their complacency. When Urban Meyer came to the Big Ten, he challenged the other schools to improve their recruiting. Meyer ended the facade of the gentleman's agreement and pulled in top-5 recruiting classes. It's the kick in the pants the Big Ten desperately needed, and it's something they have never forgiven him for.
In short, everyone hates Ohio State. And that's okay! Hatred can actually make both sides feel better. Haters do it by finding an outlet for their anger, and the hated-on do it by laughing at their feckless rage.
If Buckeye fans want the power that accompanies being the one who knocks, they have to accept scorn as well. Don't just accept Ohio State's villainy; revel in it.