The grumbling began while Urban Meyer's Florida house was still on the market.
It came from Bret Bielema, understandably sour about his 1-5 record against Ohio State:
"I can tell you this, we at the Big Ten don't want to be like the SEC - in any way, shape or form."
Everyone's favorite karmic SEC doormat has since upgraded his career from regional to national punchline, but at the time our Leaders Division buddy Bert had just climbed out of Barry Alvarez's lap to piously whine about Meyer plucking Cleveland Heights OL Kyle Dodson from his still-unsigned recruiting class. 
He was most likely referring to a make-believe gentleman's agreement Meyer violated by pursuing a non-binding verbal commitment. However, in being deliberately ambiguous Bielema also insinuated a) Ohio State - having just notched Repeat Offender status with the NCAA rulebook - was cheating conspicuously enough that he could talk about it openly, or b) Meyer had negatively recruited against Wisconsin in landing a lifelong Ohio State fan who had been ignored by the previous regime.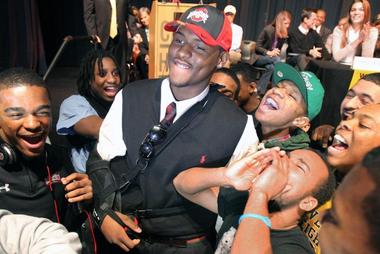 Note that negatively recruiting against Wisconsin is nearly impossible: The entire state cherishes football, beer and encased meats like no other in the history of the republic. The Badgers have turned falling backwards into Pasadena invitations into an art form, and Madison is a college football postcard overflowing with character and opportunity.
Kind of like Columbus. Not terribly different from Ann Arbor, either.
Urbs most likely took a conventional approach to recruiting Dodson: He called him. Dodson is a lifelong Ohio State fan who committed to Wisconsin two weeks after Jim Tressel's resignation - and 24 hours after finally receiving a scholarship offer from the slow-playing Buckeyes. Meyer was still an ESPN employee who had boned up on the nation's top recruits while covering National Signing Day for the network earlier that Spring.
Given the timing and circumstances, surely Bielema used the uncertainty surrounding Ohio State to his advantage. Program uncertainty is not only fair game, it's a gift for adversaries. 
Last week this tale surfaced, allegedly from a dinner Meyer held with some prospects being pursued by both programs: [Ed: Just assume (sic) applies to every single sentence]
(Urban) spent 10 mins negatively recruiting Michigan. He mentioned how Michigan went 7-6 because of the coaching and the coaches lack of trust in the players. Michigan coaches would have you believe it is the players fault. He mention that OSU recruits the SAME TYPE OF TALENT that Michigan recruits and he won 24 straight games while Michigan goes 7-6. My friend told me he hit Michigan HARD and was very good about it, apparently the recruits was eating it up. Afterwards, he played a 8 min video of Suckeye players crushing Michigan players.
Let's pretend the story is true: Your knee-jerk reaction (not just your knee, btw) is that Meyer's zing was accurate, as 1) Ohio State and Michigan do generally recruit the same players, and 2) only one of those teams lost six games last year. The why part seems to be informed speculation at best from a guy who has won a hell of a lot more games than he's lost.
Omitting Rich Rod's disastrous final two classes as the source of this infection is more than fair, as Ohio State has suffered quite a bit of bad luck in this area as well. [points angrily to fullbacks and tight ends being hastily switched to linebacker and tackle very recently]
That's negative recruiting. It's clean, it's candid and it's efficacious when executed confidently - but it's negative. It might even prove to be as effective as what Brady Hoke's staff pulled off in 2011.
Program uncertainty is not only fair game FOR ADVERSARIES - it's a gift.
Around the same time Dodson verballed to Bert, numerous other Ohio State targets who were also being courted by Michigan began repeating an eerily similar refrain to a Buckeye recruiting beat desperately trying to piece together OSU's strategy while the program was in limbo. That refrain was an almost-boilerplate response that curiously included the words Lane and Kiffin
Kiffin had confidently told prospects two recruiting classes earlier the NCAA would be kind to Southern Cal once it ruled on the Reggie Bush scandal, and they shouldn't be concerned about pledging to the Trojans. Once sanctions including a two-year postseason ban and a reduction of 30 scholarships were levied, it appeared Kiffin was either ill-informed or deliberately misleading recruits.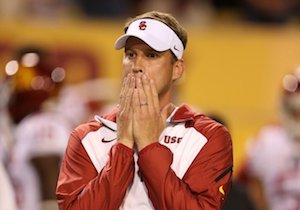 That precedent - despite the fact that USC's transgressions dwarfed Ohio State's and the respective athletic departments were in total contrast to each other vis a vis NCAA cooperation - was the indirect sales pitch Michigan coaches used that summer. It was quite brilliant, actually - all they did was lay out the dots and the recruits predictably connected them.
It didn't even matter if Tressel's coaching refugees were reassuring recruits as Kiffin had (that's not what they were selling, as Tyvis Powell's commitment right after Tressel's resignation will tell you). All that mattered was the asteroid from the Kiffin Cautionary Tale was now certain to crater Columbus.
Recruits began mentioning Kiffin when talking about Ohio State. Kyle Kalis went from solidly reaffirming his long-time commitment to Ohio State to decommitting for Michigan and actively recruiting other players to join him - inside of a couple weeks.
And just like that, Ohio State wasn't fighting a battle against program uncertainty. It was fighting against certainty, as in the inevitability of being decaptitated to the point of requiring a generation to recover. The incessant media coverage only gave credibilty to Michigan's warning.
That's negative recruiting too - though less clean than suggesting the coaching leading Michigan to a 7-6 record in the 2013 Big Ten wasn't all that great - but negative nonetheless. It's still the most dazzling stunt pulled off by Hoke since his arrival. Personally, I have a hard time not admiring the strategy.
Recruiting is sales, and sales is the dark, delicate art of persuasion. Urban's gastric reflux potentially fatal heart condition and penchant for abrupt retirements are fair game in a competitive sale. Columbus is cold. The Big Ten is down. All of this could backfire, by the way. Just how devastating was that Kiffin asteroid, anyway?
Negative recruiting is part of every sales cycle across every industry, except it's usually referred to as competitive selling.
The largest threats get hit harder and more frequently than the anklebiters, which makes negative recruiting an insincere form of flattery: Hoke is in over his head, is hopelessly out of touch and has a clumsy helicopter AD who meddles with football decisions. The vast majority of football players are tucked into the safe harbor of General Studies.
None of it is especially vicious or untrue, but no one is going to buy a product only because the alternative looks uglier.
Ask anyone who's ever carried a sales bag if addressing your threats is off-limits: Failing to gracefully frame your competition can be the catastrophic failure of your pitch, which means negative recruiting cannot be a stand-alone tactic or strategy. It's simply an important part of either selling effectively or losing the business.
And losing - be it on the field or in living rooms - isn't allowed at Ohio State or Michigan. Good luck falling backwards into the Sugar Bowl, Bert.