Everyone with a pulse and an Ohio State fandom had their concerns and questions heading into this season, and rightfully so.
Would the pressure be too much for Ryan Day? What kind of culture will he bring in the locker room and will it be successful? Will Justin Fields be the real deal? What's going on with the bullet position? What about the tight ends? Will that defense be as atrocious as last year? Can't get much worse, right?
Prior to the season, Eleven Warriors detailed five specific questions the Buckeyes would need to answer in terms of how it would affect recruiting and how Ohio State targets would be viewing the program. 
We look through our recruiting lens once again to give you a midseason update on how Ohio State has answered those questions:
Ryan Day's performance in first season as head coach
Well … it really could not be going any better, and right now, there aren't many concerns. 
Day has the Buckeyes playing at a dominant level as arguably the best team in the country, and he's building on his strong reputation among national recruits.
Those are the same recruits that have been impressed by Day's knowledge of them without ever having met them yet. There have been two instances in which a national recruit told Eleven Warriors they introduced themselves to Day, and Day instantly said he knew who they were and proceeded to rattle off the player's name and a fact or statistic about them. This surely happens in a lot of places and programs, but it's still worth mentioning.
What's more important, though, is Day's culture building. The winning is coming, and with it is a program being run at a professional type of level.
What I mean is that Day walks and talks like an NFL head coach, obviously thanks to his NFL coaching background. 
He is somewhat Nick Saban-like in that regard. They are two of the coaches in college football who resemble what you see on Sundays. 
That coaching style and his pro background are only helping him land recruits who have NFL dreams, and perhaps even more important than those factors are who Day has surrounded himself with…
Can new coaches develop as well as they recruit?
In the short term, Day's assistants have been successful in developing players in their respective positions. 
Let's start with the name that has burst onto the scene and is the name that comes out of almost every recruit's mouth.
Al Washington, if it weren't for being on a staff with Larry Johnson, Brian Hartline and Jeff Hafley, might be getting even more attention as a top-flight recruiter, and he's already getting a lot of it. He's been awesome on the front lines for Day, and it's likely it will be directly due to him that the Buckeyes land some big names in 2021 and 2022 – even if they aren't defensive players.
"If I was a defensive player, and I met Coach Washington and I was from Ohio or anywhere from around Ohio, done deal, you know what I mean?" 2021 linebacker Reid Carrico told Eleven Warriors. "It's Ohio State, and all the guy wants to do is win. If that's what's really important to you, he's your guy."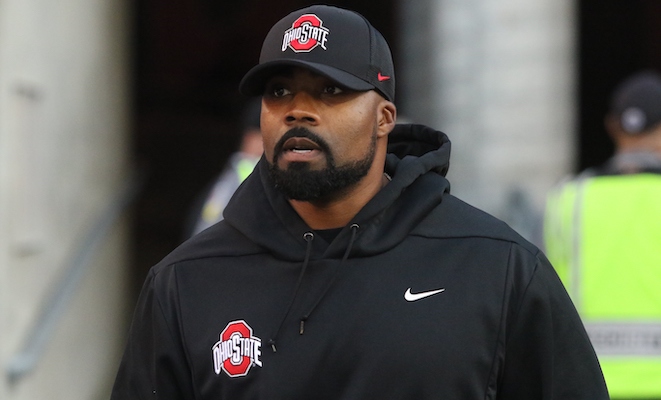 "(Washington) is one of those rare people that can get more out of a guy than you can normally get out of him," 2021 defensive end Jack Sawyer told Eleven Warriors. "Him and (defensive line coach Larry) Johnson are both one of those guys. I love Coach Washington, and he's gonna be one of the greats."
On the field, Washington has helped turn last season's putrid linebacking core into a solid one. There are still concerns about the play of Tuf Borland, but Washington still has some time to help Borland grow in his role while continuing to build Baron Browning and Malik Harrison into potential studs and helping Pete Werner develop into a dependable linebacker who made the "bullet" position a non-factor through six games.
Hartline and Hafley, meanwhile, have been superb. I made Washington the centerpiece here because I don't think he's getting quite enough credit compared to the two Hs, whom we have talked about ad nauseam.
Of course, we're talking about them ad nauseam because they deserve it. 
Hartline still has work to do to get the most out of Garrett Wilson and Chris Olave, but they are on the right path to becoming pros. One of the most interesting situations on offense over the next couple years will be how Hartline develops those two and the 2020 receivers class. 
And Hafley might not be at Ohio State very long. He may very well get his own head coaching job or an NFL gig if he keeps it up. He's been phenomenal on the field. No need to get too in-depth here. His players all season have talked about how he's helped them become better in all areas of the game. 
This quote from Jeff Okudah after his two-interception game against Nebraska probably details it best:
"He's changed my whole career and the perspective through which I see the football game."
What exactly is the bullet?
For the second half of the season, this is going to continue to be among the most talked-about storylines. 
Brendon White was supposed to be the blueprint for what the Buckeyes' future linebacker-safety hybrid position would look like. Thus far, however, White has been almost non-existent. Much of that is due to Werner's ascension, and perhaps White sees increased usage against better, faster teams – but that was supposed to happen against Nebraska. 
Ohio State's own coaching staff seems to not really quite know what they want to do with the bullet position, either, and they're still figuring out the kinks. 
Kourt Williams was recruited to fill in at bullet, and 2021 and 2022 targets Jaylen Johnson and C.J. Hicks, respectively, seem to fit that same mold right now. 
The future of the position remains to be seen, but six games is too small of a sample size to start making a realistic judgement on that. When it comes to the bullet, this is still a wait-and-see approach.
What role will tight ends have in the passing game?
So far, limited – at least in terms of their targets. They've actually been on the field more often than in recent years due to the positional depth.
Day talked about the h-back/slot receiver position at Monday's press conference, and when addressing that situation, he talked about how the Buckeyes have really liked what they've seen from their 12 package – one running back, two tight ends, two receivers.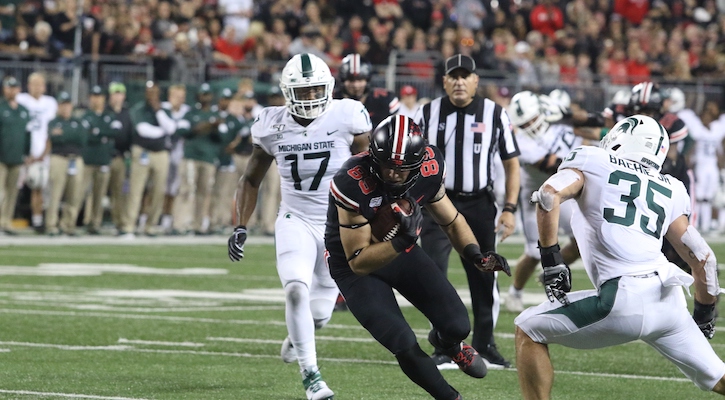 After Jeremy Ruckert caught two touchdown passes in season-opening win over Florida Atlantic, the Buckeyes went two straight games without a catch by a tight end. 
Since Ruckert's four-catch game against the Owls, Buckeyes tight ends have accounted for just five of the last 93 catches by Ohio State players (5 percent) with one touchdown by Luke Farrell in five games. 
The talent at the position is certainly there – Ruckert was the No. 2-ranked tight end nationally in 2018; Farrell was No. 7 in 2016; Jake Hausmann was No. 4 in 2016. 
But it looks like things will remain the same as they have in the past as far as tight end usage in the passing game is concerned, and it looks like it could affect recruiting at the position. 
Jordan Dingle, one of the Buckeyes' top targets at the position in 2021, told Eleven Warriors one of the factors weighing into whether or not Ohio State would be the place for him is its usage of tight ends. Others, like Hudson Wolfe, are sure to have that same mentality. 
If the Buckeyes offense doesn't need tight ends to produce in the passing game – and, hey, they're humming along right now so there's no need for a chance – then it's not much of an issue. But it's worth pointing out that it could affect the level of talent they bring into the room in the future.
How running backs play out in 2020, within the room
No deep dive into the 2020 running back recruiting situation here. We've done that plenty and will be doing that much more in the near future, as it will be touched on in tonight's Hurry Up. 
After a subpar year to his standards as a sophomore, J.K. Dobbins is bouncing back this season and is producing as one of the best in the nation. If he keeps this up – and, frankly, probably even if he doesn't – he's most likely going to declare for the 2020 NFL Draft. 
Whether or not Dobbins would have a productive, successful season was at the top of everyone's list of questions coming into 2019, and he's answered the bell. 
"I'm trying to follow J.K.," 2021 running back Corey Kiner told Eleven Warriors. "He's one of my idols. When I've been to Ohio State, I've been to the running backs room, and I saw how he took leadership of the meeting. Coach (Tony) Alford sat down, and J.K. stood up and was telling all the guys what they needed to do and what they didn't do.
"I just noticed that because you've gotta notice your mistakes too. He wasn't afraid to let other guys know what they did wrong and what they needed to fix."
What's been almost as important as Dobbins' production and increased leadership in getting recruits' attention has been the growth of Master Teague III. He's developing into a potential stud, and he's becoming the main reason the Buckeyes don't need to go into panic mode if they don't get a 2020 running back. 
Tony Alford and company still need to attack the position hard in 2021, but we'll get into that more in tonight's Hurry Up.