There were two watershed moments for Reid Carrico during his recruitment to Ohio State. 
One was the moment he knew Columbus was the place he needed to be; the other was when it truly set in that he had made the right decision to commit.
The first came when he visited for the Buckeyes' 42-0 victory over Cincinnati. The atmosphere in the Shoe was overwhelming, and he committed soon after. 
The second, however, is one that has already become a common theme among defensive players set to join this program, and it's one that will become even more commonplace in the next few years.
"About three weeks ago, on a Thursday night, I sent Coach (Al) Washington my film, and we were talking on the phone for about an hour and 45 minutes, and he was 100 percent breaking it down for me," Carrico, the nation's No. 3-ranked junior linebacker, told Eleven Warriors last week. "I felt like I was already one of his players. He's got everything to do to get ready for Indiana, and he's spending all this time with me so obviously I mean something to him. And he means something to me. I respect him like crazy, and that's why I felt so good (about committing).
"That night he was supposed to be breaking down Indiana's passing game, and he was sitting there talking to me. That's kind of when it really clicked — when the idea really hit home that, hey, that's my coach right there."
Washington, the Buckeyes' first-year linebackers coach, has a way with high school recruits that is something special. He has a way with a lot of people, really. 
Even at a noon press conference on a Tuesday afternoon at the Woody Hayes Athletic Center, an ice-cold stare can even make media members want to strap on a helmet and go to war. 
"He's got something that makes you wanna run through a brick wall. He can just get stuff out of you that you never knew you had in you."
Whether in the Woody or as he paces around Ohio Stadium during pregame warmups, the Columbus native carries with him an intense demeanor.
"He's got something that makes you wanna run through a brick wall," said Jack Sawyer, the nation's No. 2-ranked junior. "He can just get stuff out of you that you never knew you had in you."
And that's coming from a guy who hasn't even been able to officially call Washington his coach yet. Imagine what will happen once he hits campus. 
"He's one of those rare people that can get more out of a guy than you can normally get out of him," Sawyer said. "Him and (defensive line coach Larry) Johnson are both one of those guys. I love Coach Washington, and he's gonna be one of the greats."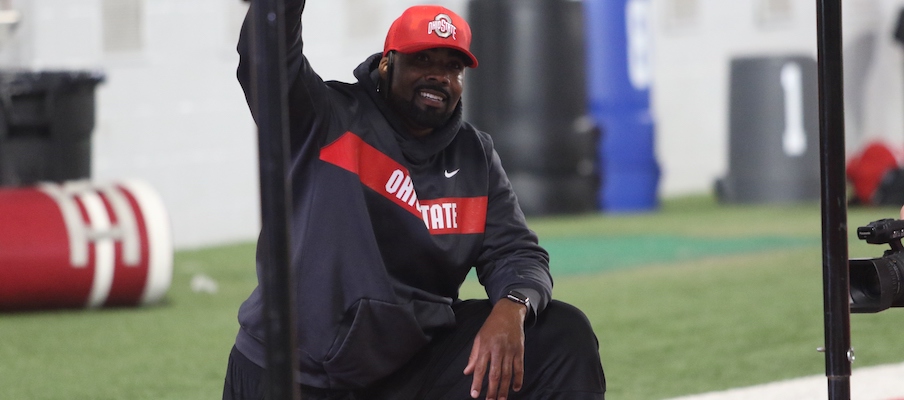 As the defensive line coach at Cincinnati in 2017, when Sawyer was a freshman, Washington called Sawyer on his way to school and gave him his first scholarship offer.
"I remember that, and ever since then we've had a great relationship," Sawyer said. "I remember that, and then he went to the Team Up North. Then he ended up here, thankfully. Coach Washington is a great young coach. I think he's gonna have a great career in coaching. He may even one day be a head coach, but he's a great linebackers coach. Another great guy who can get you going."
Washington spent a year as Michigan's linebackers coach in 2018, but when both he and Buckeyes co-defensive coordinator Greg Mattison left Ann Arbor for Columbus, it marked a key moment in Sawyer's recruitment.
"Him and Coach Mattison were recruiting me pretty hard from the Team Up North," Sawyer said. "When both those guys came, it made it that much easier of a decision. Having that relationship with Coach Washington, and him just being on staff too, it definitely helped out."
The majority of the committed and uncommitted recruits Eleven Warriors has spoken with over the past few weeks list Washington as the main assistant influencing them. They see a lot of themselves in the 35-year old. 
"I'm kind of the same guy as Coach Washington," Carrico said. "I get hyped up, and I'm a high energy guy. Coach Washington is too so it just seemed like I could feel myself in him. He's a motivator. He's gonna give you a pat on the back when you do good, and he's gonna tear your heart down when you do wrong. He does it the right way."
Washington and Wisconsin outside linebackers coach Bobby April are the two coaches Carrico says he felt closest with during his recruitment. Washington ended up serving as one of the main tiebreakers in getting Carrico to commit to the Buckeyes.
It wasn't the first time Washington helped win over a top linebacker, as Washington has also landed commitments from four-star linebacker Cody Simon and three-star linebacker Mitchell Melton.
It probably won't be the last time that happens, either.
"If I was a defensive player, and I met Coach Washington and I was from Ohio or anywhere from around Ohio, done deal, you know what I mean?" Carrico said. "It's Ohio State, and all the guy wants to do is win. If that's what's really important to you, he's your guy."