The Hurry Up is your nightly dose of updates from the Ohio State football recruiting trail, keeping tabs on the latest from commits and targets from around the country.
No. 3 defensive end Adeleye's interest in Ohio State at an "all-time" high
Ohio State already has one five-star defensive end for the class of 2021, as Jack Sawyer will be coming in with the potential to be a game-wrecker.
But imagine a scenario where Sawyer is able to line up opposite another premium defensive end, locking down the line's bookends, giving opponents fits in the outside run game and both coming around the edge to suffocate Big Ten quarterbacks.
That scenario is very much in play as five-star defensive end Tunmise Adeleye, the nation's No. 3-ranked strongside defensive end out of Tompkins High School in Katy, Texas, has the Buckeyes at the top of his list along with Alabama, Auburn, Texas, Texas A&M, Florida and LSU.
"I would say my interest level in Ohio State is heavy – most likely the highest it's been all-time," Adeleye told Eleven Warriors. "Gameday atmosphere in Columbus, in conjunction with an experienced defensive staff that can elevate my game to an elite level, and a school of high academic (standing) are what are standing out about Ohio State."
Adeleye, the country's No. 25 overall junior recruit and No. 5 junior in Texas, says he has not had much communication with Sawyer, who is the nation's No. 2-ranked overall recruit and the No. 2 strongside defensive end.
But getting a chance to play with another top-three defensive end is something Adeleye has thought about.
"As far as Jack is concerned, we don't really talk," Adeleye said. "But I've studied a lot of other D-linemen in my class in order to see what their strengths are and what they do well, and he's definitely a guy I'd consider elite. I could see myself playing with him in the future."
Adeleye visited Columbus in June for Ohio State's Junior Day, where he began to develop a relationship with Larry Johnson, and that's where the Buckeyes really started to become a major player in Adeleye's recruitment.
A strong, imposing and versatile presence who can dip around the edge and bull rush, Adeleye narrowed his list to 10 schools shortly after that trip, and he continued to nurture a relationship with Johnson once Sept. 1 hit and the Buckeyes' coaches were able to contact him directly.
Those connections have blossomed, and it has Ohio State sitting in a great position with Adeleye as his recruitment begins to pick up.
"My relationship with Coach Johnson and the Ohio State staff thus far has been great," Adeleye said. "Every single time I see a notification from any member of the staff on my phone, I become extremely happy because I know what Ohio State means to me personally. The relationships between my family and the staff have grown in the sense that communication is more frequent ever since September 1st."
Adeleye is only a junior and has not gone on any official visits, but he has gone on unofficial visits to Alabama, Auburn, Texas and TCU. 
He hasn't set up one up yet but says he will be taking an official visit to Ohio State – most likely in the spring.
"Timetable is fluid. I'm still trying to get to as many visits and places as I can before I make a decision, but the (Ohio State) staff is doing really well as of right now," Adeleye said.
Watts "couldn't pass up" chance with Buckeyes
Ohio State did not sign a single cornerback in the 2019 recruiting class. In the end, it helped the Buckeyes' future defensive backs recruiting as it wound up being a heavy factor into Ryan Watts III committing to Ohio State on Sunday.
"The fact that they didn't sign any corners last class gives me an opportunity to compete to play early at The Ohio State, so I really couldn't pass that up," Watts told Eleven Warriors.
Watts sees himself as more similar to Jeff Okudah than Shaun Wade, and he has big goals for his Buckeyes future.
"It's my goal to start at least by year two," Watts said. "I just gotta keep working with my trainers on my flight skills with Clay Mack, who works out Jamal Adams, Jeff Okudah and most of the Ohio State DB's."
Watts had been committed to Oklahoma since April and never saw himself anywhere but Norman with Lincoln Riley's program. But then the tables turned.
"Really, I wasn't buying into Ohio State at first," Watts said. "I was really solid on OU, but I heard (Ohio State) out."
Now, the Buckeyes have themselves a top-level talent with the potential to be one of its best defenders in the future.
Secondary coach Jeff Hafley is not able to comment on Watts yet, as coaches can't talk about specific players until they sign. But Hafley was asked at Monday's press conference how he feels overall about his 2020 group of defensive backs, a handful of players that now consists of Watts, Clark Phillips III, Lejond Cavazos, Lathan Ransom and potentially Cameron Martinez, depending on whether he ends up playing safety or wide receiver.
"I feel good about them now. We'll see when they get here," Hafley said. "I'm confident. I don't think we would've recruited guys unless we really thought we could do something special with them.
"Whenever we evaluate a guy on tape, whoever it may be, we wanna feel good. I mean, this is Ohio State. We wanna say 'this guy's got a chance to be special,' and if we don't, then we're not gonna recruit them. We feel all those guys that we are recruiting right now can be special."
Dingle a top 2021 TE target
Jordan Dingle visited Ohio State for a one-day camp in June, and the four-star junior tight end – at the time ranked as a three-star prospect – earned an offer from the Buckeyes. 
Since then, Dingle's recruiting profile has steadily risen, and he is now the country's No. 9-ranked tight end in 2021 and the No. 2-rated recruit in Kentucky.
Dingle made a second visit to Ohio State for the Buckeyes' 76-5 win over Miami (Ohio) on Sept. 21, and his relationship with Ryan Day, Kevin Wilson and Trey Holtz has gotten even better since then.
"I talk to Coach Day and Coach Wilson on the phone about once every one to two weeks and text with Coach Wilson and Coach Holtz almost daily," Dingle told Eleven Warriors.
Ohio State had planned on taking two tight ends in the 2020 class, but three-star Joe Royer will be the lone senior tight end coming to campus unless something completely unforeseen happens. 
The Buckeyes' two-tight end plan is now being pushed back to 2021, where Hudson Wolfe is the team's top target. 
Wolfe, however, is high on Alabama, and a commitment to Nick Saban's program soon would not be a surprise.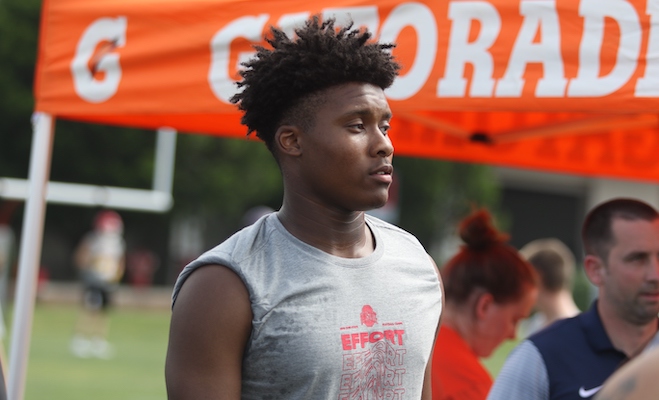 That leaves Dingle as one of the top tight ends on the team's board, and he knows he may have some company at his position.
"(The coaches) have told me they are looking for two tight ends in my class," Dingle said.
Dingle says he is still "very interested" in coming to Ohio State. 
When asked about the Buckeyes being hit-or-miss with their usage of tight ends as pass-catchers in their offense, Dingle said the program being known for that is not a factor, "but the usage of the tight ends is a factor."
Collins enjoys Clemson visit
We discussed the recruitment of 2021 four-star receiver Beaux Collins at length last week, as it looks like the nation's No. 2-ranked junior receiver's decision could come down to Ohio State or Clemson.
This weekend, Collins visited Clemson and told Eleven Warriors "it was amazing," and it's easy to see why.
GLAD TO SEE YOU GUYS HAD A GREAT TIME THANK YOU SO MUCH @ClemsonFB FOR TAKING CARE OF @beaux_collins AND HIS AMAZING FAMILY APPRECIATE YOU @Trevorlawrencee #ALLIN pic.twitter.com/lZmMF10vhh

— TERRY BULLOCK (@TERRYBBULLOCK) October 13, 2019
Clemson has one of the most raucous atmospheres in college football, right up there with Ohio State, which Collins got to see live during the Blackout against Michigan State.
Collins met Dabo Swinney and Trevor Lawrence during a visit in which he saw the Tigers blow out Florida State.
The recruiting impact of a noon game
Ohio State's huge matchup with Wisconsin is officially set for a noon kickoff Oct. 26 and will be televised on Fox.
It will be interesting to see if the early kickoff time for the Wisconsin game, which many believed would be in the primetime slot, will have any effect on how many national recruits will visit that weekend. The primetime kickoff time for the Michigan State game seemed to help bring recruits from further away to Columbus, so the earlier kickoff time could have an impact on the number of recruits who visit that weekend.
Either way, it has to be disappointing for the Buckeye coaching staff. After such a successful recruiting weekend against Michigan State that provided an electric atmosphere, they were probably hoping for a repeat against Wisconsin in what could be a top 10 matchup between unbeaten Big Ten teams.
The atmosphere will probably still be great, but the early kickoff might let some steam out. The Buckeyes, though, still have another marquee home game on the schedule against Penn State on Nov. 23.