The Hurry Up is your nightly dose of updates from the Ohio State football recruiting trail, keeping tabs on the latest from commits and targets from around the country.
Atmosphere impresses Ohio State commits, targets
I get it. And I know you get it. 
The atmosphere at the Ohio State-Michigan State was bumping. Electric. Intense. Whatever word you want to insert for [awesome]. 
I talked about it all week leading up to Saturday and a bit yesterday. But it really was important. 
Stadium atmosphere and fan engagement may not be the No. 1 — maybe not even No. 2 — item on the list in recruits' decisions on coming to a certain program, but it is still a major factor for most of them. That's why it was so crucial for this weekend to not be a dud. 
It wasn't. 
Although the light show wasn't quiiiite the level I had been hoping for, it was still pretty cool. The fireworks were also a nice touch, and the crowd noise brought it. 
Sent my last tweet prematurely. I got my light show (sorta) pic.twitter.com/Y2nfzcJeac

— Zack Carpenter (@Zack_Carp) October 6, 2019
I finally had my own personal moment where it sank in that Holy hell, I'm covering high-level college football. 
It happened at the 1:53 mark of the second quarter. Michigan State was about to face a third down trailing by two touchdowns, and the Shoe exploded. My ears were pulsing, and I looked around the stadium, a bit awed. 
That moment lasted about three seconds before I, ya know, got back to doing what I get paid to do as the gameday photographer. 
My point is that it was a goosebumps-inducing atmosphere even for me, and I'm never going to actually be playing for Ohio State despite a solid 40 and great hands.
But these guys are going to be playing for the Buckeyes — might even be stars one day — and they were able to soak in the moment:
This weekend only confirmed that this place is the best university in the world. Cant wait to join the brotherhood...

— Kyle McCord (@kylemccord16) October 6, 2019
The atmosphere at Ohio State is something different....

— Lej (@lejondaryy) October 6, 2019
Awesome experience @OhioStateFB! It was great to finally meet @ryandaytime @OSUCoachKDub @CoachTreyHoltz @etwill21 #GoBucks #DevelopedHere pic.twitter.com/kmpfKUHB4M

— Hudson Wolfe (@HudsonWolfe80) October 6, 2019
Kyle McCord and Lejond Cavazos have been committed to the program for a while.
But for someone who less than 24 hours prior had committed to the program, seeing what the Shoe can bring further cemented that this is home for at least the next three years.
"It was a primetime night game and a blackout. It was a huge game for us and a huge win," four-star 2020 defensive lineman Jacolbe Cowan, who could be a key contributor in the trenches for the Buckeyes, told Eleven Warriors. "It definitely reaffirmed and showed me why I made that decision."
Key word there to pick out? Us. Cowan hasn't even enrolled yet — like many other senior Buckeyes commits, he will be coming to campus in January — but he already feels like he's part of the program. 
On Saturday, the state of North Carolina's No. 7-ranked recruit was able to get a snapshot of what life will soon be like.
"Overall, everything about Ohio State when it comes to football and Ohio State being such a traditional team and a top-tier program, it played a major role (in my decision)," Cowan said. "I wanna play on the big stage and be able to play in those huge games so that was a big thing for me as well."
Cowan, who also visited Ohio Stadium for last year's Michigan game, walked through the tunnel with two of his soon-to-be teammates, Gee Scott Jr. and Jaxon Smith-Njigba. 
The relationships with each of them, plus Cavazos, Darrion Henry and Paris Johnson Jr., to name a few, started awhile back and further developed this weekend.
"Darrion is like a brother to me," Cowan said of the fellow 2020 four-star defensive lineman. "Those are my guys. They're all like brothers to me. The majority of us will be early enrollments, so I can't wait to get to work with those guys. We met over the camp circuits and through social media. Ever since then, we kept in constant communication. 
"When they found out I committed, I feel like we got even closer. We all have great relationships, and those will grow. All those guys, man, we're just cool. We're real close-knit."
Cowan says they each have different personalities — Smith-Njigba and Scott are a bit funnier and looser, while Johnson is a bit more serious — but they will mesh well.
"Each person's different," Cowan said. "They each come from different places and different states. There's a lot of big differences. Of course, you have your funny guys and your serious guys. Everybody gets along well.
"Paris is a really serious guy, but we joke all the time. That's my dude. I can't wait to go against him in practice. We'll definitely make each other better if I match up with him."
Styles set for Notre Dame visit
Lorenzo Styles Jr. was one of the many junior recruits in Ohio Stadium on Saturday, and it was no surprise to see who he walked in beside.
Styles and Jack Sawyer have been friends since they played each other in football as kids growing up in Ohio. The two crosstown high school rivals — Sawyer goes to Pickerington North, Styles is at Pickerington Central — have a tight bond, and that could end up being a deciding factor in whether or not Styles commits to the Buckeyes.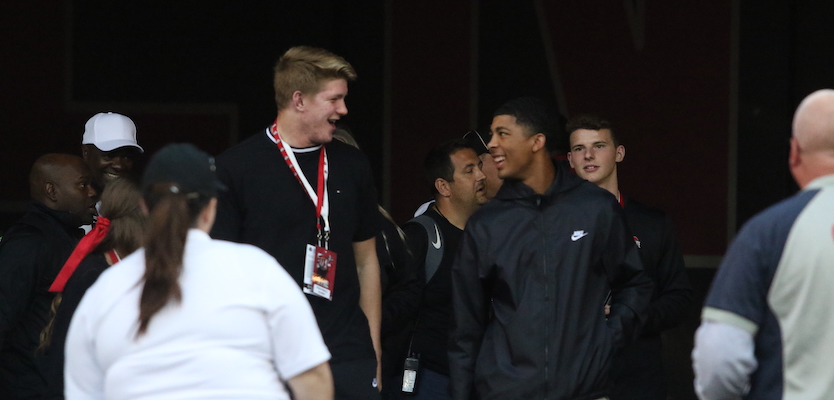 It's a one-on-one race between Ohio State and Notre Dame for Styles' commitment, and Styles will now be able to compare the two a bit more side-by-side, as he's set for a second visit to South Bend this weekend for the Irish's battle with USC.
Styles has also visited Auburn and Penn State, but it's going to come down to the Buckeyes or the Irish. He has visited nearby Ohio State five times, and this will be his second Notre Dame visit.
Buckeyes make Steele's top 10
Bryce Steele announced his top 10 schools on Saturday, and the Buckeyes were included among them.
All my life Ive been the underdog, consistently doubted, with Gods blessings here are my top (recruitment still open) pic.twitter.com/8lqA1Fd1J6

— Bryce Steele (@bryce_steele1) October 6, 2019
Steele, a three-star 2021 safety, is ranked as the state of Virginia's No. 13-rated prospect, the country's No. 36-ranked athlete and No. 375-rated overall recruit nationally. 
The 6-foot-1, 195-pound safety, who could also play as a linebacker/bullet at Ohio State, is being recruited by Al Washington and Larry Johnson.
Honors for McCord, Cavazos
Both McCord and Cavazos earned an honor this weekend that they announced on Twitter:
Beyond blessed to be invited and committed to the 2021 All-American Bowl. @AABonNBC pic.twitter.com/YWrojJRco0

— Kyle McCord (@kylemccord16) October 7, 2019
Blessed to be an All-American. pic.twitter.com/UwewVjuIG7

— Lej (@lejondaryy) October 5, 2019
Those awards only add to their recruiting profiles even further.