The Hurry Up is your nightly dose of updates from the Ohio State football recruiting trail, keeping tabs on the latest from commits and targets from around the country.
Stroud visit brings hype
One of Ohio State's biggest recruiting weekends of the year brought with it a heavy number of big-name targets from both the 2020 and 2021 classes.
None was bigger than CJ Stroud. 
Ryan Day has made it clear he wants a deep quarterback room, and with only two scholarship quarterbacks set to be on the roster next year, adding only Jack Miller will not be enough. That's why this weekend was so crucial.
Stroud, visiting from California on his own dime, was one of the first recruits onto the field Saturday, walking through the tunnel and onto the turf alongside his personal quarterback trainer Quincy Avery, who trained both Justin Fields and Dwayne Haskins.
Stroud was able to hang around a handful of his potential future passing targets, as receivers Julian Fleming, Jaxon Smith-Njigba, Gee Scott Jr. and Jayden Ballard all made the trip as well.
That's no small thing to note.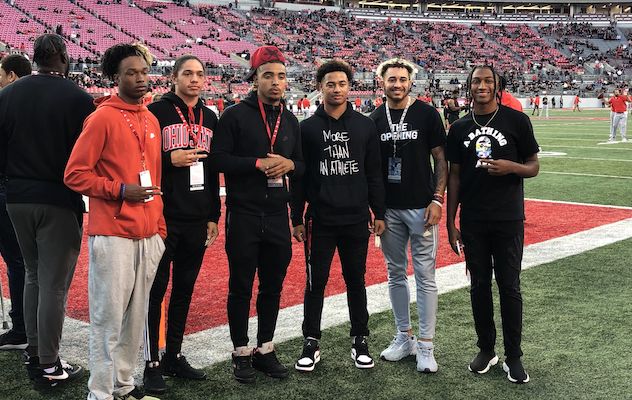 Stroud was already familiar with many of those Ohio State commits before this weekend as he played on the same 7-on-7 team with receivers Fleming and Scott as well as Miller and four-star corner Lejond Cavazos at Nike's The Opening Finals in June.
Ohio State recruits in the 2020 and 2021 classes have a very strong bond, especially among the position groups. It's one of the biggest selling points the program has, so with Stroud walking around and talking with those guys — Smith-Njigba was the one he seemed to be talking with the most — was important, as a bond with those receivers and Cavazos seems to have begun. He looked fairly comfortable before the lights kicked on and he saw Fields lead the Buckeyes to a 6-0 start.
Also, after Stroud's visit, the Buckeyes picked up a pair of Crystal Ball predictions to land Stroud. I know that Crystal Ball predictions don't always mean something, but I included that note because, well, I know how much you guys love predictions.
Bradford, Baron like what they see
The two biggest names, at least in the 2020 class, to come to Columbus were Kevontre Bradford and Tyler Baron. 
Neither Bradford nor Baron walked through the same tunnel as all of the other recruits, but each was in the building to see the Buckeyes' Black Out. After seeing Ohio State's rushing attack tear up one of the best rushing defenses in the nation, Bradford told Bucknuts' Bill Kurelic he came away impressed.
Baron, meanwhile, told Lettermen Row's Jeremy Birmingham that he liked what he saw as well, saying it was a "great visit" but that he still is going to hold off on making a decision. 
Keep an eye out as we continue to hear news about Bradford, Baron, Stroud and a potential commitment from Ryan Watts III.
Getting all four would lock down Ohio State's senior class and put it right behind Clemson in the class rankings.
Buckeyes leave Wohler impressed
He may hail from Wisconsin, but four-star 2021 safety Hunter Wohler loves what the state of Ohio has to offer. 
Wohler, the No. 2-ranked junior recruit in Wisconsin and the No. 8-ranked safety nationally in his class, was one of many highly rated recruits to come to Columbus for the electric Black Out game.
"I loved the atmosphere," Wohler told Eleven Warriors. "The whole town was rocking and the team just used that and it showed. The coaches are awesome. I love talking with them and growing the relationship we have."
Wohler, a 6-foot-1, 180-pound junior who holds offers from Wisconsin, Iowa and Michigan State, is a hard-hitting safety whom both Buckeyes defensive coordinators would love to welcome to the program.
"I'm closer with Coach (Jeff) Hafley and Coach (Greg) Mattison, and they both like my physicality and how I run the alley and how I play the middle of the field," Wohler said. "I've kept in touch with them a lot throughout the season recapping our games, and I just like what they have going over there."
This weekend was about building relationships with fellow players and coaches more than anything. That was the case for Wohler too.
"I didn't know many of the other recruits that were there but I talked with them a little just to get to know who they are," Wohler said.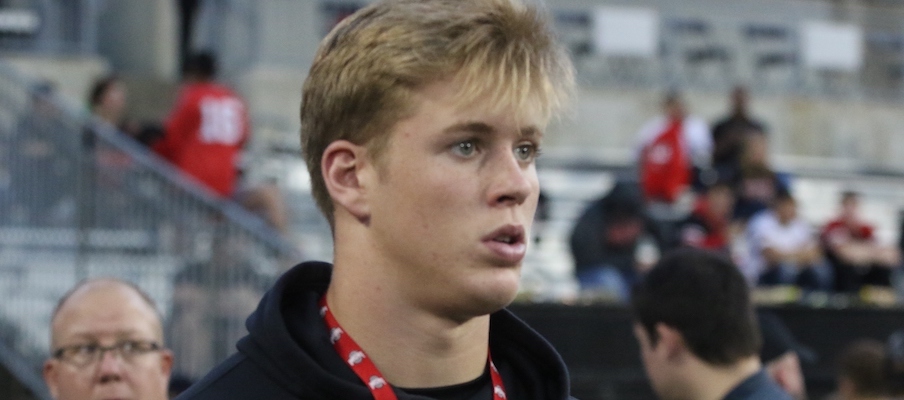 Wohler made the trip from Muskego, Wisc., with his high school defensive coordinator Ryan Lucchesi, who came away just as impressed with Day, Hafley and the rest of the staff.
"The Ohio State coaching staff really made us feel welcome," Lucchesi told Eleven Warriors. "Pretty special to play in front of that every home game. Personally, I've only been to Camp Randall as well. Both are electric."
Had an awesome experience in a rocking atmosphere in Columbus. Thank you to @ryandaytime and @CoachJeffHafley for having us out yesterday. Cant wait to grow in our relationship and get down again to visit #GoBucks pic.twitter.com/gNWiYZL7qO

— Hunter Wohler (@HunterWohler) October 6, 2019
Wohler was also able to compare the atmosphere of the Shoe to that of another program high on his offer list. It's one of the reasons he's excited for more visits, as he plans on visiting multiples times in the spring.
"It was very comparable to Wisconsin," Wohler said. "Both were alive and loud as it gets and both have great fan bases all around."