For the first time all season, Ohio State looked beatable for a while on Saturday night.
Considering that the Buckeyes still finished with a convincing win over a top-25-ranked team, are now 6-0 and are going into their first bye week of the season, that's not a bad thing.
Ohio State earned a 34-10 win over Michigan State on Saturday night, its sixth straight win by at least 24 points to start the season, and was better than its opponent in just about all phases of the game once again. The Buckeyes finished with more than 500 yards of offense for a fifth straight game while holding its opponent under 300 yards for a sixth game in a row. They rushed for 323 yards against a defense that had held its opponents to just 55.8 rushing yards per game in its first five games of the year, while holding the Spartans to 67 rushing yards themselves.
For parts of the game, though, the Buckeyes looked more human than they did in their previous blowout wins – particularly, their last four games against Cincinnati, Indiana, Miami (Ohio) and Nebraska, all of which they won by at least 41 points. 
Ohio State finished the first quarter of Saturday night's game with just 16 yards of offense, failing to even gain a first down on its first three possessions. The Buckeyes didn't score at all in the third quarter, when Fields threw the first interception of his Ohio State career. And for the first time all season, Fields and many of the Buckeyes' other starters stayed in the game until the end.
That gives the Buckeyes more film to critique and more legitimate reason to feel like they still need to improve as they get 12 days to prepare for their next game at Northwestern on Oct. 18.
"I think that we can learn a ton from this game," Ryan Day said after the game. "I think that this is a perfect opportunity to sit back and look at these six games, evaluate where we've gone, where we are and where we're headed. But this was the perfect game to kind of do that. Going against a really good defense with really good players and a really good quarterback, they exposed some things that maybe we got away with in the last couple of games. The best thing to do now is get on the film and work on it to get better."
The first quarter, in particular, was Ohio State's slowest start of the season offensively. Even when the Buckeyes took over possession inside the 30-yard line twice thanks to Michigan State fumbles, they were only able to take advantage for three points, settling for field goal attempts on both of those possessions – one of which Blake Haubeil made and one of which he missed.
Just as they've shown the ability to do in every game this season, though, the Buckeyes eventually had an explosive burst, scoring 24 points in the second quarter – the fifth straight game in which Ohio State has scored at least 21 points in the second quarter, and the seventh time the Buckeyes have scored at least 21 points in any quarter this year – that gave them a comfortable 27-10 lead at halftime. That enabled them to win decisively despite scoring just seven points in the second half, as their defense shut the Spartans out in the final two quarters.
"That was not a good quarter of football on offense," Day said in reference to the first quarter. "When you're playing against a team like Michigan State, things like that are going to happen. You have to respond, and I thought we did."
"I think that we can learn a ton from this game."– Ryan Day after Ohio State's 34-10 win over Michigan State
Right tackle Branden Bowen believes the offense will be better going forward for having had to bounce back from that slow start. As Fields ultimately threw for 206 yards and two touchdowns and added another 61 rushing yards and a touchdown, and Dobbins ran for 172 yards and a touchdown, they demonstrated to their teammates that they can be relied upon to lead the way even when things don't go their way at first.
"The only way you grow is through adversity," Bowen said. "The leaders of the offense really emerged, you see who's really going to help you get going, and it really brings the offense together as a whole – really the team as a whole – and just strengthens our connection."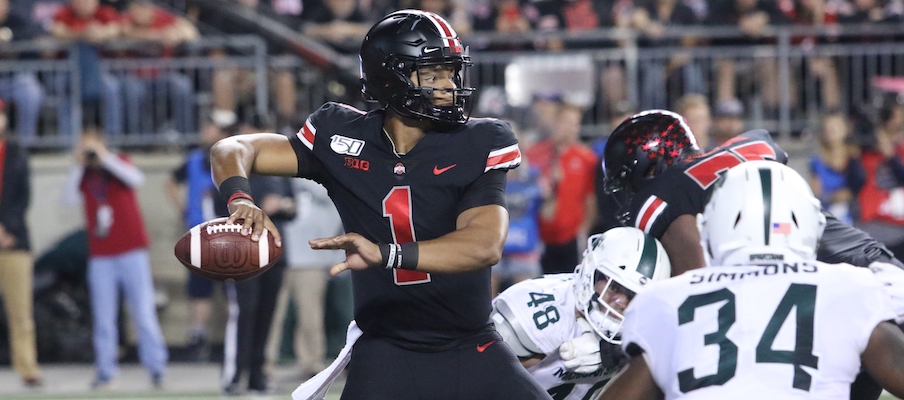 Ohio State's defense caught some breaks, too. Michigan State's second fumble in the first quarter was a gift that came on an errant option pitch, and Davon Hamilton was in the right place at the right time to recover it. In the second quarter, Brian Lewerke missed a wide-open third-down pass to Cody White that likely would have gone for a touchdown; instead, the Spartans had to settle for a field goal. And on the opening possession of the third quarter, Michigan State drove all the way to Ohio State's 9-yard line but came away with no points after Matt Coghlin missed a 27-yard field goal.
Day said after the game that he thought the Buckeyes had "some tackling issues at points" that they did not have in the first five games, but that's another thing they can work through in the upcoming bye week.
At the end of the day, the Buckeyes allowed their opponent to score just 10 points, marking the fifth straight game in which they have held their opponent to 10 points or less.
Ultimately, the result of Saturday's game only strengthened Ohio State's case for being one of college football's elite teams this year. If anything, Michigan State's ability to challenge the Buckeyes at times demonstrate that Saturday's game was the first real test of the season for Ohio State – and by winning by 24 points, without ever being in any real danger of losing the game after its 24-point second quarter, it was a test the Buckeyes passed.
"I feel like we just beat a top-25 team, at home in a great atmosphere, against a really well-coached team, a really good defense, a really good quarterback," Day said. "We had to play 60 minutes of football. To hold them to 285 and to have 529, that's a good day. I think the best part about that is we all kind of got off the field feeling like we can't wait to get on the film and figure out where we can improve."
That's what the Buckeyes will spend the next two weeks doing before they travel to Evanston, Illinois, to begin their second half of the regular season.
"That's the most important thing is no matter how good you do, there's always something you could have did better or cleaner," said Ohio State linebacker Baron Browning. "Your hands could have been better or your footwork could have been better. So there's just always something to learn from and improve."